Ninh Binh Vietnam In Winter: Weather, Top Places, and Must-Try Activities
11/10/2023
There is no exact answer to the question of which is the best time to visit Ninh Binh Vietnam. Ninh Binh is worth trying, a year-round tourist destination. Each season in Ninh Binh has its own unique beauty, from the golden rice fields of Tam Coc to the lush green rice paddies in the local villages, the blooming lotus flowers, the serene and calm water system, and the misty fog covering the surrounding mountains. Starting from November to January, Ninh Binh enters the winter season, which is one of the most remarkable seasons, with its ancient landscapes, and majestic and peaceful natural beauty. Why not visit Ninh Binh in winter? Let's discover the top things to do in Ninh Binh in winter.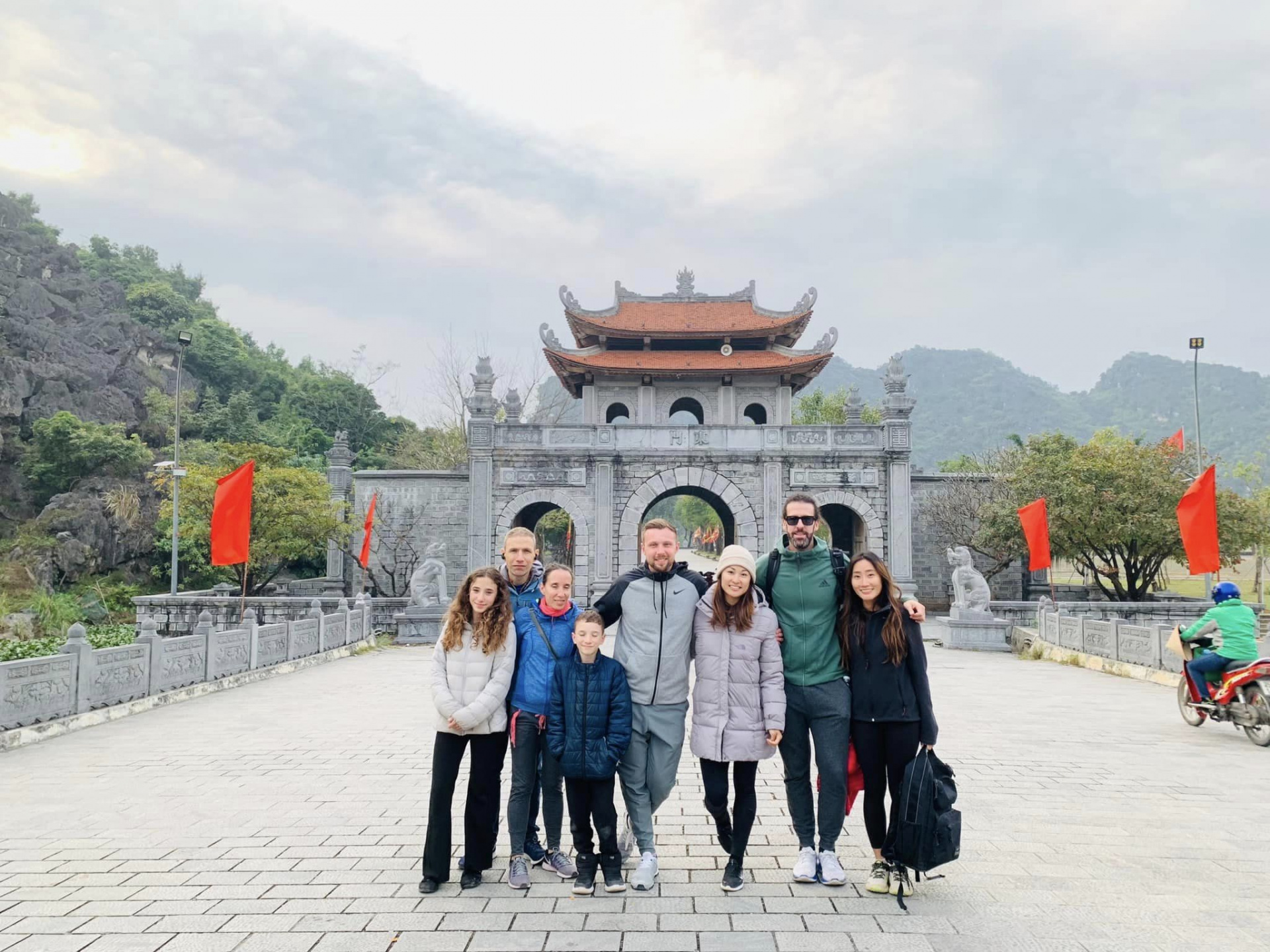 Ninh Binh Winter Weather
Time period: Ninh Binh in November, Ninh Binh in December and Ninh Binh in January.
Weather feature in winter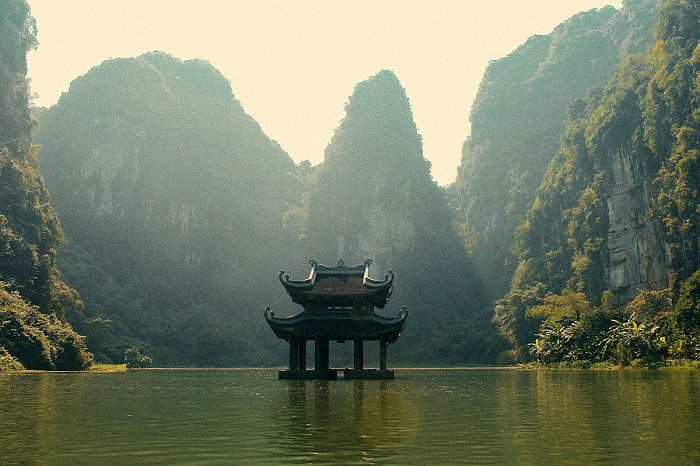 Winters in Ninh Binh see cooler temperatures, averaging around 20°C (68°F) during the day and down to about 15°C (59°F) at night. There is very little rainfall during the winter here, making it an ideal time to explore Ninh Binh's scenic outdoor attractions. The cooler winter temperatures provide a pleasant climate for activities like cycling, trekking, and row boating through Tam Coc's limestone karst scenery. Early mornings and evenings can feel a bit chilly, so be sure to pack some warmer clothing.
How does Ninh Binh look in winter?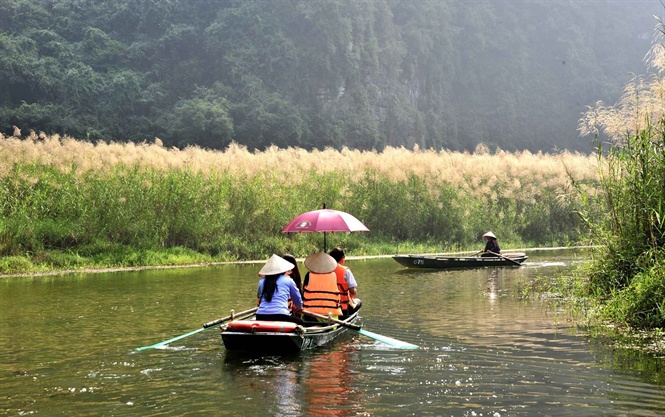 Ninh Binh in winter carries a serene beauty within itself. It's the vast stretches of white reed fields on the surface of Trang An's water, the enchanting image of Hang Mua amid the misty fog, and the tranquil, ancient charm of Bai Dinh and Hoa Lu. With no intense sunlight and no noise, Ninh Binh in winter becomes even more peaceful. Everything slows down in winter.
Ninh Binh Weather Guide: What to Expect Each Month
Top Places to Visit in Ninh Binh in Winter
Visiting Ninh Binh in Winter, you can't miss these places:
Tam Coc Ninh Binh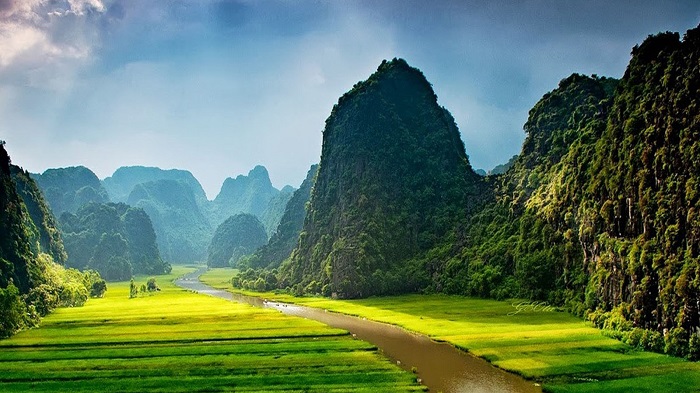 The star attraction of Ninh Binh, Tam Coc's immense limestone karsts jutting up from emerald rice paddies are even more striking during winter. Calm waters and soaring rock formations might surprise you. The cooler temperatures create a serene experience when rowing boats through Tam Coc's river. Smaller crowds make you more likely to take in the peaceful beauty without interruption.
Trang An Landscape Complex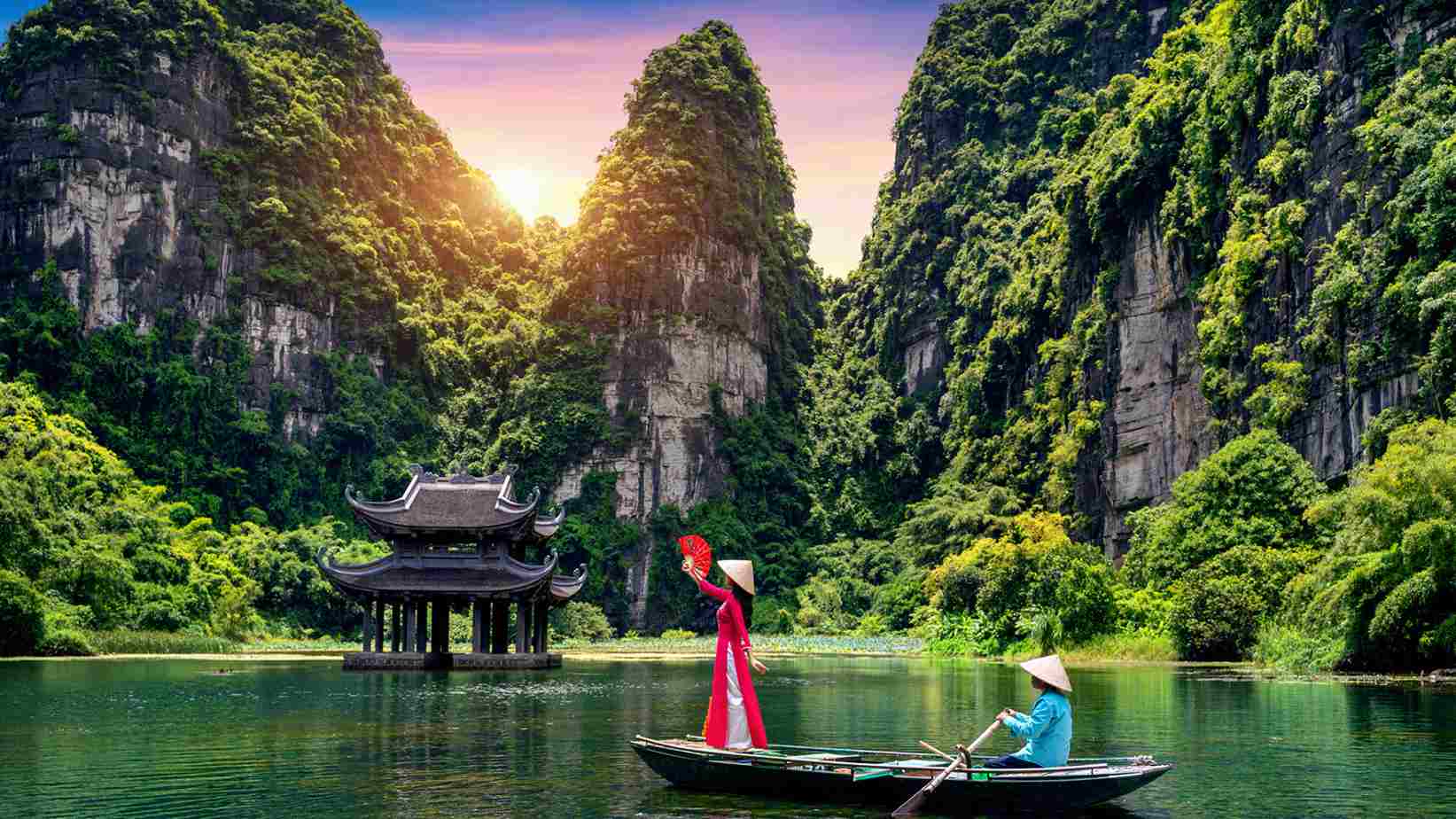 This UNESCO World Heritage site near Tam Coc also sees fewer visitors in winter, making it an ideal time to travel. Trang An in winter features a unique view of limestone mountains, valleys, caves, and underground rivers. Trekking, cycling, and boating through this area let you experience its natural wonder more leisurely during the winter.
Bich Dong Pagoda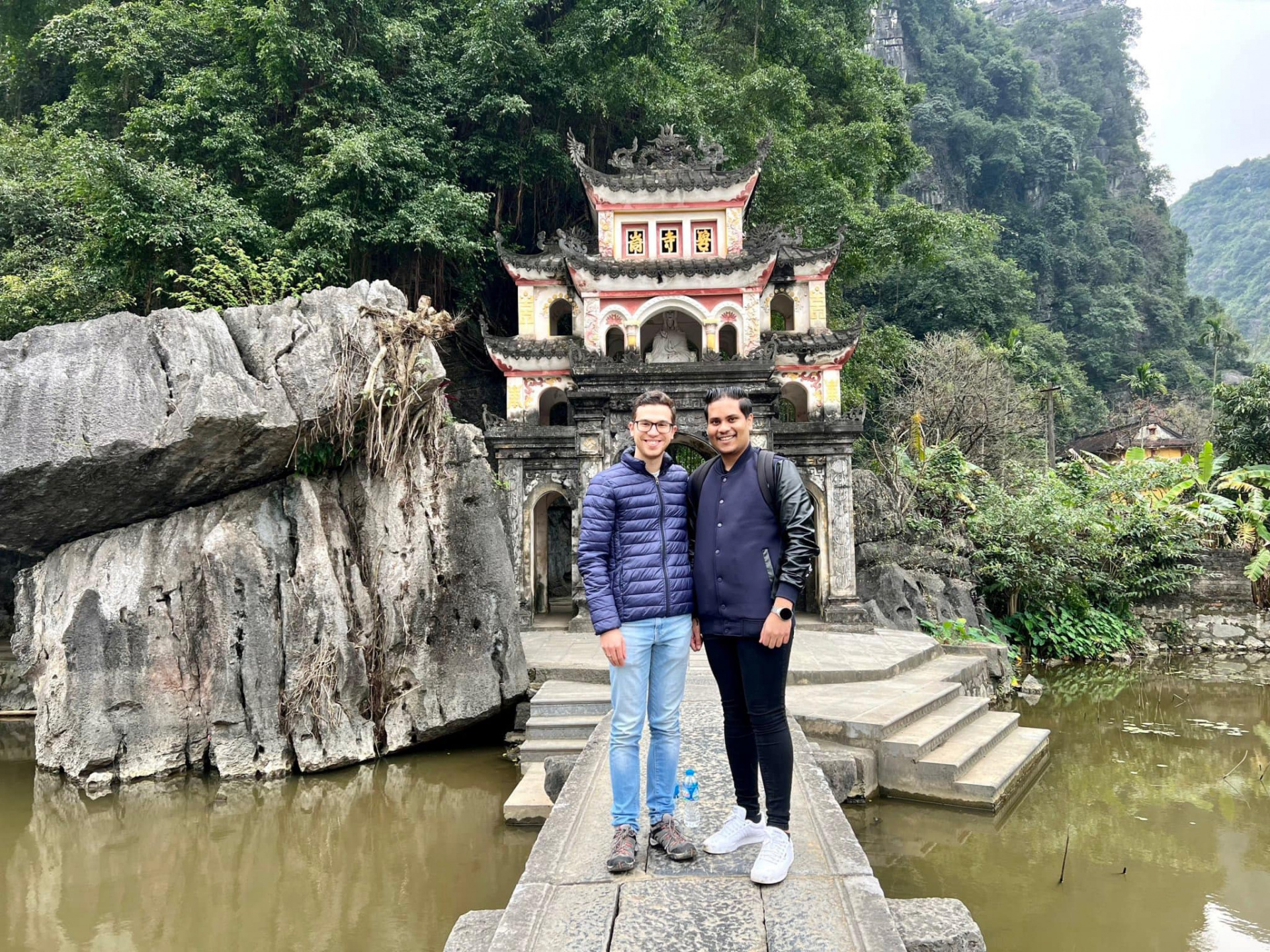 Built into a limestone cave, the Bich Dong Pagoda looks absolutely majestic with a backdrop of winter mist. The 14th-century pagoda evokes tranquillity and ancient history that feels even more profound during the quieter winter months. Don't miss the panoramic views from above.
Bai Dinh Pagoda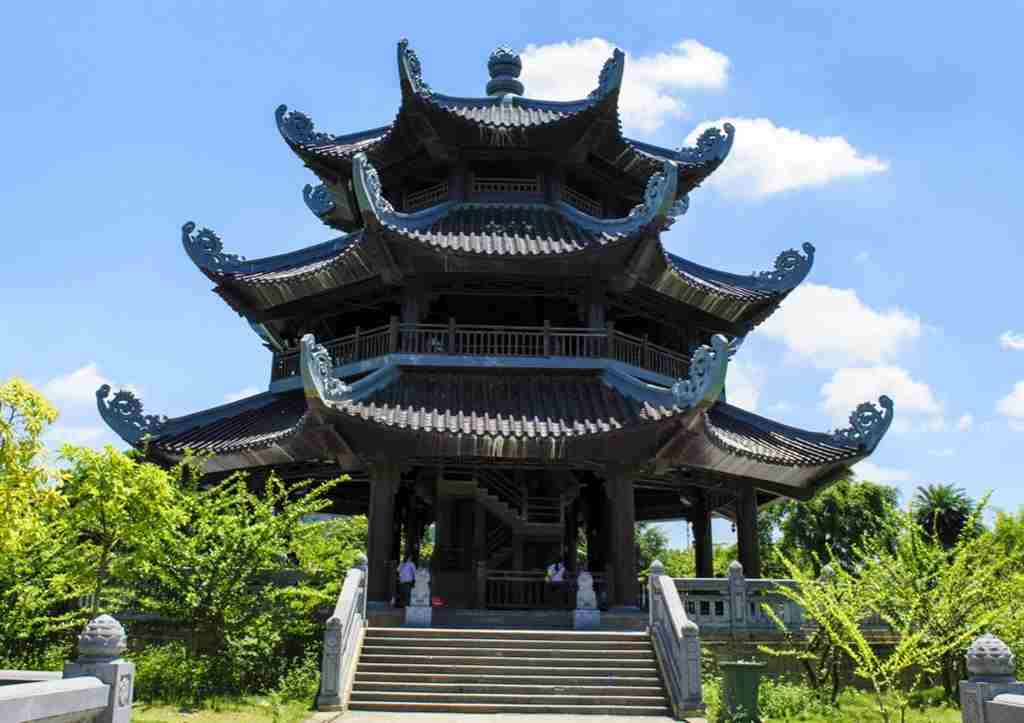 Visit the impressive Bai Dinh Pagoda, the largest Buddhist temple in Vietnam, decorated with 500 stone Arhat statues and intricate dragon carvings throughout. The cooler winter weather is perfect for joining in morning prayer sessions with monks or exploring the sprawling temple grounds.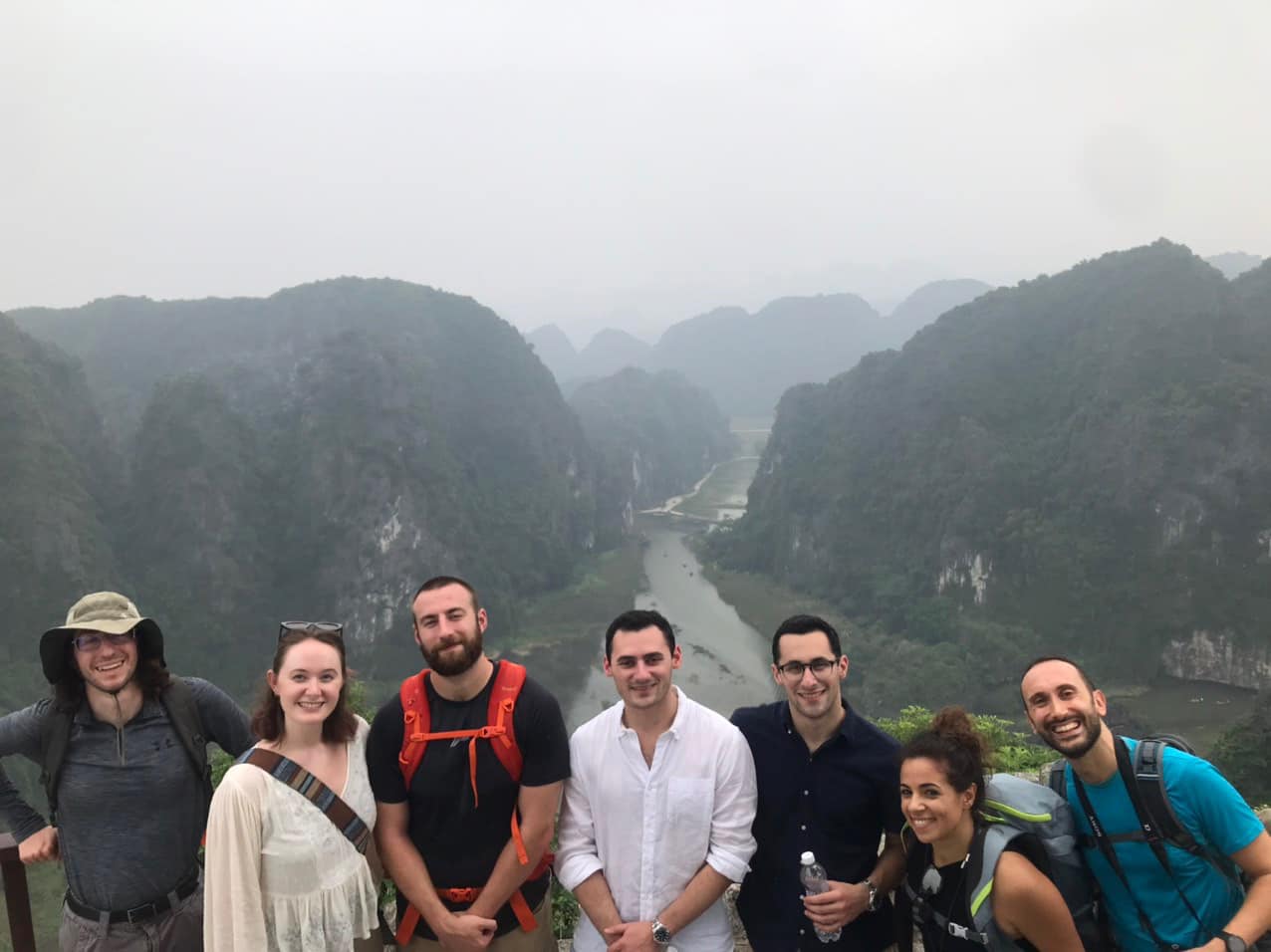 Climb the 486 steps up to this panoramic lookout point in Tam Coc-Bich Dong, especially spectacular on a clear winter day. Snap that iconic shot overlooking the lush valley and limestone peaks. On some winter days, it's too foggy to see the surroundings but it feels like you are in heaven, reaching the cloudy sky.
Mua Cave Ninh Binh: A Complete Guide for a day trip from Hanoi
Ninh Binh Winter Activities
The cooler weather makes it ideal for outdoor activities and the scenery is even more breathtaking. There are top 5 Ninh Binh winter activities
Cycling through villages in Ninh Binh in Winter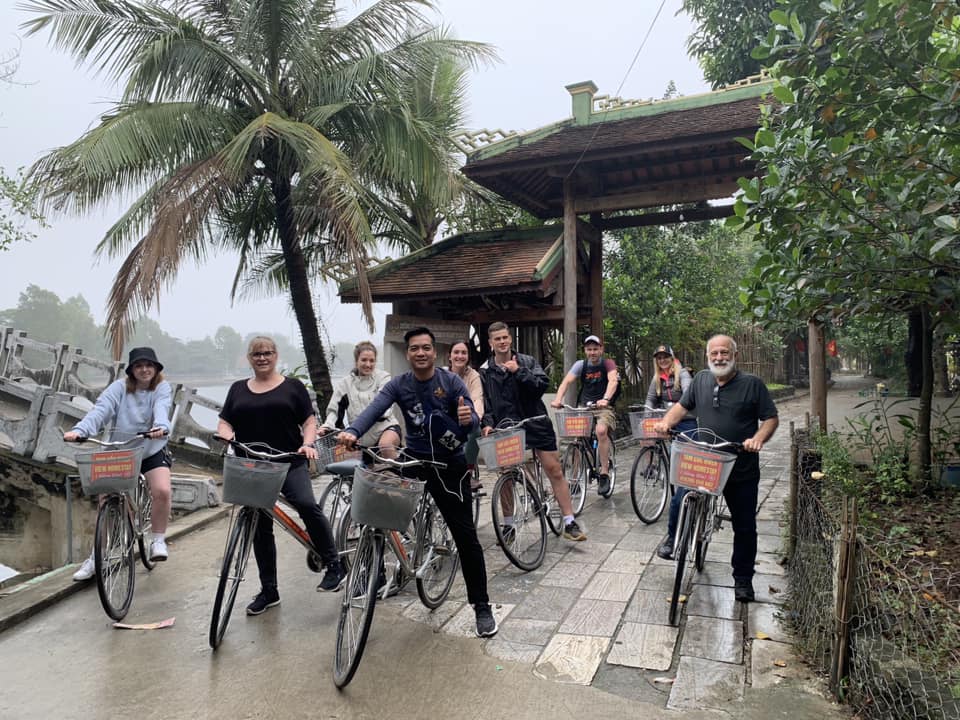 Pedalling through the sleepy villages around Ninh Binh in winter provides opportunities to experience local life. Stop at scenic spots for photo ops and chat with villagers along the way. Remember to pack a jacket on cooler mornings!
Cycling Tours in Ninh Binh: Guide for All Levels
Climb up to the Dragon Mountain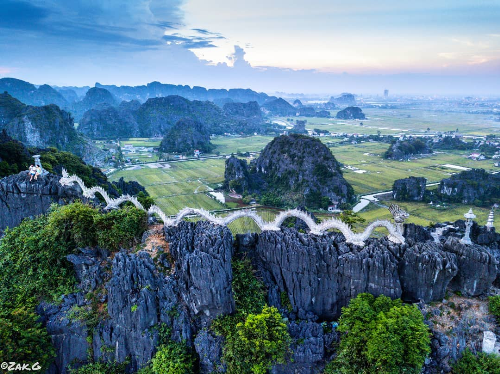 Is Mua Cave Worth in your Ninh Binh Bucket List? The perfect way to include Mua Cave in your Ninh Binh Trip
Take a boat trip through Trang An or Tam Coc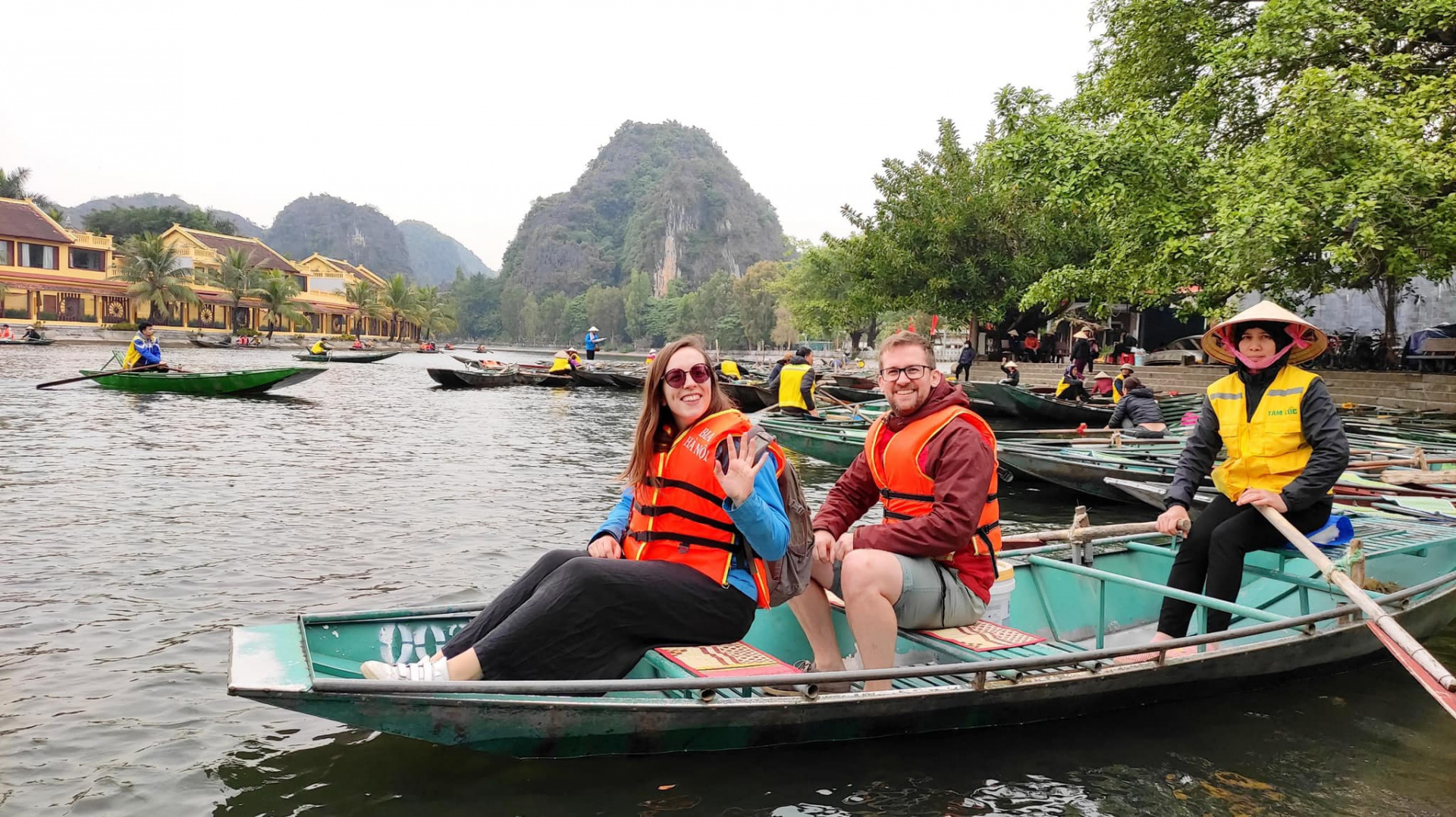 These two UNESCO World Heritage Sites are home to stunning limestone karsts, caves, and temples. A boat trip is the best way to experience the beauty of these landscapes, and it's especially magical in the winter when the mist hangs over the water and the air is crisp and clean. If you have time, you should discover both Trang An and Tam Coc. However, with a similar experience of boat trip, you can choose just one place and spend the rest of your day at other attractions.
All About Boat Tour in Ninh Binh: Tam Coc vs Trang An Boat Tour?
Try regional cuisine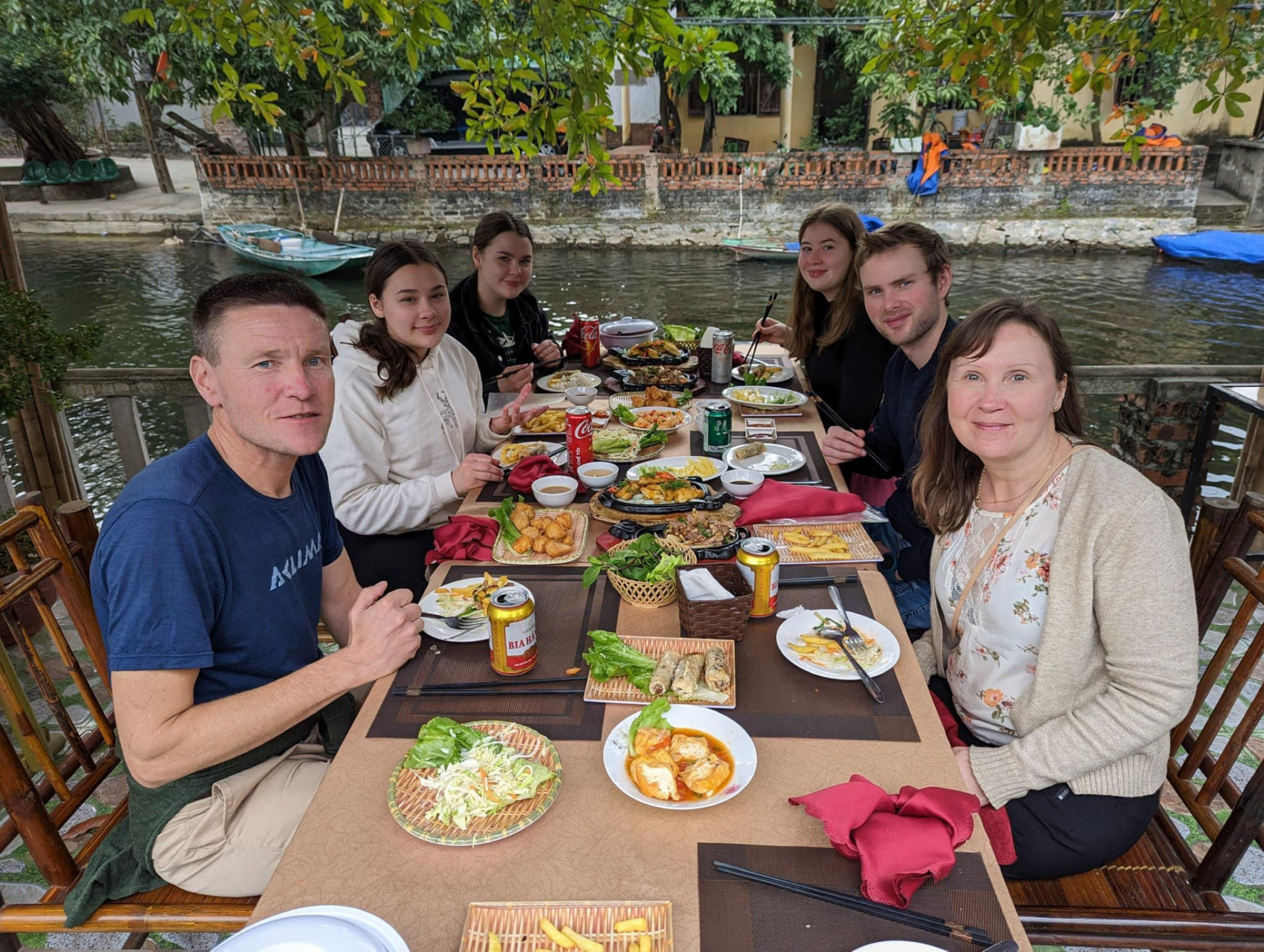 Winter is a great chance to sample Ninh Binh's seasonal regional specialities, like hearty goat hot pot, grilled rice pancakes, and local wine. Don't miss these authentic local flavours!
Bird Watching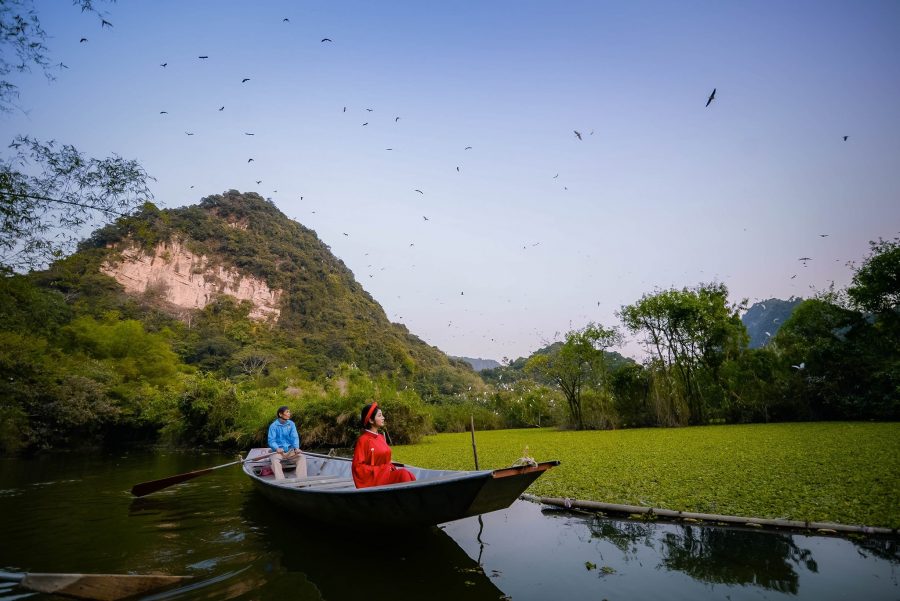 Ninh Binh is a great place for birdwatching, and winter can be an excellent time to spot various migratory birds in the region. You can find many bird species in Thung Nham Bird Garden. This place also offers boat rides to see birds in s short distance. The early morning and late afternoon are the perfect time for bird watching in Thung Nham.
Ninh Binh Winter Itinerary
Following a good winter itinerary for Ninh Binh in Vietnam allows you to explore the region's natural beauty, and cultural heritage, and enjoy some seasonal activities. Here's a suggested winter itinerary in Ninh Binh.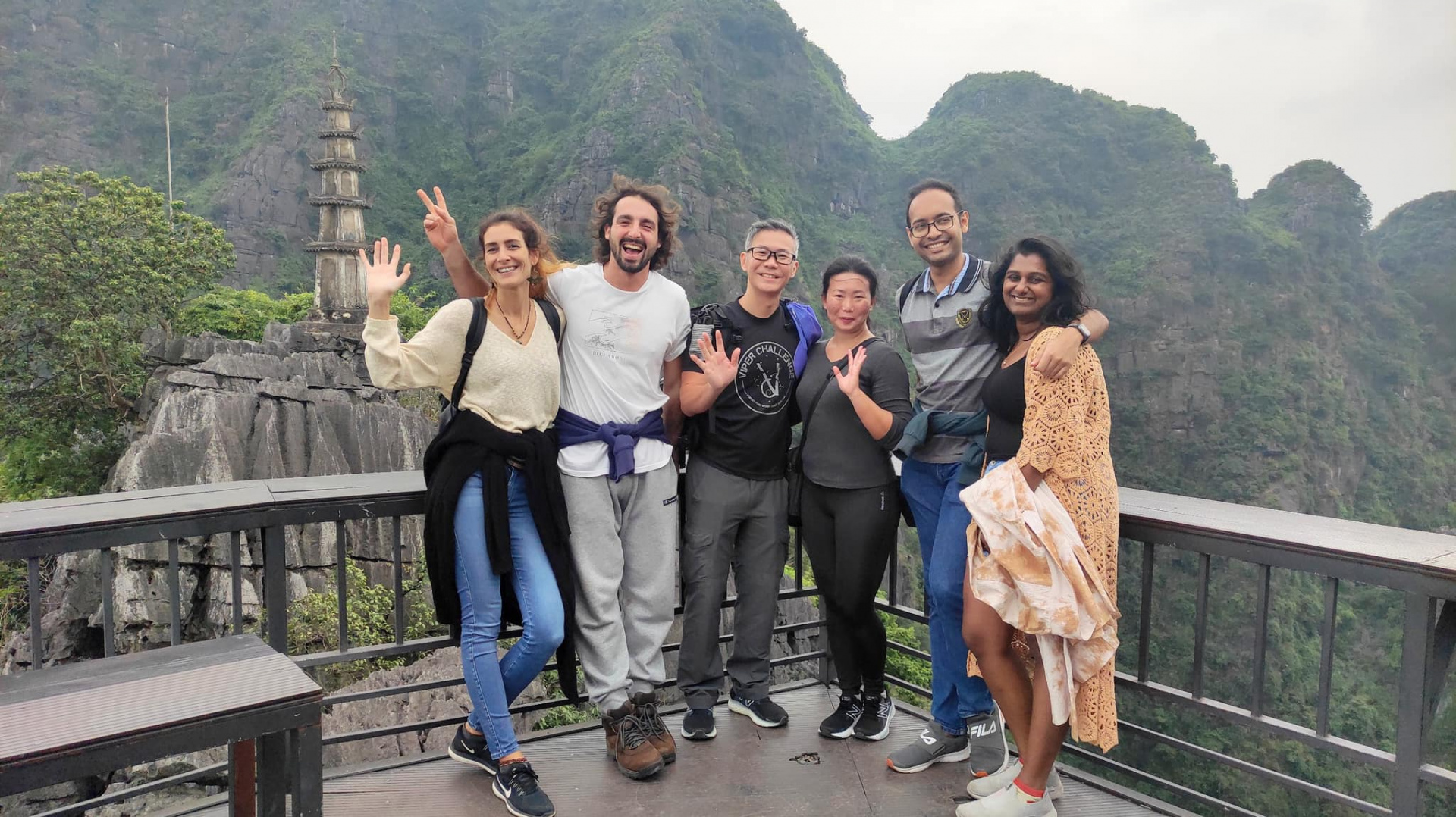 From Hanoi Old Quarter, you take a bus to arrive at the historic Hoa Lu ancient capital. There, you visit the Dinh King temple and Le King temple. The adventure continues with an exploration of the Mua Cave, where you climb 500 steps to the peak of Lying Dragon Mountain for breathtaking panoramic views of the surrounding river and mountains. A traditional Vietnamese set menu lunch is served at a local homestay by the Ngo Dong River.
In the afternoon, you enjoy a tranquil sampan boat trip in Tam Coc, meandering through the picturesque landscapes and passing through three enchanting caves: Hang Ca, Hang Hai, and Hang Ba. Cycling through the green rice fields and charming villages is the next activity, leading to a visit to the historic Bich Dong Pagoda.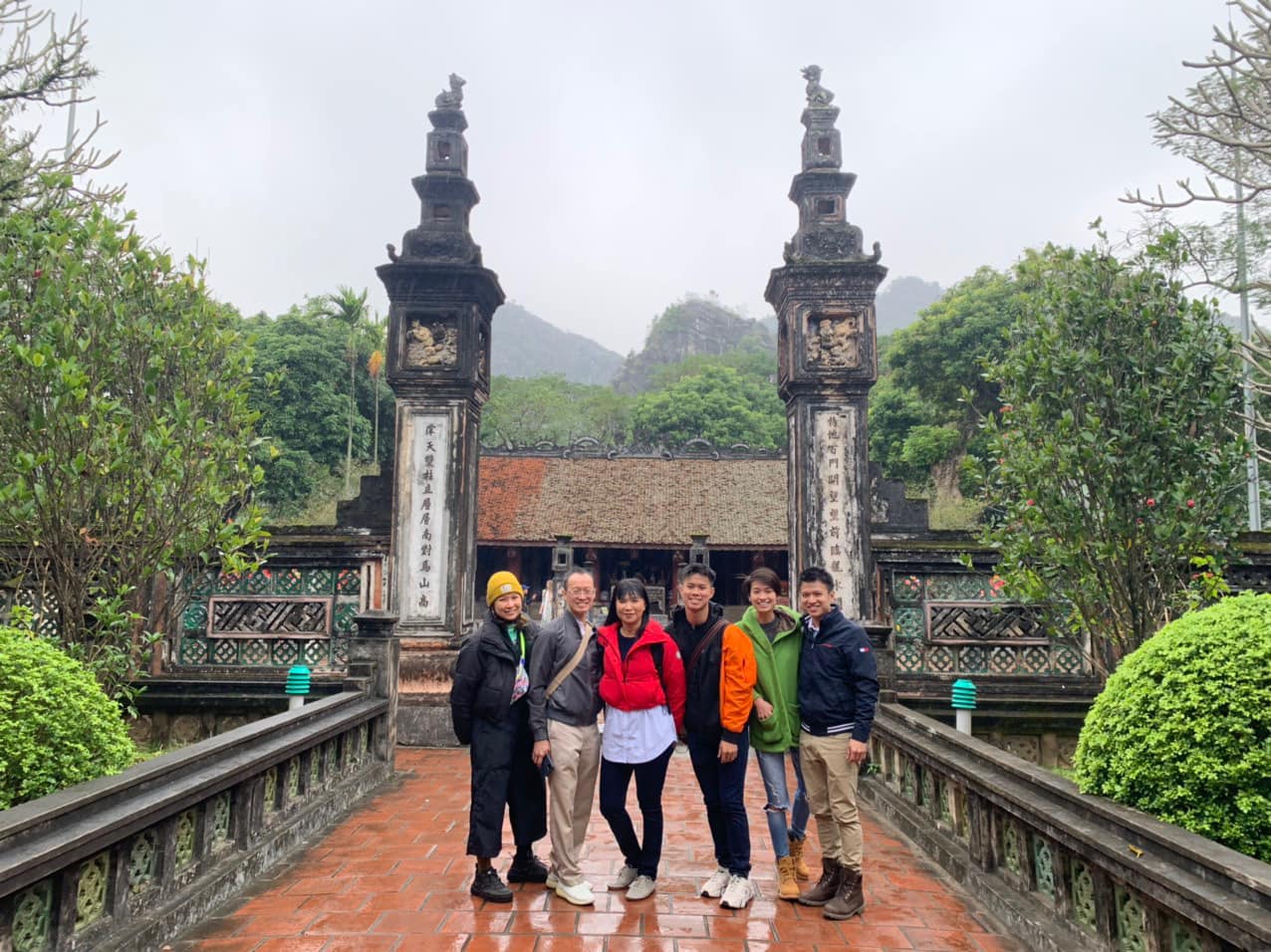 After reaching Ninh Binh, you first explore Tuyet Tinh Coc to take in the stunning vista of the majestic lake and uncover an ancient pagoda. Then, visit Mua Cave and ascend 500 steps to the summit of Lying Dragon Mountain for a breathtaking panoramic view of the mountainous landscape.
After savouring a buffet lunch featuring Vietnamese cuisine at a local restaurant, you embark on a boat trip in the Trang An Eco-Tourism Complex to discover the majestic waterways of the region.
This tour is a favourite tour because it goes through all the famous attractions in Ninh Binh and it's suitable for all ages.
Apart from a full-day trip, you can explore Ninh Binh in 2, or 3 days if you have enough time. See more suggested itineraries with NINH BINH TOUR - ALOHA VIETNAM TRAVEL.
Winter brings cooler weather, smaller crowds, and a different charm to Ninh Binh. It's true that Ninh Binh at this time is relatively mild and can be quite comfortable for outdoor activities. However, it's a good idea to check the weather forecast and pack accordingly, as it can get cool, especially in the evenings.
How to experience Ninh Binh like local people - Explore Ninh Binh in authentic ways
Travel to Ninh Binh: The latest guide and schedule for 2023
How many days in Ninh Binh: Should I spend 1,2, or 3 days in Ninh Binh?
Other Articles