Thung Nham Bird Garden in Ninh Binh: Top Highlights and Travel Guide
22/07/2023
One of the most impressive experiences in Ninh Binh is enjoying the natural scenery on a boat trip. There are 3 famous places for a boat trip: Tam Coc, Trang An, and Thung Nham Bird Park. Unlike Tam Coc and Trang An, Thung Nham Ninh Binh offers a unique bird-watching experience in a flooded forest. In this travel blog, Aloha Vietnam Travel shows you the highlights and travel guides to this fantastic land. You will know the location, how to get there, the best time to visit, the ticket price, and what to do in this bird valley Ninh Binh.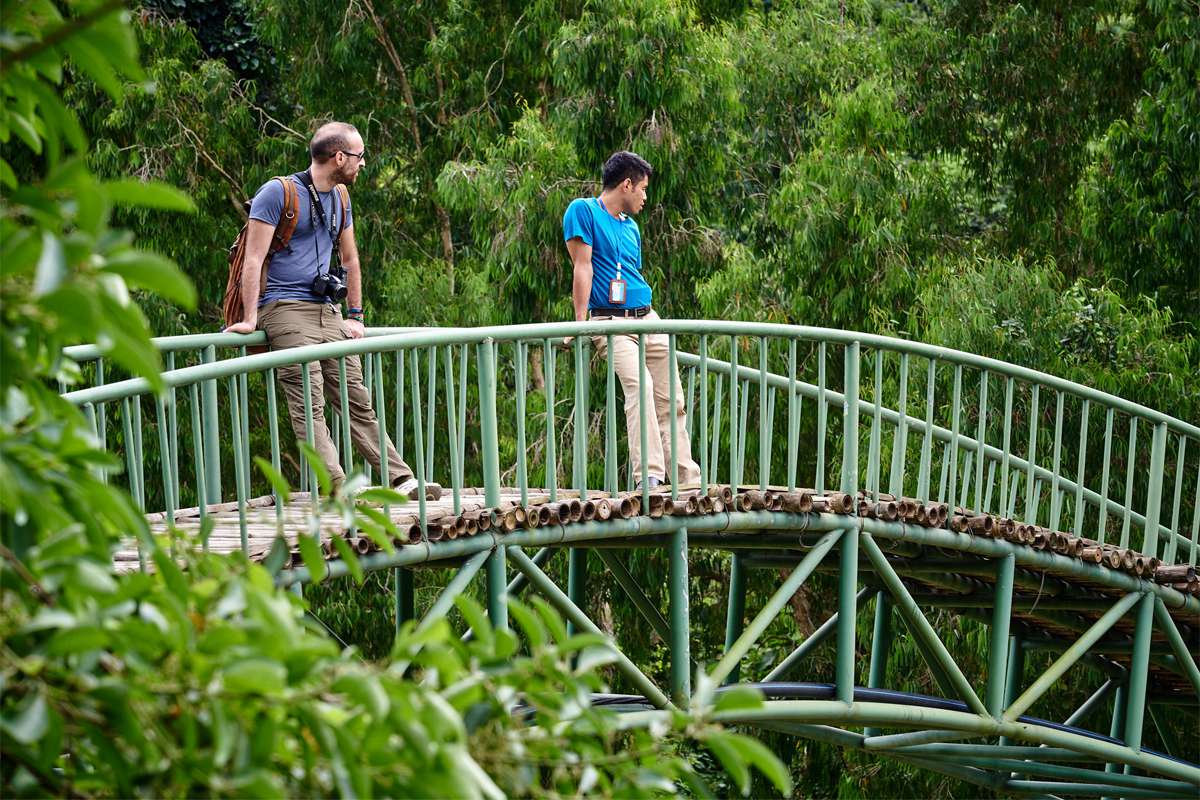 Overview of Thung Nham Bird Park in Ninh Binh
The name "Thung Nham" originates from the geographical features. It also holds a special meaning: "Thung" refers to a valley, a low-lying area surrounded by mountains, while "Nham" indicates high and treacherous mountains with steep cliffs. Thung Nham can be understood as a valley surrounded by towering cliffs, representing a harmonious combination of majestic and poetic natural scenery.
With an area of over 300 hectares, Thung Nham Ecotourism Area offers a diverse range of tourism activities such as fishing, mountain climbing, fruit orchard visits, exploring submerged forests and primaeval forests, dry caves, and especially bird watching with a wide variety of species.
Where is Thung Nham Bird Garden?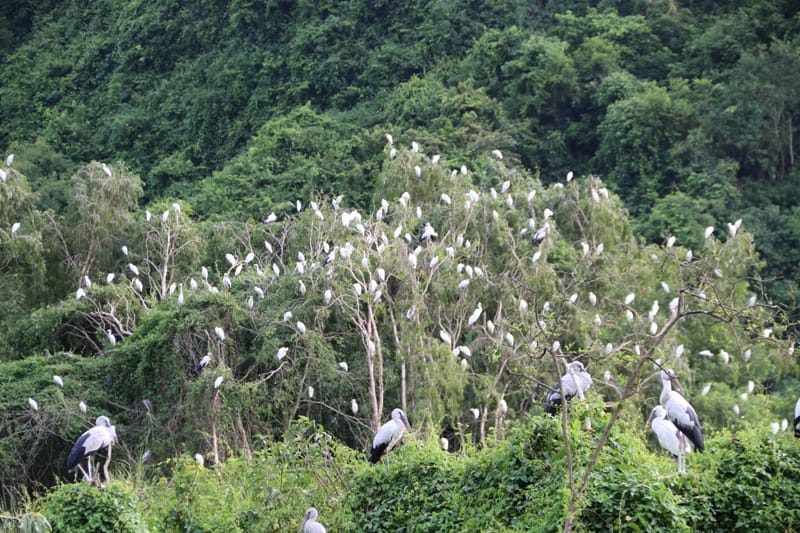 Thung Nham Bird Park is located about 12 kilometres to the west of Ninh Binh City (belonging to Hai Nham village, Ninh Hai commune, Hoa Lu district), situated within the core area of the Trang An landscape complex, adjacent to the Tam Coc - Bich Dong tourist area.
If you are in Hanoi, It is approximately 100 kilometres (about 62 miles) to the south of Hanoi. The journey from Hanoi to Thung Nham Bird Garden takes around 2 hours by road.
The Open Time and Ticket Price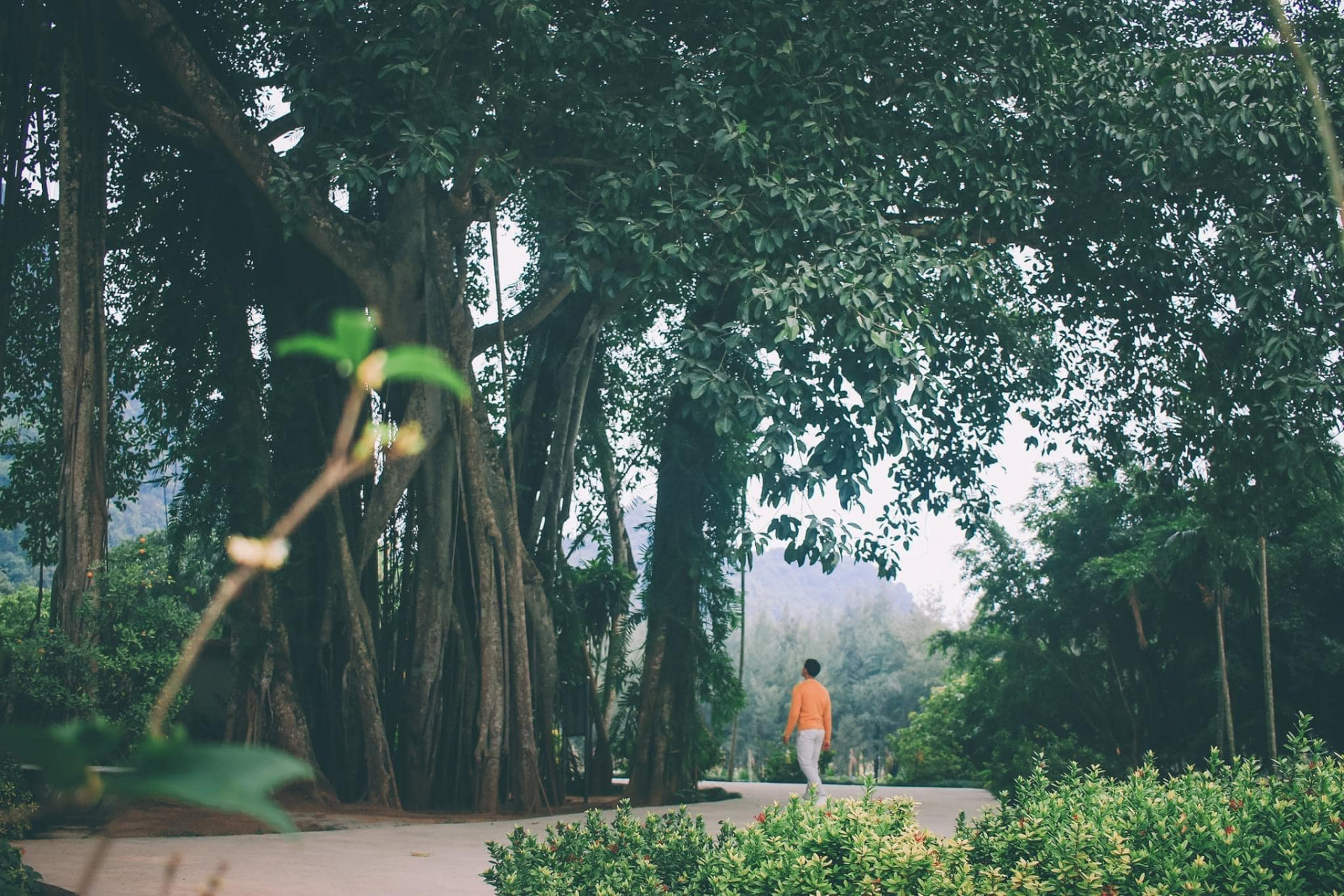 The Opening Hour of Thung Nham Ecotourism Zone
Summer time: 7:00 AM – 10:00 PM

Winter time: 7:30 AM – 22:00 PM
The Opening Hour of Thung Nham Bird Garden
Summer time: 7:00 AM - 6:00 PM.

Winter time: 7:30 AM - 5:30 PM.
The Entrance Fee
Adults: 150,000 VNĐ/person

Adults and children (from 1m-1.3m): 100.000 VNĐ /person

Children under 1m: Free
(Including boat rides to the Bird Valley and Buddha Cave)
*** Note:
Free tickets for visitors over 80 years old and visitors with disabilities. You should consult with the staff for more details

Ticket prices for Thung Nham Bird Garden boat ride: 30,000 VND/ticket (in cases of purchasing additional tickets or wanting to charter a boat)

Maximum 12 passengers/boat

Minimum of 03 tickets/boat for the boat to depart
Thung Nham Bird Garden: Travel Guide
The Tourist Map of Thung Nham Bird Garden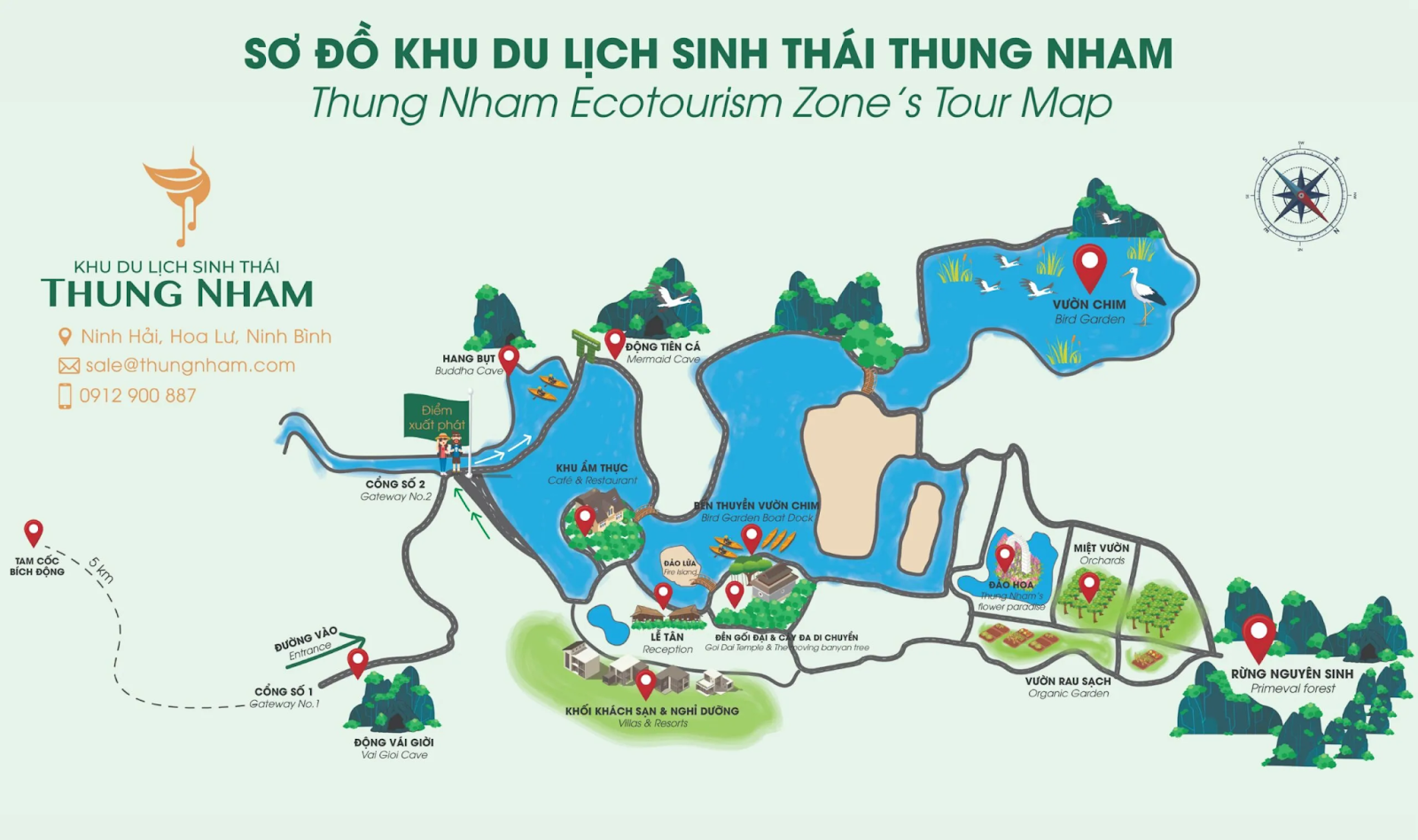 As you can see from the map, Thung Nham is a large ecotourism zome with Birde Garden, primaeval forests, caves systems, Organic Garden and The Flower Island. Besides, there are villas and resorts, coffee and restaurant to serve travellers' needs. It's just 5 km from ™ Coc - Bich Dong. You will follow Gateway No 1 and Gateway No 2. The Bird Garden Boat Dock is located at the centre of this area.
What to see in Thung Nham Ninh Binh
Thung Nham Bird Garden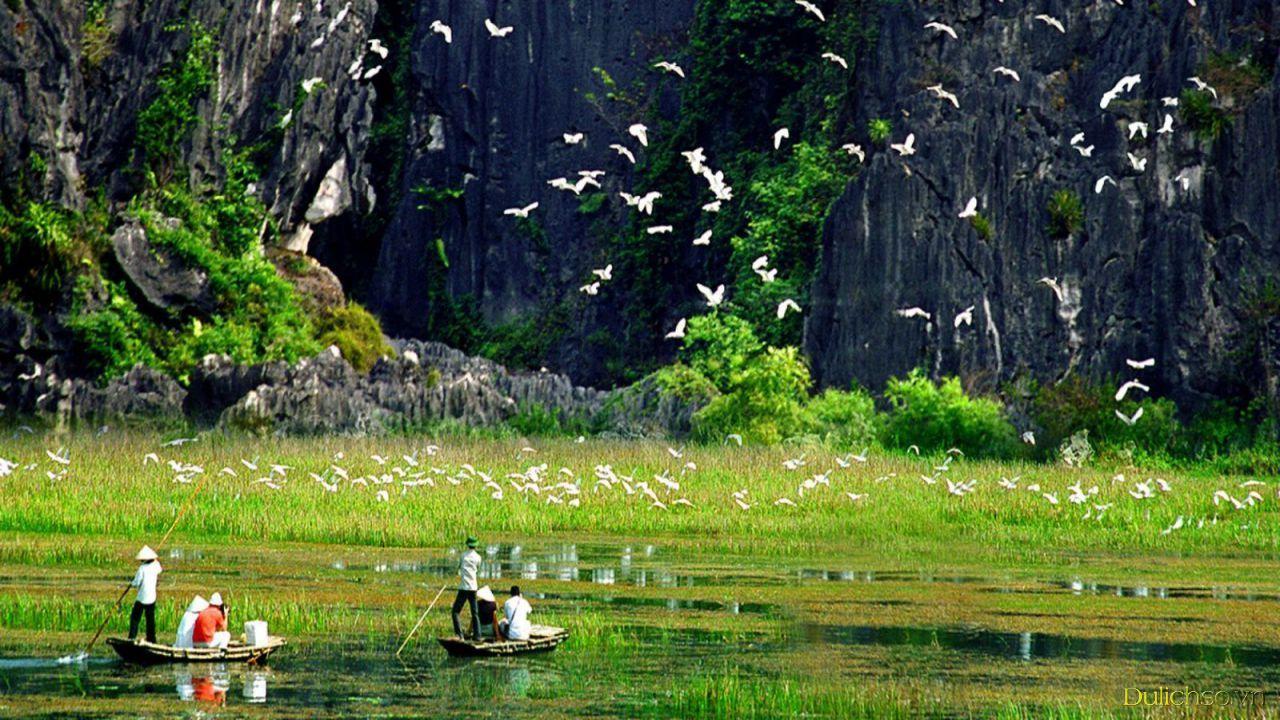 One of the most amazing things in Thung Nham is the incredible bird garden. This vast wetland area is a haven for a variety of bird species, including storks, herons, mallards, and forktails. There are around 50,000 birds from 40 different species here. It's like a bird's paradise! Some of these birds are incredibly rare and are on the Vietnam red list. So, you have a chance to see some truly unique.
To explore the beauty of the Thung Nham Bird Garden, you can take a delightful boat tour around 5:00 PM, when the birds return to their nests, or at sunrise when they begin their day. Witnessing hundreds or even thousands of birds soaring overhead creates a beautiful spectacle that you won't want to miss.
Adding to the enchanting experience, the limestone mountains in the background create stunning shapes on the water. The combination of these majestic landscapes and the birds flying gracefully overhead forms a poetic scenery that's rarely found elsewhere.
The caves systems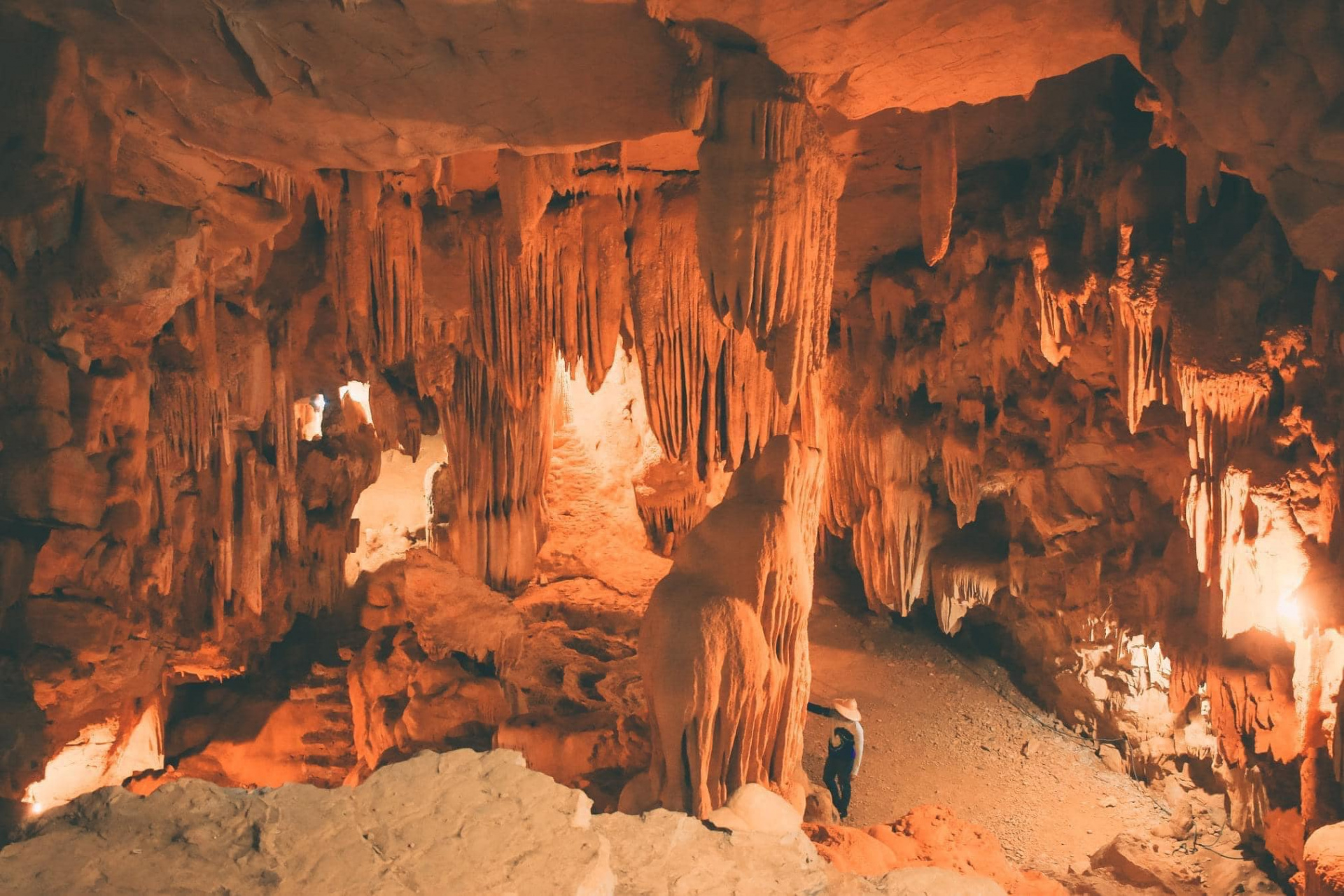 There are three main caves worth exploring here: Buddha Cave (But Cave), Vai Gioi Cave, and Tien Ca Cave.
But Cave is a fascinating 500-meter long cave featuring rocks shaped like Buddha. Inside the cave, it's pitch dark, so make sure to bring a torch to light your way. Exploring the cave with a flashlight, uncovering an underground lake, and admiring the stalactites and stalagmites add to the adventure.
Vai Gioi Cave is situated higher up the mountain, providing a refreshing coolness compared to the other caves. To reach this cave, you'll need to climb over 400 stone steps. Once inside, you'll find it divided into three levels aptly named "World," "Paradise," and "Hell."
Tien Ca Cave, also known as Mermaid Cave, requires descending a staircase into the darkness. It got its nickname due to the presence of an underground water well and a small underground river. While exploring the cave, you'll walk along stone paths and sometimes need to duck to pass beneath the hanging stalactites.
The ancient banyan tree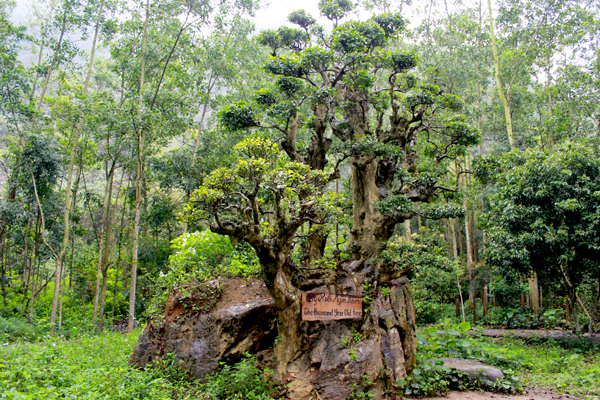 The ancient banyan tree in Thung Nham Bird Park serves as a living symbol of the park's history and natural beauty. This old tree has over 1,000 years, witnessing time changes.
Best time to visit Thung Nham Bird Park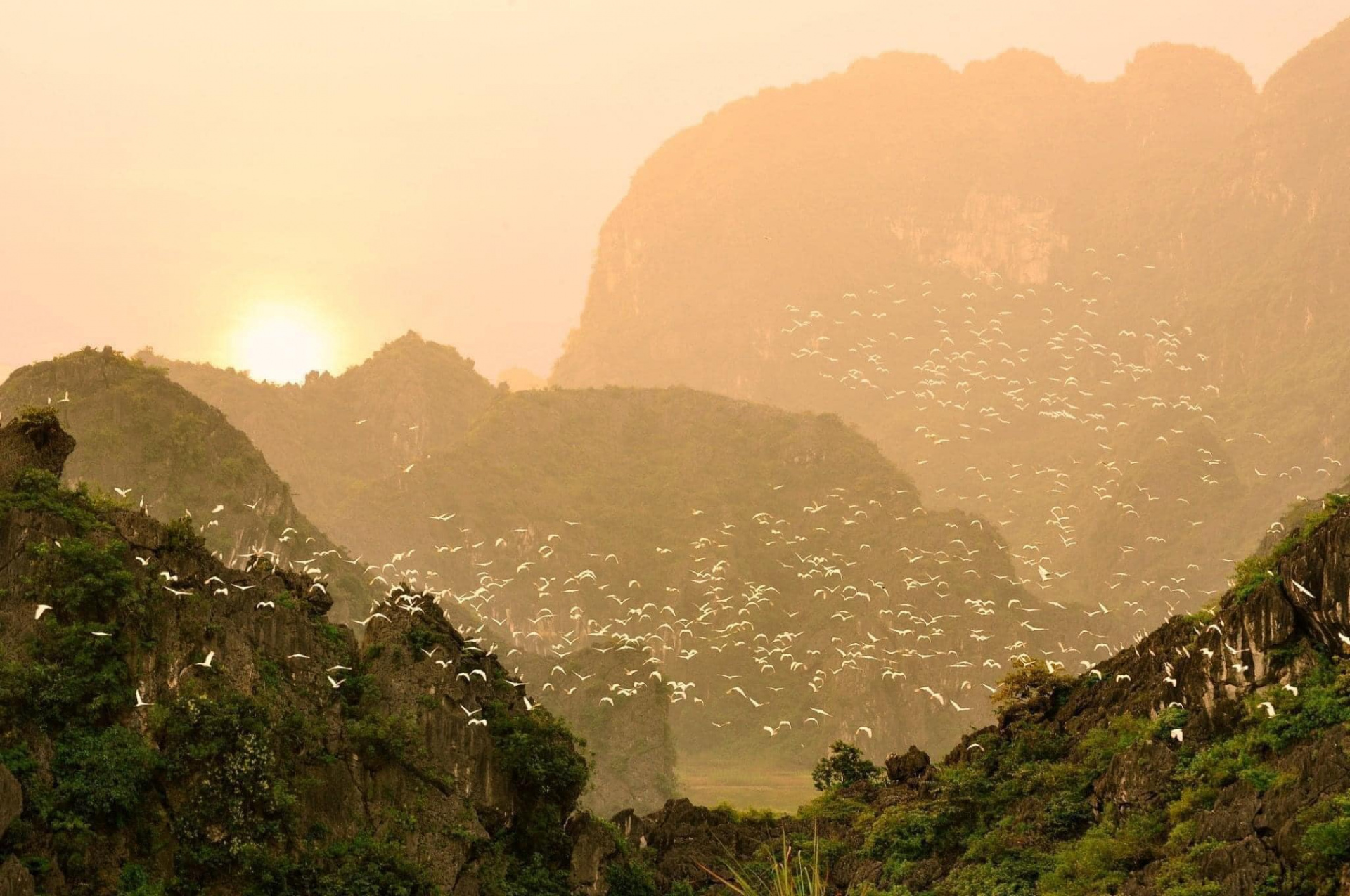 For the optimal birdwatching experience, it is advisable to visit Thung Nham Bird Park during the early morning or late afternoon (after 4 PM), as this is when the birds are most active. Arriving early or in the late afternoon will provide the best opportunities to observe a diverse range of bird species. Aside from the increased bird activity, visiting during these times offers the added advantage of cooler temperatures and softer lighting, creating a more pleasant and comfortable environment.
How long in Thung Nham Ninh Binh is enough?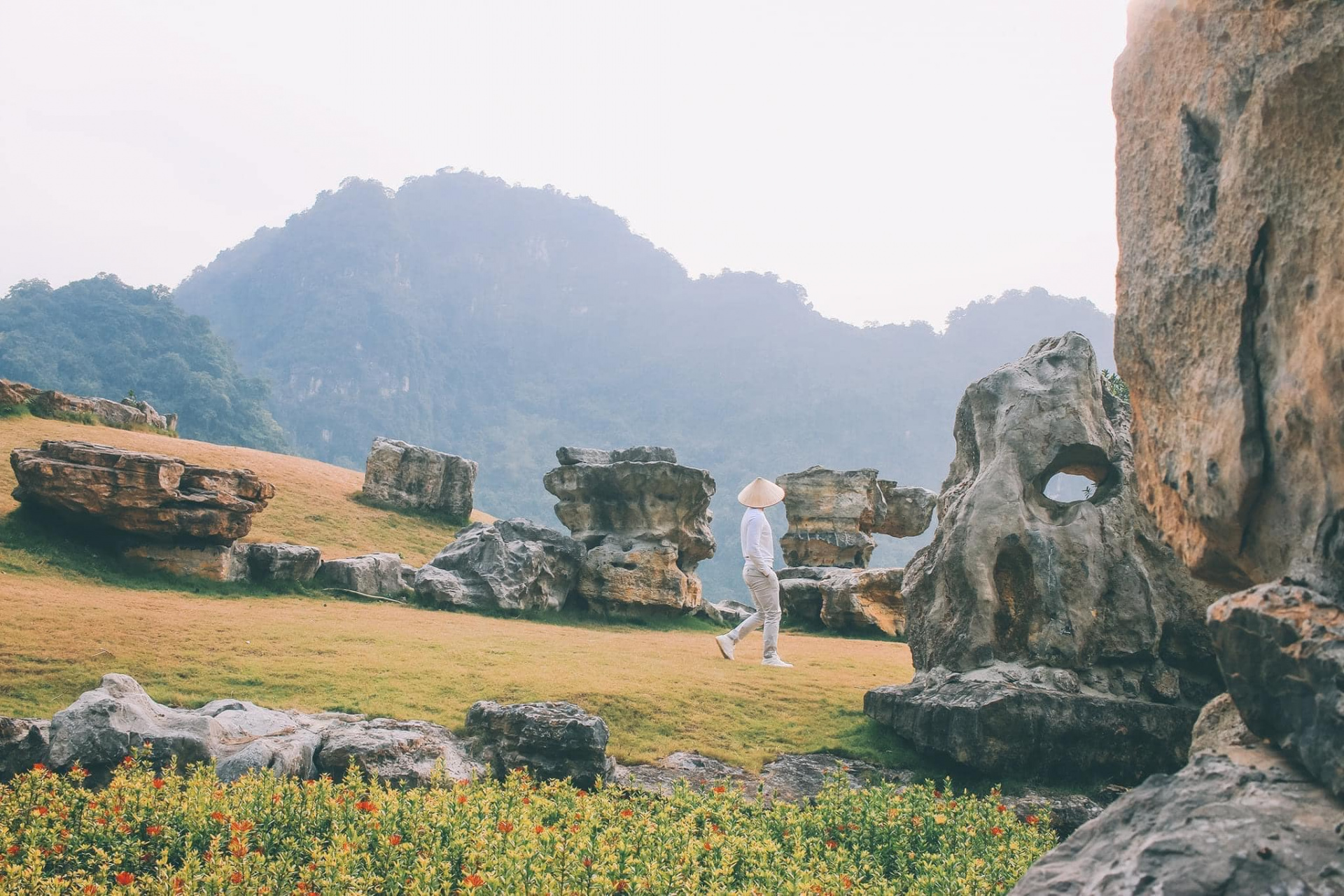 Generally, visitors spend half a day or a full day exploring the area. A half-day visit (4-5 hours) may be sufficient if you have limited time and want to experience the highlights of the park, including birdwatching and a boat ride. However, if you want a more immersive experience with additional activities and ample relaxation time, a full-day visit can be ideal. At present, Thung Nham offers a variety of services and activities so you can expend your stay here without getting bored. Outstanding services and activities include:
Electric car: Thung Nham has electric cars for hire so you can save time and energy

Costumes for rent: Thung Nham provides the costume-renting service to make it easier to check-in

Swimming pool: Thung Nham's outdoor swimming pool is larger and beautiful

Bird watching on boat: Exploring North Vietnam's largest natural bird park by boat

Visiting the cave system and spiritual complex such as the banyan tree, Goi Dai temple, Linh Than shrine

Thung Nham Flower Paradise, orchards, plant nurseries, and vegetable gardens

Restaurants, coffee shops and resort for overnight stay
Suggested itineraries to Thung Nham Bird Park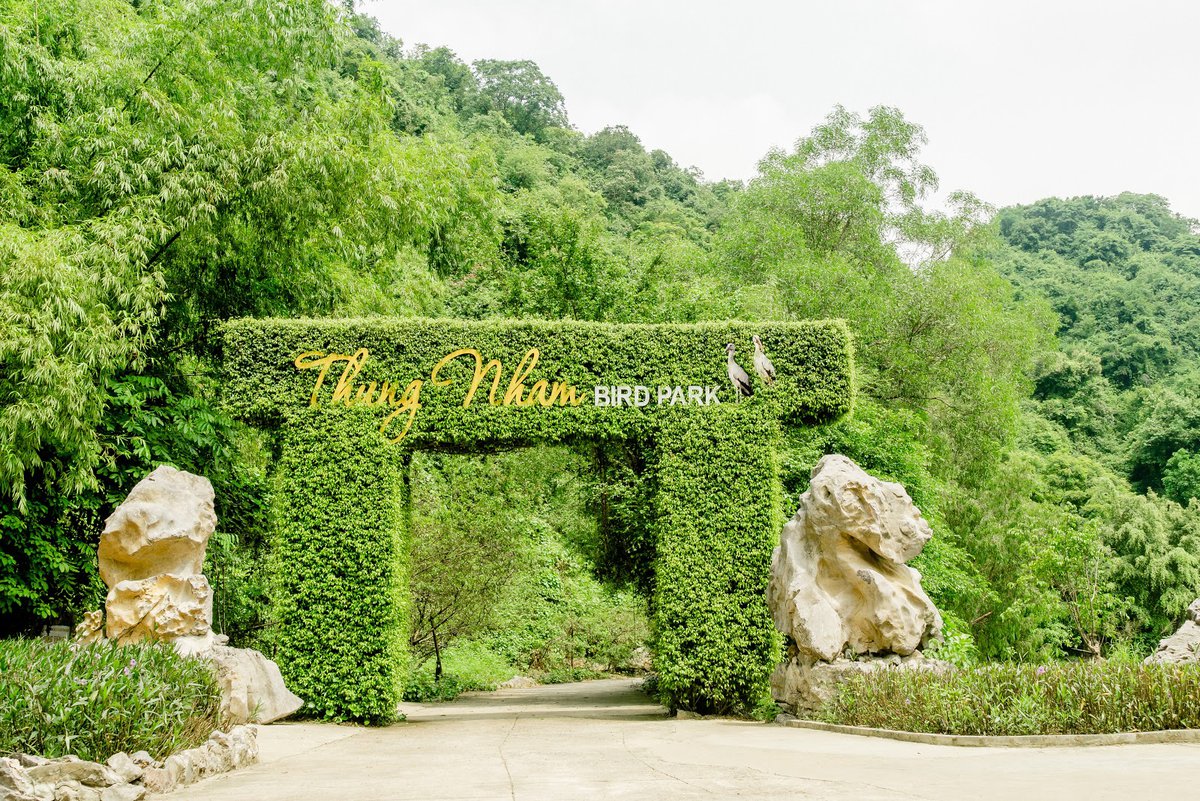 Thung Nham is near other famous attractions like Tam Coc - Bich Dong (~5km) or Mua Cave (~12km) so you can combine your trip to these places.
Day 1:
Arrive at Hoa Lu ancient capital

Visit Mua Cave for a panoramic mountainous view

Have a sampan boat ride in Tam Coc

Cycle through the rice fields and villages
Day 2:
Visit Bich Dong Pagoda

Visit Thung Nham Park
Check the detailed itinerary:
Ninh Binh 2 days 1 night: Hoa Lu - Mua Cave - Tam Coc - Bich Dong - Thung Nham National Park
See other Ninh Binh Day Tours:
Hoa Lu- Mua Cave- Tam Coc- Bike- Bich Dong Pagoda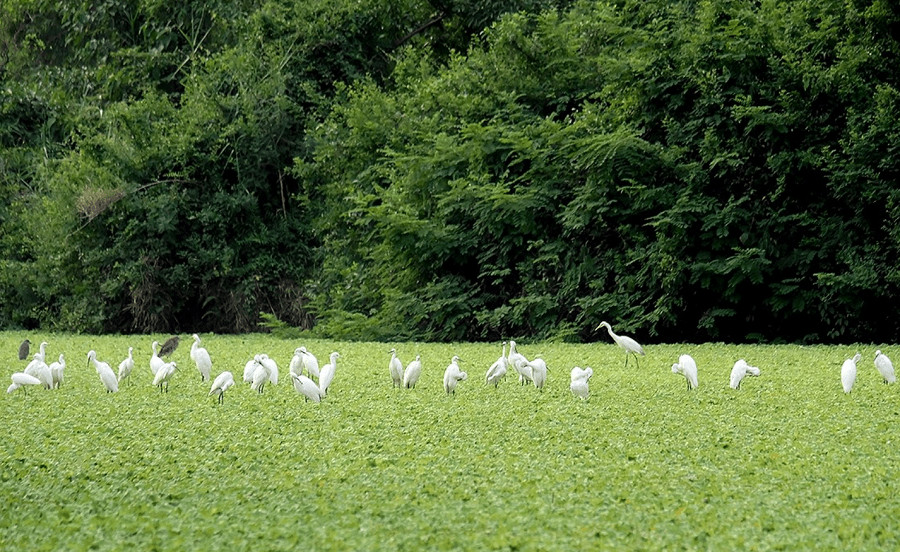 In conclusion, if you're seeking one of the most impressive and unique experiences, a boat trip through Thung Nham - Bird Park Ninh Binh is an absolute must. While Tam Coc and Trang An are famous for their natural beauty, Thung Nham offers a special treat - a captivating bird-watching experience amidst a flooded forest. Thung Nham promises an unforgettable adventure in Ninh Binh.
Reach us on TripAdvisor and Get Your Guide
You might read:
Cycling Tours in Ninh Binh: Guide for All Levels
All about Bich Dong Pagoda in Ninh Binh: Secret and Outstanding features
Other Articles