Cycling Tours in Ninh Binh: Guide for All Levels
10/07/2023
One of the top things to do in Ninh Binh is cycle around the peaceful rice fields and ancient temples. This guide shows you how to join a cycling tour in Ninh Binh Vietnam.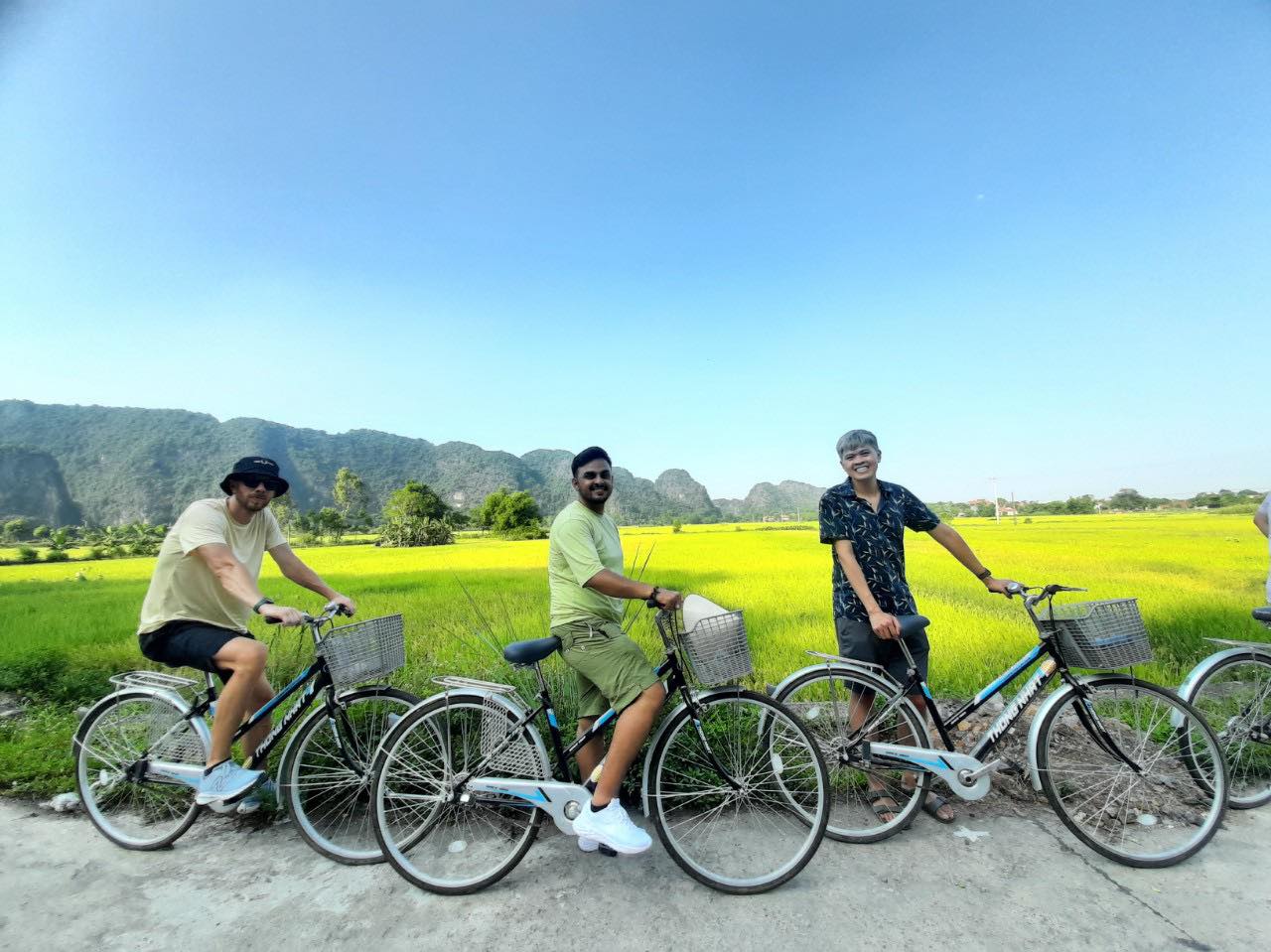 Ninh Binh, located in northern Vietnam, attracts tourists through natural beauty and cultural significance. Known as the "Halong Bay on land". This beautiful region offers stunning landscapes, ancient temples, and a glimpse into rural Vietnamese life. One of the best ways to explore Ninh Binh is by embarking on a cycling tour. Whether you're a leisure cyclist or an experienced rider seeking a challenge, you are an adult or a family with small kids, Ninh Binh has something to offer for all levels.
This guide will take you through the different cycling tour options available, tips, and prices for Ninh Binh rental bikes. There are also suggested itineraries combining the biking experience and other things must try in Binh Binh.
Why should I take a Ninh Binh cycling tour?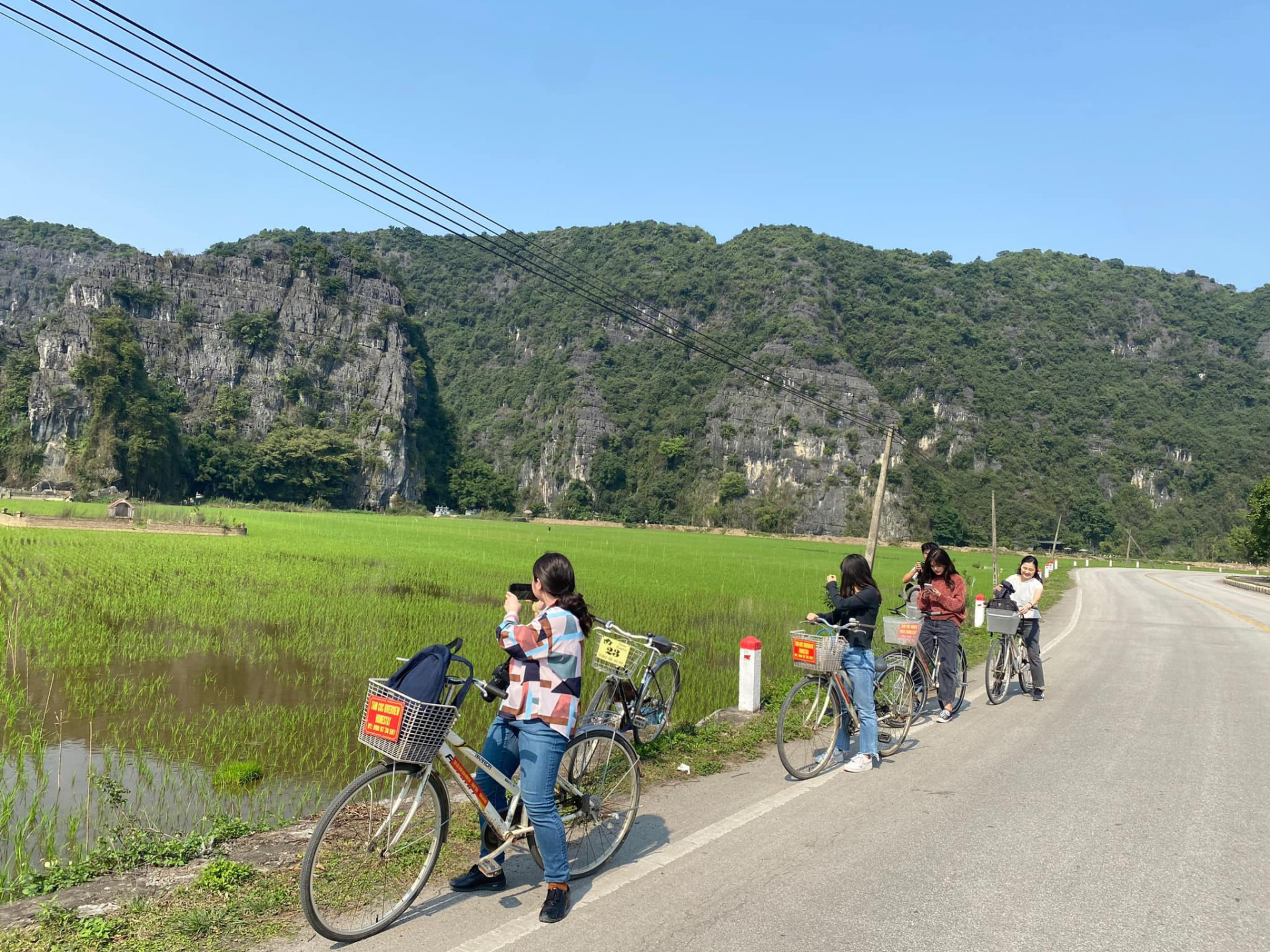 What is ninh binh famous for apart from the beautiful landscapes? It's outdoor activities. Biking in Ninh Binh is a fantastic choice. Peddling on a bicycle lets you soak up incredible views and discover off-the-beaten paths. You can stop whenever something catches your eye. As you pedal around, you'll stumble upon ancient temples, pagodas, and historical sites that showcase Vietnam's rich heritage like the Bai Dinh Pagoda, and the Bich Dong Pagoda.
In Ninh Binh, there's no noisy traffic to disturb you, just the rhythmic sound of your pedals. Unlike other modes of transportation, biking allows you to intimately connect with the landscape, making your experience personal and extraordinary. In addition, Ninh Binh in general, and biking in Ninh Binh, in particular, is at an affordable price, even cheaper than other destinations in Vietnam.
Ninh Binh offers biking routes for all fitness levels and all ages. You'll find something that suits you.
Ninh Binh Biking for All Levels
Enjoy a leisurely ride through the countryside or embark on a mountain biking voyage —Ninh Binh caters to all types of cyclists.
Leisurely Rides in Ninh Binh for Beginners and Families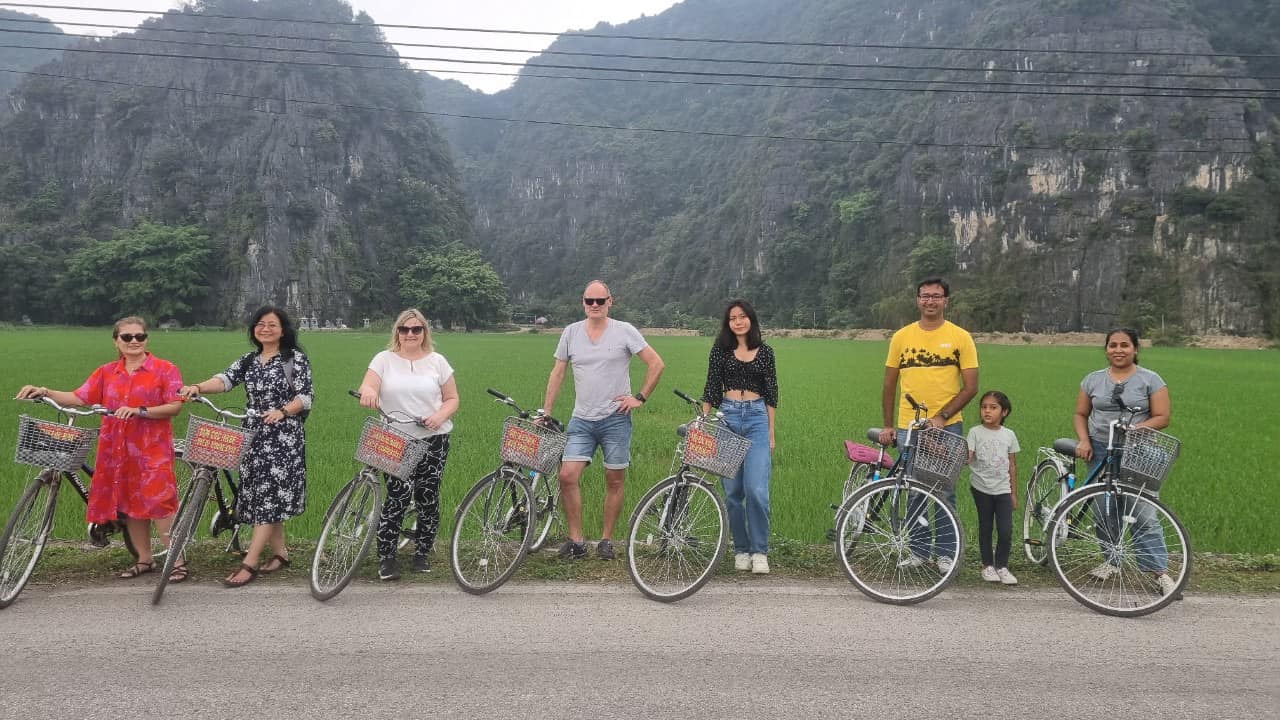 If you're new to cycling or prefer a relaxed pace to enjoy the scenery, Ninh Binh provides various leisurely cycling routes suitable for beginners and families. Take a bike ride around a small village to the temple for around 30 minutes. The flat road and low traffic density make it easier for you to move and sightsee the lush rice fields and limestone karsts.
Intermediate Trail - A Challenging Bike Trip in Ninh Binh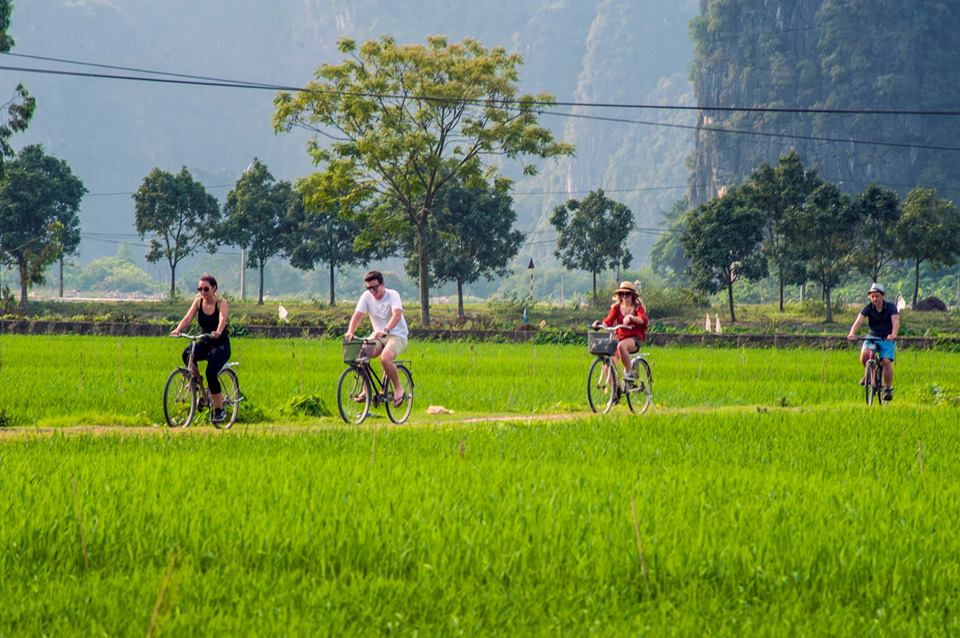 For those seeking a bit more excitement and physical challenge, Ninh Binh offers intermediate cycling trails that combine scenic beauty with moderate difficulty. These routes will take you deeper into the region. For instance, venture through the Van Long Nature Reserve, home to rare and endangered species, while enjoying the breathtaking views of limestone cliffs and serene wetlands. Cycle to the Tam Coc - Bich Dong area, where you can pedal through rice paddies, cross rivers on small boats, and marvel at the spectacular caves nestled within the karst landscape. The intermediate trails offer a balance of adventure and cultural immersion.
Advanced Bike Trip in Ninh Binh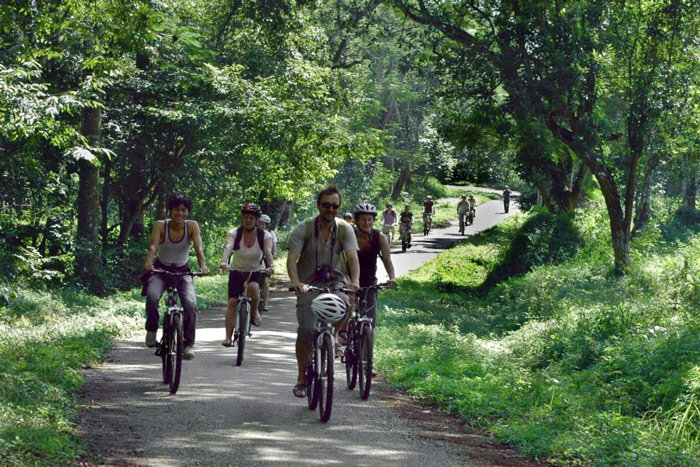 Riders who are physically fit and have a high level of cycling proficiency also enjoy going on bike tours in Ninh Binh. You can challenge yourself by conquering steep mountains and rough terrain while exploring the province's tougher trails. One of these trails includes crossing the Cuc Phuong National Park, which is the oldest nature reserve in Vietnam.
Suggested Biking Route in Ninh Binh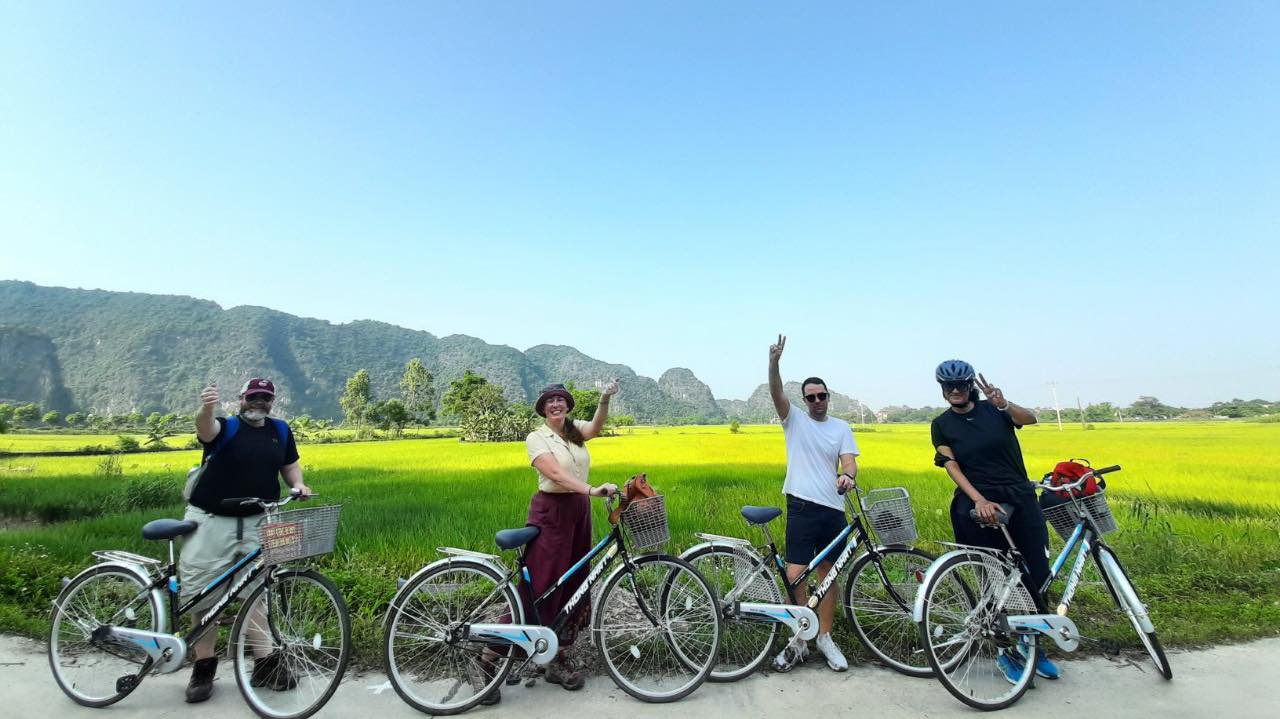 Bicycle route 1: (The easiest one ~ 3km) Tam Coc to Bich Dong Pagoda
Bicycle route 2: (10 km) Tam Coc to Bich Dong Pagoda – Thung Nham Bird Park
Bicycle route 3: (40 km) Tam Coc to Hang Mua, Trang An, Hoa Lu, and Bai Dinh
Bicycle route 4: (40 km) Cycling in Cuc Phuong National Park
How Much for Ninh Binh Bike Rental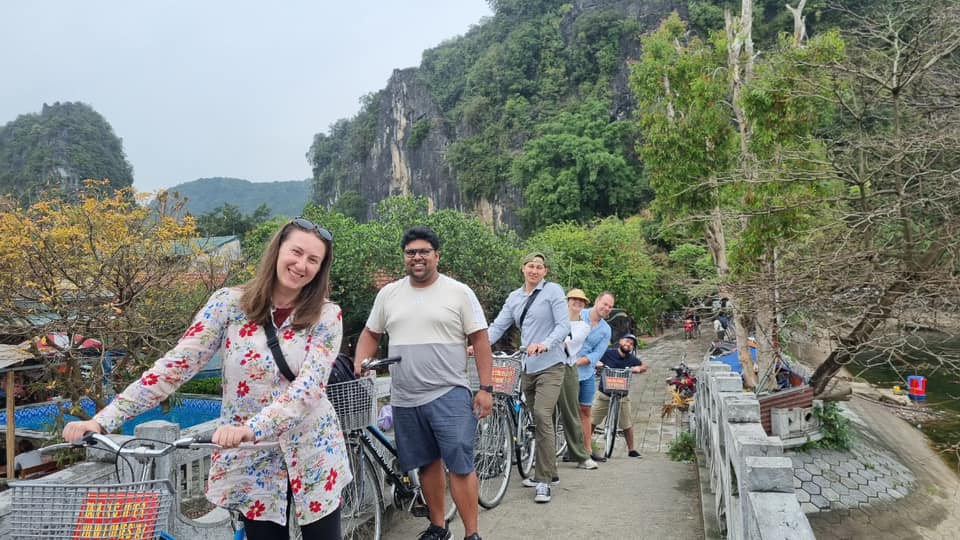 The cost of bike rental in Ninh Binh varies depending on the type of bike you rent, the length of time you rent, and the location of the rental shop. However, you can expect to pay:
100,000 VND (about $4.50) to 200,000 VND (about $9.00) per day for a regular bike.
300,000 VND (about $13.50) per day for mountain bikes and electric bikes
Note that: When renting a bike in Ninh Binh, you will need to provide a valid driver's license and a passport or other form of identification. You may also be required to pay a deposit, which will be refunded when you return the bike in good condition.
Suggested Itineraries for Cycling Experiences in Ninh Binh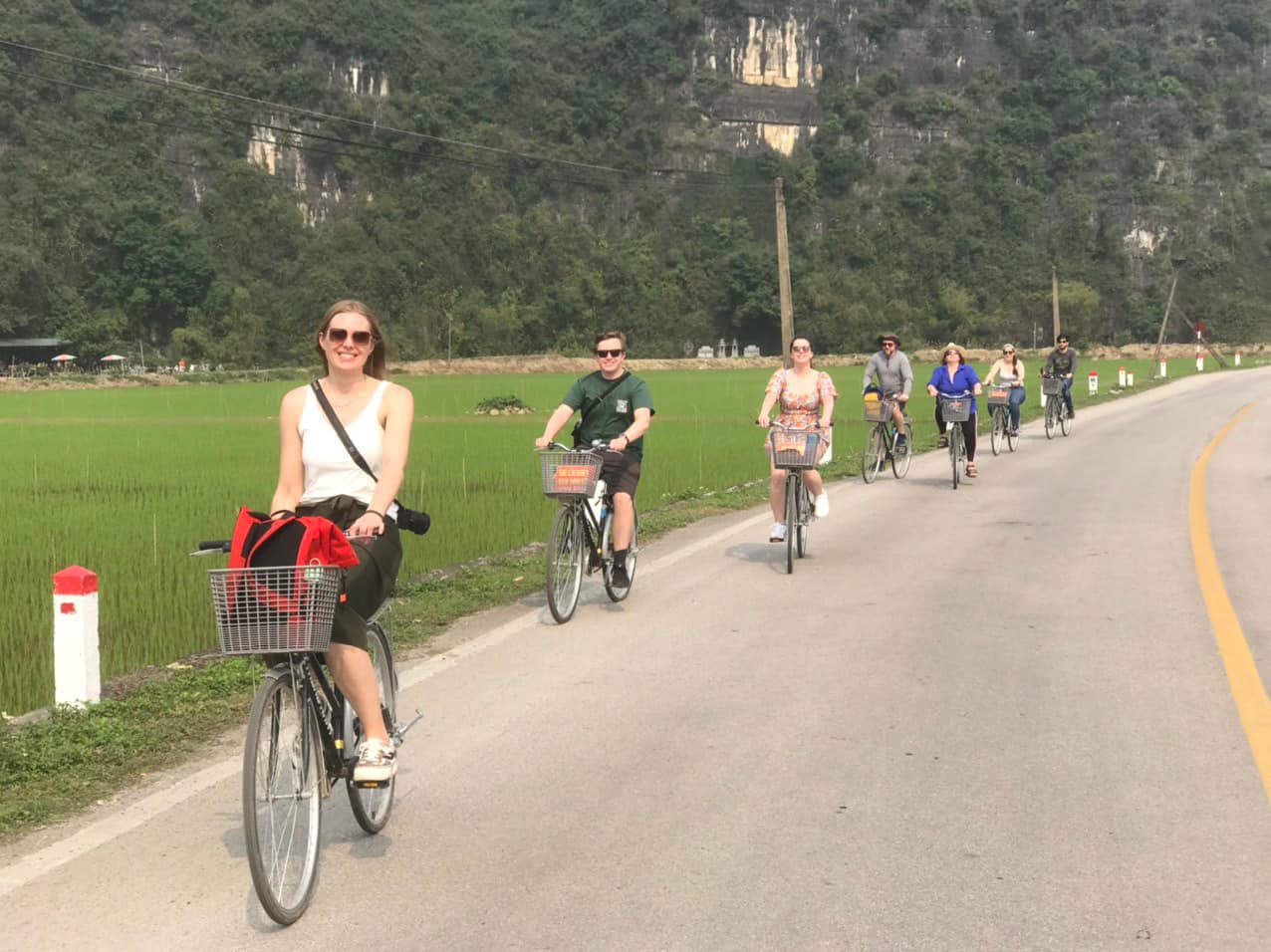 Cycling in Ninh Binh is one of the most unique bicycle tours in Vietnam. However, not all tourists have enough time and physical condition to conquer a multi-day cycling trip in Ninh Binh. If you have just 1 day or 2 days in Ninh Binh and want to try all significant things here, Aloha Vietnam Travel would like to suggest the following itineraries.
These itineraries allow you to visit the most famous attractions, engage in outdoor activities, and, of course, include cycling.
Option 1: One-day tours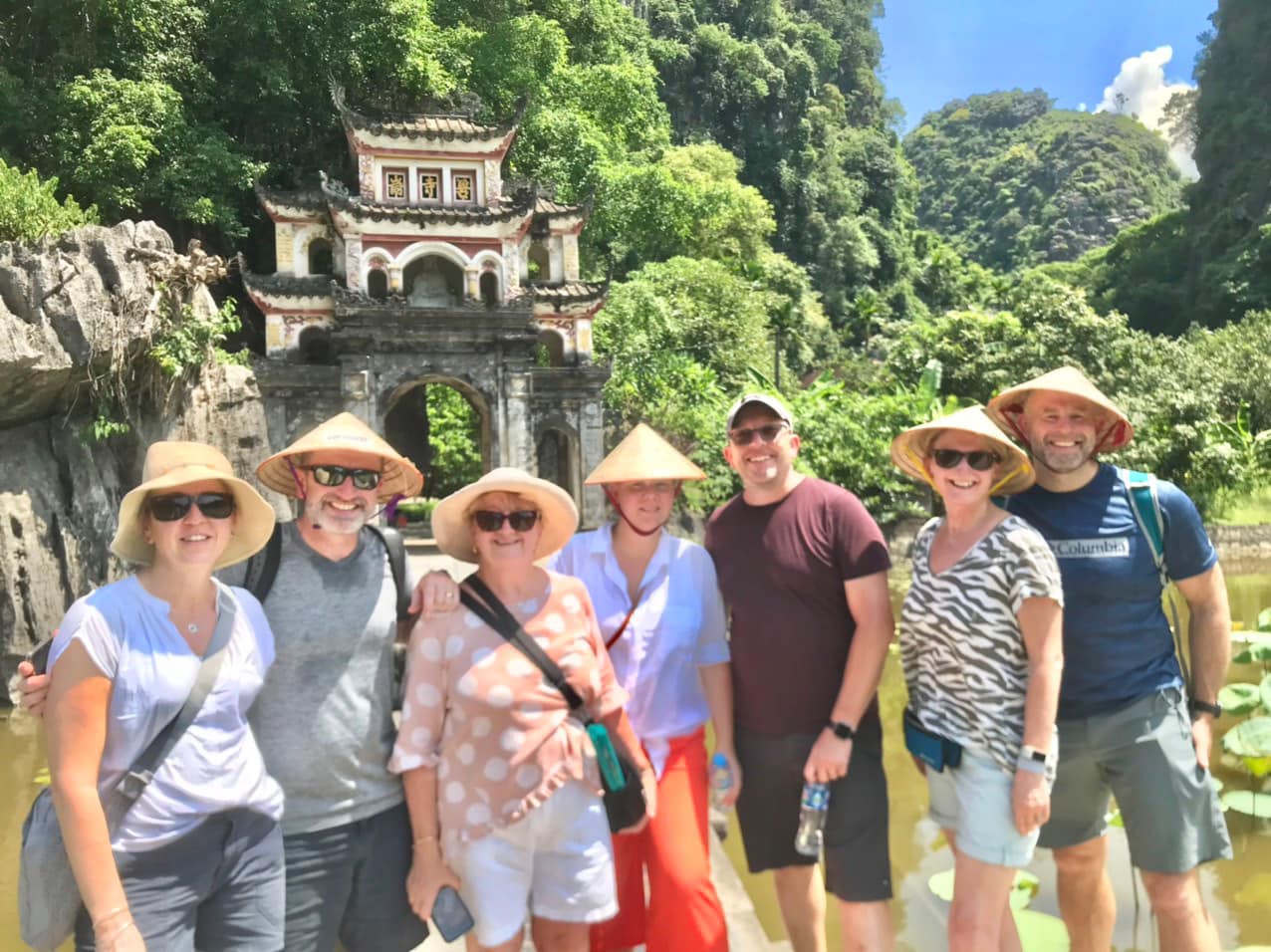 After visiting Hoa Lu Ancient Capital, you will have a short mountain climb of about 500 steps to enjoy a breathtaking panoramic view. In the afternoon, you try both a boat trip in Tam Coc and a bike tour around the rice fields and villages. The distance is around 5 km in turn so everyone even small kids can take it. The highlight of this tour is the visit Bich Dong Pagoda, an old temple built in 1428. You climb and discover 3 levels of this ancient temple before riding back to the bike station.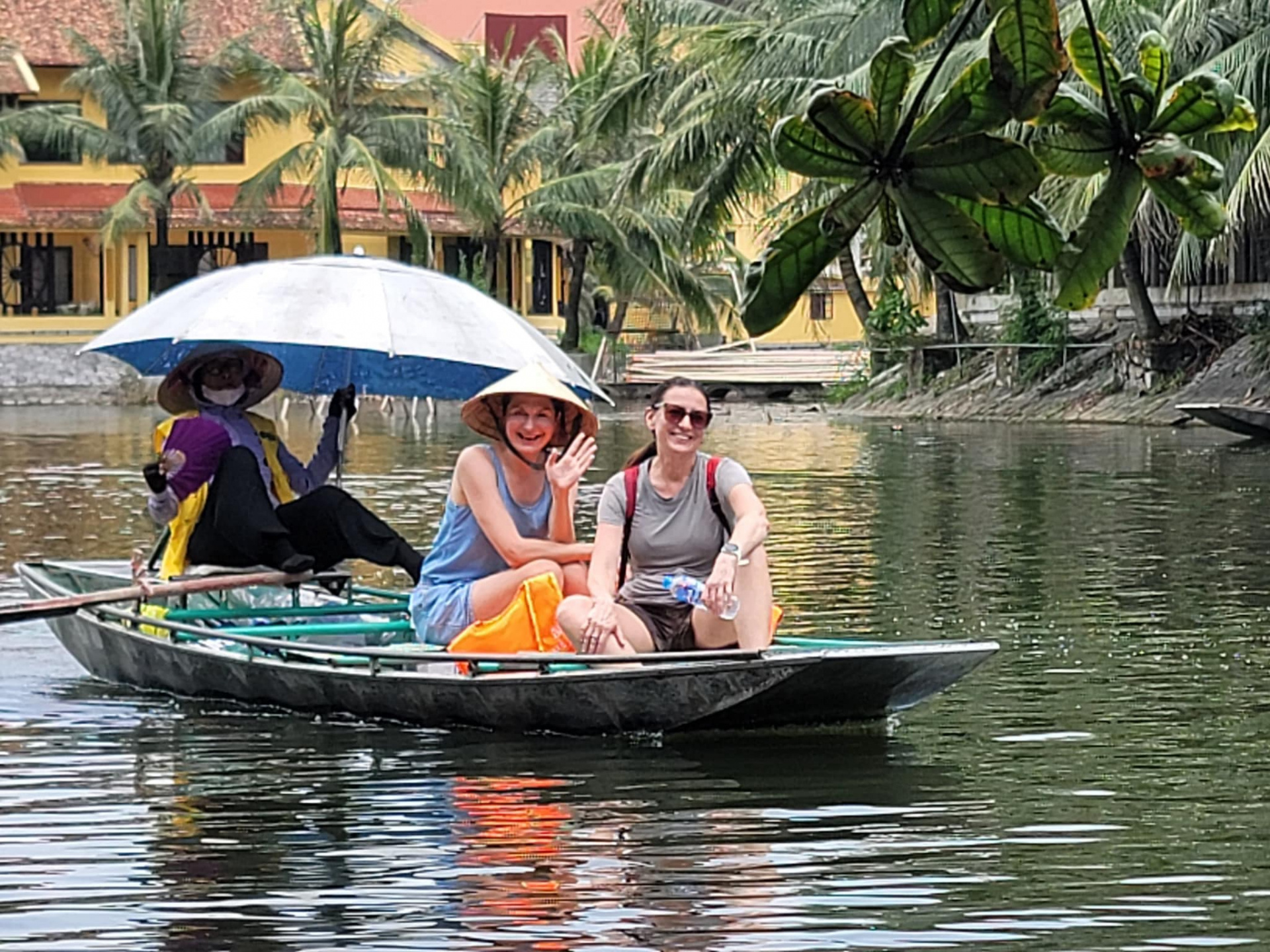 This itinerary is similar to the first one. However, after enjoying the boat trip in Tam Coc, you cycle to Thai Vi temple, a smaller temple, and then enjoy a small party by the pool at the local bungalow.
Option 2: Ninh Binh 2 Day 1 Night Tour Cycling Experiences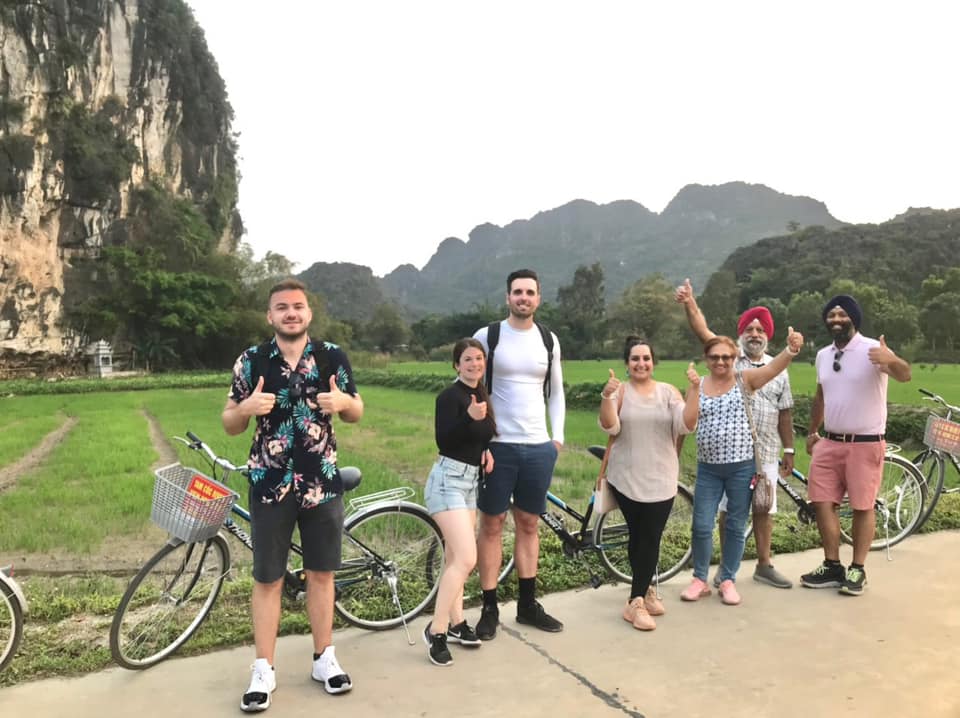 Hoa Lu - Mua Cave - Tam Coc - Cuc Phuong
Hoa Lu - Am Tien Cave- Tam Coc- Bich Dong- Bai Dinh- Trang An
Hoa Lu - Mua Cave - Tam Coc - Bich Dong - Thung Nham National Park
Ninh Binh is a great place to go cycling, with its beautiful scenery and relatively flat roads. There are options to suit all levels of cyclists, from easy half-day rides to more challenging multi-day trips. So, grab your bike and embark on an unforgettable cycling tour in Ninh Binh.
You might read: Exploring the Beauty of Tam Coc: A Guide to a Bike Tour, Boat Ride, and Must-See Attractions 2023
Check our cycling tours in Ninh Binh at Alohavietnam.net and on Tripadvisor now.
Other Articles