All about Bich Dong Pagoda in Ninh Binh: Secret and Outstanding features
17/07/2023
Everyone knows that Ninh Binh, Vietnam is famous for its beautiful landscape with green mountains, yellow rice paddies and ancient capital. People often mention to Trang An or Tam Coc boat trip, Hang Mua with panoramic view or Bai Dinh Pagoda - the biggest pagoda in Southeast Asia. However, just someone has known about Bich Dong Pagoda -  an attractive place in this peaceful Ninh Binh.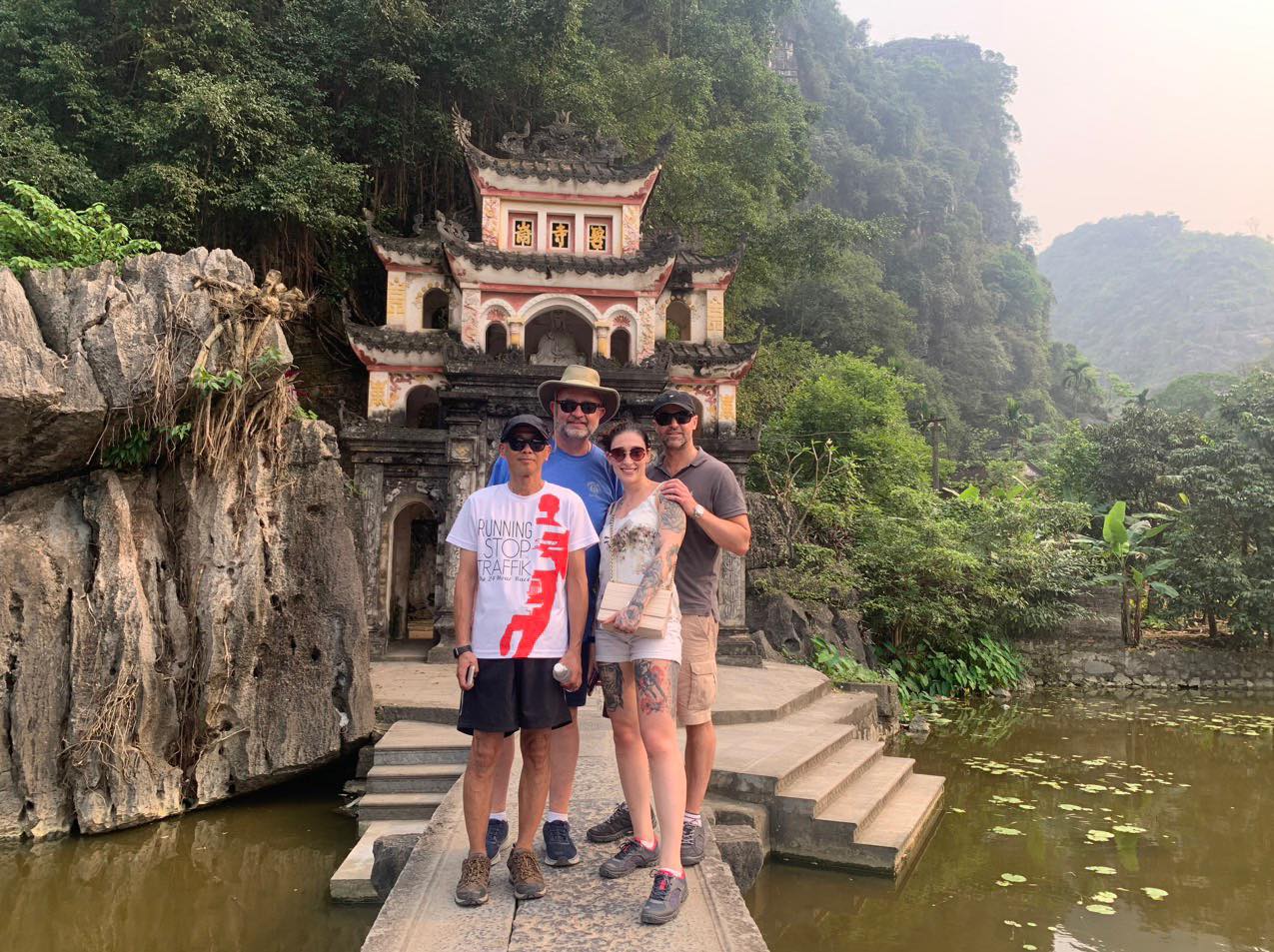 Bich Dong Pagoda Review
Bich Dong pagodas themselves are interesting and the walk up is very pretty. Bring a light on your phone or torch to go through a cave which is very dark! The views at the top are absolutely stunning and there is no one around. We went at sunset, best time to go! So much fun and beautiful. (Natassja)
This is well worth a visit. Make sure you go right to the top as there is a cave temple and we were privileged to be welcomed in to watch the prayers and thanks giving. It was really very special. Beautiful little place to spend a couple of hours. (Julie)
These are 2 of thousands of feedback about Bich Dong Pagoda.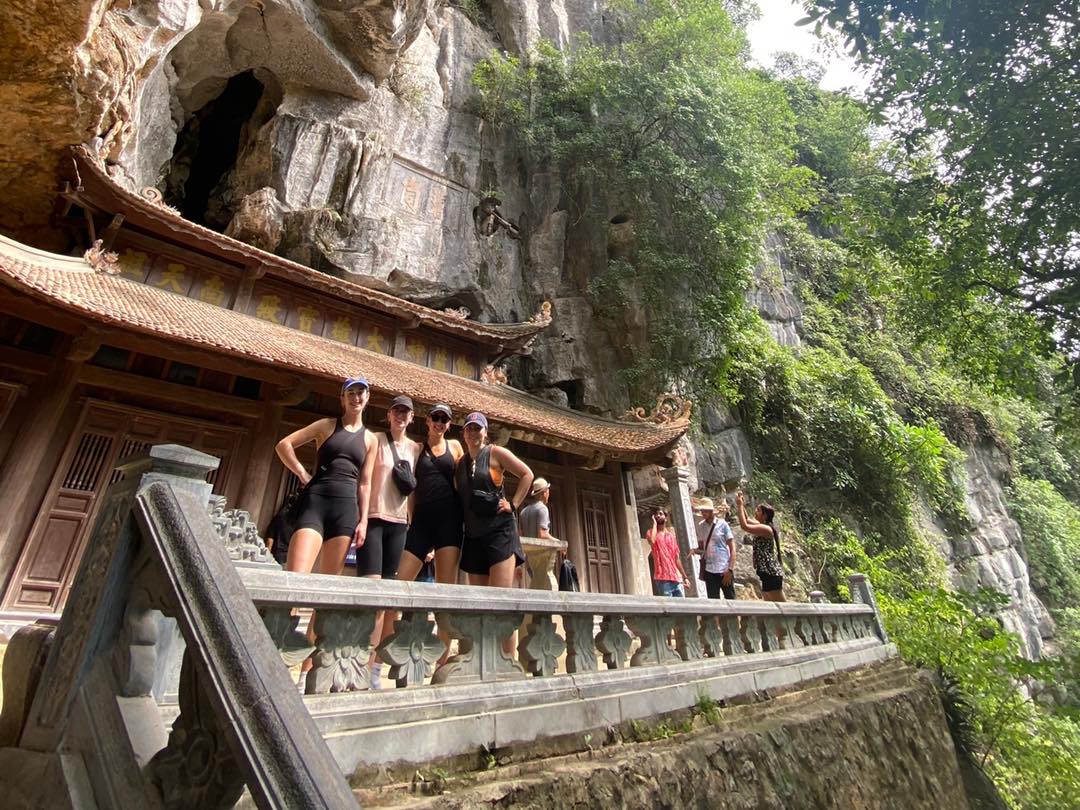 Bich Dong Pagoda has its unique story and become an important part of Ninh Binh, Vietnam. If you want to experience Ninh Binh in authentic and local ways, you can't miss this historic place.
What makes Bich Dong Pagoda special?
Bich Dong Pagoda Location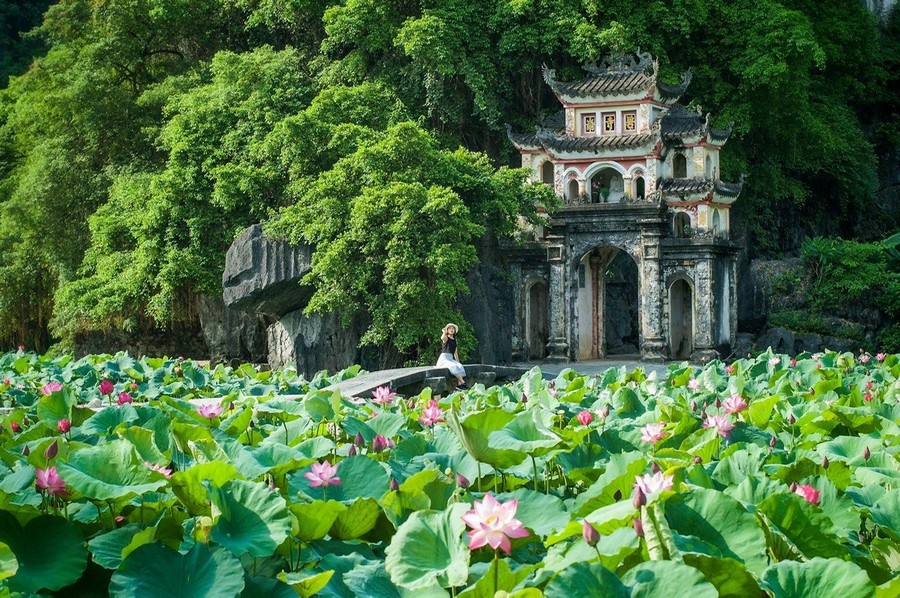 What sets Bich Dong Pagoda apart from other places? Firstly, its location is absolutely stunning. Bich Dong Pagoda is a quiet and dramatic temple situated on the Truong Yen mountains in Ninh Hai commune, Hoa Lu district, Ninh Binh province. The surrounding scenery is breathtaking, with lush greenery and majestic mountains creating a picturesque backdrop for the pagoda, with a large lotus pond in front of the gate and three old temples inside, creating a harmonious blend of nature and architecture.
Binh Dong Pagoda Architecture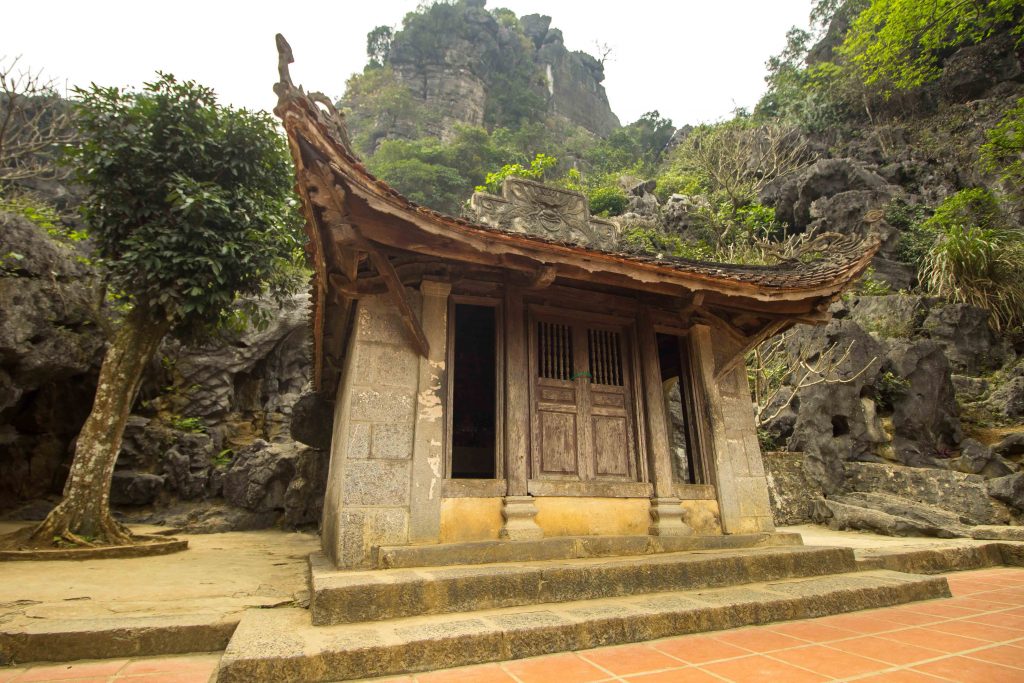 The unique design of the pagoda follows the shape of the Chinese character for "three," symbolizing its three distinct sections. These sections are known as the Bottom pagoda, Middle pagoda, and Top pagoda.
The Bottom Pagoda boasts five rooms adorned with magnificent wooden and stone pillars. Inside, you will find statues of Buddha and three revered masters: Chi Kien, Chi The, and Chi Tam, who were instrumental in the establishment and construction of Bich Dong Pagoda. Standing proudly outside are two statues, Nam Tao and Bac Dau, who oversee the sacred birth and death book.
To reach the Middle Pagoda and the entrance to Dark Cave, you must climb a staircase of 120 steps from the Bottom Pagoda. At the entrance of the cave, you'll discover an ancient bell adorned with intricate carvings, adding to the enchanting ambiance. Many travelers also make a point to visit the "Giai Oan" bridge, which offers a peaceful setting to reflect and clear your mind.
The Top Pagoda is dedicated to the worship of Bodhisattva. From here, you can marvel at the awe-inspiring view of the five revered mountains associated with Bich Dong Pagoda. These mountains resemble the delicate lotus petals of Bodhisattva.
Historical and Spiritual Significance Of Bich Dong Pagoda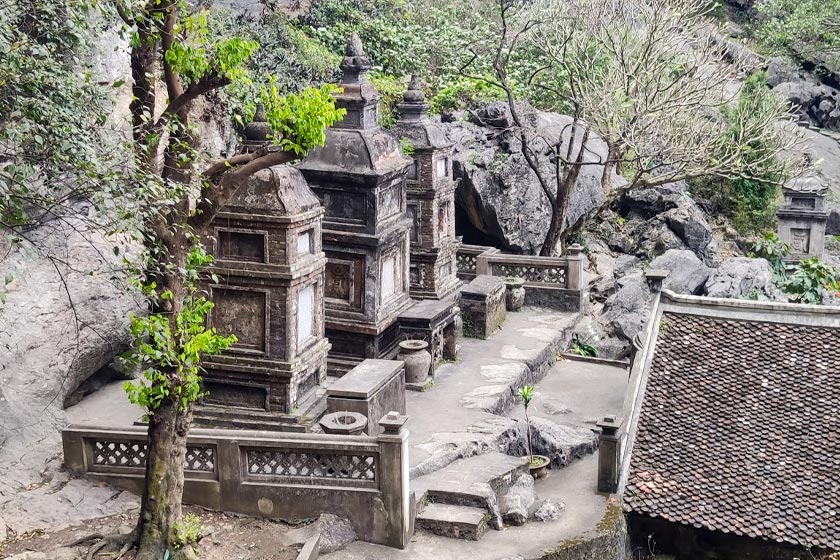 The exact founding date of Bich Dong Pagoda is not certain, but it is believed to have been established during the Le Dynasty in the 15th century. Legend has it that the location of the pagoda was chosen by a Buddhist monk who was fascinated by the natural beauty and spiritual energy of the Truong Yen mountains. The monk, along with the three masters, began the construction of the pagoda on the mountainside, creating a serene and harmonious place of worship.
How to get to Bich Dong Pagoda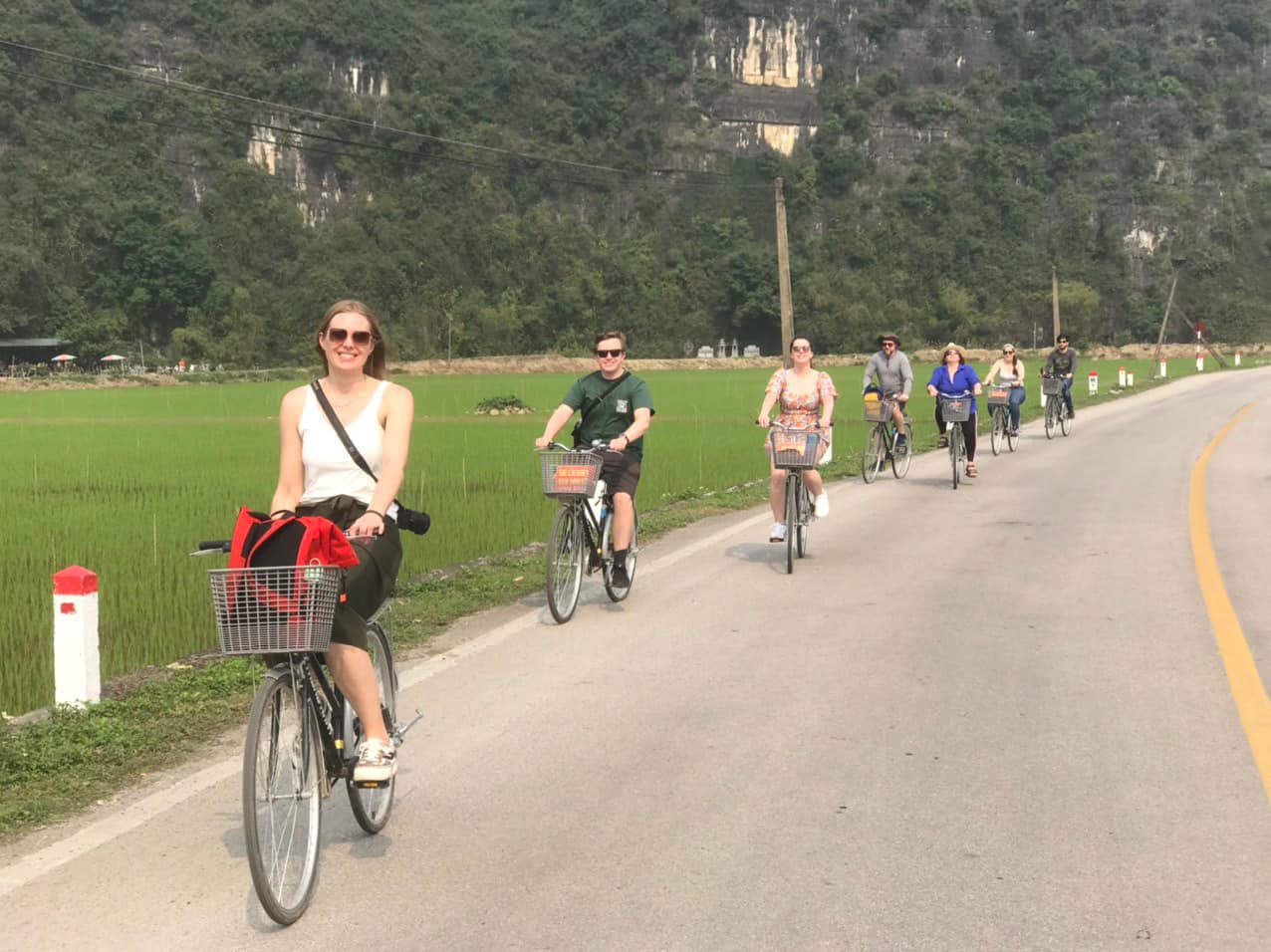 To reach Bich Dong Pagoda from Hanoi, you can follow a straightforward route. The most convenient way is to travel by road. From Hanoi, head south on National Highway 1A, which will take you towards Ninh Binh province. The distance between Hanoi and Ninh Binh is approximately 90 kilometers, and the journey takes around two hours. Once you reach Ninh Binh City, continue to follow National Highway 1A until you reach Hoa Lu district. Bich Dong Pagoda is located in Ninh Hai commune within Hoa Lu district.
Discover more: Halong To Ninh Binh: Best Ways To Transfer And Tips For Good Price Updated 2023
If you are already in Tam Coc Ninh Binh, head towards the main road and take a left turn. The total distance between Tam Coc and Bich Dong Pagoda is approximately 3 kilometers, and the travel time is around 20 minutes by motorbike or bike. Taking a bike ride from Tam Coc boat station to Bich Dong is the best way because short distance and you can stop wherever you want to enjoy the local village surrounding.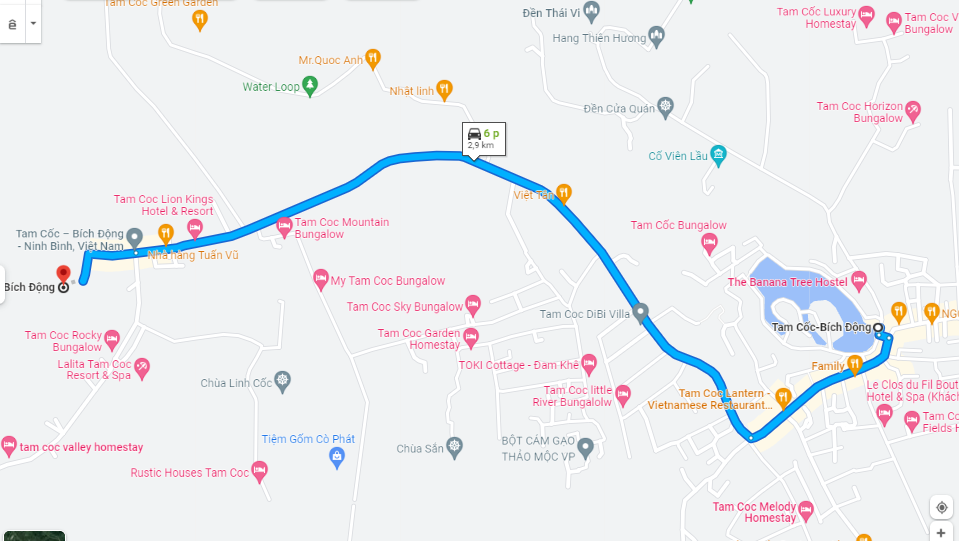 Parking facilities are available near the pagoda, allowing you to explore this enchanting place at your own pace.
Bich Dong Pagoda Entrance Fee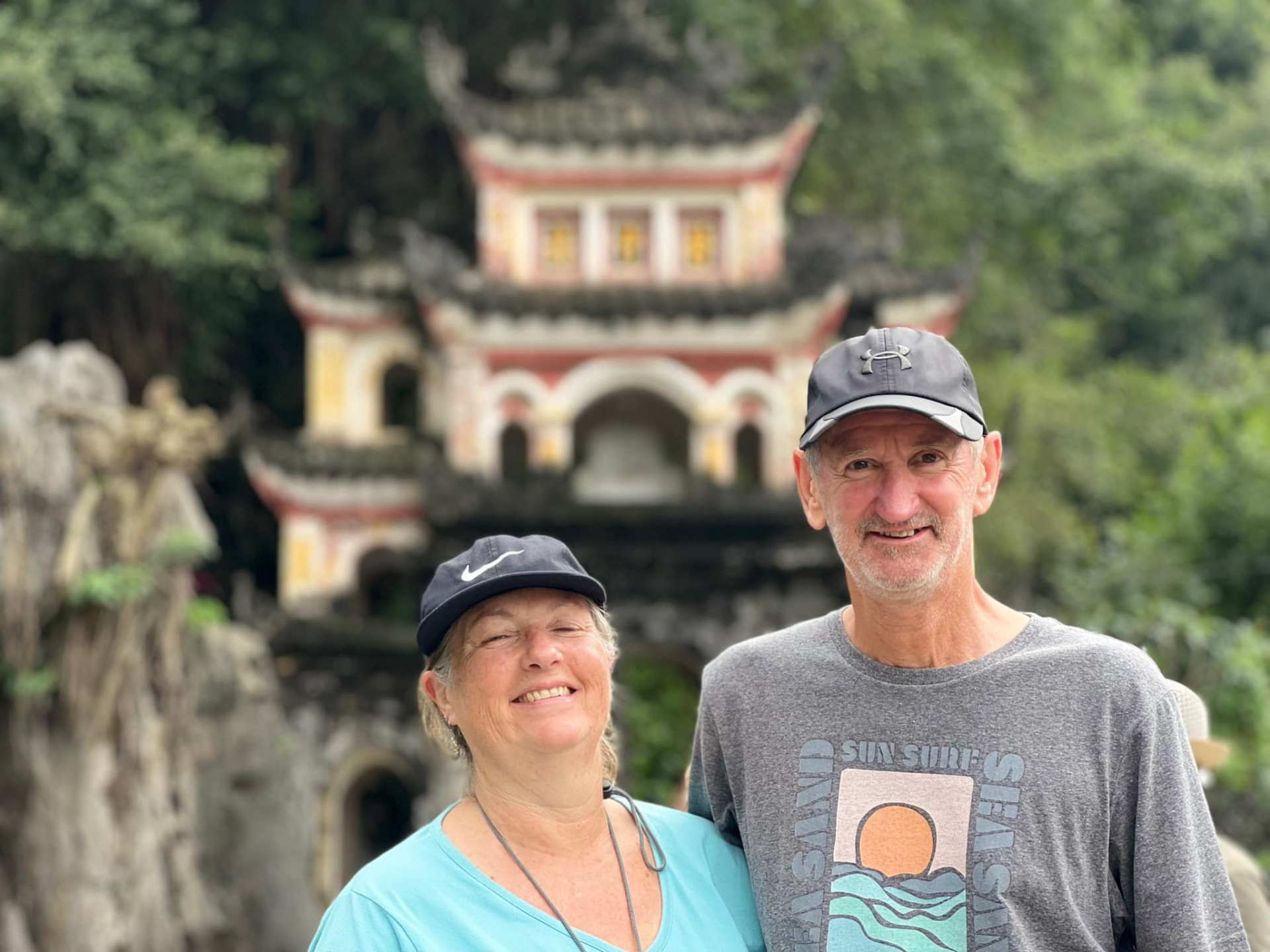 Bich Dong Pagoda opening hours: 7 AM - 5 PM every day
Entrance ticktet: free
Parking fee: ~$0.8
There is no entrance fee to visit Bich Dong Pagoda. However, you may have to pay a small fee for parking at the jump-off point. The parking fee is usually around 20,000 VND (about US$ 0.80).
Note: Compared to Tam Coc, Bich Dong Pagoda usually attracts fewer tourists. There are fewer food stalls outside to serve food and drinks. You should prepare all the necessary items in advance.
What to wear in Bich Dong Pagoda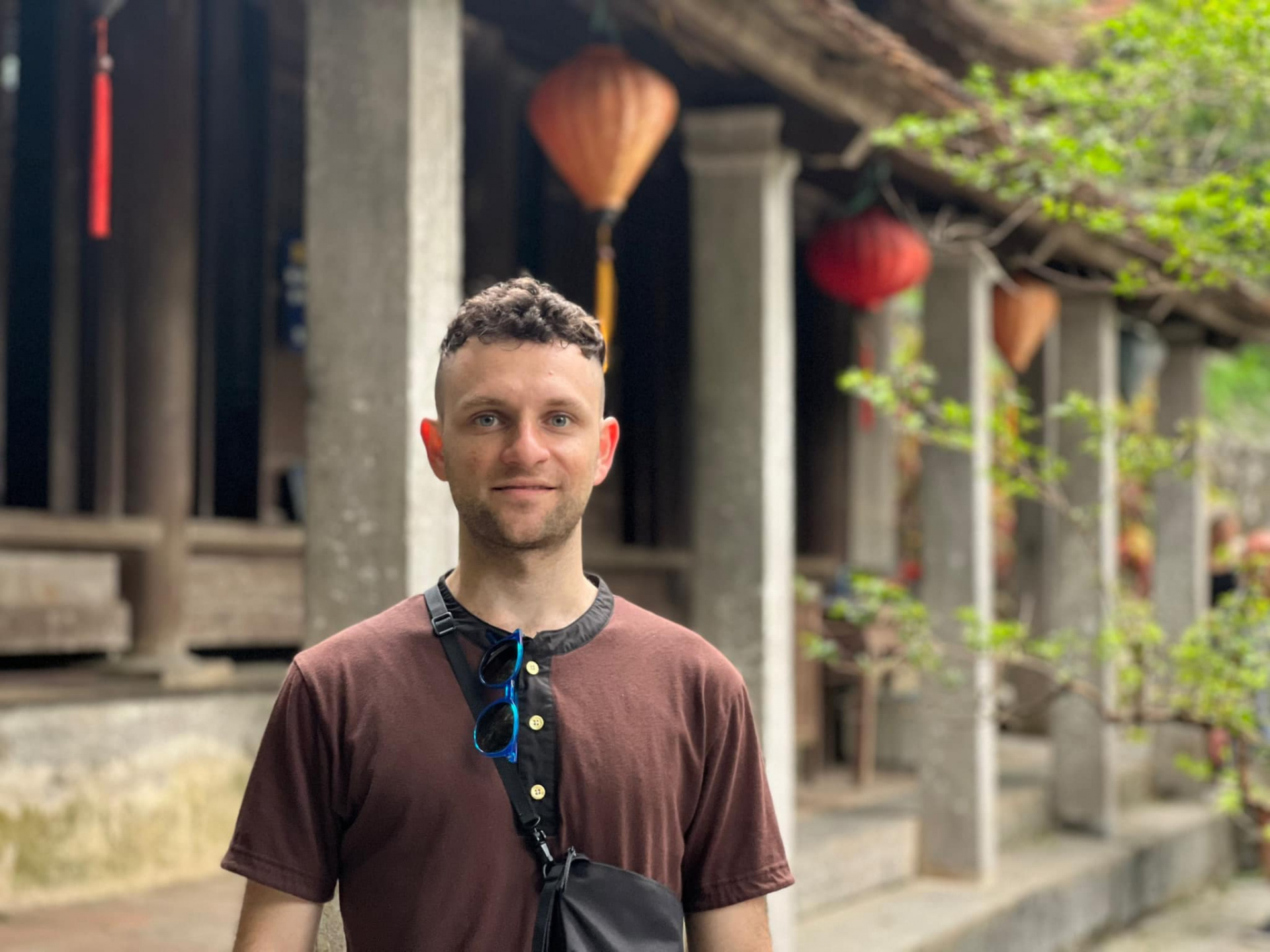 About Bich Dong Pagoda dress code? Similar to all temples or pagodas in Vietnam, when visiting Bich Dong Pagoda, make sure you dress appropriately. In Buddhist sites, your dress must cover your shoulders and knees. This means no tank tops or short shorts. Besides, There are a lot of steps to climb to reach the top pagoda, so you'll want to wear comfortable shoes. If you come in summer, remember to bring a hat and water. The weather in Ninh Binh can be hot and outdoor activities like cycling and temple climbing will take your energy. If you're visiting Bich Dong Pagoda during the rainy season, be sure to bring an umbrella.
Bich Dong Pagoda Tour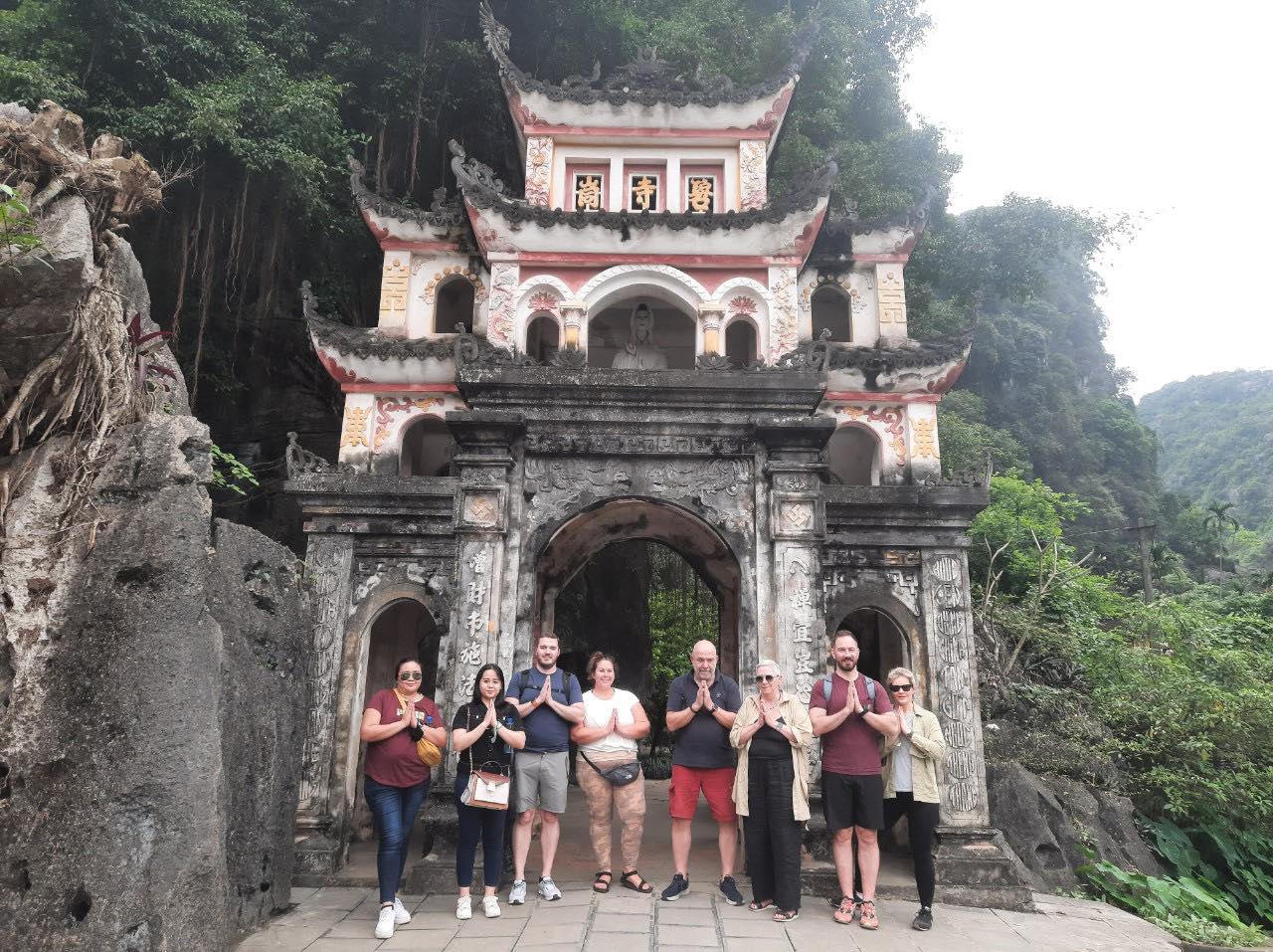 Because Bich Dong Pagoda is close to Tam Coc Boat Station and many beautiful homestays in the Tam Coc area, you can easily combine Bich Dong Pagoda hike with a boat trip on the Ngo Dong River and cycling around the village. Below is a suggested itinerary for a day tour or 2 days 1-night tour in Bich Dong Pagoda:
A full-day tour option:
2 days 1 night option: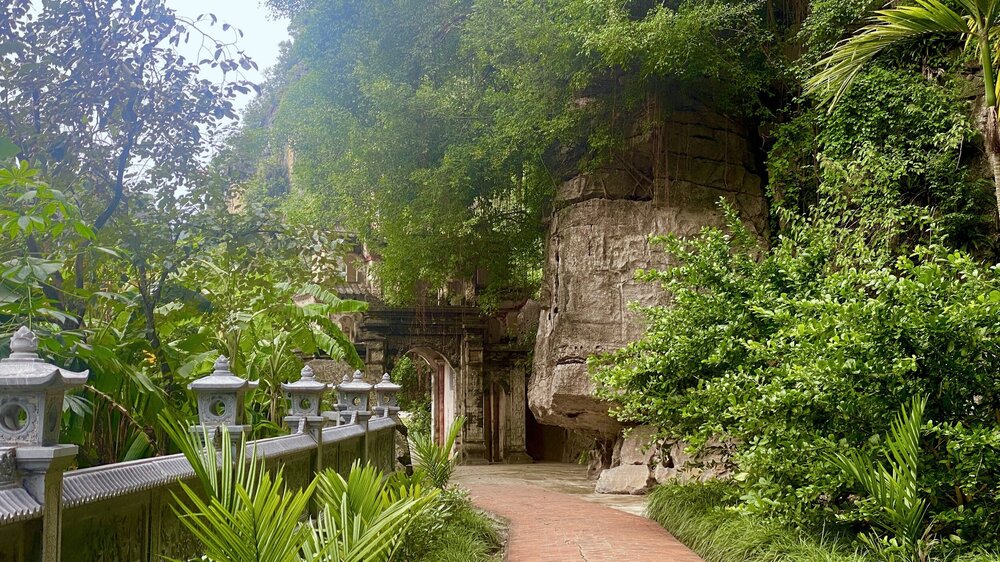 Bich Dong Pagoda in Ninh Binh is an amazing site for travelers to explore. The pagoda's secret location, remarkable architecture, and historical significance make it a must-visit destination in Ninh Binh. Visiting Bich Dong Pagoda is not just a journey to a physical location; it is a spiritual and cultural experience that connects visitors with the spirit of Vietnam.
You might read:
Top 7 Homestays and 5 Best Coffee Shops in Tam Coc Ninh Binh
Other Articles