Halong Bay Budget-friendly Cruise for Backpackers: Top 10 Good and Affordable Cruise
26/08/2023
While Halong Bay offers a range of luxury cruises there are also affordable options that are suitable for backpackers. This article provides you with top choices and tips for the Halong Bay cruise trip. If you are wishing for a budget-friendly trip, let's discover. 
Halong Bay in Vietnam is a stunning UNESCO World Heritage Site. Almost all tourists wish to visit Halong Bay when they are in Vietnam. Its emerald waters, thousands of towering limestone islands and gorgeous caves bring Halong to the top of travel bucket list in the North of Vietnam. Embarking on a Halong Bay cruise is the best way to explore this area. A cruise trip to Halong is worth trying.
Things you should keep in mind when choosing a cruise in Halong Bay.
When choosing a cruise in Halong Bay, there are several Halong Bay Cruise tips to keep in mind to ensure you have an enjoyable experience.
Halong Bay vs. Lan Ha Bay
You might see Halong and Lan Ha Bay share similarities in natural sceneries and cruise design. However, they are in different locations and have different ways to reach. Make sure you go to the right transport and the right port.
Besides, Halong Bay and Lan Ha Bay have slightly different characteristics. Halong Bay tends to be more crowded with tourists and boats, while Lan Ha Bay is quieter and more pristine. On the other hand, Caves in Halong Bay are larger and more famous than those in Lan Ha Bay.
Explore more: Halong Bay vs Lan Ha Bay: Which is the Ultimate Destination?
Duration of the Cruise
Decide whether you want a day cruise (typically 4, 6, 8 or hours) or an overnight cruise (2 days 1 night or 3 days 2 nights). Overnight cruises allow you to explore the bay more thoroughly and enjoy activities like kayaking and cave visits. Day cruise is preferred by travellers with low budget or limited travel time.
Price Doesn't Always Indicate Quality
The price of a cruise doesn't always reflect the quality of the experience. Some mid-range cruises offer excellent services and comfort, so read reviews and gather information to make an informed decision. You can find Halong Bay cruise reviews on some reputable websites such as Tripadvisor, GetYourGuide, Cruise Fanpage/Website or Review groups… Reading reviews from fellow travellers and seeking recommendations from trusted sources can provide valuable insights into the quality of the cruise experience.
With day cruise, ask about the inclusion of the cruise trip. Some will offer cheaper prices but they cut the meal or offer a lower standard for meals.
Which is Your Cruise Port Location?
Halong Bay has two main cruise ports: Tuan Chau Port and Halong International Cruise Port. These ports are quite far from each other, so it's crucial to know the exact port where your chosen cruise departs from. This will prevent any last-minute hassles and ensure you arrive at the right location.
Itinerary and Activities
Carefully review the cruise itinerary and the activities included. Some cruises offer unique experiences like visiting less crowded areas, kayaking, cave exploration, and cooking classes. Choose a cruise that aligns with your interests.
Regard to Halong Bay cruise check-in time, overnight cruises usually start at 12:00 PM so you need to be in the waiting room for at least 30 minutes to check in. Almost every cruise provides a mode of transport from Hanoi to Halong and they will pick you up at your hotel or in the Old Quarter.
With day cruises, you can start your Halong Bay cruise trip in the morning or in the afternoon. Ask the agent or cruise providers for the exact time.
Cabin Comfort
With overnight cruise, check the condition and size of the cabins. Make sure they meet your expectations for comfort and cleanliness. A cabin balcony is another essential key factor to take into consideration.
Cancellation Policy
Be aware of the cruise's cancellation policy in case your plans change or there are unexpected circumstances that force you to alter your travel dates.
By considering these factors, you can select the right cruise experience in Halong Bay that suits your preferences.
You might read: Choosing the Perfect Halong Bay Day Cruise Tour: Tips and Recommendations
Top 5 Day Cruises in Halong Bay
Halong Bay

Cozy Cruise

Halong Bay

Cong Cruise

Halong Bay Ambassador Cruise

Halong Bay Queen Cruise

Halong Bay La Casta Cruise
Top 5 Overnight Cruises in Halong Bay
Halong Bay Catamaran Cruise

Halong Bay Paradise Elegance

Halong Bay Sapphire Cruise

Halong Bay Arthena Cruise

Halong Bay Aqua of the Sea Cruise
Halong Bay Cruise with Transfer from Hanoi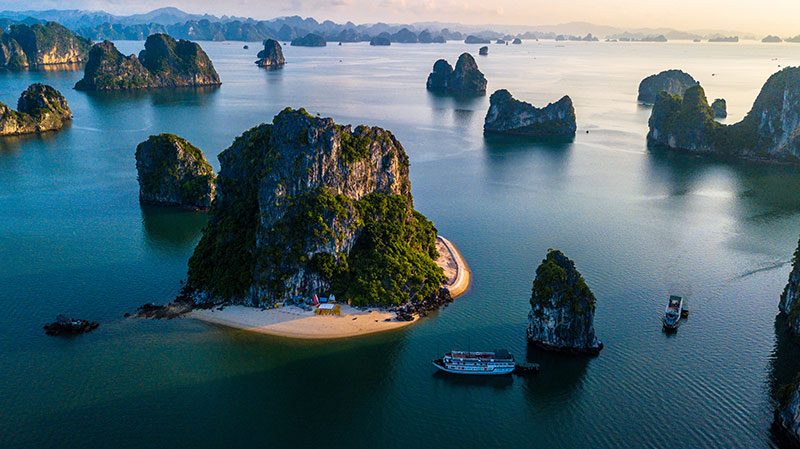 See our best offer
In conclusion, Halong Bay Cruise should be your first choice when visiting Vietnam. Remember that prices and the quality of services can vary, so it's essential to read recent reviews and do some research to find the best deals and cruise options that suit your preferences. Additionally, booking in advance online can often lead to better deals compared to booking on-site. Keep in mind that some cruises may have age restrictions, so it's a good idea to check in advance if you're travelling with children or elderly family members.
Other Articles