A full guide for Am Tiem Cave Ninh Binh: A must-see spot near Hanoi
19/08/2023
Am Tiem Cave in Ninh Binh is a great place to visit. Located next to Hoa Lu Ancient Capital and near Trang An, you can totally include this beautiful place in your Ninh Binh day trip. Let's discover why Am Tiem Cave is a hot scenic spot in Ninh Binh.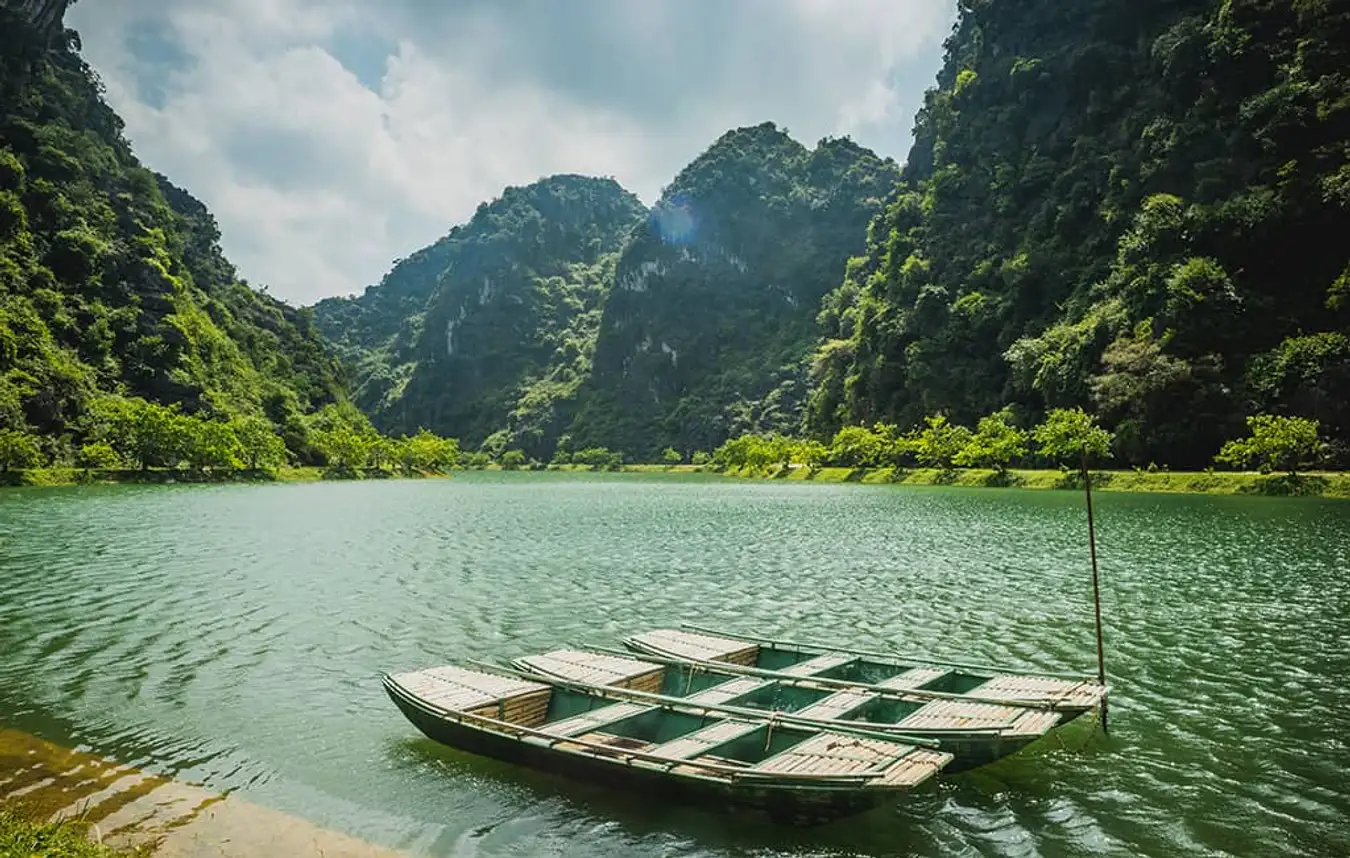 The name of Tuyet Tinh Coc (Am Tiem Cave)
The ancient capital of Hoa Lu was the first capital of Vietnam. Hoa Lu is closely associated with the story of King Dinh defeating the 12 warlords and the love story between King Dinh and Queen Duong Van Nga. To this day, the Hoa Lu ancient complex is a historic and beautiful destination for tourists. Among them, Am Tien Cave is where the King used to punish criminals of the court. Later, Queen Duong Van Nga chose this place for her spiritual practice in her later years. Unlike the traditional temples and shrines, Am Tien Cave is a natural wonder, nestled in the mountains like a hidden paradise. The Vietnamese name of Am Tiem Cave is " Tuyet Tinh Coc" which means an incredibly tranquil mountain cave.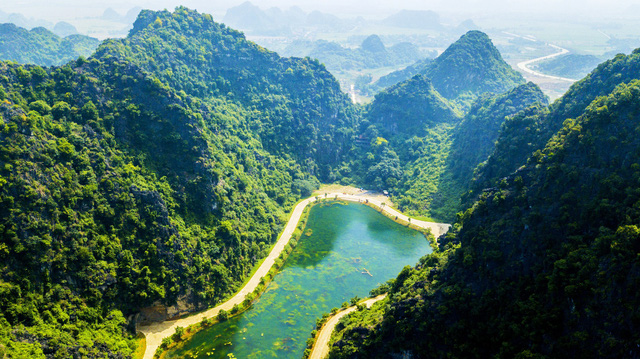 In the past, to enter Am Tien Cave, tourists had to climb 205 stone steps along the mountainside. However, the management has now opened a tunnel through the mountain, making it more convenient for those who wish to explore the historical origins. Most of the area inside Am Tien Cave is a water-filled valley, surrounded by rocky cliffs. After passing the tunnel, a large, clear blue lake will appear before the eyes of tourists.
Tuyet Tinh Coc became a hot attraction in Ninh Binh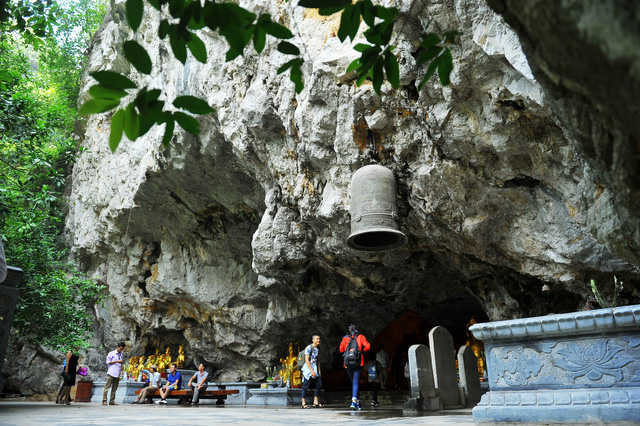 Thanks to its panoramic views of lush green rice paddies, karst limestone formations, and serene water bodies, the picturesque landscape attracts photographers and nature enthusiasts. In addition, the power of social media has played a significant role in promoting Tuyet Tinh Coc. Beautiful photos shared by travellers on platforms like Instagram, and Facebook have contributed to its popularity. Nowadays, Am Tiem Cave become a favourite place for young people and those looking for a quiet atmosphere.
You can visit Am Tiem Cave at any time of the year. In the summer, it is exceptionally cool here, thanks to its elevated position surrounded by mountains. Additionally, during the summer, lotus and water lily flowers in the lake bloom, creating a scene reminiscent of a fairyland. In the winter, Am Tiem Cave is covered with mist, making it even more picturesque. Just a small reminder, you should wear non-slip shoes when visiting Am Tiem Cave in the rainy season to easily climb the high steps and ensure safety for your trip.
Am Tiem Cave location and how to get there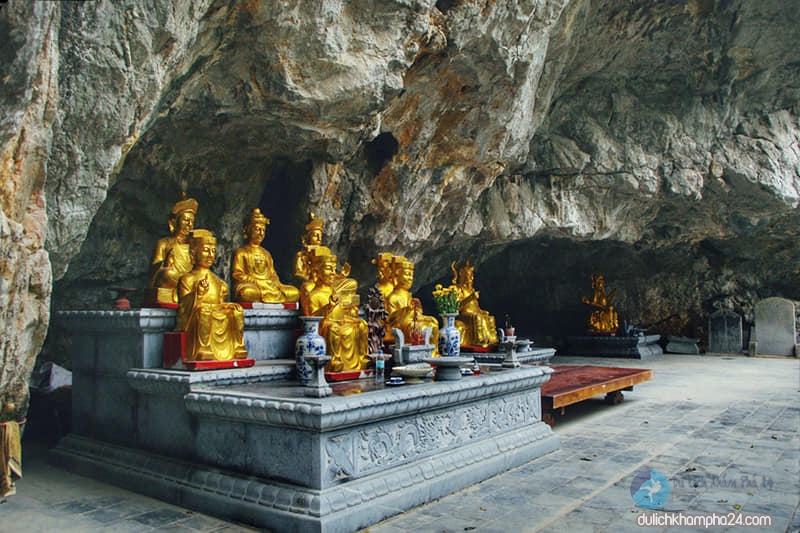 Am Tiem Cave is located near the Hoa Lu Ancient Capital. It is about 100 kilometres south of Hanoi, the capital city of Vietnam. Am Tiem Cave is also near other popular attractions in the region, making it convenient for tourists to include Tuyet Tinh Coc in their itinerary when exploring the region. You can combine visit this place with Trang An Scenic Landscape Complex, Hoa Lu Ancient Capital and Hang Mua (Mua Cave).
You can get to Am Tiem Cave by car. If you are driving from Hanoi, take the Hanoi - Ninh Binh Expressway (CT01) and exit at the Hoa Lu junction. From there, follow the signs to Am Tien Cave. The total driving time is about 1 hour and 40 minutes. There are several bus companies that travel from Hanoi to Ninh Binh. The bus will drop you off at the Hoa Lu bus station, from where you can take a taxi or motorbike to Am Tien Cave. The bus journey takes about 2 hours.
See the Map to Tuyet Tinh Coc (Am Tiem Cave)
Ticket Price and Opening Hour Am Tiem Cave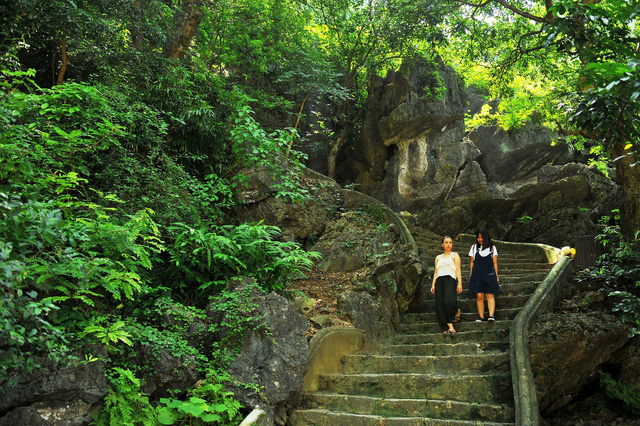 Once you arrive at Am Tien Cave, you will need to walk about 200 meters to reach the entrance to the cave.
The entrance fee is 50,000 VND/adult.
Opening time: 8 AM - 6 PM
What to do in Am Tiem Cave Ninh Binh
The area of Am Tiem Cave isn't large compared to Bai Dinh Pagoda or other sightseeing spots in Ninh Binh. However, the scenery is really worth visiting. There are lots of cool stuff for visitors to check out. Some of the unique things you can see and do there include:
1. Walk around the lake and see goldfish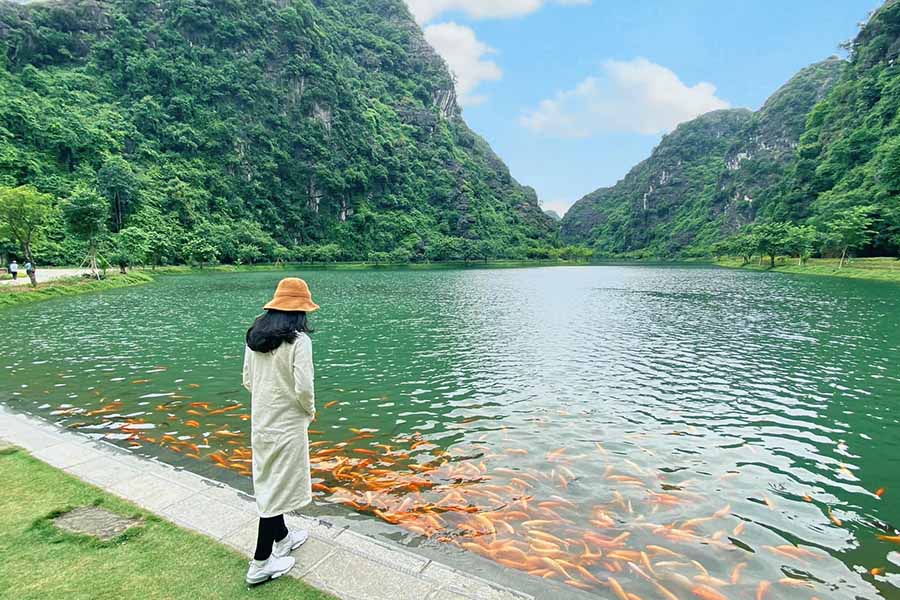 The image that immediately comes to mind when thinking of Am Tiem Cave in Ninh Bình is the quiet green lake. A large lake located in the middle of Am Tiem Cave looks like the heart of this place. You can admire goldfish or rent a boat for photography. Visiting Tuyet Tinh Coc you catch some couples here for their wedding photoshoots. It is a great palace to see the culture of Vietnamese in wedding traditions.
2. Exploring the thousand-year-old Am Tiem Pagoda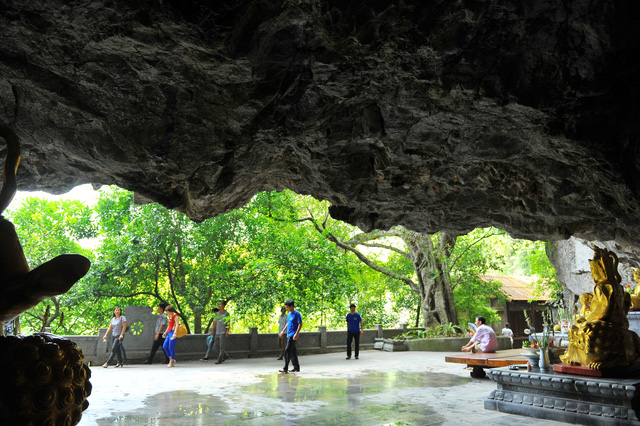 Following the path around the lake, you continue to climb up around 200 stone steps to reach the ancient pagoda and Am Tiem Cave. With 200 stone steps of medium height, even children or old people can easily climb to Am Tien Cave. Along the entrance, the lush green vegetation provides a refreshing and natural breeze. From here, you can fully appreciate the panoramic view of Am Tiên Cave.
This pagoda is nestled on the mountainside. The Am Tien Cave is also known as the Dragon Cave by locals because its shape is like the mouth of a dragon. Outside, there is a large bell. Inside the cave, you'll find numerous stalactites in various shapes such as water droplets, lotus flowers or stalks of rice and a small wall.
3. Take a picture of the Great Wall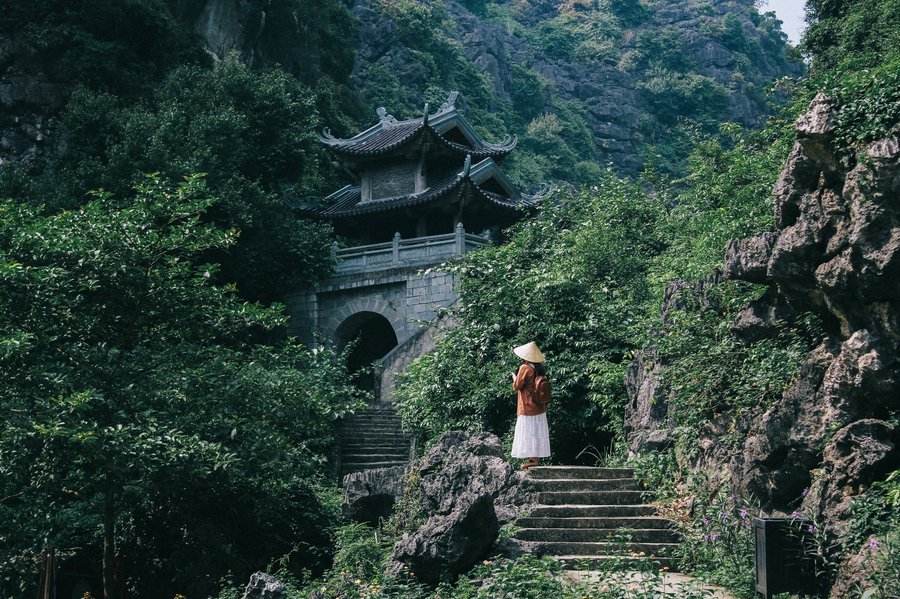 The ancient wall is on the opposite side of the Am Tiem Cave. It is one of the ideal locations for you to admire the beautiful landscape from above. From here, you can take in the majestic scenery of the ancient capital, Hoa Lu. Many couples also choose this place as their wedding photoshoot location. As an ancient architectural marvel dating back to the Dinh Dynasty, despite the ups and downs of thousands of years of history, the city wall still stands tall, amidst the natural surroundings. Since the path is not steep, don't worry to climb to the top of the wall.
4. Cycling or carriage around the lake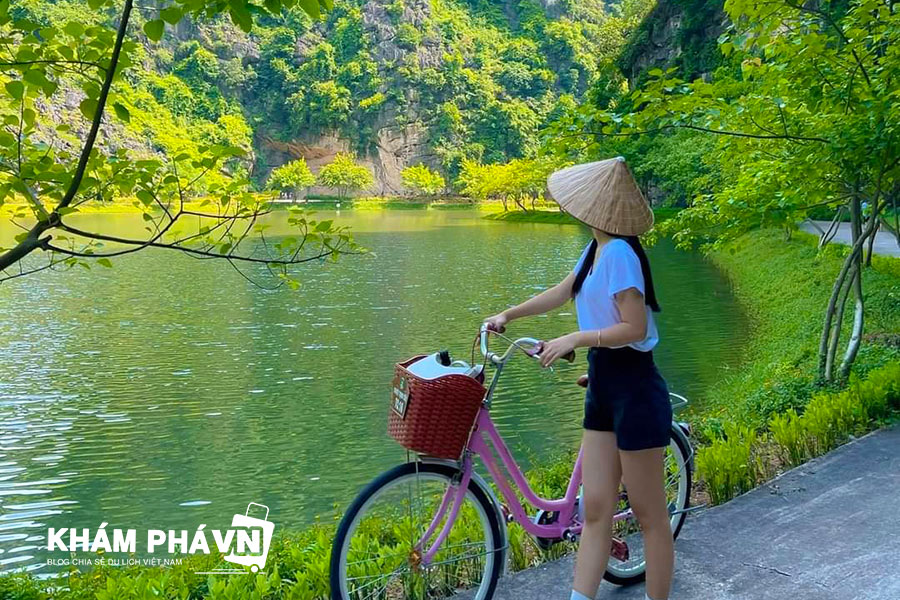 Instead of strolling around the lake, you can also rent a bicycle or hop onto a quaint horse-drawn carriage to enjoy the natural scenery within Am Tiem Cave. Wearing a traditional Vietnamese conical hat, biking around the lake and capturing some truly beautiful photos is a delightful way to experience it.
Suggested one-day itinerary for Am Tiem Cave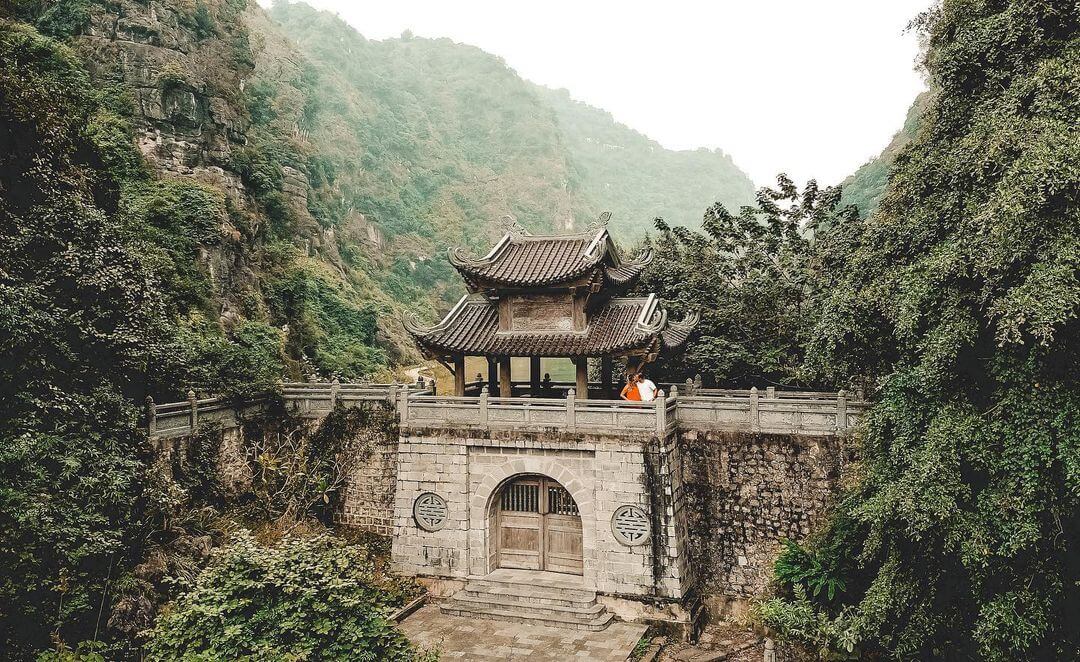 In conclusion, Am Tiem Cave Ninh Binh is one of the famous scenic spots in the ancient land. This place not only impresses travellers with its pristine and charming beauty but also offers many incredibly exciting activities waiting to be explored.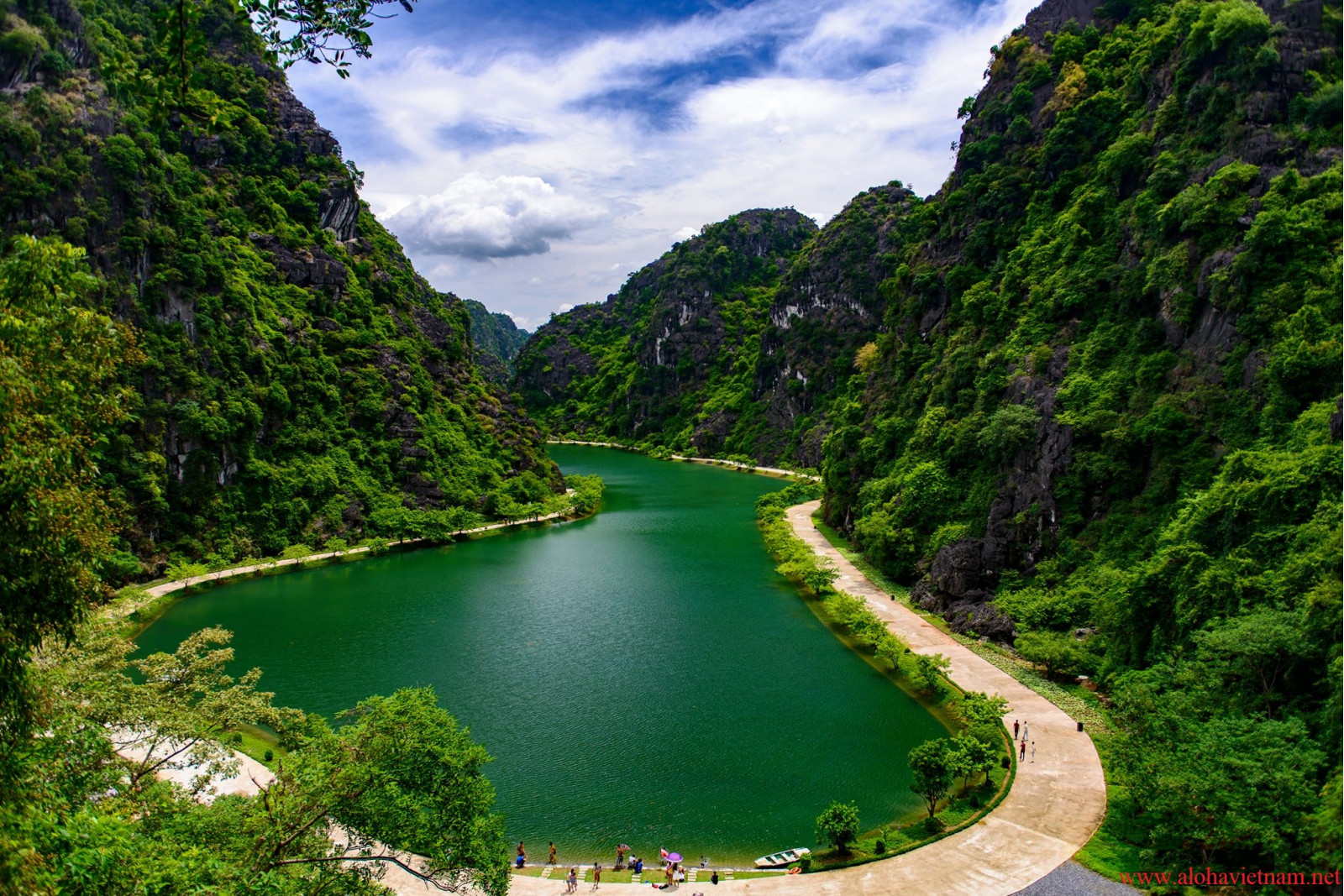 If you want to escape from the hustle and bustle of city life, the noise, and the urban dust, then stop by Am Tiem Cave Ninh Bin. Admiring the peaceful landscape here will be an extremely enjoyable experience, not only for the soul but also for a historical imprint dating back thousands of years.
You might read:
Other Articles