Ninh Binh Weather Guide: What to Expect Each Month
10/08/2023
Discover the ultimate Ninh Binh weather guide: climate and activities by month. Plan your upcoming journey with insights into Ninh Binh's weather patterns, temperature trends, and recommended activities for each month.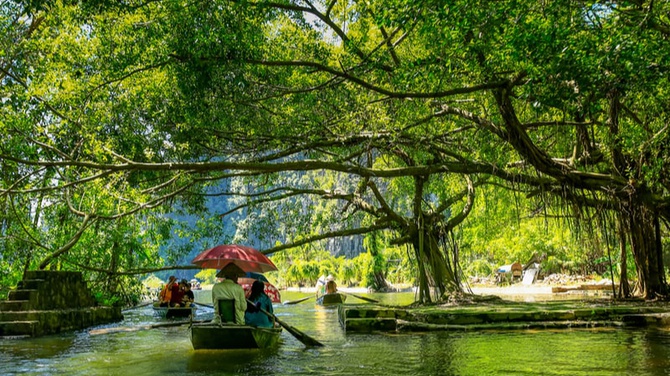 About the weather in Ninh Binh
The stunning natural beauty of Ninh Binh looks like a beautiful picture that changes as the months go by. That's why Ninh Binh is one of the most attractive places to visit in Northern Vietnam, and you can explore it any time of the year. If you are planning a trip to Ninh Binh, be sure to pack accordingly for the weather.
4 Seasons In A Year
Ninh Binh has a humid subtropical climate with four distinct seasons: spring, summer, autumn, and winter.
Spring (February to April)
The weather in Ninh Binh is pleasant during spring, with average temperatures ranging from 18°C to 25°C. The days are sunny and dry, with occasional rains. This is a good time to visit Ninh Binh if you want to enjoy the beautiful scenery.
Summer (May to July)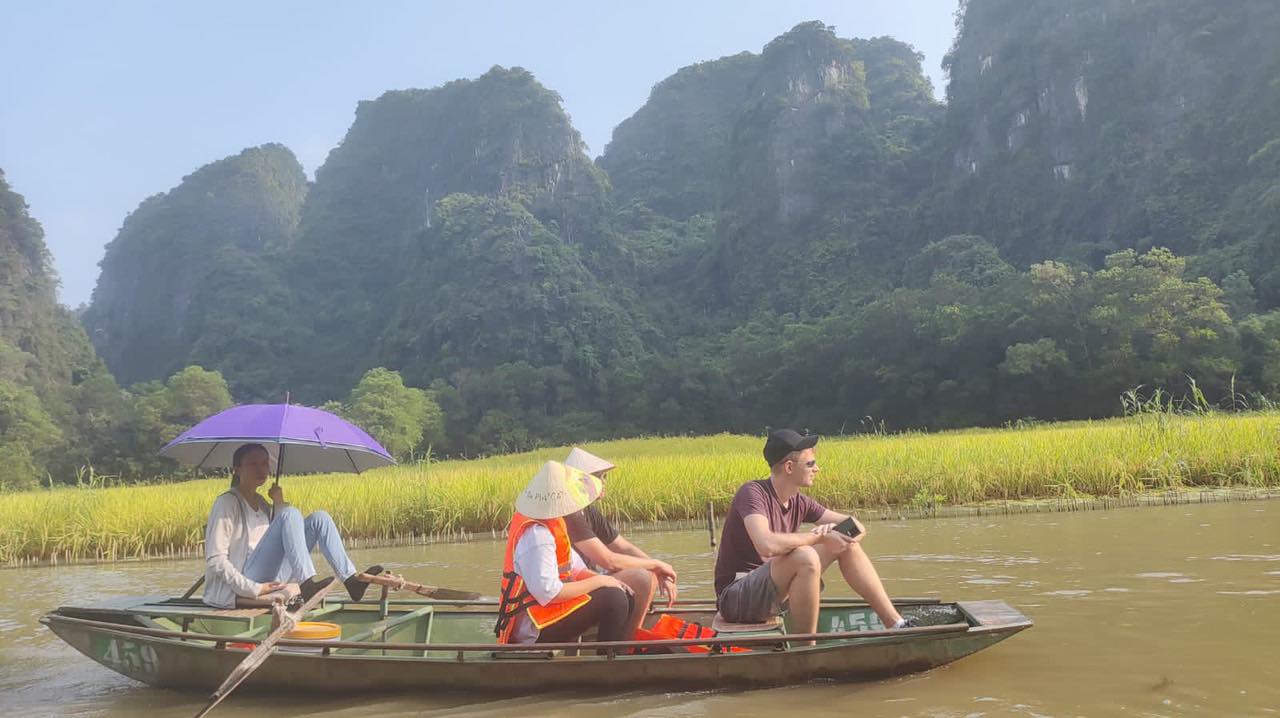 The summer in Ninh Binh is hot and humid, with average temperatures ranging from 26°C to 36°C. The days are long and sunny, with frequent thunderstorms. The humidity can cause uncomfortable, so it's important to stay hydrated and wear light clothing. One thing you should keep in mind is that the sun can be very strong in Vietnam, especially in the summertime.
Autumn (August to October)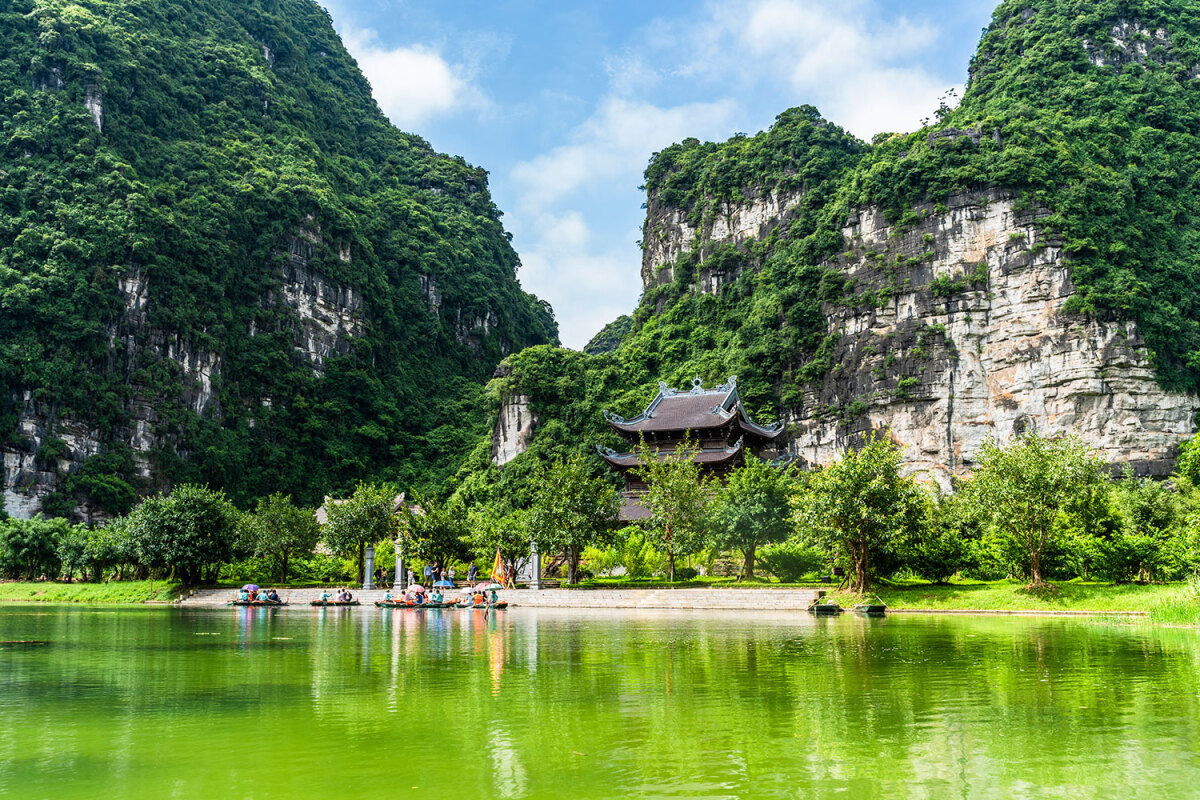 The weather in Ninh Binh is cooler and drier during autumn, with average temperatures ranging from 24°C to 33°C. The days are sunny and pleasant, with fewer thunderstorms than in summer. This is a great time to visit Ninh Binh if you want to avoid the heat and humidity of summer.
Winter (November to January)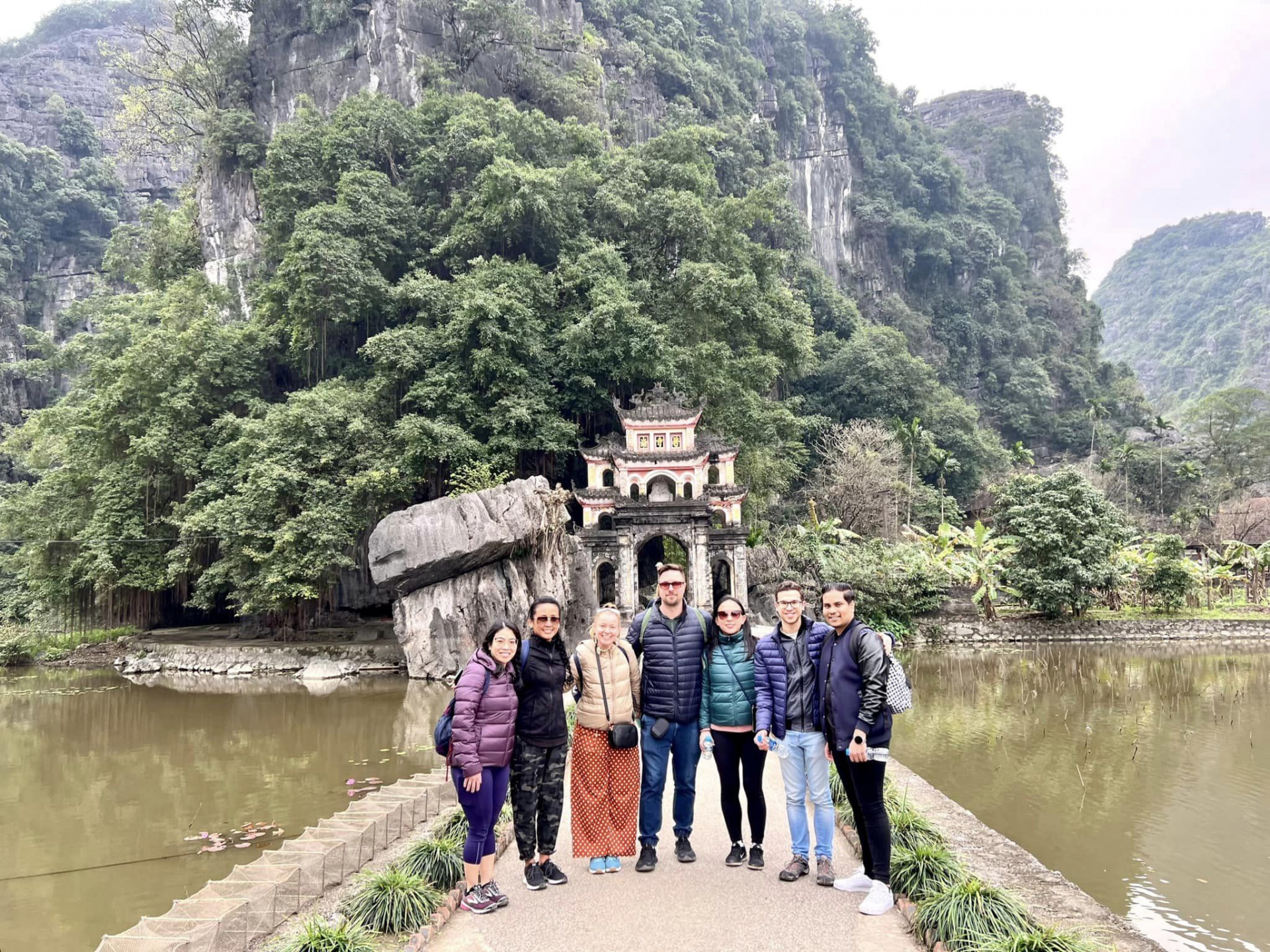 The winter in Ninh Binh is mild, with average temperatures ranging from 15°C to 23°C. The days are short and cloudy, with occasional rain. The nights can be cold, so it's important to pack warm clothing if you're visiting Ninh Binh during winter.
Ninh Binh and the rainy seasons
When travelling to Ninh Binh, the rainy season is a top priority for tourists because it directly affects the travel experience. Looking at the rainfall chart, you can see Ninh Binh rain season is from May to October, with the highest amount occurring in August. However, there's no need to be overly concerned as not every day has rain or rain a few hours during the day.
During this period, Ninh Binh transitions into the summer and autumn, which are the most beautiful times with ripe golden rice fields, blooming lotus ponds, and lush green vegetation. This is an ideal time for relaxation and immersing oneself in nature.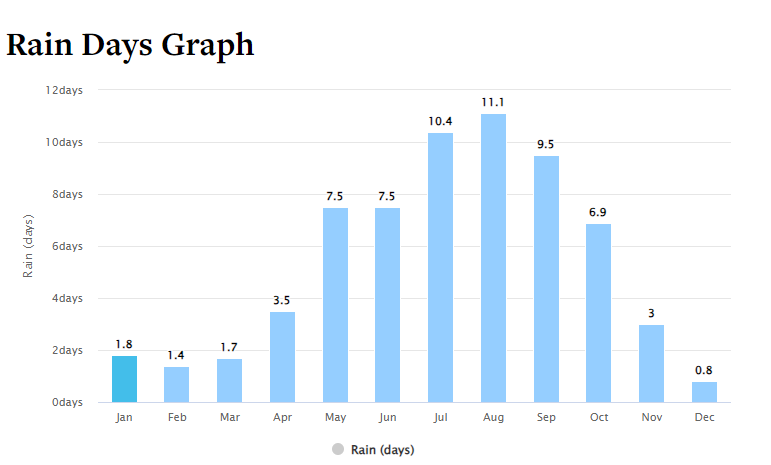 What to Expect Each Month In Ninh Binh
Ninh Binh In January (Festival)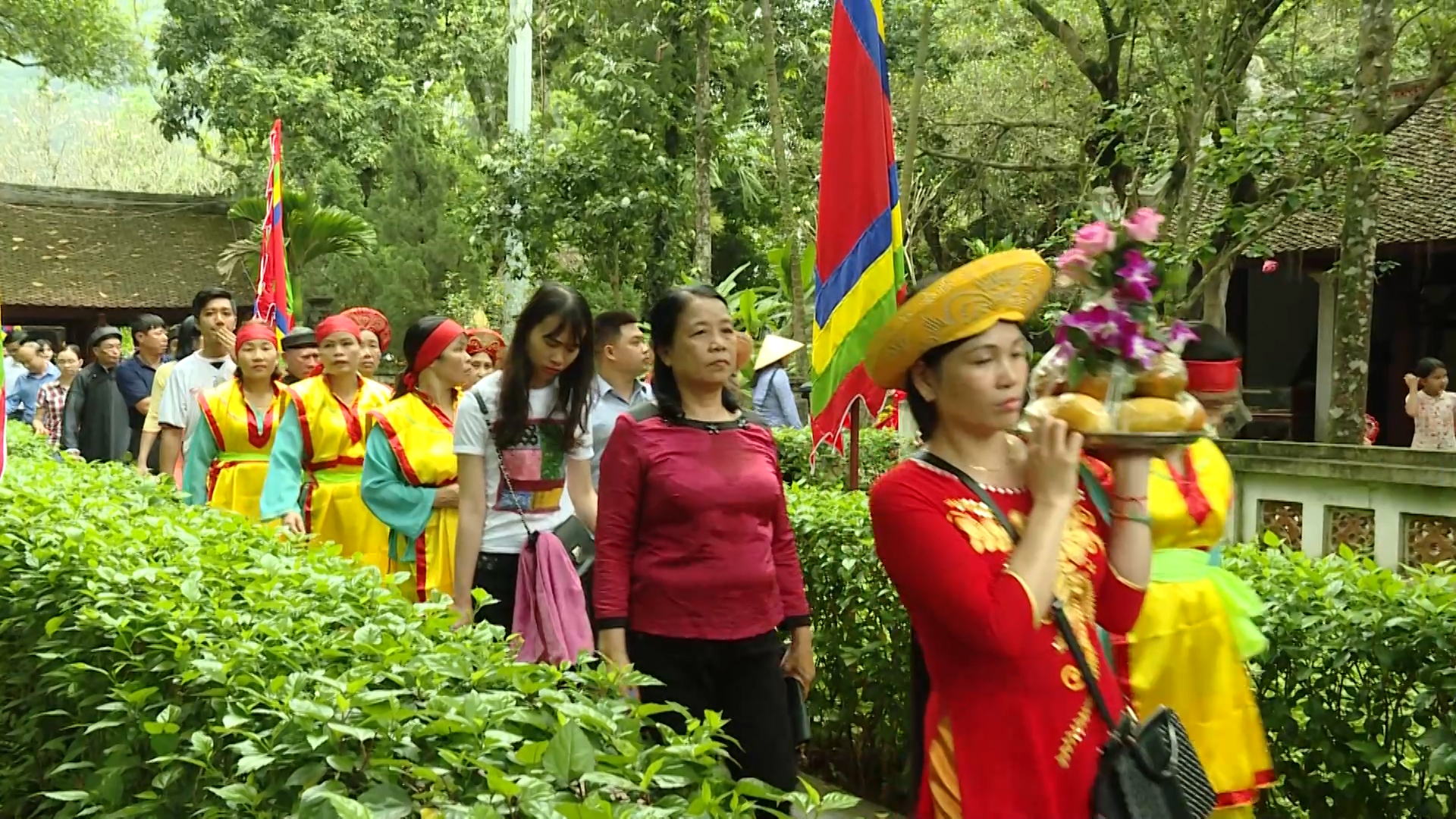 Ninh Binh weather in January is cold and dry. It's in the coldest winter period. The temperature is around 17.9°C, which spans from a low of 15.7°C (60.26°F) to a high of 20.4°C (68.72°F).
The outstanding feature of this month is the ideal time to engage in festivals held at Bai Dinh Pagoda. Bai Dinh Pagoda is a famous spiritual site in this region. However, to enjoy the nature landscape of Ninh Binh, you should keep your body warm, especially when you take a boat trip on the river.
Ninh Binh In February (Festival)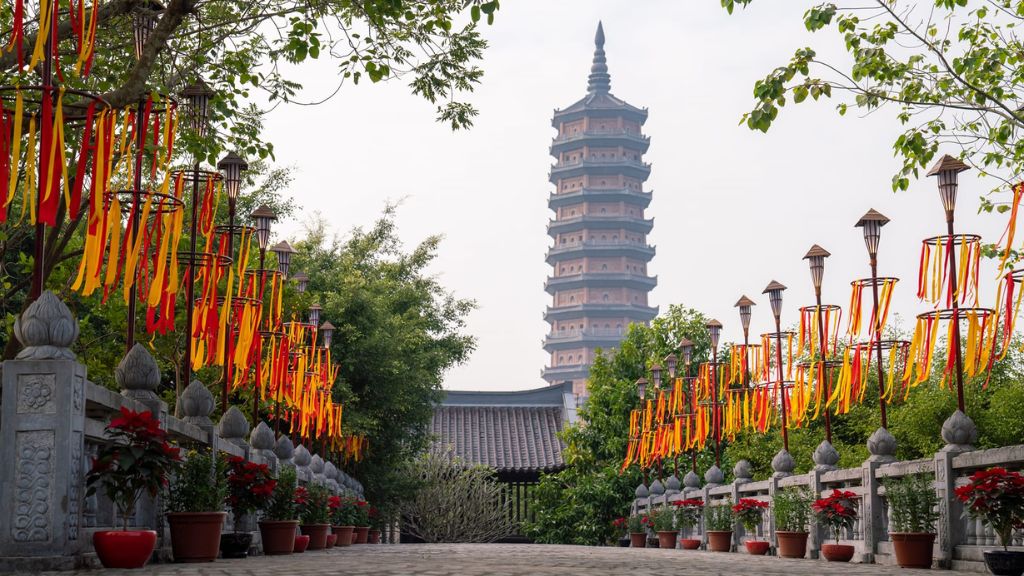 February is a pleasing month in Ninh Binh, with moderate temperatures between 17.2°C (62.96°F) and 22.5°C (72.5°F). The weather in February in Ninh Binh is ideal for tourism activities. That's why February is one of the best months to visit Ninh Binh.
In February, Vietnamese people celebrate Lunar New Year. You can learn more about this traditional holiday in Vietnam. Temples and pagodas are all decorated with colourful flowers and special items. You can also join in many activities welcoming the Lunar new year and festivals in Bai Dinh Pagoda.
On the other hand, it's time for the longest holiday in Vietnam so some stores might close and you might face the bustle of domestic tourists travelling to Ninh Binh this month.
Ninh Binh In March (Festival)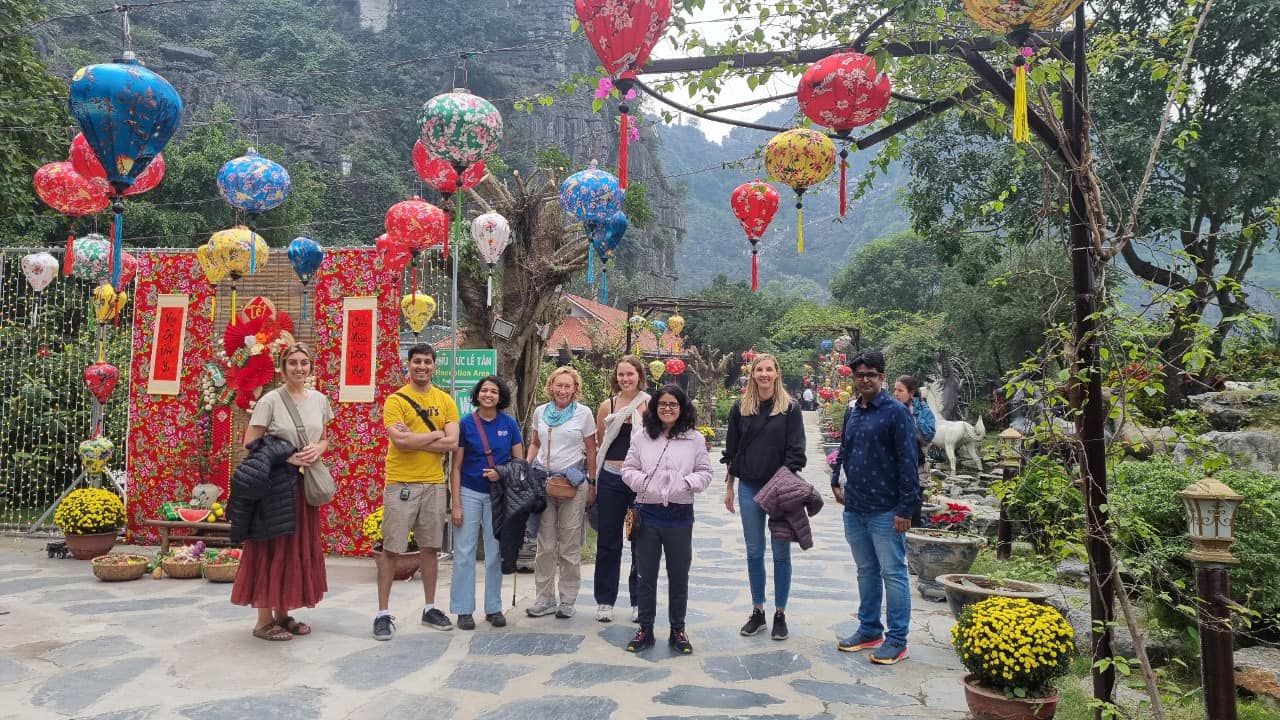 March is a cosy month in Ninh Binh. It's springtime with greenery scenery. The average temperature fluctuates between 19.7°C (67.46°F) and 25.4°C (77.72°F). Like February, you can learn about Tet- a traditional festival in Vietnam. While this period may no longer be the official festival season, the Tet decorations at various attractions still remain, and you won't face the crowd of domestic tourists as you would in February.
This month is best for participating in festivals in Trang An and The Ancient Capital Hoa Lu
Ninh Binh In April (Cave exploration - Butterfly seasons)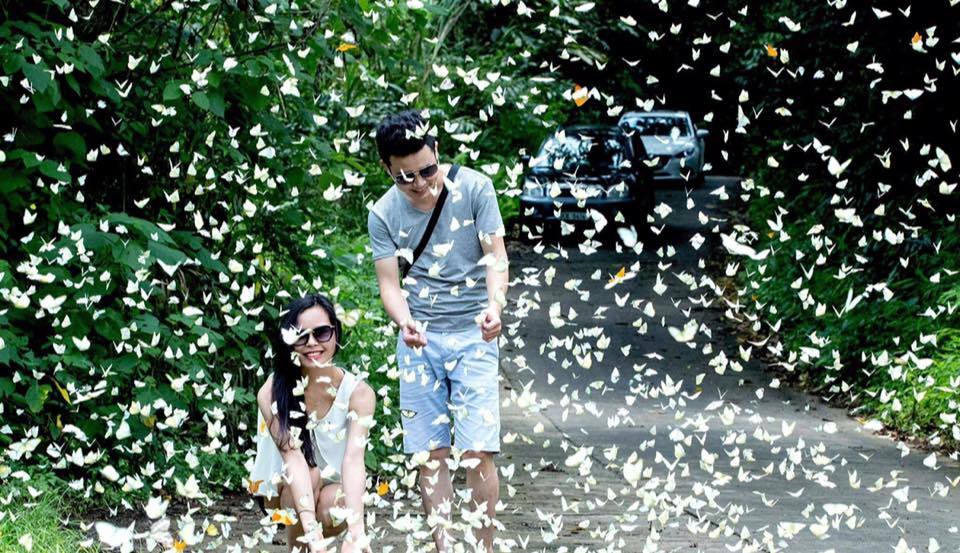 Ninh Binh experiences warmth during April, with an average temperature of 25.2°C. Throughout the month, temperatures in Ninh Binh typically span from a low of 22.0°C (71.6°F) to a high of 29.3°C (84.74°F).
Vegetation grows faster and is more lively. This weather is ideal to explore caves, making tourists very comfortable to enjoy Ninh Binh trips. Additionally, from April to May, Ninh Binh experiences its butterfly season. Consider embarking on a day trip to Cuc Phuong National Park for an opportunity to capture stunning photos amidst the presence of thousands of butterflies.
Ninh Binh In May (Rice field - Butterfly seasons)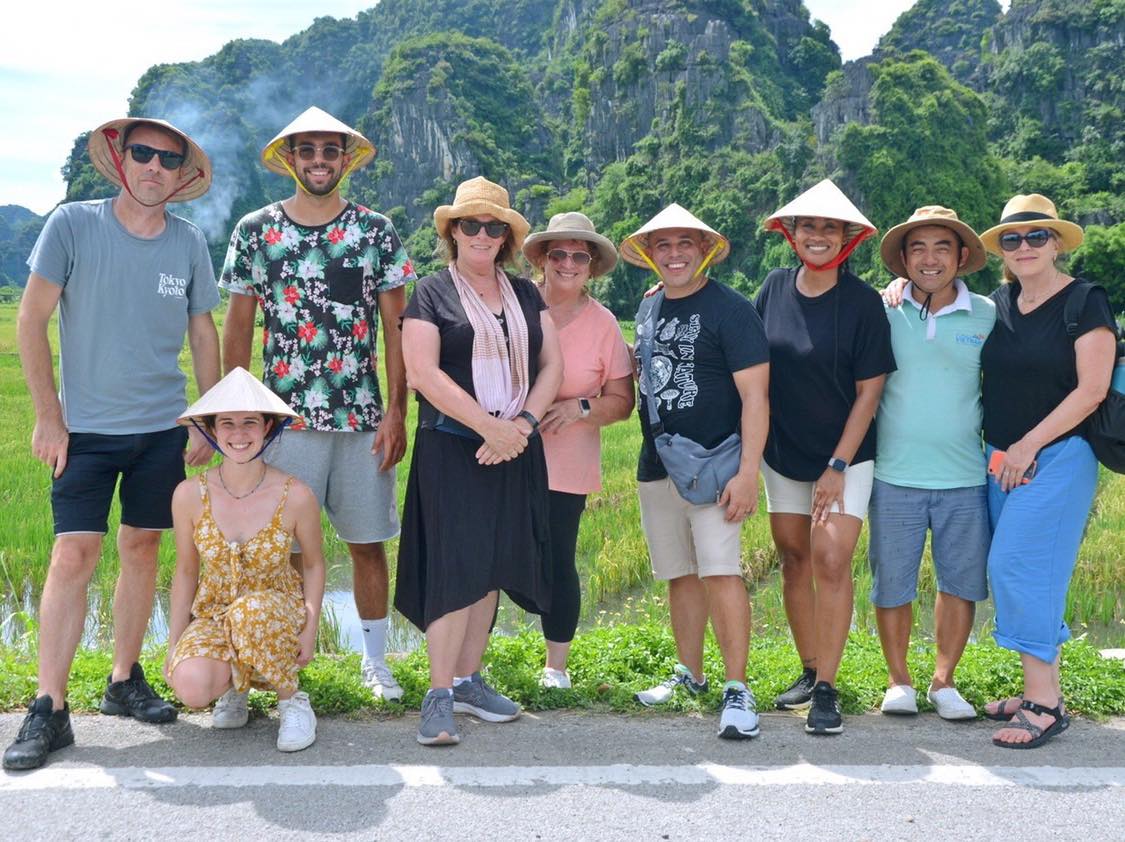 May brings a high level of heat to Ninh Binh, with an average temperature of 29.2°C. During this month, the temperature range in Ninh Binh typically extends from a low of 25.6°C (78.08°F) to a high of 33.4°C (92.12°F).
May is a fantastic time to go to Ninh Binh because that's when the rice fields there become green and gold. Tam Coc, in particular, becomes incredibly pretty with its rice fields on the Ngo Dong River, under the towering limestone mountains. If you visit Ninh Binh during this time, it will feel like you're floating through a paradise. Therefore, May is also one of the high peak tourist months in the year.
Ninh Binh June (Golden rice field - Lotus Blossom)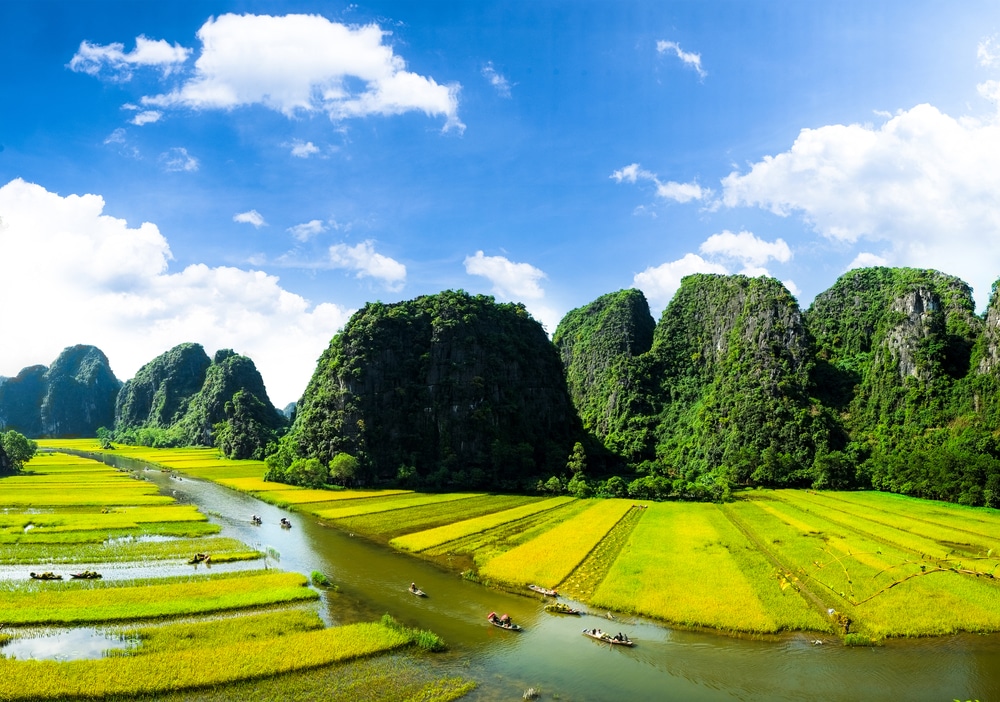 June brings intense heat to Ninh Binh, with an average temperature of 31.0°C. The weather has many similarities with May's. Throughout June, temperatures in Ninh Binh typically fluctuate between a low of 27.7°C (81.86°F) and a high of 35.1°C (95.18°F). June is the best time to enjoy the natural scenery. You might face some occasional rains in this month because of the rainy season in Ninh Binh which begins in April and lasts until October.
In June, the rice field is an attractive point of Ninh Binh. June to July is also the lotus season in Ninh Binh. Besides, the rainfall contributes to the increased clarity of the waters in rivers. As a result, Famous destinations in Ninh Binh, like Trang An, Tam Coc - Bich Dong, Mua Cave, and Mua Viewpoint become more attractive.
Ninh Binh July (Lotus Blossom)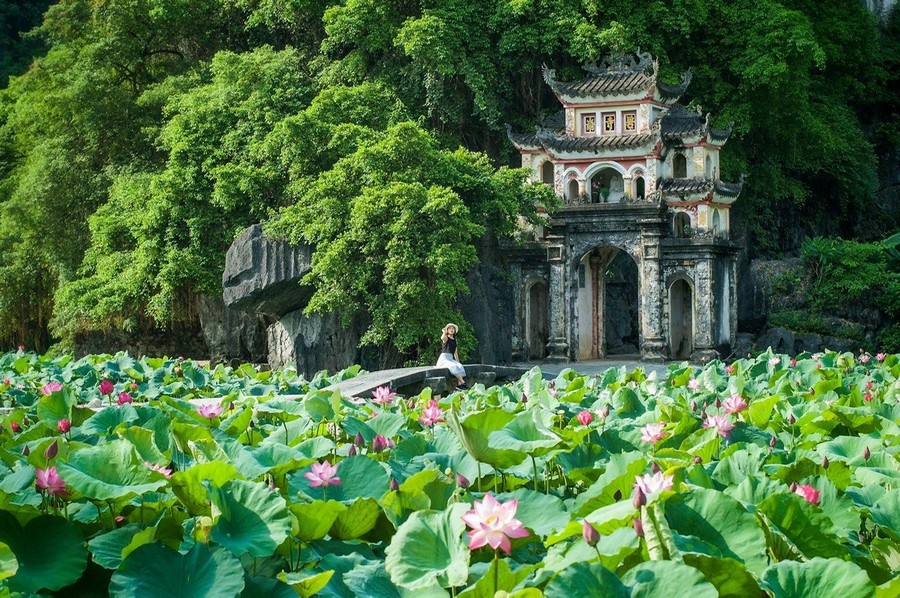 July is another hot month in Ninh Binh with an average temperature of 30°C. This is a great time for ecotourism. However, sunlight in Vietnam is strong so to make the most of your trip, you should go to Ninh Binh in earlier than other months. If you are going to climb to the top of Mua Moutain to enjoy the panoramic view, it's better to avoid the noon time. Sunrise and sunset at Dragon Mountain are fanatics.
July is the summer vacation for Vietnamese students, you will see groups of students or teenagers travel to Ninh Binh with friends and families. Book accommodation in advance to save your favourite rooms. Compared to Hanoi or other big cities in the North of Vietnam, summer in Ninh Binh is more comfortable. The high limestone mountains and rivers in Ninh Binh help reduce the extreme sunlight, making Ninh Binh an ideal place to visit on scorching days. Let's try boat trips exploring many gorgeous landscapes such as Tam Coc - Bich Dong or Trang An, etc.
Ninh Binh In August (Trang An Boat Trip)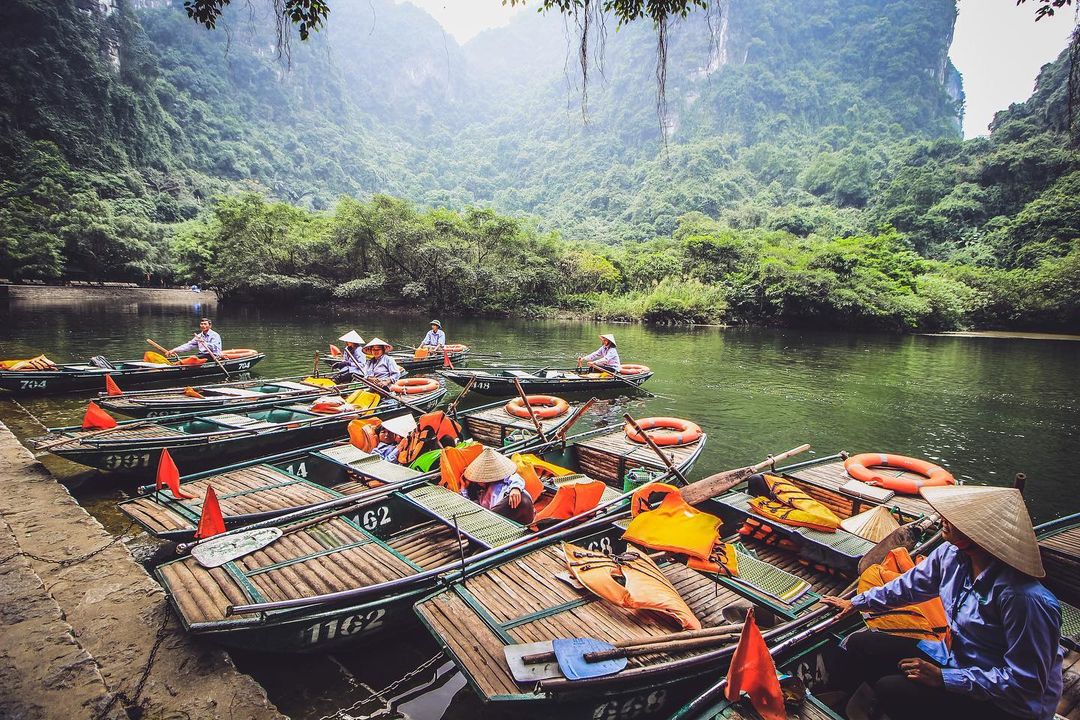 August is also a hot month in Ninh Binh with an average temperature of 29.0°C. Temperatures range between 26.2°C (79.16°F) and 32.2°C (89.96°F). August is not quite hot compared to June-July. However, it has more rain with about 15 rainy days.
This time is best to enjoy a Trang An boat trip and visit Hang Mua to check in the largest lotus ponds in Ninh Binh. Besides, some tourists choose to trek in Cuc Phuong National Park at this time.
Ninh Binh In September (Bike tour - Moutain Climbing)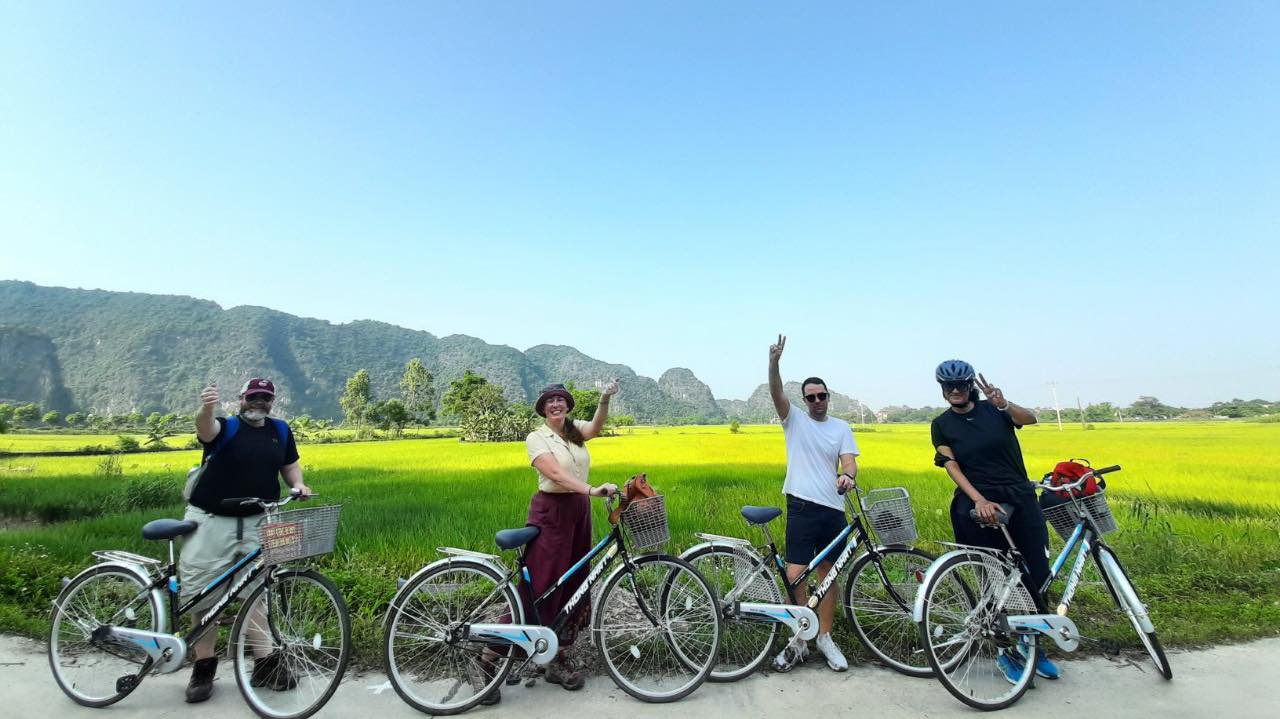 September in Ninh Binh witness an average temperature of 28.0°C. The rain and heat reduce. Ninh Binh's weather in September is cooler and more comfortable to enjoy beautiful natural landscapes. One of the best ways to do that is by biking around the villages to enjoy the countryside's peace and beauty. It may be a good idea for your mountain trekking as well.
Ninh Binh In October (Most Pleasant weather)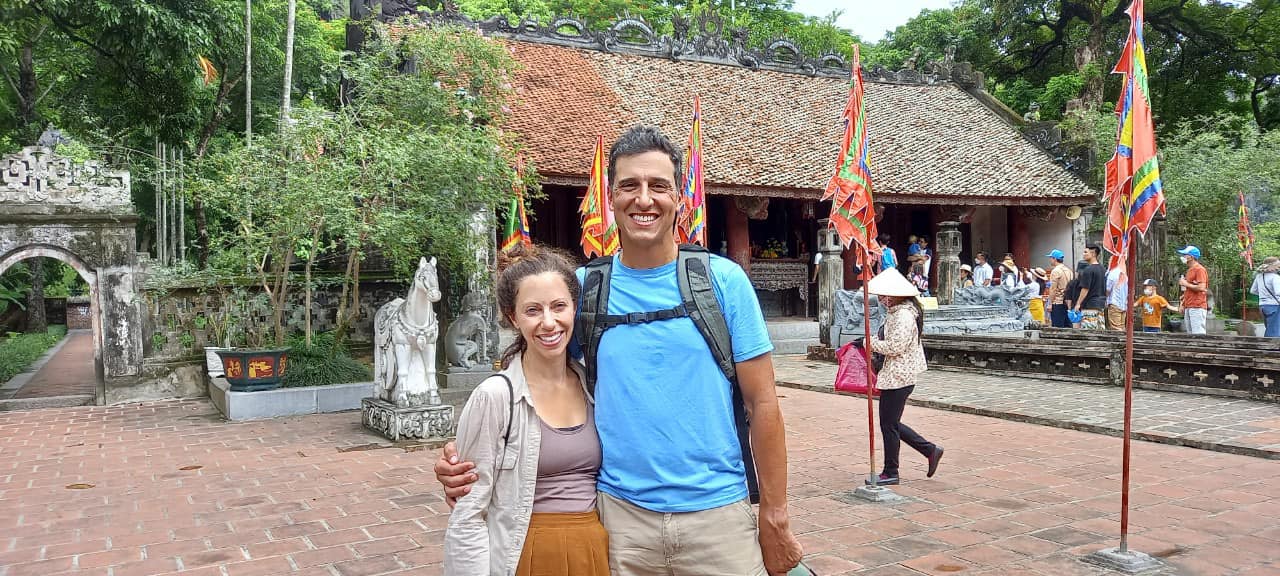 October falls within the autumn season in Ninh Binh. The temperature during this time spans from 22.6°C (72.68°F) to 28.8°C (83.84°F). The weather is characterized by a pleasant coolness with gentle breezes, making it a delightful environment for travellers. Exploring the lovely autumnal charm of Ninh Binh promises to be a memorable journey.
Recommended activities for October include biking, mountain climbing, embarking on boat trips, and visiting pagodas.
Ninh Binh In November (Outdoor activities)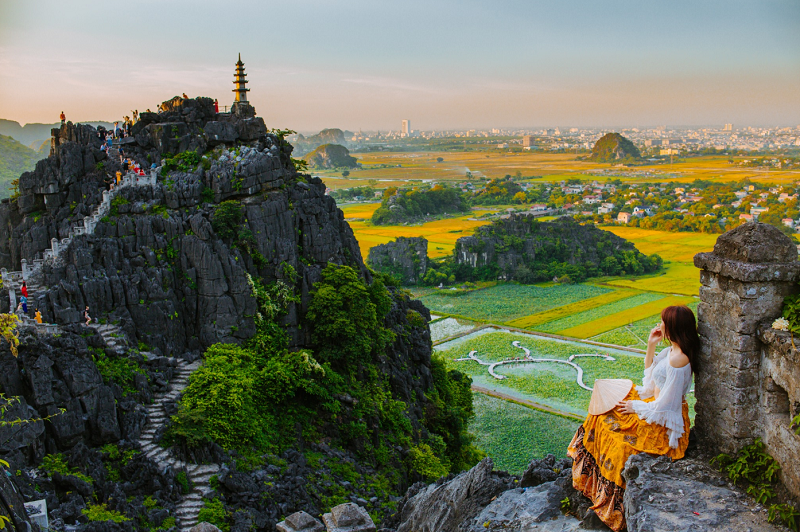 Ninh Binh Weather in November offers a pleasant atmosphere, featuring an average temperature that ranges from 20.6°C (69.08°F) to 26.3°C (79.34°F). This makes November an optimal choice for visiting Ninh Binh, providing comfortable weather conditions for all outdoor activities such as biking, trekking, and climbing. That cool weather makes us less tired.
Ninh Binh In December (Less rain - Outdoor activities)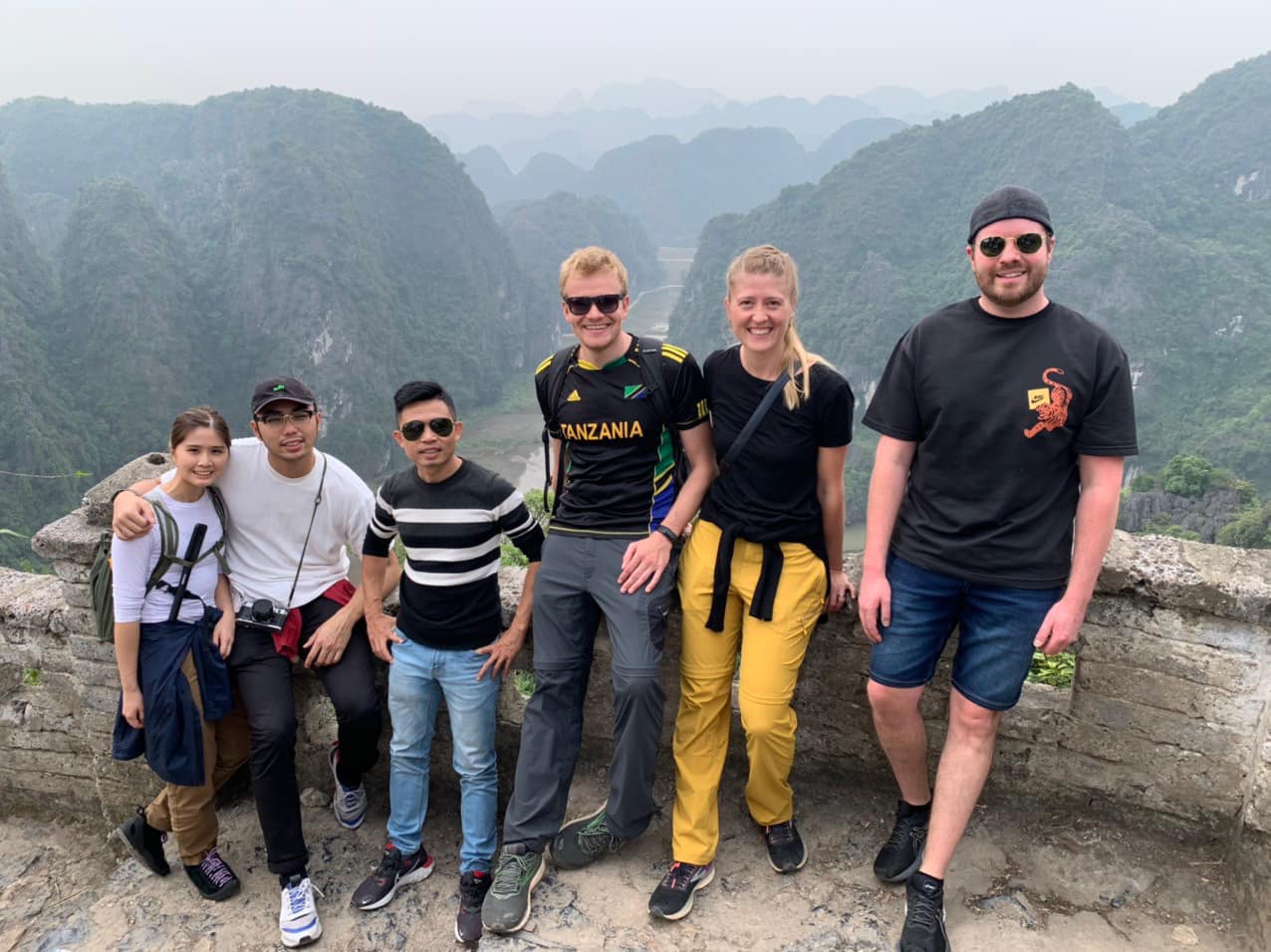 December brings a relatively cold climate to Ninh Binh, featuring an average temperature of 18.9°C. Throughout the month, temperatures in Ninh Binh typically range between a low of 16.4°C (61.52°F) and a high of 21.8°C (71.24°F). Because of its numerous mountains, Ninh Binh can feel colder compared to the capital city, Hanoi. The positive aspect is that December experiences less rainfall, which simplifies travel for those exploring Ninh Binh.
How To Check The Weather In Ninh Binh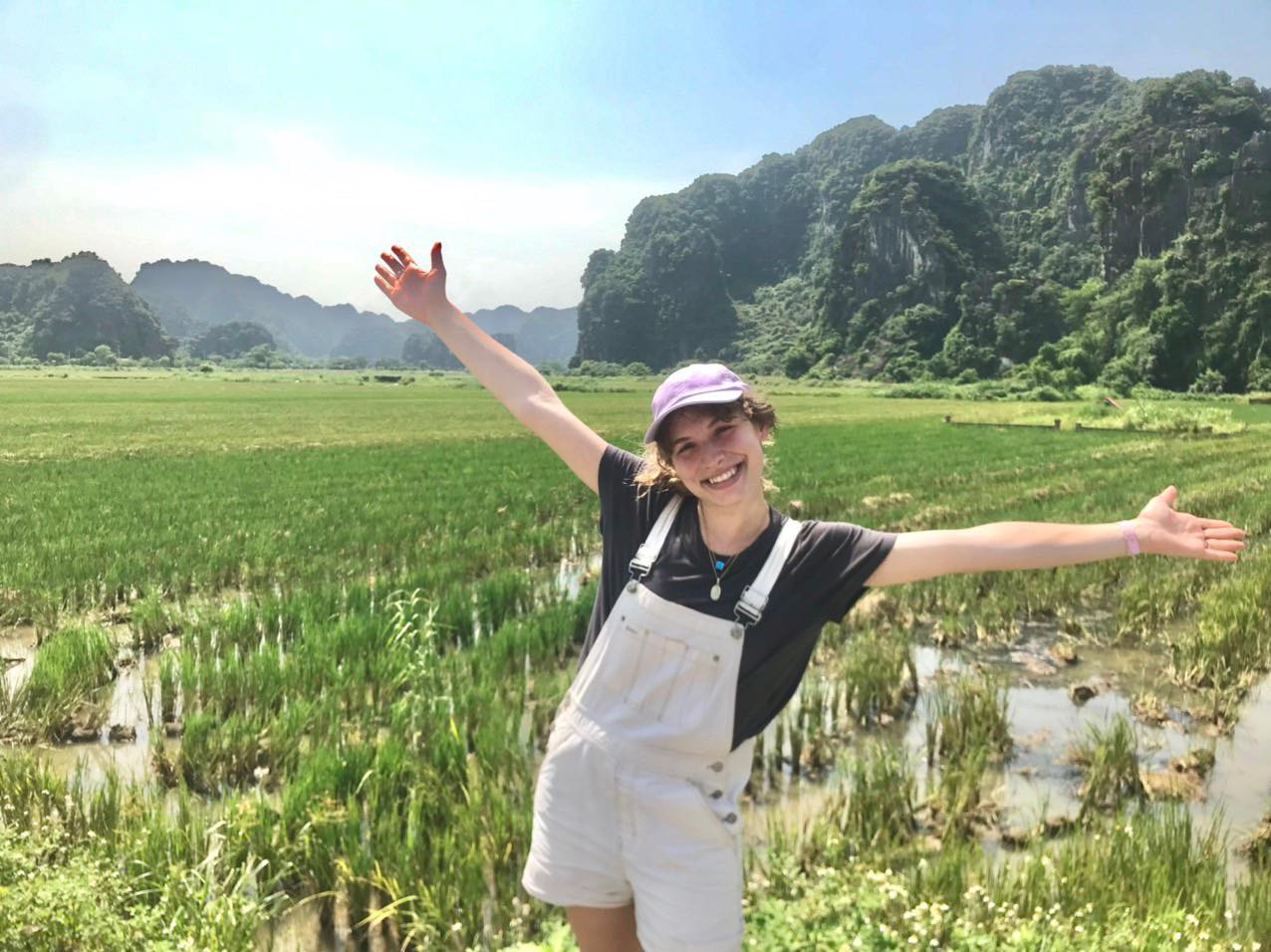 Weather conditions can differ from one year to another, hence it's advisable to consult Ninh Binh weather forecast as your travel dates approach to obtain the most precise and up-to-date information.
You can check the weather in Ninh Binh through reputable channels:
This weather forecasting company offers detailed weather forecasts for Ninh Binh, including temperature, humidity, wind speed, and precipitation.
This website provides up-to-date weather forecasts for Ninh Binh, as well as current conditions and historical weather data.
Google Search
You can also simply search for "weather in Ninh Binh" on Google Search, and it will show you the current weather conditions and forecast for the city.
Suggested itinerary for a day trip to Ninh Binh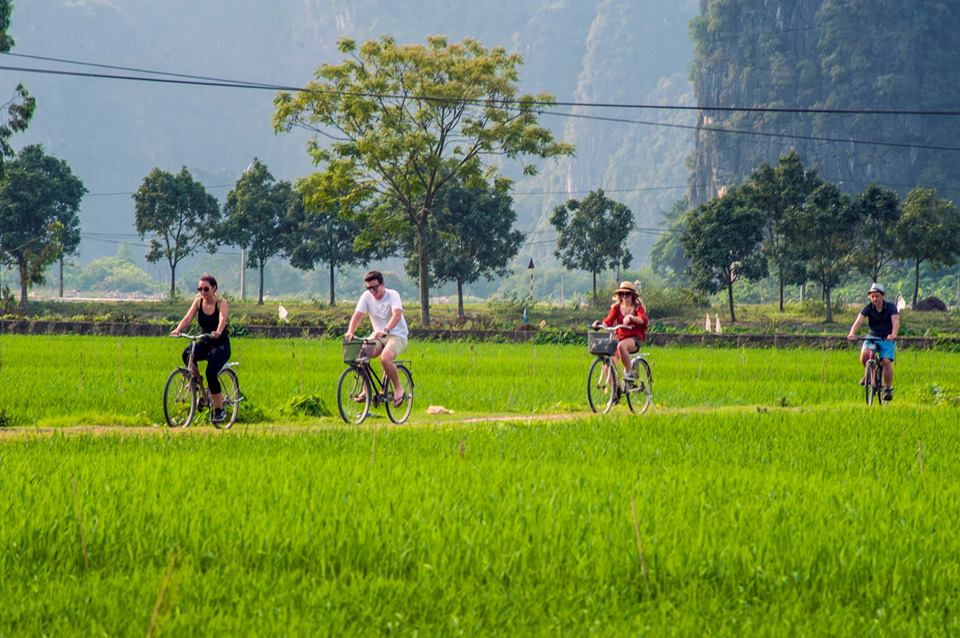 From Ninh Binh weather by month, hope that you have enough information to plan your trip to Ninh Binh. With a day in Ninh Binh, you can experience the most exciting activities here: visiting ancient temples, taking a boat ride at Trang An, Tam Coc, cycling around the countryside, and enjoying the panoramic view of Ninh Binh from Hang Mua. Below are some popular itineraries:
Other Articles