Things To Do In Bai Dinh Pagoda: Highlights, Price, Time and Activities 
24/07/2023
Ninh Binh is a land of historic and religious sites. You can find many ancient temples, and pagodas that represent Vietnamese culture here. One of the most famous pagodas is Bai Dinh Pagoda. With its natural beauty and special architecture, you will not want to miss this attraction. In this guide, Aloha Vietnam Travel will show you helpful information about Bai Dinh Pagoda Ninh Binh including top things to see and activities.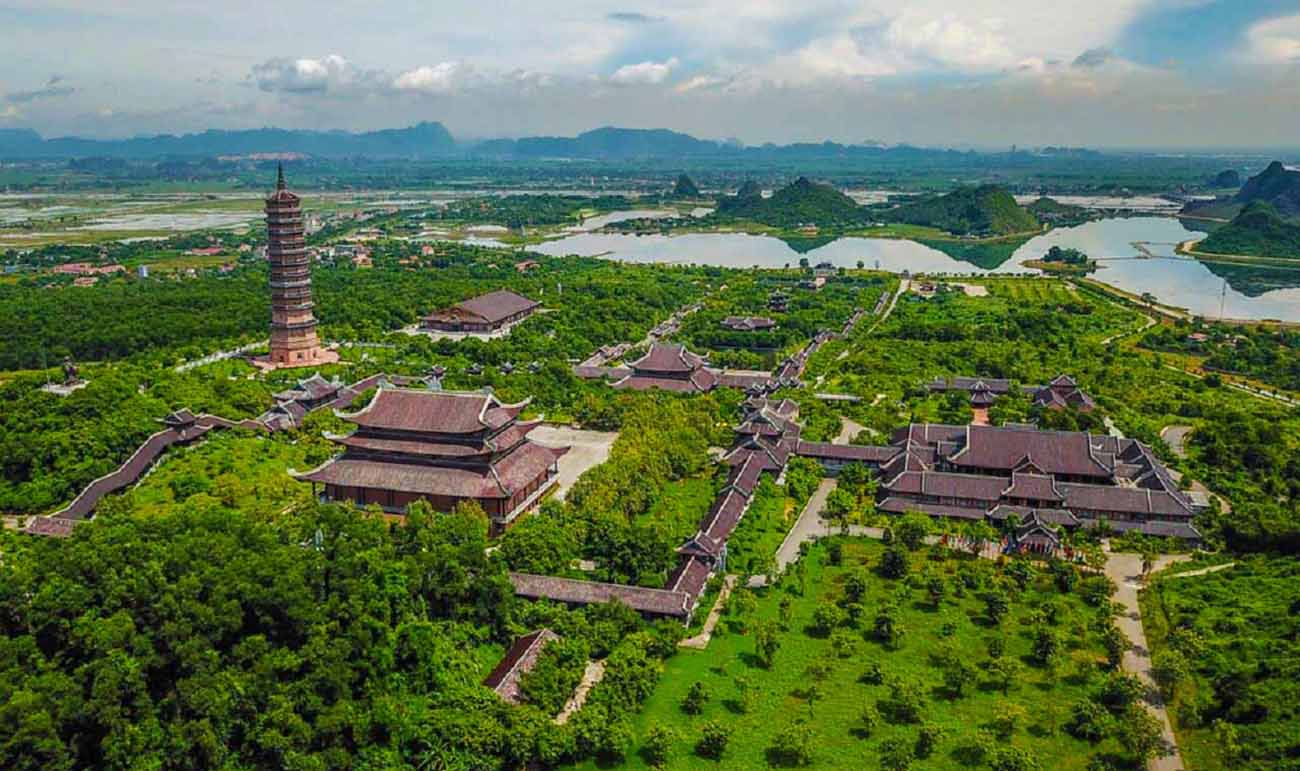 All you need to know before visiting Bai Dinh Pagoda
Overview of Bai Dinh Pagoda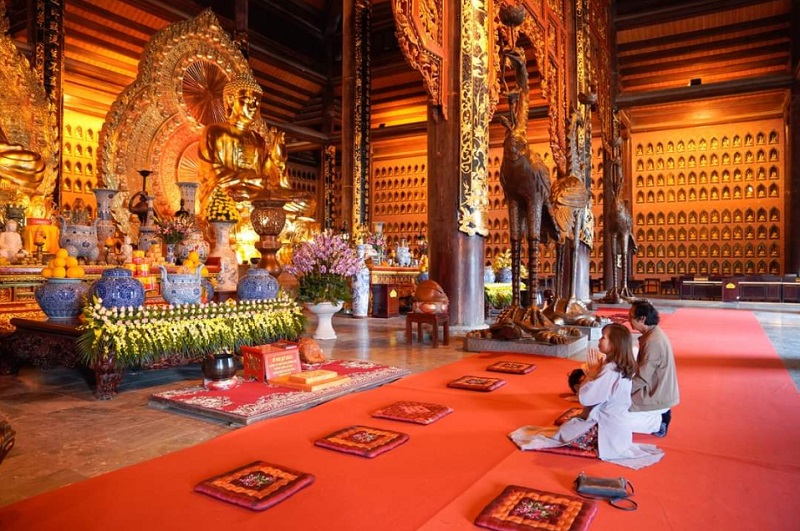 Firstly, let's look at Bai Dinh Pagoda history. Over 1000 years ago, in the capital city of Hoa Lu (Ninh Binh), three successive dynasties of kings emerged: the Dinh dynasty, the Early Le dynasty, and the Ly dynasty. These feudal dynasties showed great interest in Buddhism and considered it the national religion. As a result, Ninh Binh became home to numerous ancient pagodas, including Bai Dinh Pagoda, situated on the Trang An mountain range.
Nowadays, Bai Dinh Pagoda in Ninh Binh is a popular Vietnamese spiritual site. It is a large temple complex with numerous records in Asia and Vietnam, such as having the largest bronze-gilded Buddha statue in Asia, the longest Arhat corridor in Asia, and the largest bronze Di Lac statue in Southeast Asia... It is the largest temple and holds the most records in Vietnam. Therefore. Bai Dinh attracts many domestic and international tourists. There are a variety of things to do in Bai Dinh.
Location and tourist map
Bai Dinh Pagoda is located in Ninh Bình Province, Vietnam. It is nearly 100 kilometres from Hanoi Old Quarter, 12 from Trang An, and 16 from Mua Cave. Because Bai Dinh is near other tourist attractions in Ninh Binh, you can combine this place with other places for a day tour in Ninh Binh.
How to get to Bai Dinh Pagoda? You can get to Bai Dinh Pagoda by bus, motorcycle, taxi or private car. Once you arrive at Bai Dinh Pagoda, you will find a large parking lot where you can park your car or motorcycle. The entrance to the pagoda is about a 10-minute walk from the parking lot.
See the location on the Google Map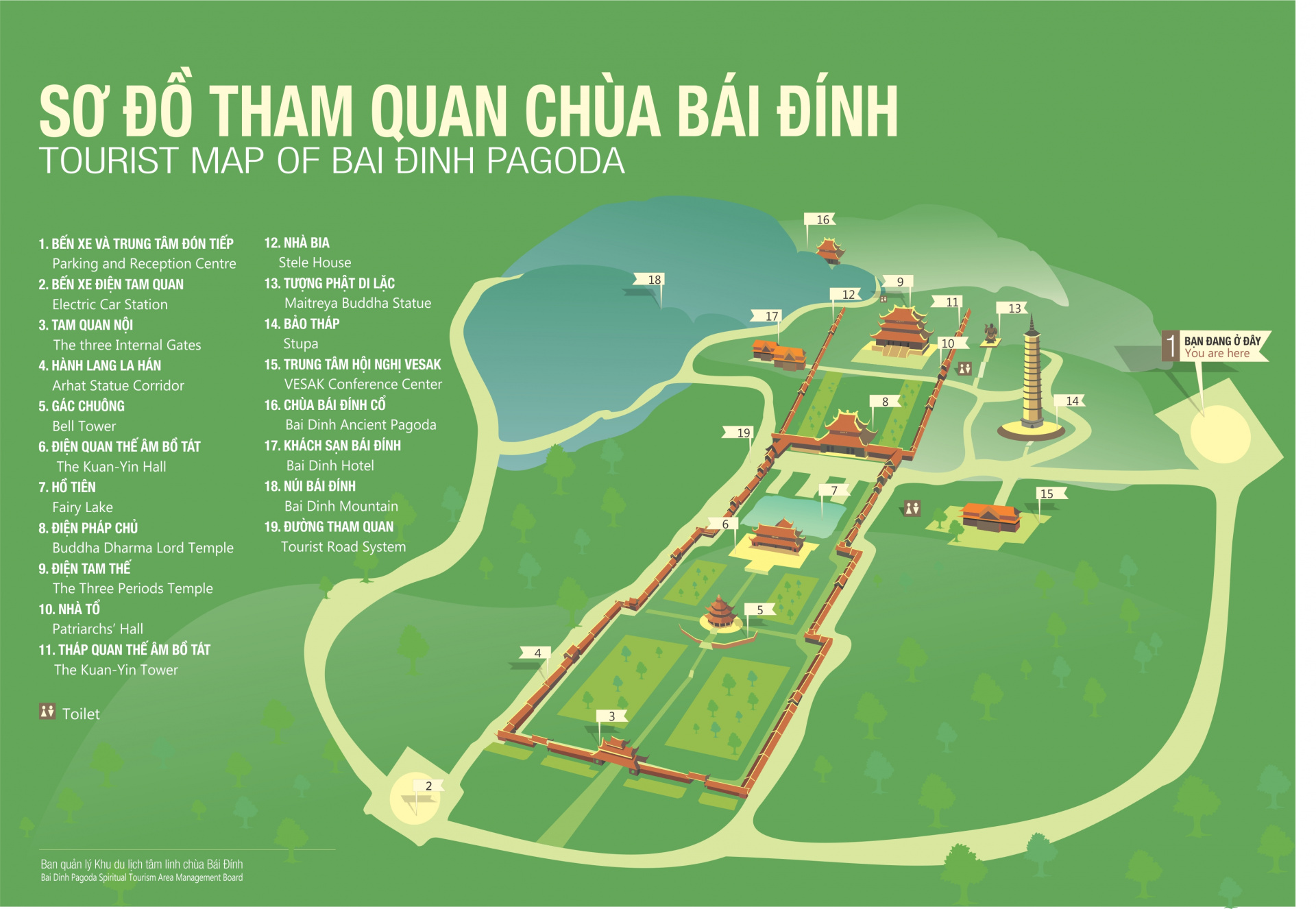 As you can see from this Bai Dinh Pagoda map, this is a complex consisting of two sites: the ancient pagoda and the new pagoda. The ancient pagoda is situated on the mountain behind the new pagoda. The new Bai Dinh Pagoda covers an area of 80 hectares. It is large with various structures such as the Tam The Hall, the Stupa, the Bell Tower,...
Bai Dinh Pagoda Entrance Fee and Opening Time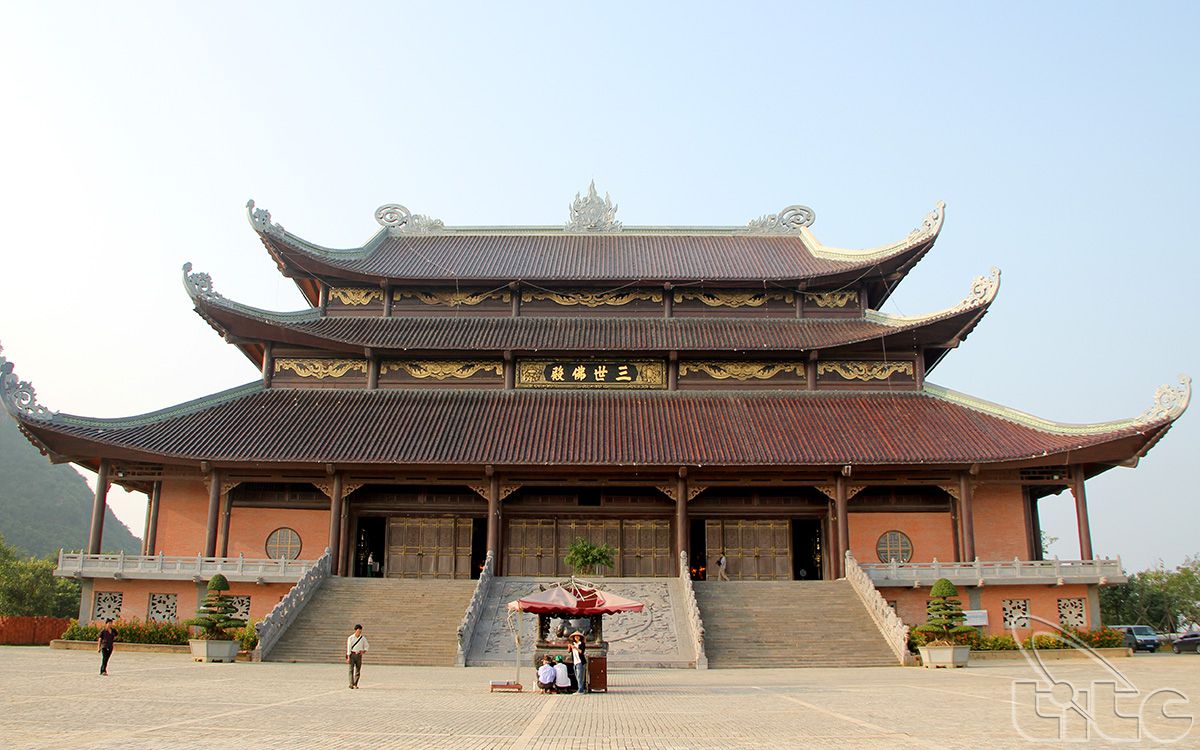 Bai Dinh Pagoda is open daily from 6:00 AM to 10:00 PM.
Bai Dinh Pagoda entry fee:
Entrance ticket: Free

Electric Car: 30,000 VND/person/trip, available until 8:00 PM.

Ticket for Bao Thap Tower: 50,000 VND per person.

Parking: 40,000 VND per car and 15,000 VND per motorbike.
Best time to visit Bai Dinh Pagoda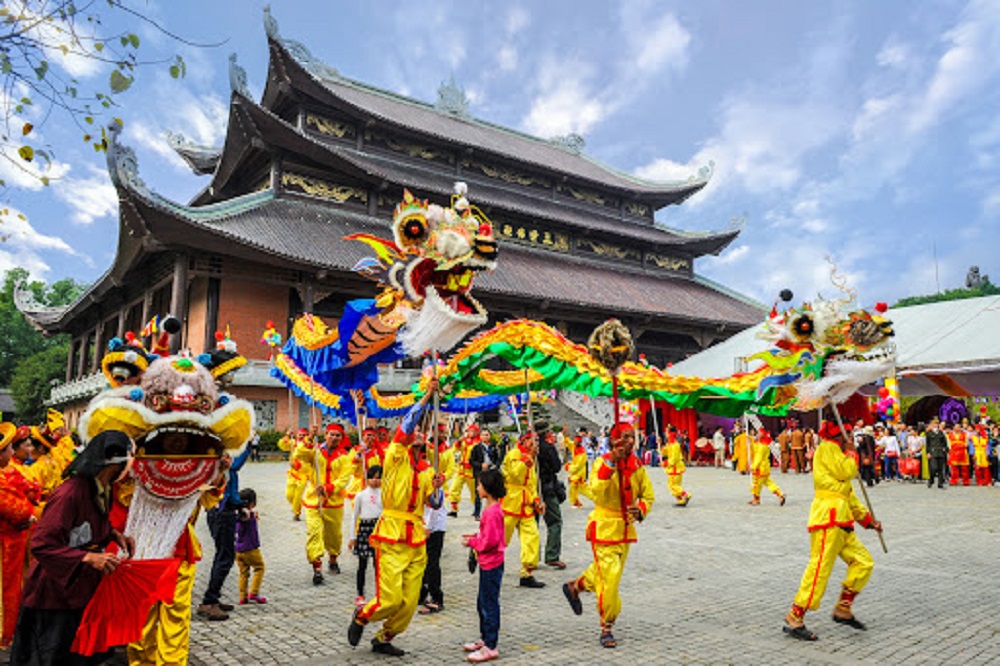 The ideal time to visit Bai Dinh Trang An is during the spring months from January to March. The weather is warm and dry. This period offers the best conditions for exploration. Moreover, it is time for the Bai Dinh festival (On the 6th day of the Lunar New Year). During this festival, you can participate in various ritual ceremonies, enjoy folk games, and witness captivating traditional dance and music performances. However, be aware that this is the peak tourist season, and the area can become quite crowded. If you prefer a more tranquil experience, consider visiting Bai Dinh Pagoda outside the tourist season.
To avoid crowds, another strategy is to visit the pagoda early in the morning. Many tourists arrive as part of a day trip from Hanoi, often reaching the destination later in the morning or afternoon. By arriving early, you can enjoy the serenity of the site.
How to get around Bai Dinh Pagoda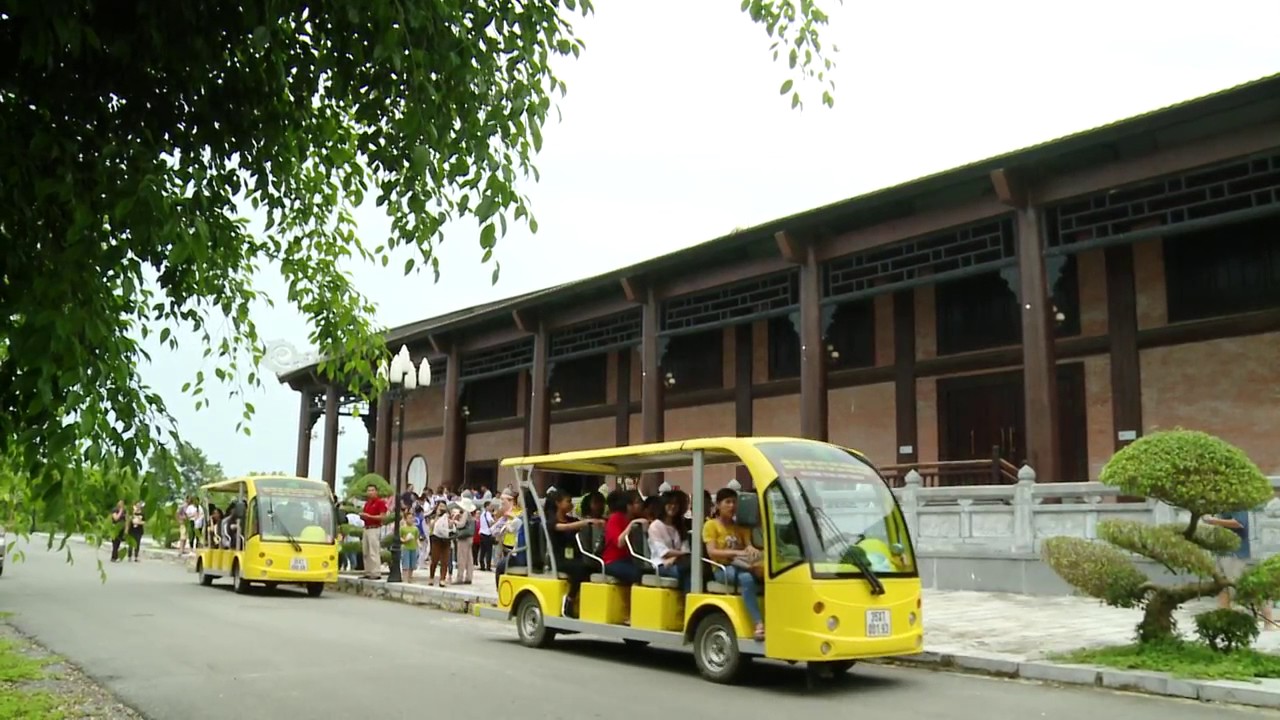 The complex is quite large, and walking is a popular way to explore the area. As you walk, you can take in the calm surroundings, enjoy the beautiful scenery, and discover various temples and structures within the complex. Besides, Bai Dinh Pagoda offers electric bus services to transport travellers around the area. These electric cars are convenient, especially for those who may have difficulty walking long distances or for those looking to save time. It is highly recommended to use the electric bus to move amongst different places and walk to explore each particular place.
What to see in Bai Dinh Pagoda
The Tam Quan Gate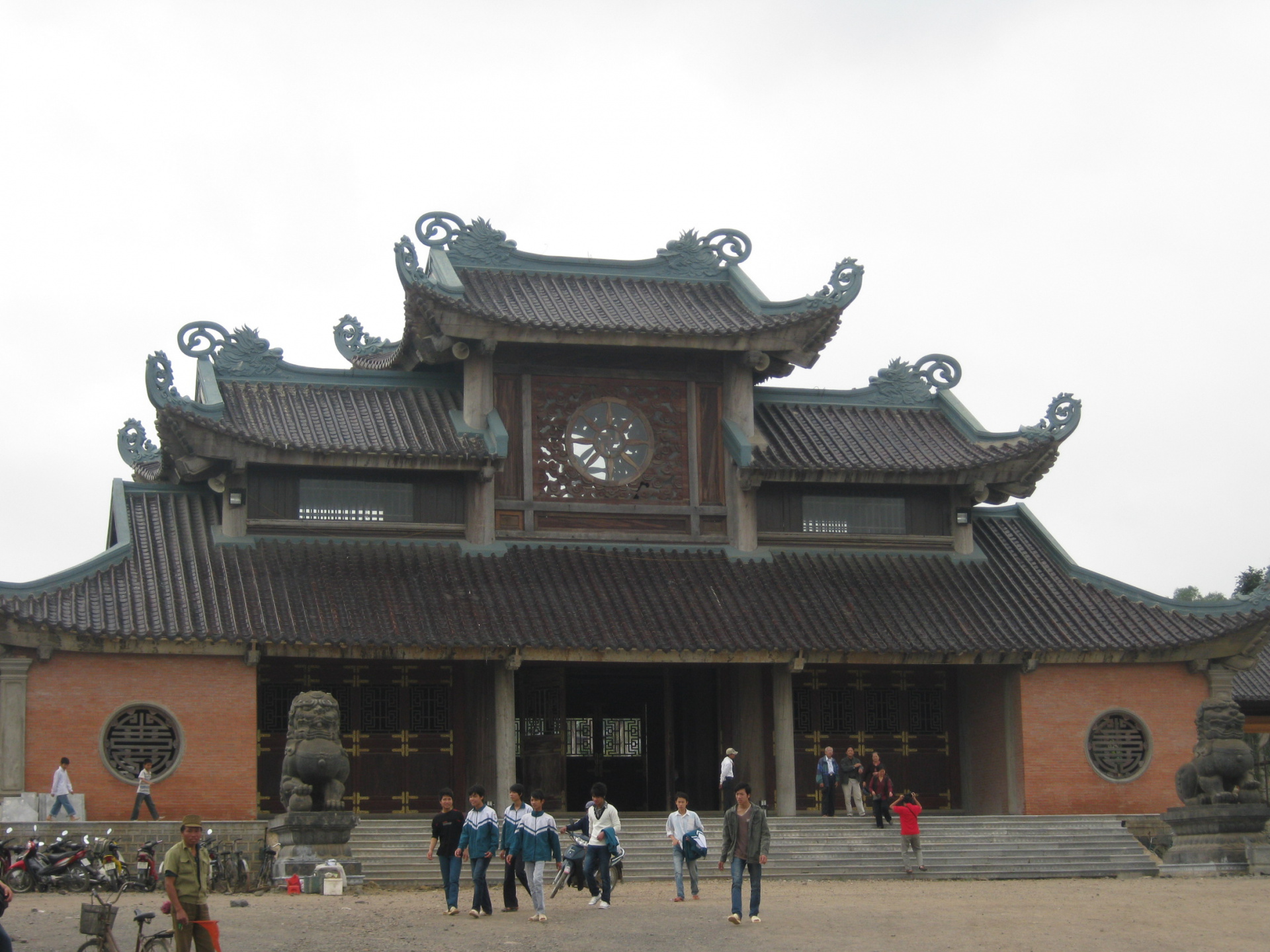 Tam Quan Gate also known as the Three-entrance Gate, serves as the main entrance to the Bai Dinh Pagoda complex, and it's quite impressive in its appearance.
The Bell Tower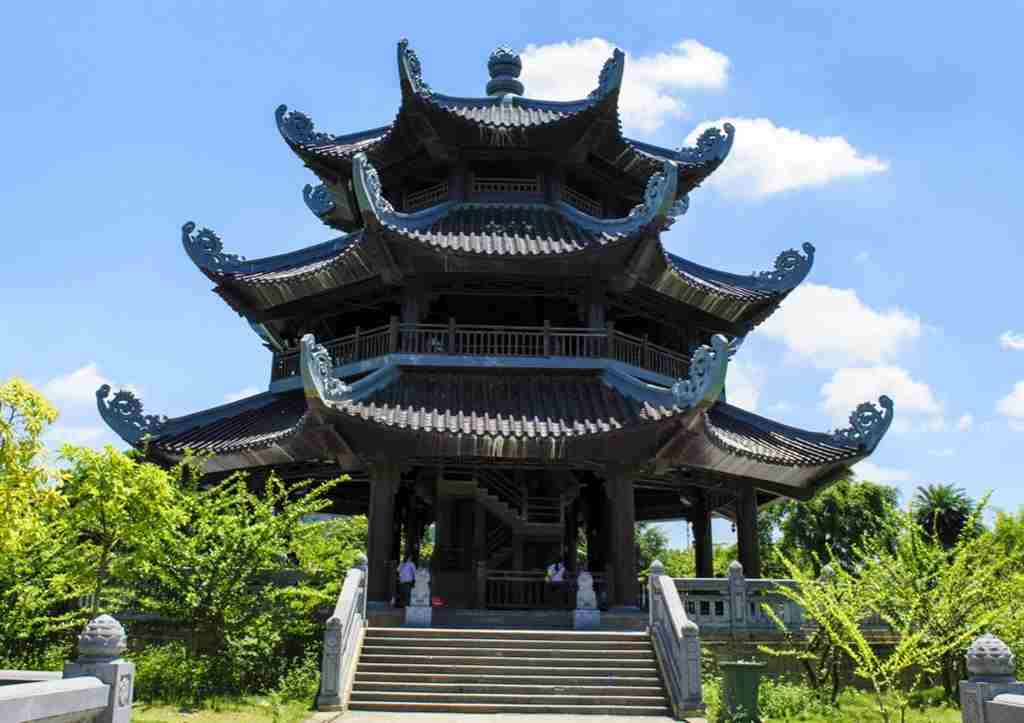 This tower has an octagon shape and consists of three different-sized levels. The base has a diameter of 49 meters, and the tower stands 22 meters tall. It is held up by a lotus-shaped platform and houses a massive bronze bell weighing 36 tons.
The Corridor with Arhat Statues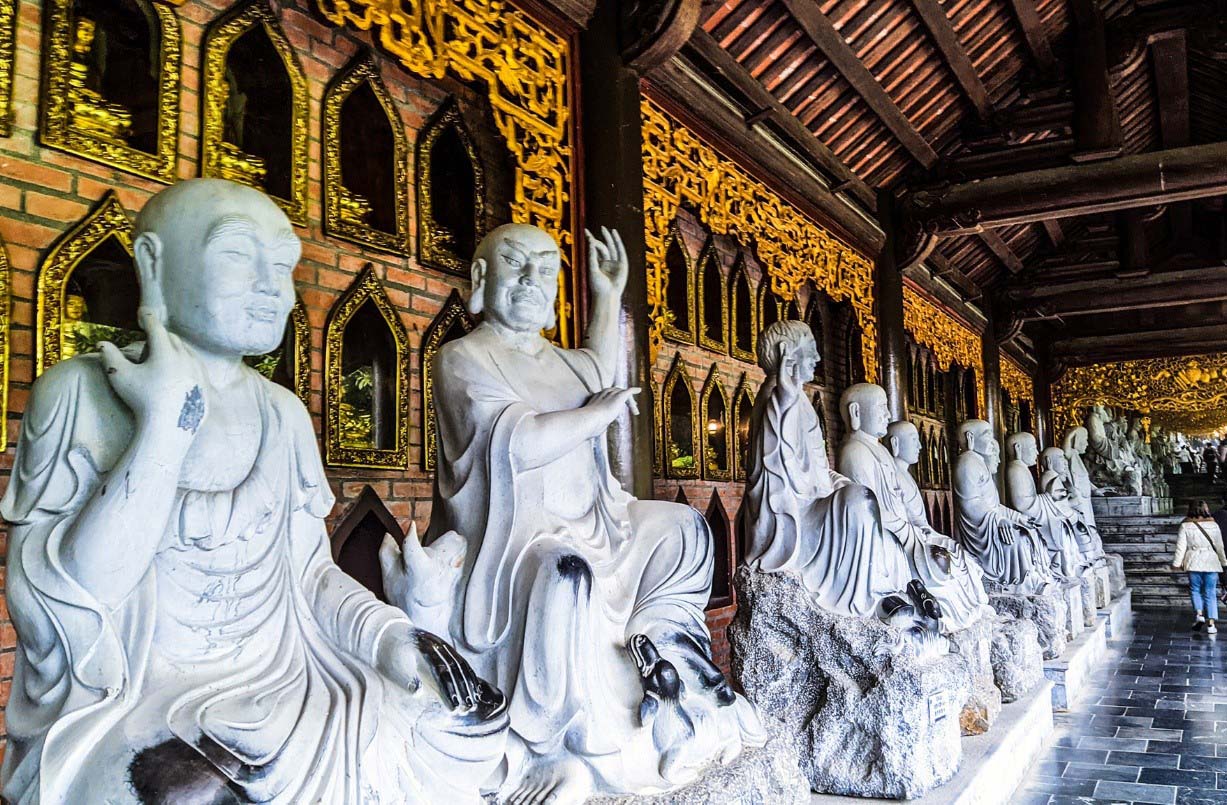 This is the longest corridor in Asia, with 500 Arhat Statues lining both sides. It's a remarkable sight to see!
Gieng Ngoc (The Pearl Well)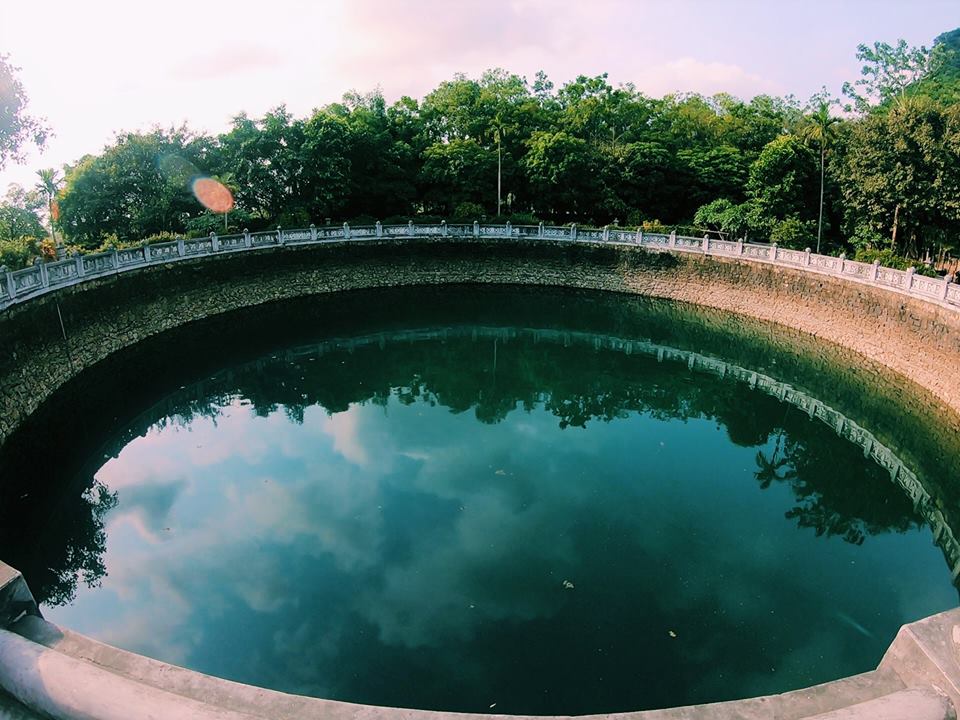 This well, shaped like a crescent moon, was built around 1,000 years ago. It has a diameter of 30 meters and a depth of 6 meters.
The Hall of Bodhisattva Avalokitesvara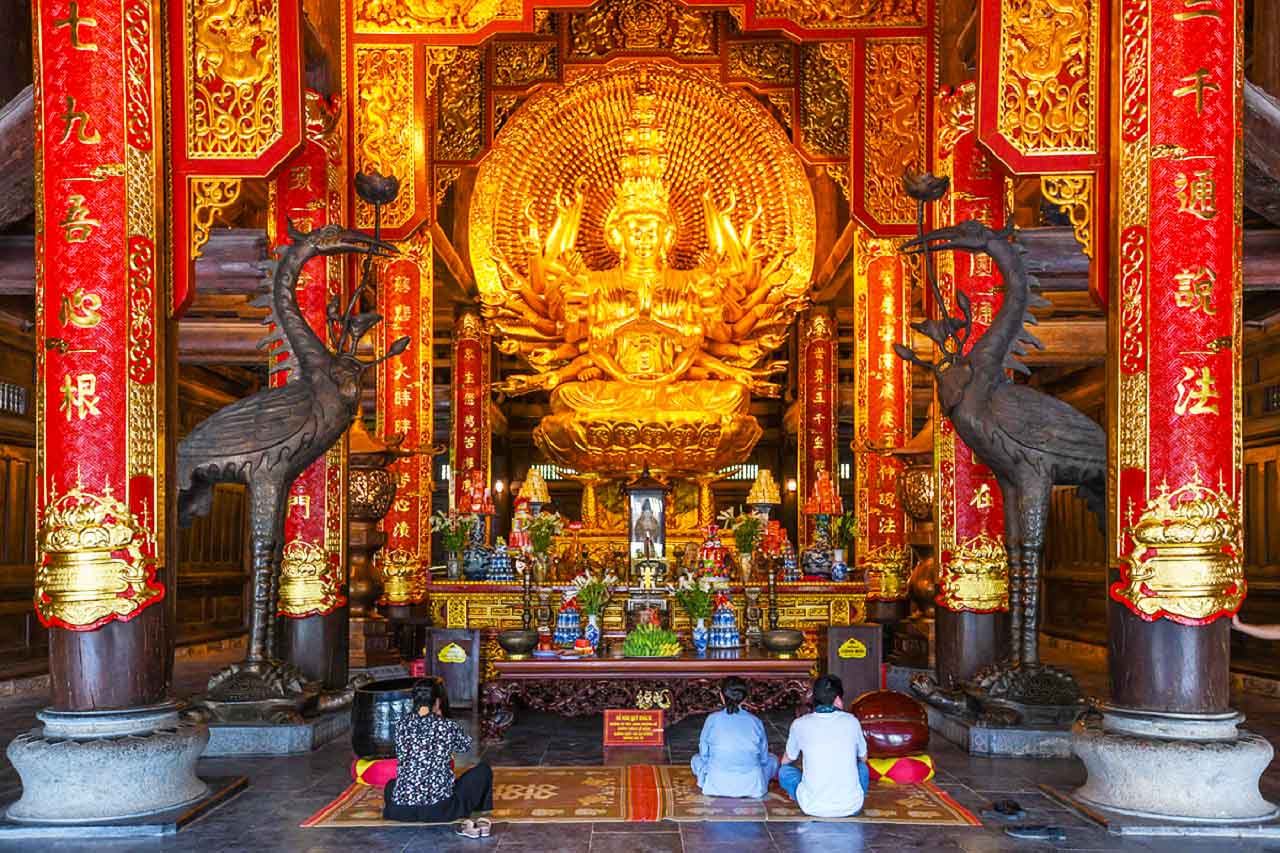 This impressive ironwood structure has seven compartments and stands at 14.8 meters tall, 40.4 meters long, and 16.8 meters wide. Inside, you'll find an 80-ton bronze figure of Bodhisattva Avalokitesvara, adorned with gold and featuring many eyes and hands.
Bao Thap Tower (The Stupa)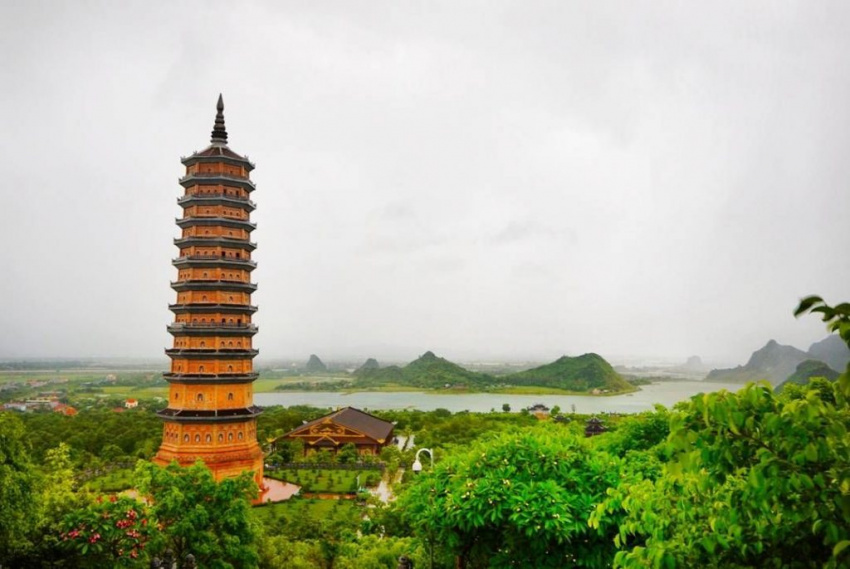 A striking tower that reaches a height of 100 meters with 13 stories and 72 stair steps. It houses sacred Buddha relics from India and Burma.
Maitreya Statue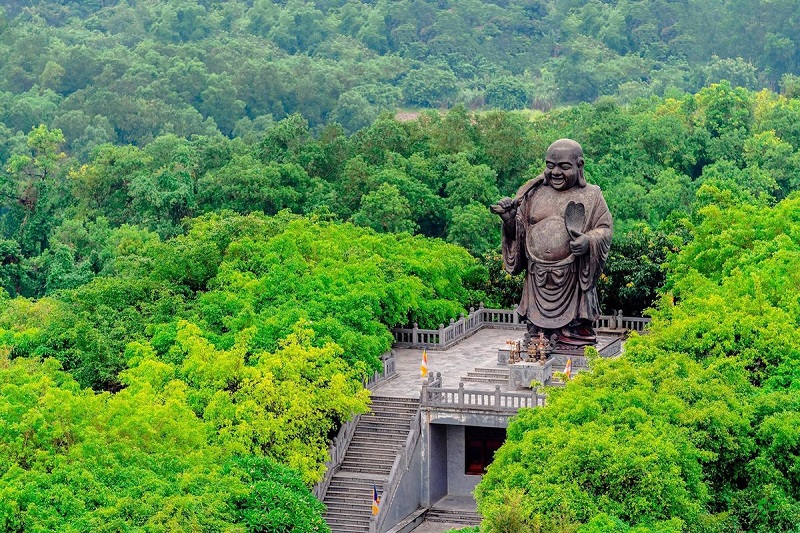 Positioned on the highest hill of Bai Dinh Pagoda, this 10-meter-tall bronze statue of Maitreya is the largest outdoor bronze Maitreya Statue in Southeast Asia, weighing 80 tons. It's a remarkable sight to see from the top!
The ancient Bai Dinh Pagoda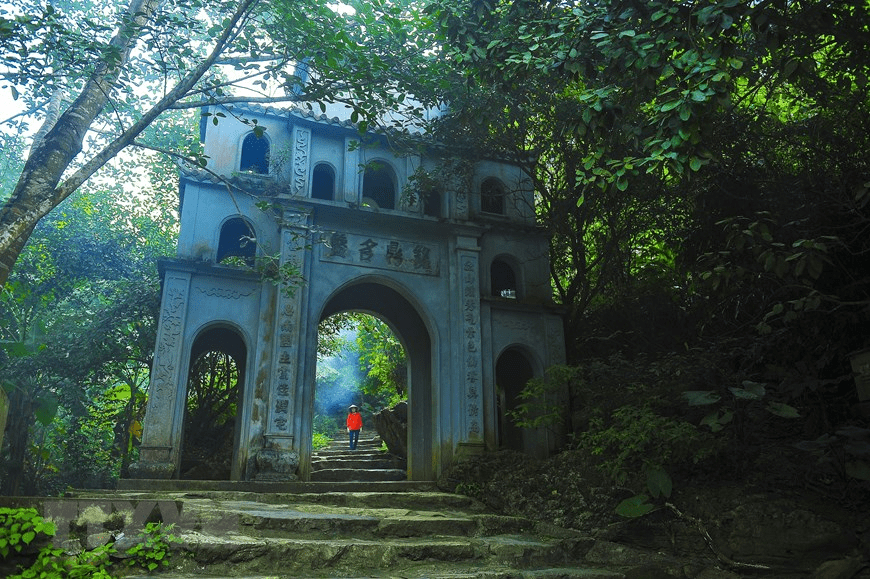 The ancient Bai Dinh Pagoda is located about 800 meters away from the new one, in the foothills. To reach it, you have to walk along a pathway of over 300 stone steps and pass through an ornate gate. The pagoda itself is situated in small caves on the slope. Here, people not only worship Buddhist deities but also mountain spirits.
Bai Dinh Pagoda At Night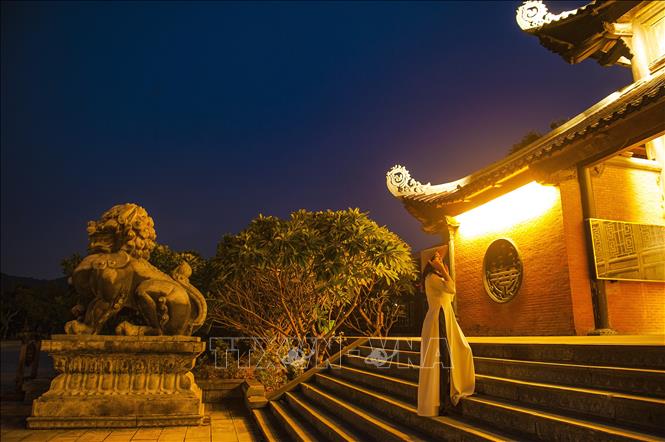 Bai Dinh Pagoda at night is an enchanting sight to behold. The entire temple complex is adorned with soft, glowing lights that illuminate the intricate details of the architecture and statues. The golden shades of the pagodas light in the darkness, creating a magical atmosphere.
Hanoi to Ninh Binh Tour: Bai Dinh Pagoda Tour
A full day tour: Bai Dinh - Trang An Boat Trip
Ninh Binh 2 days 1 night: Hoa Lu - Am Tien Cave- Tam Coc- Bich Dong- Bai Dinh- Trang An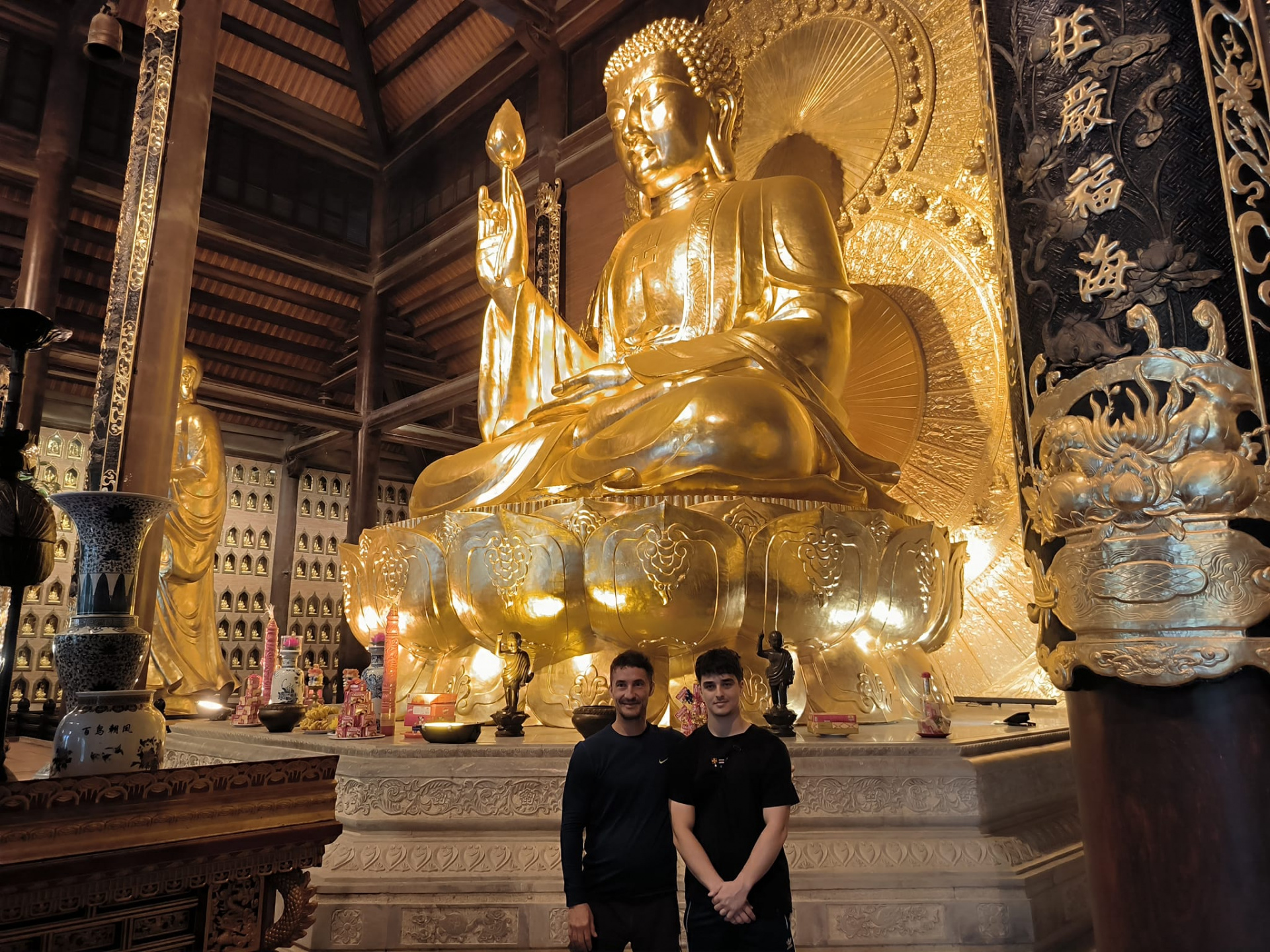 Bai Dinh Pagoda in Ninh Binh offers a harmonious blend of history, spirituality, and natural beauty, making it a must-visit destination for those seeking to immerse themselves in the rich cultural heritage of Vietnam. Whether one is a holy pilgrim or a curious traveller, Bai Dinh Pagoda in Ninh Binh promises an unforgettable journey.
You might read:
Bai Dinh Pagoda vs Hoa Lu Temple: Making the Right Choice for Your Ninh Binh Adventure
The best Trang An Guide for 2023: A Comparison of 3 Boat Tours in Trang An Ninh Binh
Exploring the Beauty of Tam Coc: A Guide to a Bike Tour, Boat Ride, and Must-See Attractions 2023
Other Articles