What should I do in Trang An Ninh Binh: Is long boat trip boring?
30/07/2023
Discover the best things to do in Trang An, Ninh Binh, including the exciting Trang An boat tour. This article provides the most helpful information for travellers to explore Trang An. We answer the question: "Is a long boat trip boring?" Find out how to make the most of your Trang An boat tour.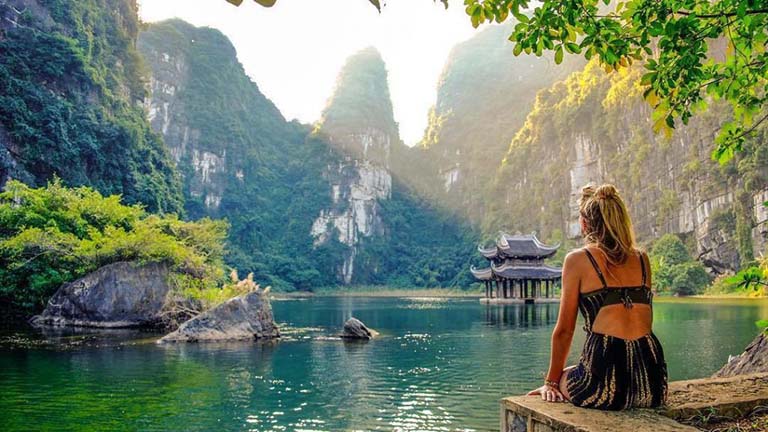 Trang An Ninh Binh Overview
Trang An - A World Heritage Site
Trang An has been designated a particularly important national monument by the Vietnamese government and recognized as a dual World Heritage Site (Both Cultural and Natural Heritage) by UNESCO since 2014. This famous site is a place that preserves and contains various ecosystems, including wetland forests, limestone mountain forests, archaeological sites, and cultural and historical relics.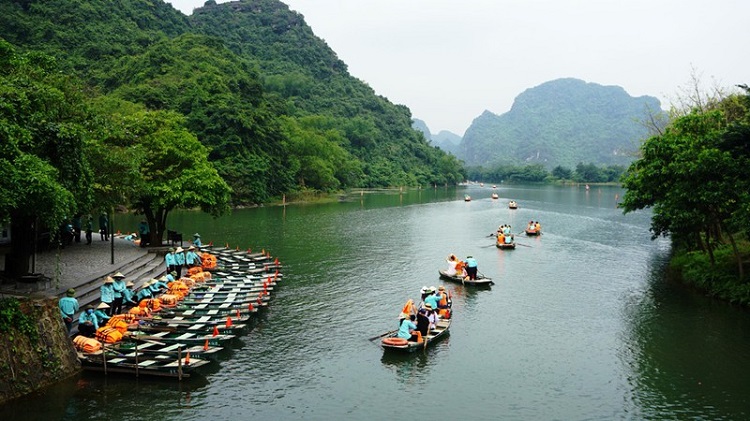 The Trang An scenic landscape complex features a system of limestone mountains, estimated to be around 250 million years old, which has been transformed over time due to Earth's changes, climate, advancing and receding seas, resulting in hundreds of valleys, caves, and lakes. Besides, Trang An was chosen by King Dinh Tien Hoang as the southern protective barrier for the capital city of Hoa Lu in the 10th century.
Trang An Location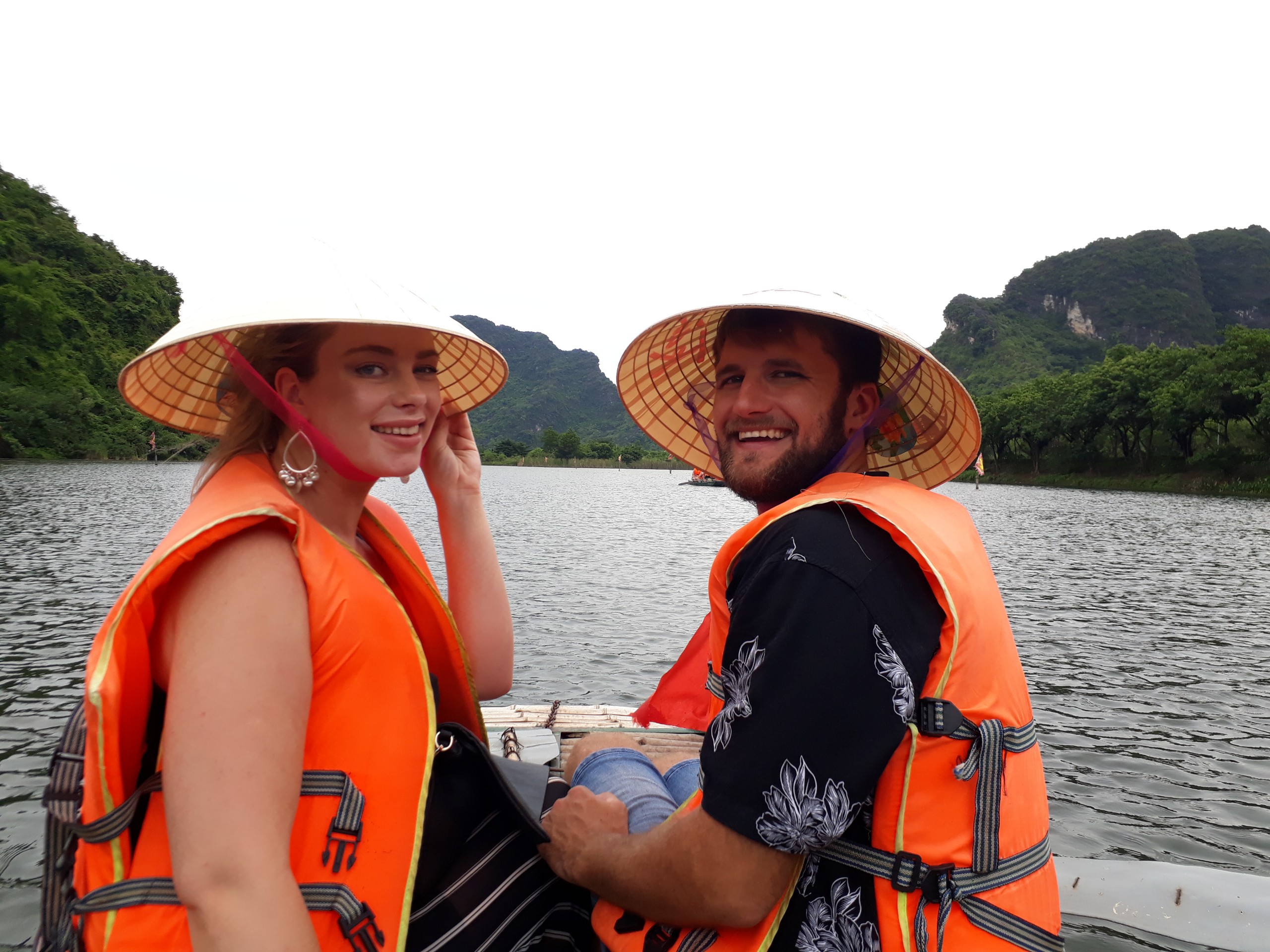 Where is Trang An, Ninh Binh located? The boat station of Trang An is approximately 96 km south of Hanoi. Trang An near other famous attractions in Ninh Binh. If we take the Trang An Eco-Tourism Complex as the centre of Ninh Binh tourism, the distances to various nearby attractions are approximate as follows:
Hang Mua or Mua Cave: about 8 km

Tam Coc - Bich Dong: about 14 km

Bai Dinh Pagoda: about 12 km

Hoa Lu Ancient Capital: about 3 km

Van Long Nature Reserve: about 20 km

Cuc Phuong National Park: about 50 km

Tuyet Tinh Coc (Am Tien Cave): 5 km

Thung Nham Bird Garden: about 15 km

Thien Ha Cave: about 23 km

Kenh Ga Floating Village: about 18 km

Tam Chuc Pagoda: about 55 km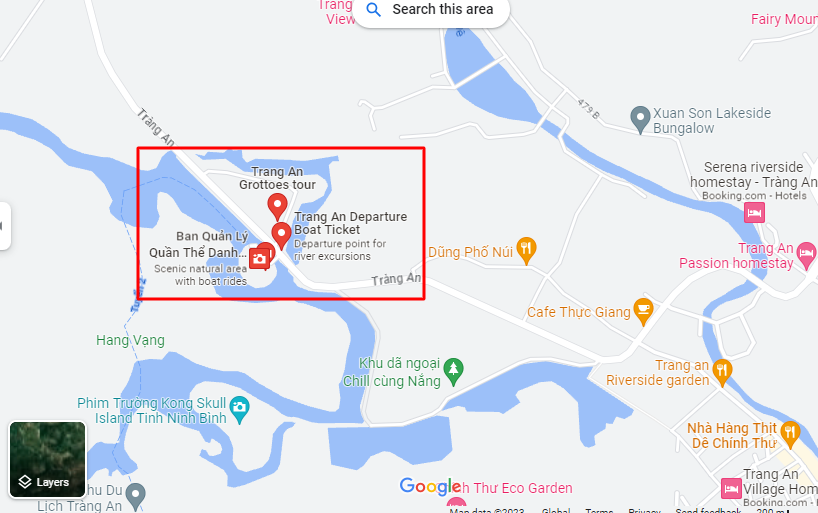 See the map: Trang An Departure Boat Ticket location
Trang An Boat Tour: Which route to choose?
First-time tourists might wonder what is the best route to choose for a perfect boat trip in Trang An. There are 3 main routes and each follows a separate direction and time duration. Now, we see the differences and how long is Trang An boat tour for each route.
Route 1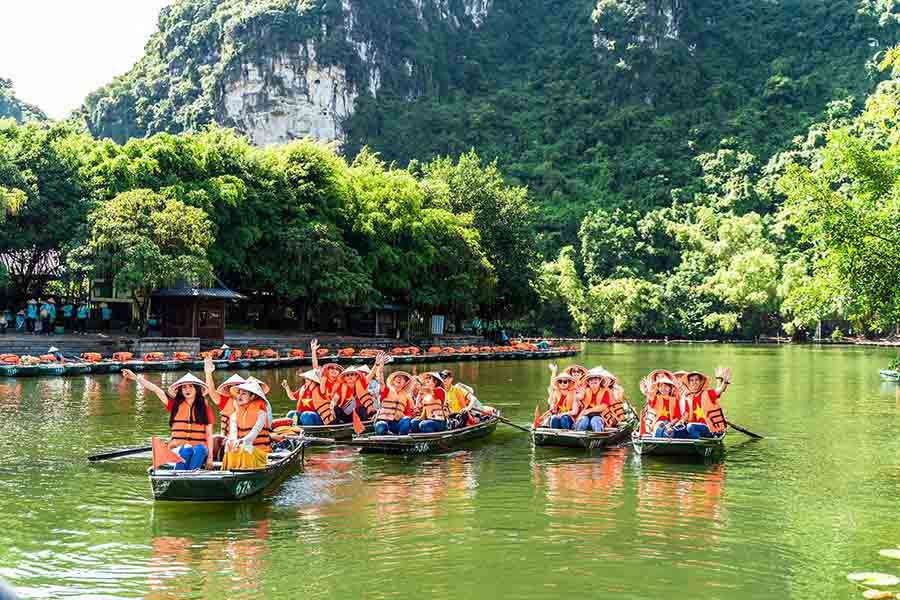 Route 1 takes visitors to explore 3 spiritual points and 9 caves in a closed circle. It allows you to discover unique and mysterious caves, and learn about the history of the Dinh Dynasty through relics and legends about caves and temples. Particularly, Tran Temple, the heart of the Cultural and Natural World Heritage site.
Route 1 itinerary: Boat station – Trinh Temple – Dark and Bright Cave – Nau Ruou Cave – Tran Temple – Ba Giot Cave – Seo Cave– Son Duong Cave – Khong Palace – Bao Hieu Temple– Khong Cave – Tran Cave – Quy Hau Cave – Habour - back to the boat station (approximately 3 - 3.5 hours, depending on the time you spend at each stop).
Route 2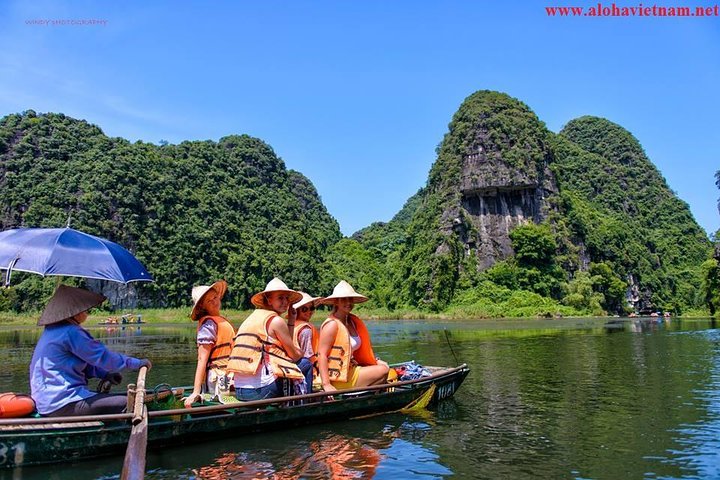 Route 2 offers 4 caves (Lam Cave, Vang Cave, Thanh Truot Cave, Dai Cave) and 3 spiritual points (Den Trinh, Den Suoi Tien, and the special spiritual complex of Hanh Cung Vu Lam). You will learn about the history of the Tran Dynasty at Hanh Cung Vu Lam. The journey also passes through the filming location of the world-famous movie Kong: Skull Island.
Route 2 itinerary: Boat station – Lam Cave – Thanh Cao Son Temple – Vang Cave – Thanh Truot Cave – Suoi Tien Temple – Dai Cave – Hanh Cung Vu Lam Temple - back to the boat station (approximately 2.5 - 3 hours).
Route 3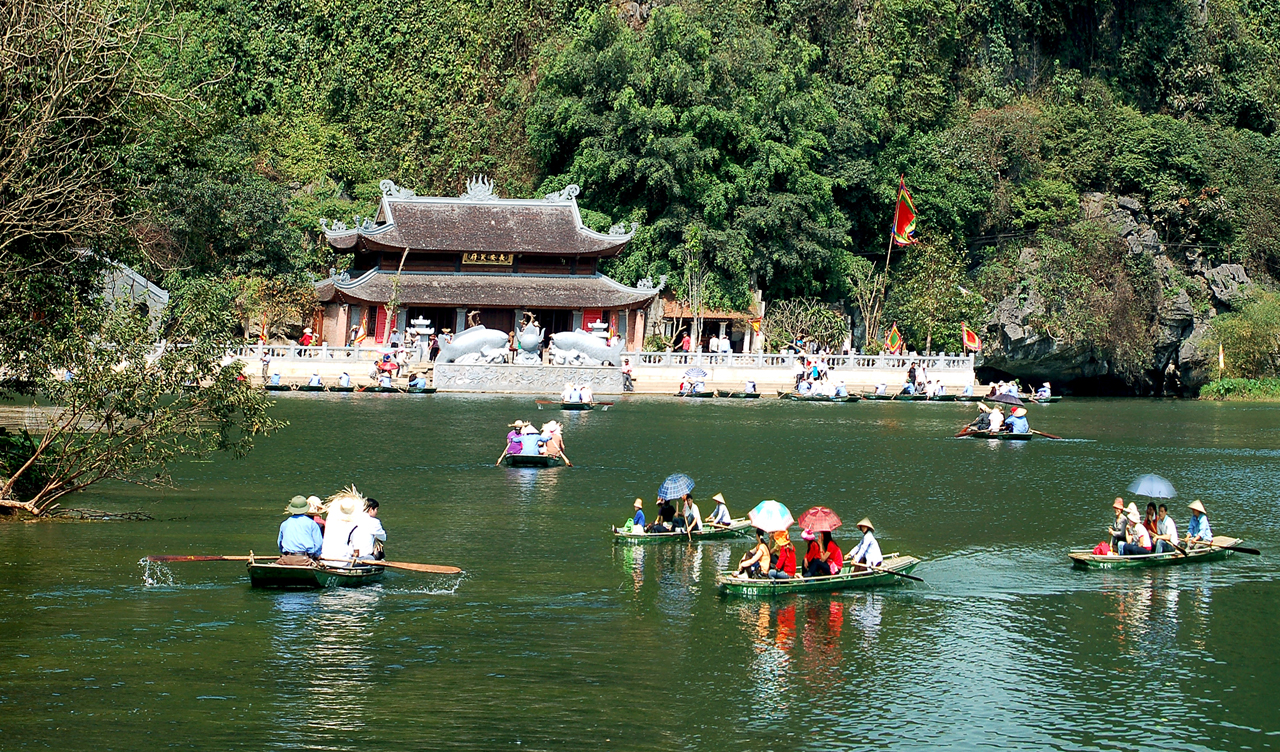 Route 3 is the newest route, put into operation in late 2017. It features the longest cave and all the other types of ecological areas in Ninh Binh. You will be amazed by the limestone system of Dai Cave, which stretches over 1000 meters, shaped by nature over thousands of years. Then, you will discover the historical relic of Suoi Tien Temple.
Route 3 itinerary: Boat station - Trinh Temple – Dot and May Cave – Suoi Tien Temple – Dia Linh Mountain – Dai Cave – Hanh Cung Vu Lam Temple – Kong: Skull Island Film Set - back to the boat station (approximately 3 - 3.5 hours).
Special Note: From July 2019, visitors will not stop on Skull Island, just pass through.
Read more: The best Trang An Guide for 2023: A Comparison of 3 Boat Tours in Trang An Ninh Binh
Trang An boat tour: Opening Hours and Ticket Price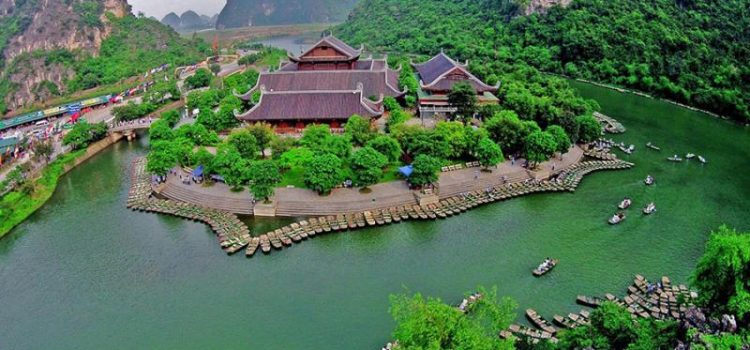 Trang An boat tour opening hours: 7:00 am - 6:00 pm
Trang An operates from 7 am until 6 pm. However, it's best to avoid visiting near closing time as it could negatively impact your experience due to limited visibility in darkness or cold weather. In the summer, it's advisable not to visit at noon when the sun is scorching hot. To fully enjoy the beauty of Trang An, consider dedicating at least half a day to exploring the area.
Trang An entrance ticket:
Adults over 1.3m 250,000 VND/person
Children from 1m – 1.3m 120,000 VND/person
Children under 1m Free
Private boat 1,250,000 VND/boat
Tour guide 300,000 VND/itinerary
Is long boat trip in Trang An boring?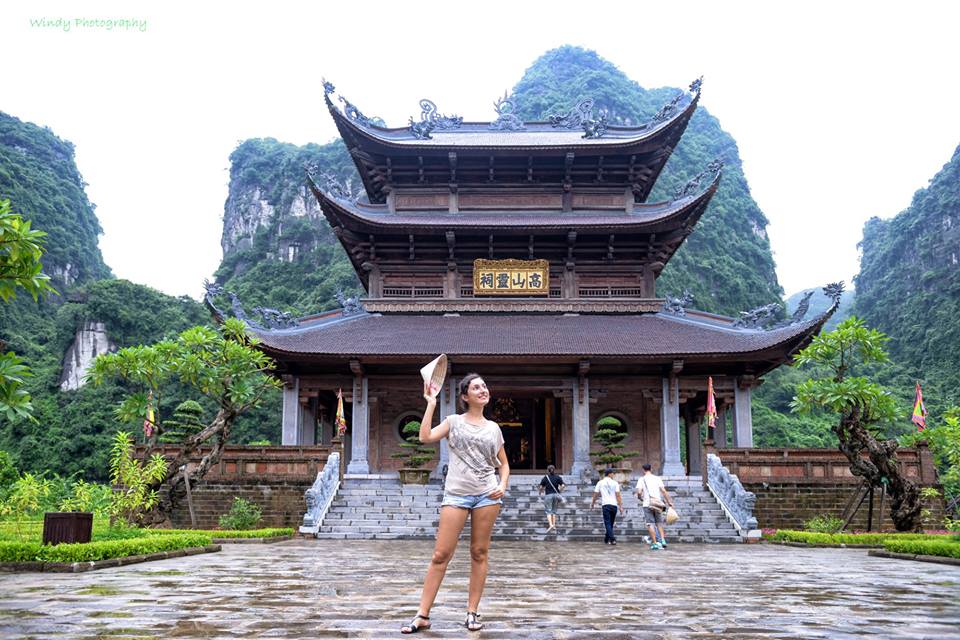 You might ask if is it boring for a 3 hours-boat-trip on the river. In fact, you will not stay on the boat all the time. You will stop at various tourist spots. The boat driver will wait for you to continue the journey, so don't worry about transport. Also, remember your boat's number to easily recognize it when you come back. In each cave and on the river you will see different sceneries has different landscapes to enjoy. To avoid a slow pace makes you feel bored, you can try the following tips:
Have a conversation with your fellow travellers or the boat driver.

Bring some light snacks and beverages to enjoy during the trip. Snacking can be a fun way to break the monotony and keep your energy up.

Learn about the area. Having some knowledge about the place can make the boat trip more interesting and meaningful.
How To Book Trang An Boat Tour?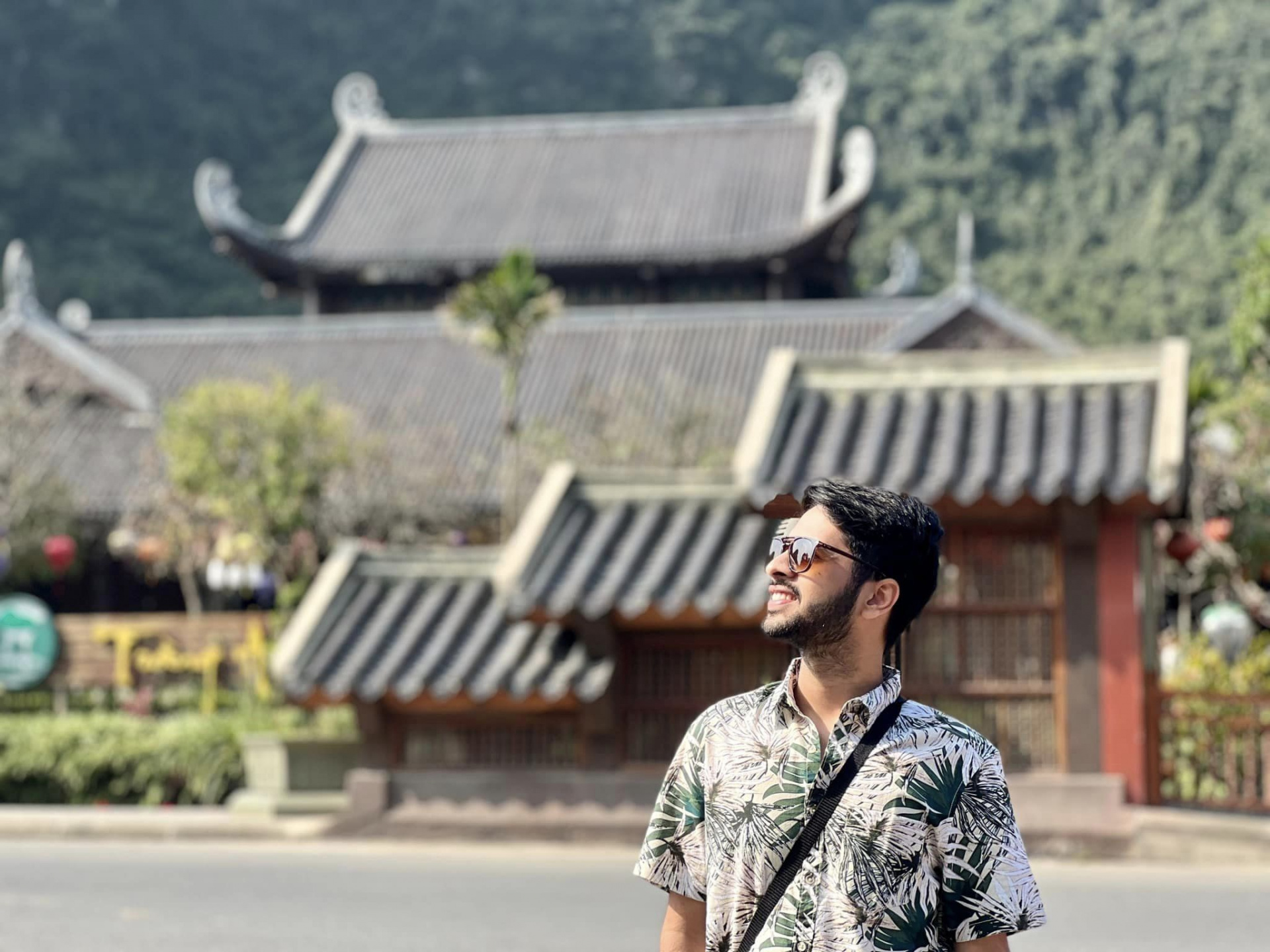 You can totally combine Trang An with Hang Mua (Mua cave), Hoa Lu ancient capital or Bai Dinh Pagoda to make your trip more wonderful. If you plan to book a tour, both a shared tour and a private tour are good depending on your intention. Start by researching reputable tour operators that offer Trang An boat tours. Look for reviews and ratings from previous customers to ensure a reliable and enjoyable experience. Once you have identified a few tour operators, compare the itineraries, inclusions, prices, and duration of the tours to find one that suits your preferences. Then, make a reservation in advance to secure your spot. Some popular tours may fill up quickly
You might read: Top 9 Reputable Ninh Binh Travel Agencies: Tips For The Best Ninh Binh Tour Operators
Suggested itineraries for a boat tour in Trang An Ninh Binh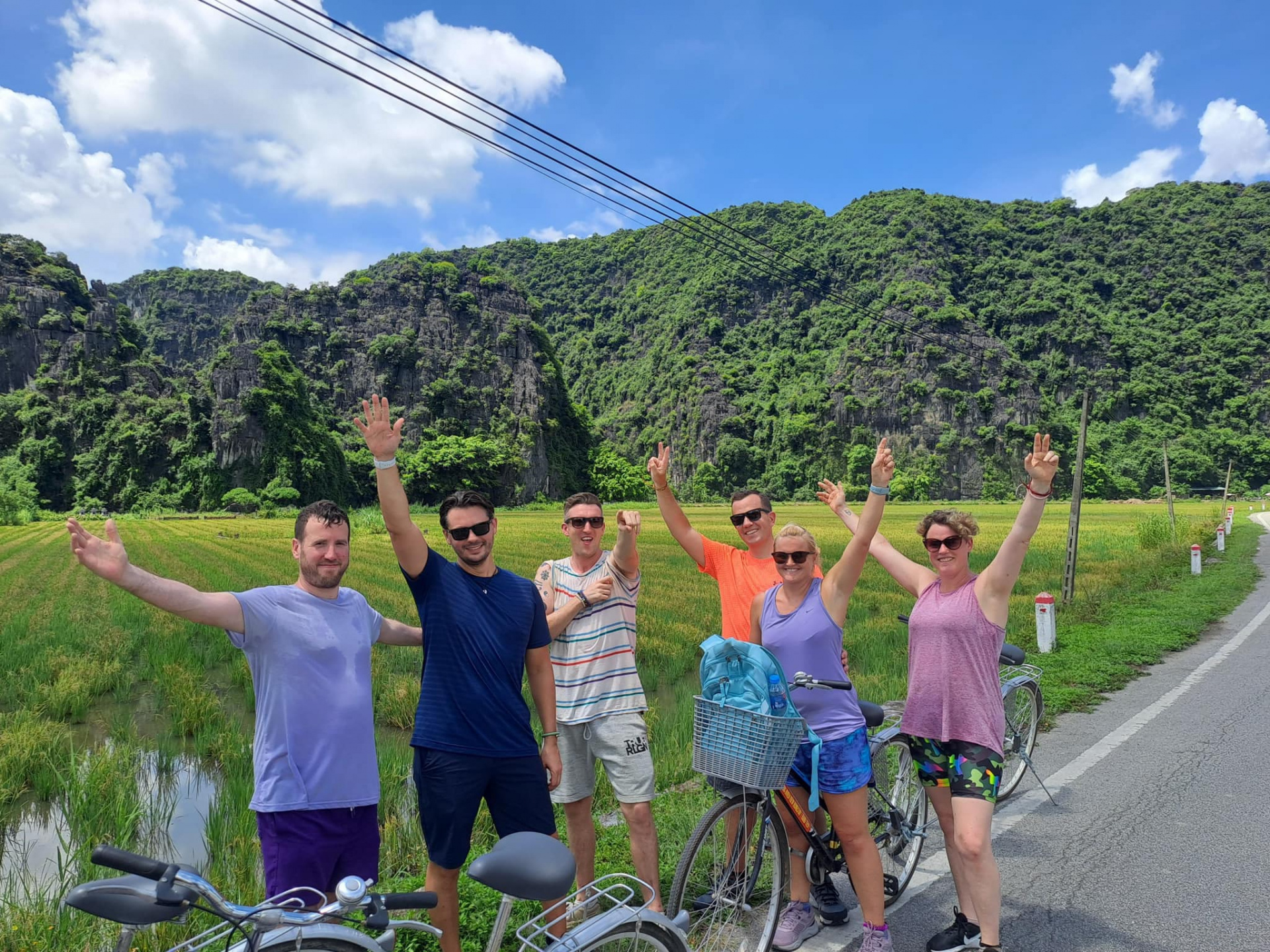 01-day tour in Trang An Ninh Binh
02 days tour in Trang An Ninh Binh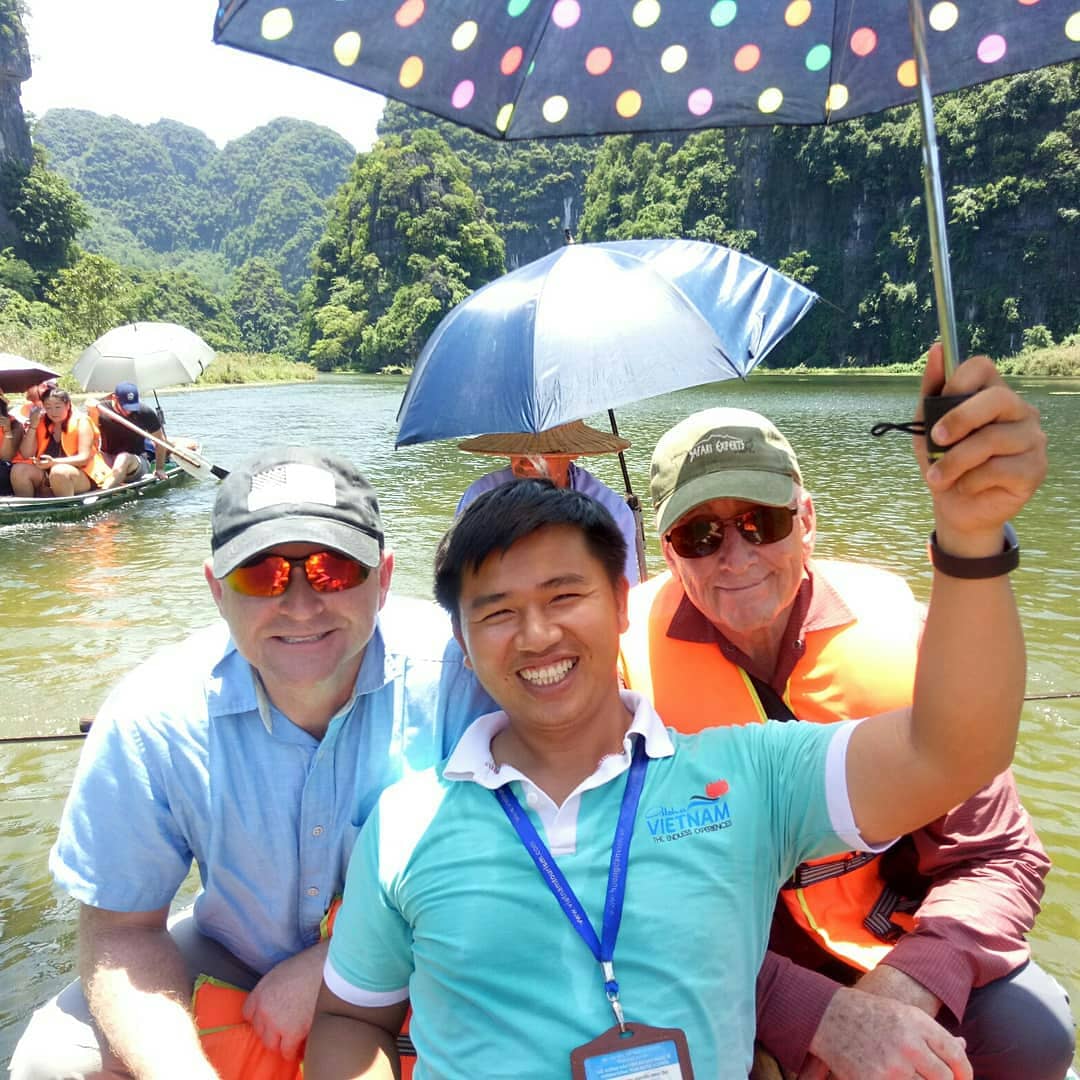 In conclusion, a boat tour in Trang An Ninh Binh is a worth trying activity. You can spend just 1 day or 2 days in Ninh Binh to discover this beautiful Vietnamese countryside. Although 3 boat routes have different characteristics, each has its uniqueness. It can be confident to say that Trang An boat trip is interesting, not boring, and your preparation adds more to this meaningful trip.
Other Articles