Ninh Binh Retreat Tour: A Nature Lover's Guide
15/09/2023
Are you a nature lover? You are looking for a peaceful place to escape from the bustling streets of the big city? Let's go to Ninh Binh, a hidden gem in northern Vietnam. Ninh Binh is a paradise for nature fans. Explore the best Ninh Binh tour options and discover the natural beauty of this countryside.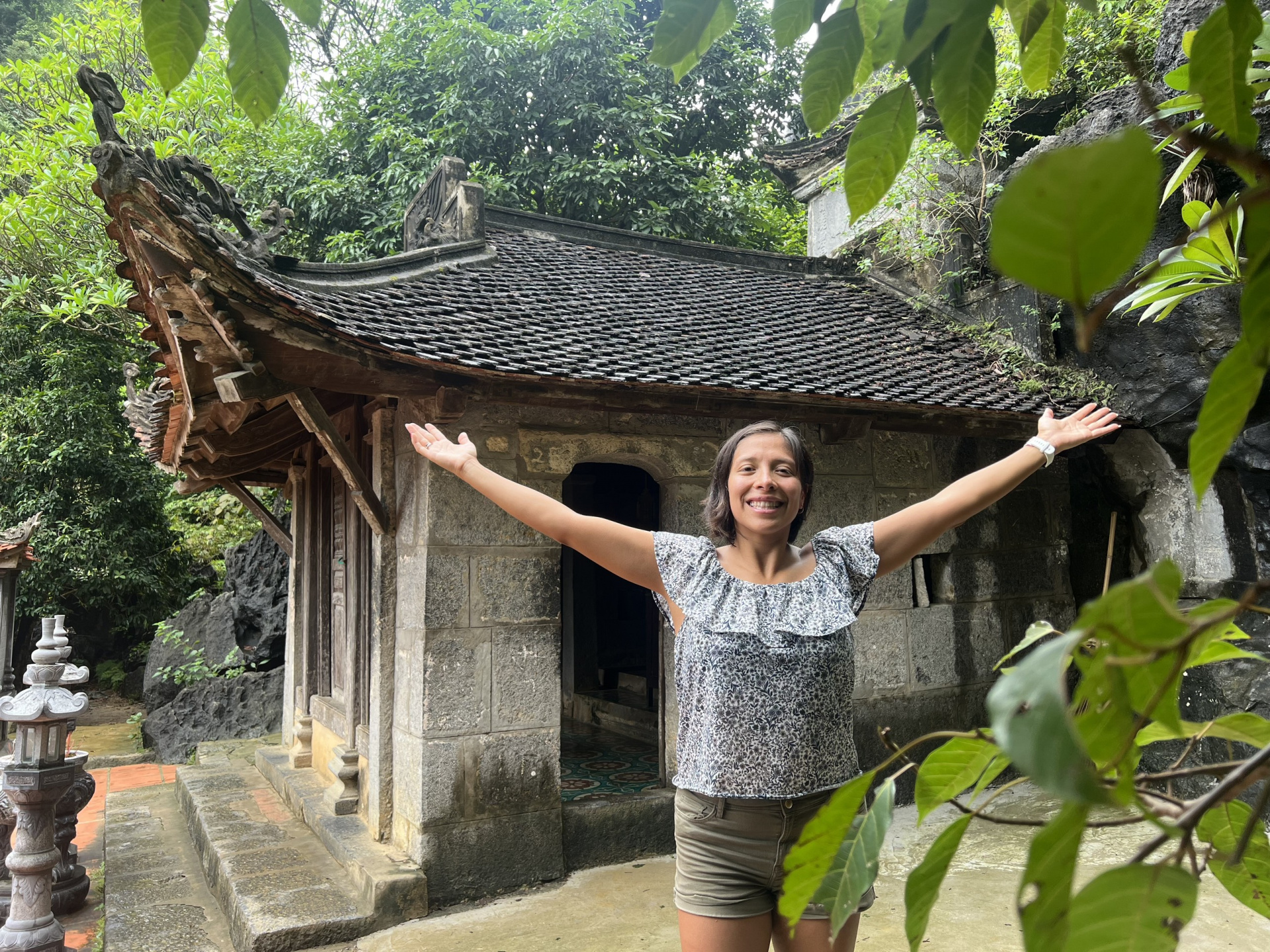 One of the most attractive things that draws international tourists to Vietnam is the natural beauty. Vietnam is a country of great stunning natural scenery. It is famous for its beautiful beaches with crystal-clear waters in Nha Trang, Da Nang, Phu Quoc, as well as the majestic high mountains in the North like Ha Giang, Moc Chau and Cao Bang. Each area captures a unique aspect of Vietnam's beauty. A few days of travelling may not be enough to explore it all.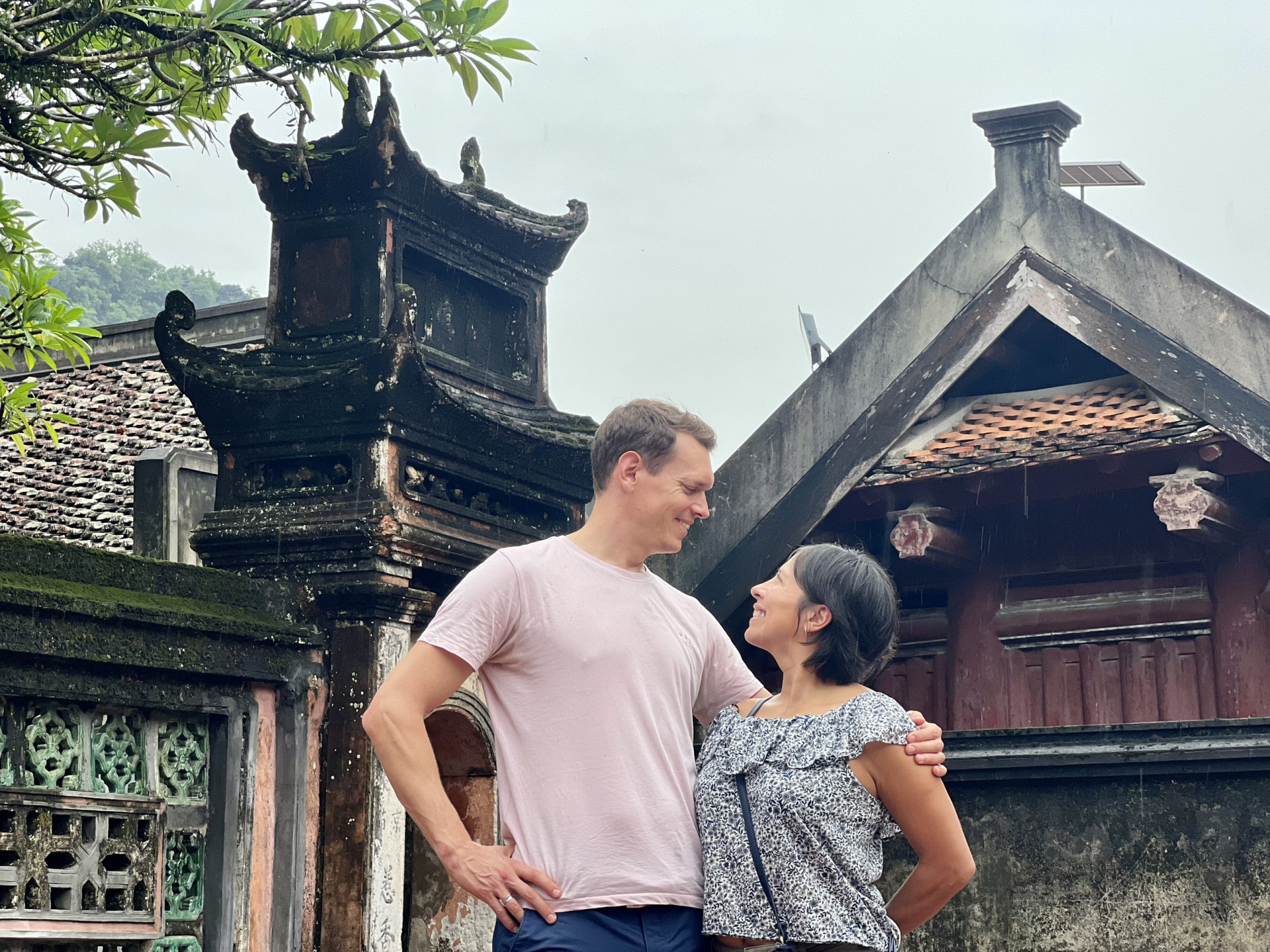 Some people think that it's hard to reach the hidden gem of Vietnam because of limited time and transportation infrastructure. However, not every destination is difficult to reach. For instance, from Hanoi, reaching Halong Bay only takes about 2-3 hours. Furthermore, there is a place that is just over 1 hour away from Hanoi, making it convenient for both day trips and 2-3 day excursions, that is Ninh Binh.
Ninh Binh Tour From Hanoi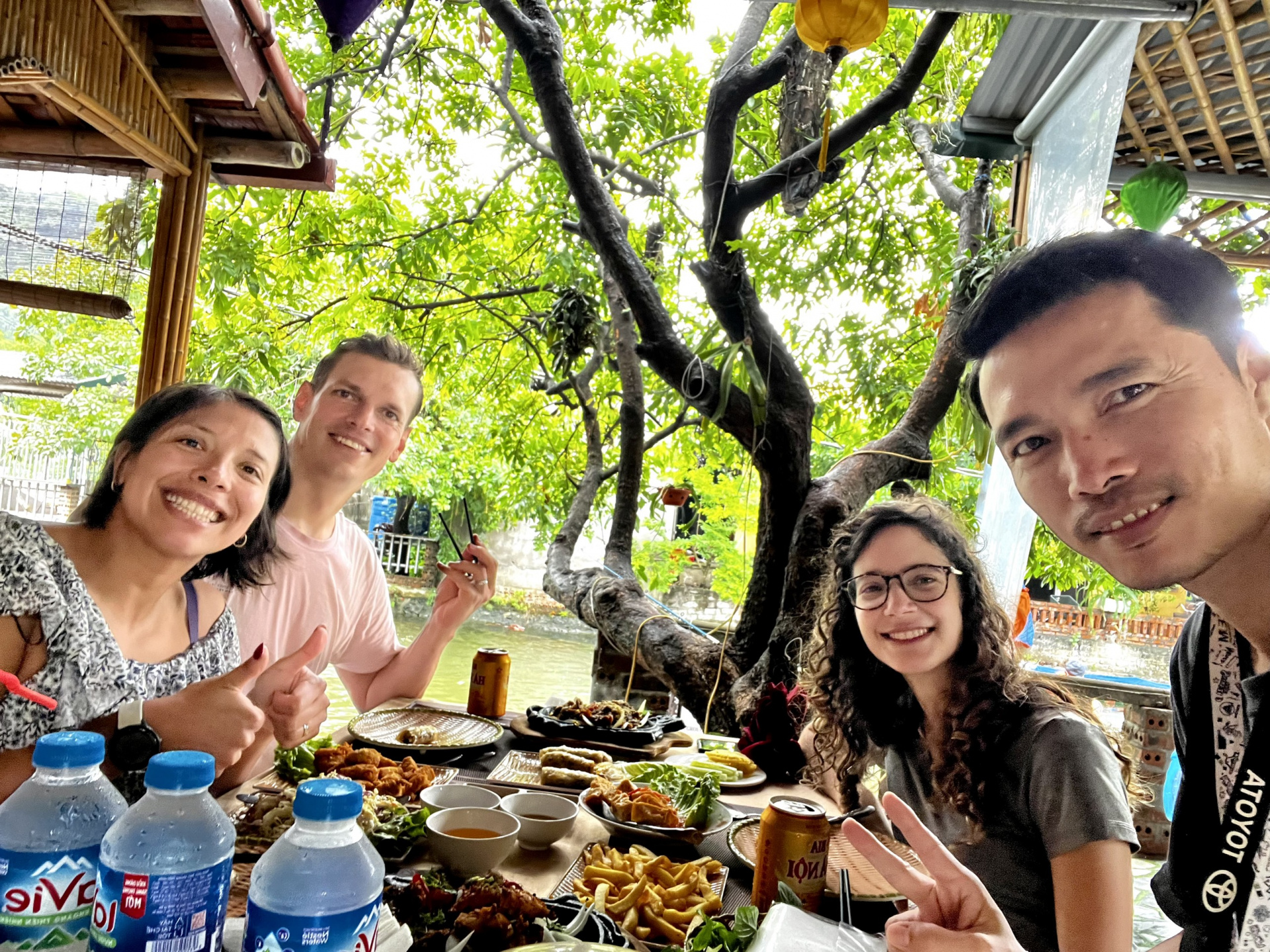 It's convenient to start a Ninh Binh adventure from Hanoi. First-time travellers might ask if is it possible for a Ninh Binh day trip from Hanoi. Yes, definitely. Ninh Binh is located just around 2-hour drive from Hanoi, making it a popular destination for a day trip. Depending on your interests, you can enjoy activities like hiking, biking, boat riding, a photography trip or just a step into nature.
Ninh Binh offers a variety of options:
Luxury Ninh Binh tours with private transport, resort staying and special dinners.
Private Ninh Binh tours with your family or friends with the support of a professional tour guide.
Natural, cultural and food tours.
Nature Beauty of Ninh Binh
Limestone Karst Formations Everywhere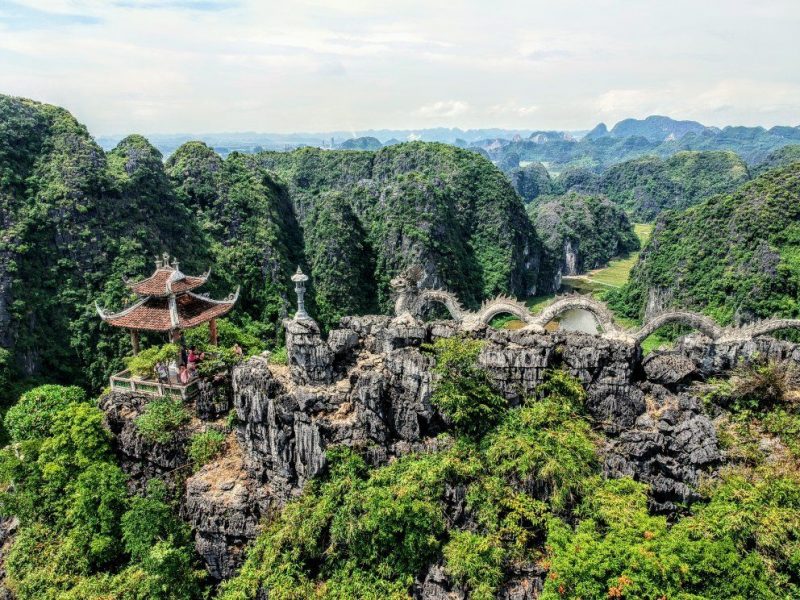 The limestone mountains of Ninh Binh is an amazing feature. They rise majestically from the ground with peaks hitting the sky. These mountains are home to a variety of cave systems. Some of the most famous caves include Trang An, Mua Caves, and Tam Coc.
Lush rice fields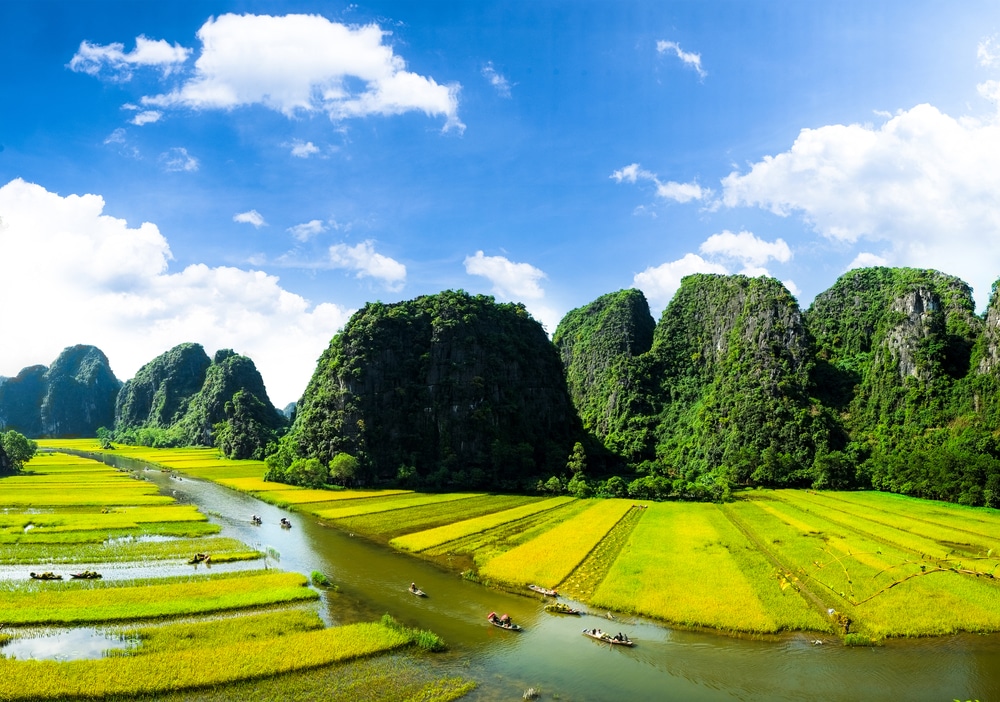 The rice fields in Ninh Binh are beautiful all year round. Especially, during the harvest season, they turn into a stunning sea of gold. The ripe rice plants create a magical view. You can also see local farmers, wearing traditional conical hats and working alongside their water buffaloes.
People from all over the world visit Ninh Binh during this season to witness the rice fields during the harvest. It's a time of celebration, a time when the community comes together to reward their hard work. The rice fields are also home to a variety of wildlife, including birds, insects, and reptiles.
Rivers - The waterways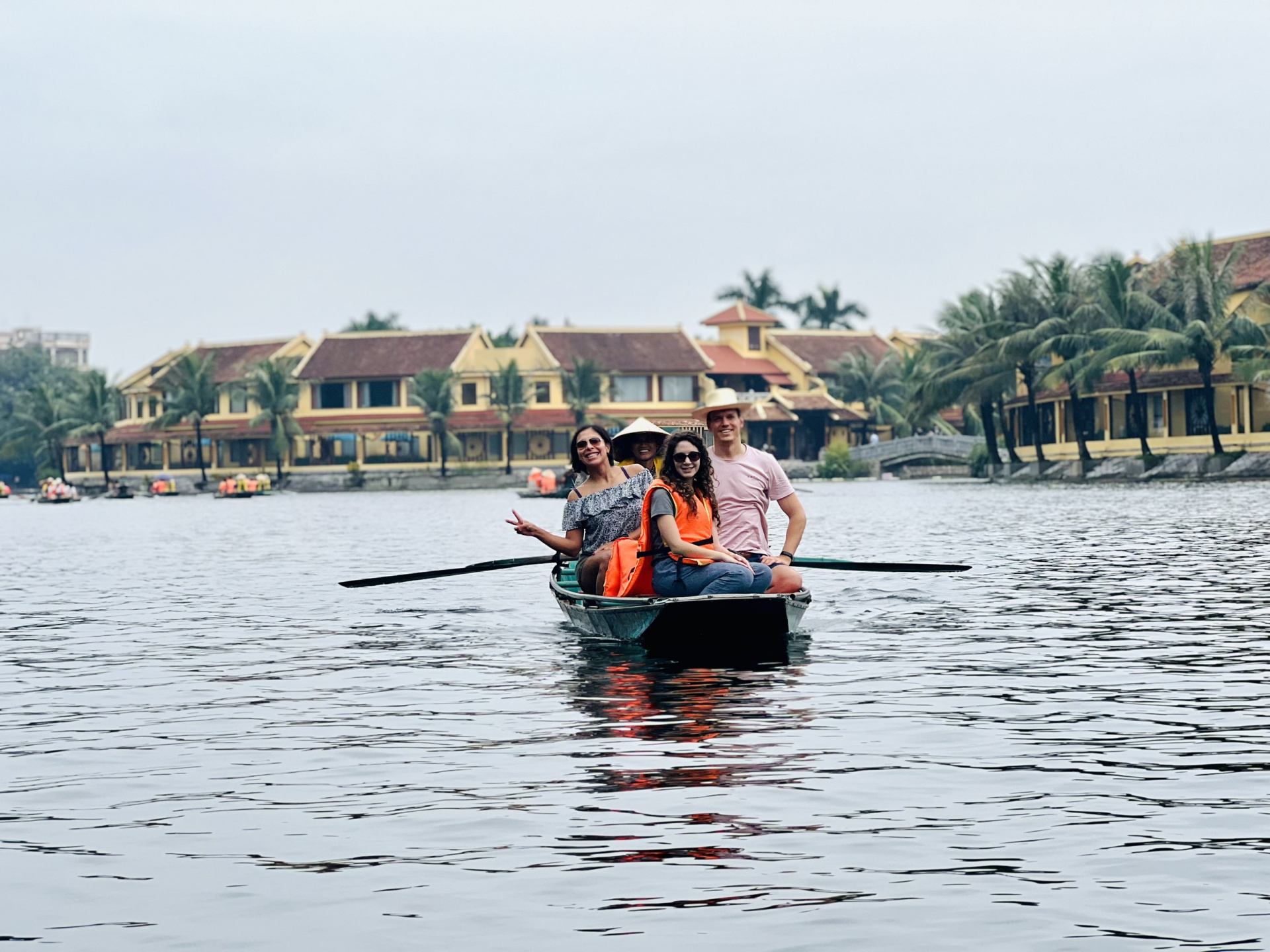 The rivers of Ninh Binh play an important role in the local ecosystem. They provide water for irrigation and transportation, and they also offer a variety of recreational activities, such as boating and kayaking.
Some of the most famous rivers in Ninh Binh include the Ngo Dong River, the Day River, and the Van Long River.
Visiting Ninh Binh, you must try a boat trip to discover Trang An, Tam Coc, Thung Nham Bird Park or Van Long Nature Reserve.
Natural Attractions in Ninh Binh
Here are top list of natural attractions in Ninh Binh
Trang An Scenic Complex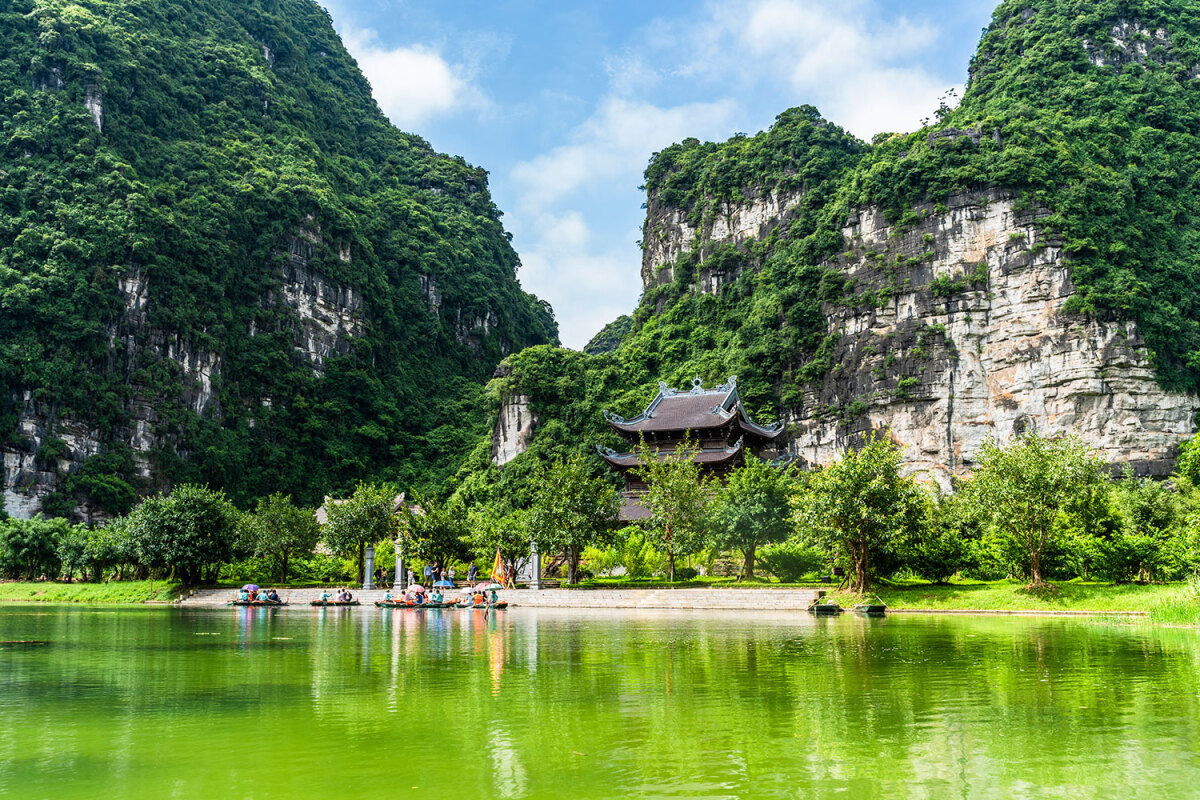 Trang An is one of the most famous tourist destinations in Ninh Binh, recognized by UNESCO as a World Heritage Site. It features a system of caves, limestone mountains, ponds, rivers, and more, creating an incredibly majestic and romantic natural landscape. You can explore Trang An by boat, rowboat, or on foot.
Tam Coc - Bich Dong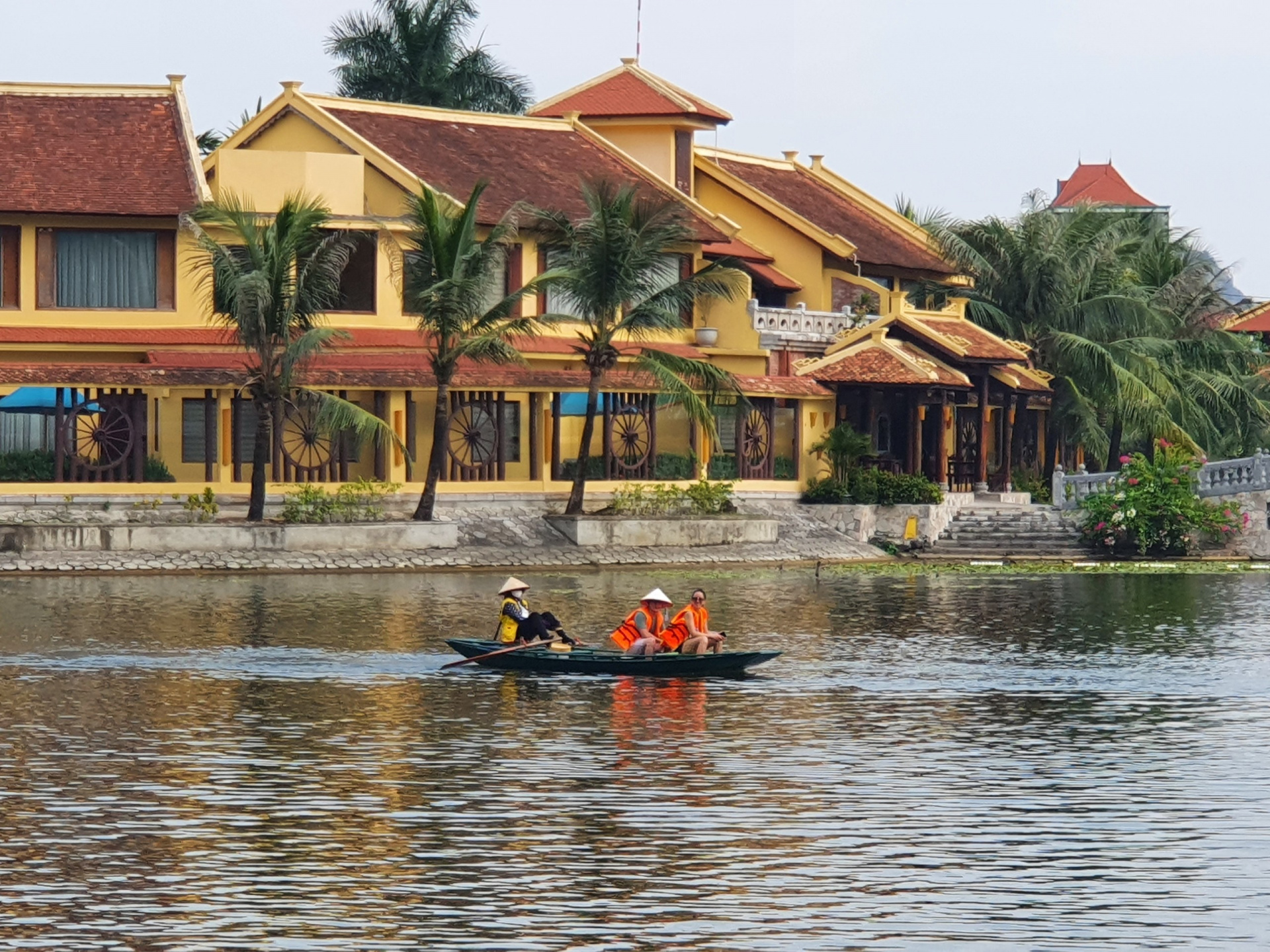 Tam Coc - Bich Dong is another famous scenic complex in Ninh Binh. It consists of three caves: Tam Coc, Tien Long, and Ba Giot, nestled amidst limestone karst formations. You can also take a boat ride to admire the beautiful scenery of Tam Coc - Bich Dong.
Read more: All About Boat Tour in Ninh Binh: Tam Coc vs Trang An Boat Tour?
Bai Dinh Pagoda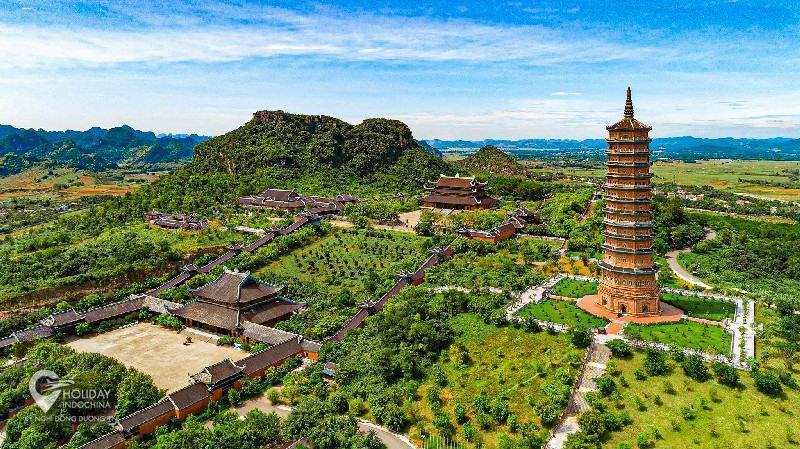 Bai Dinh Pagoda is the largest pagoda in Vietnam, located in Gia Vien, Ninh Binh. The pagoda boasts numerous world records, including the largest bronze and gold-plated Buddha statue and the largest bronze bell.
Additionally, Ancient Bai Dinh Pagoda features cave systems, and limestone mountains, which become a must-visit place in Ninh Binh.
Am Tien Cave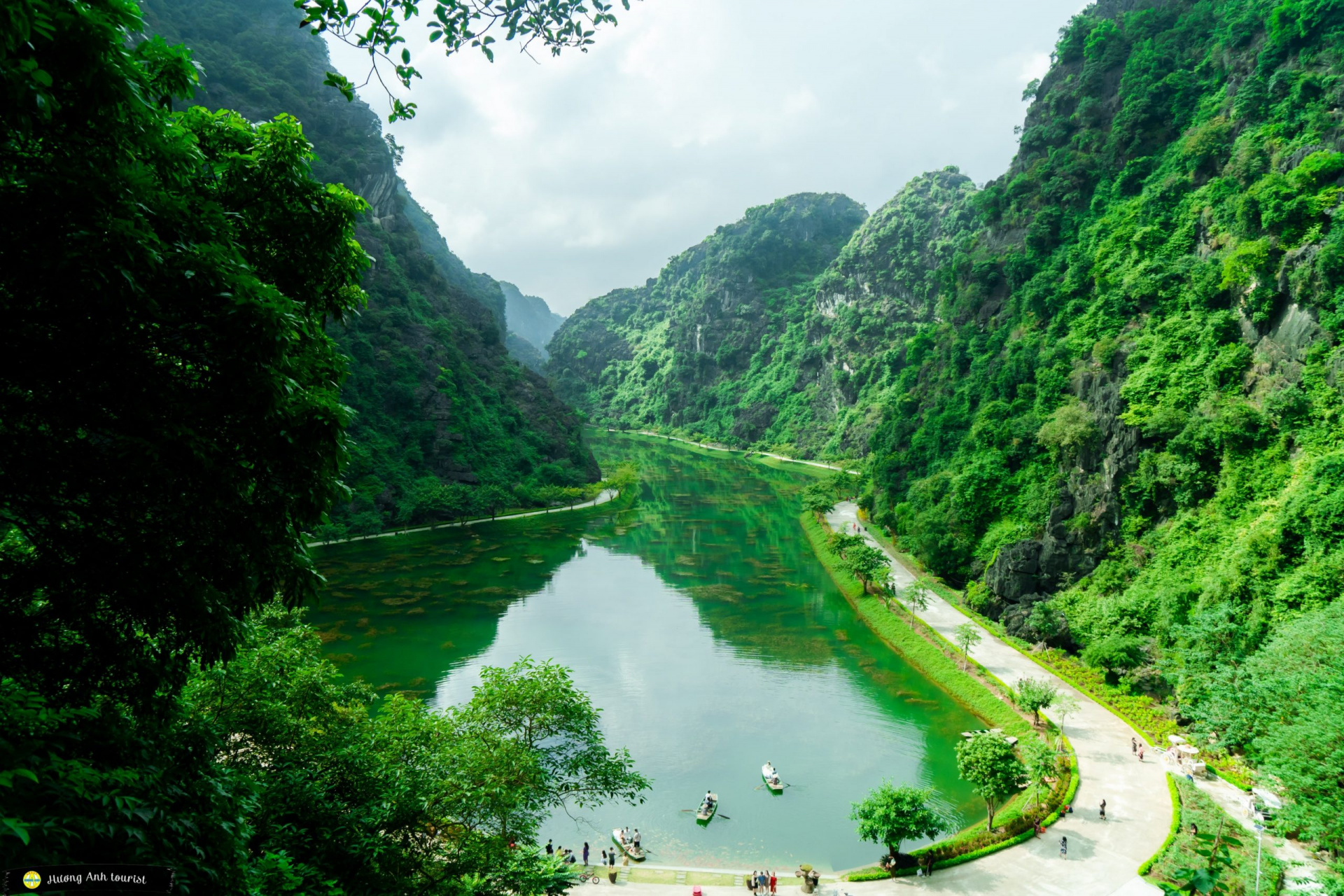 Am Tien Cave is situated near Hoa Lu ancient capital. The cave features a crystal-clear water pond, surrounded by towering limestone cliffs, creating a picturesque natural setting.
Thung Nham Bird Garden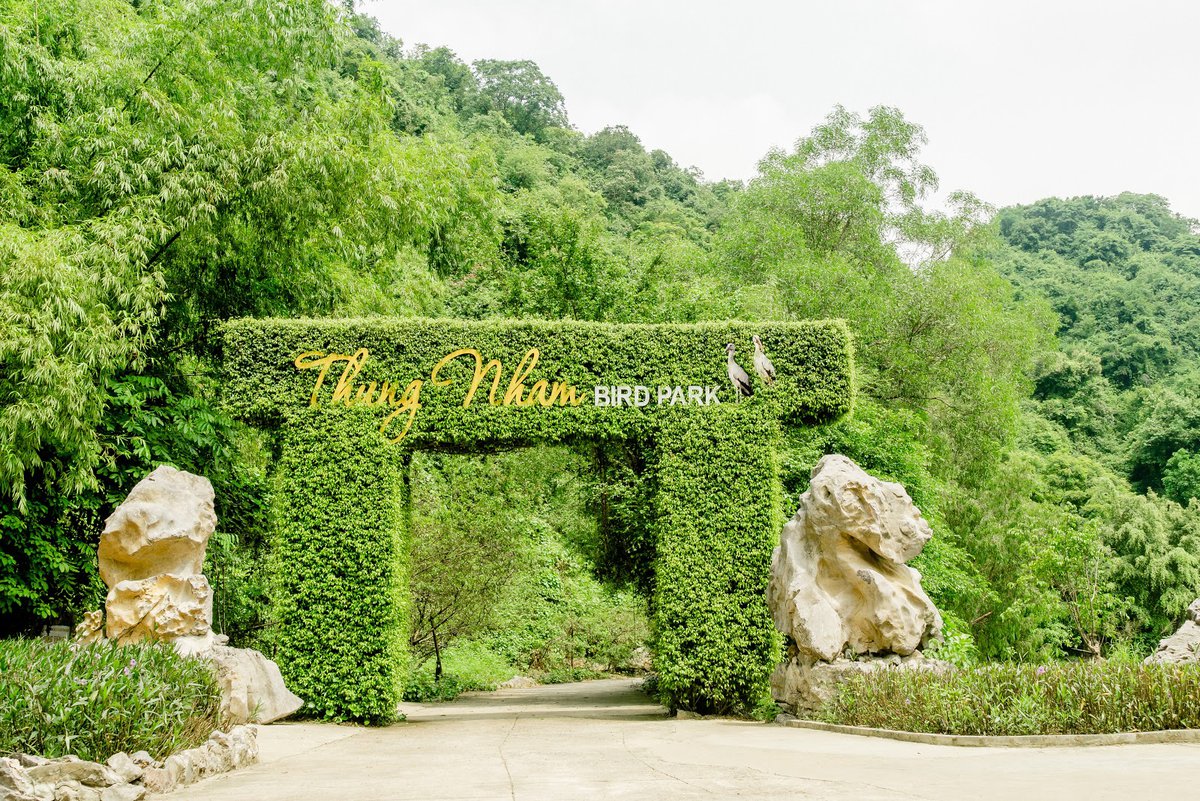 Thung Nham Bird Garden is located in Hoa Lu, Ninh Binh. Covering an area of over 100 hectares, it is home to more than 100 bird species, including many rare ones. Visitors can explore the bird garden by boat, rowboat, or on foot.
Van Long Nature Reserve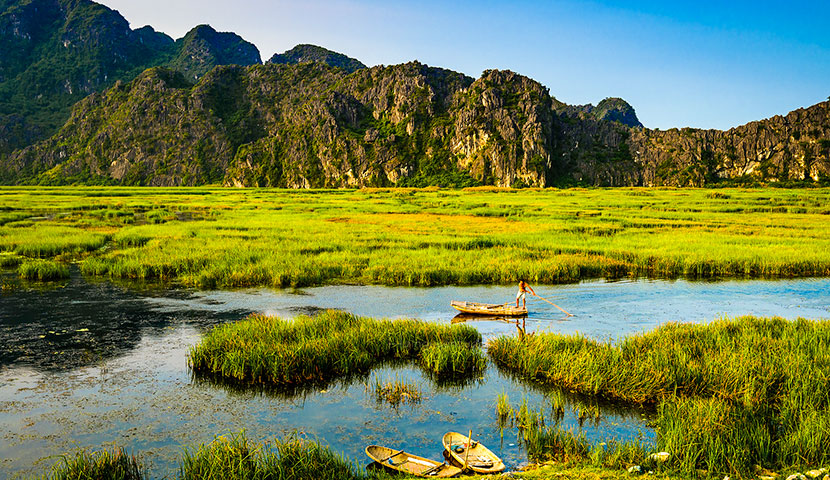 Van Long is the largest natural freshwater lagoon in Northern Vietnam, covering an area of over 3,000 hectares. It is home to many rare aquatic and plant species.
Cuc Phuong National Park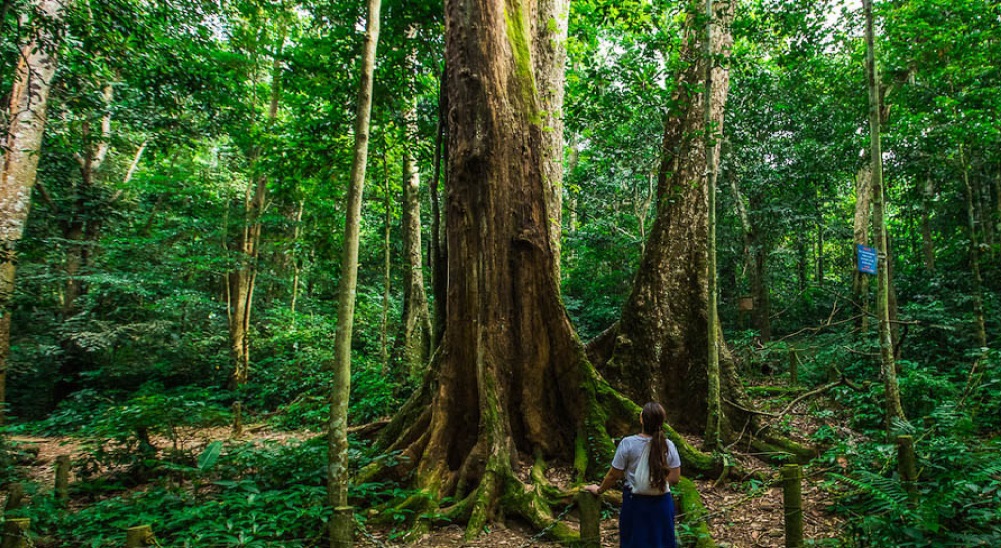 Cuc Phuong National Park is the largest tropical forest in Vietnam, spanning over 20,000 hectares. It is home to a wide variety of rare flora and fauna.
Mua Caves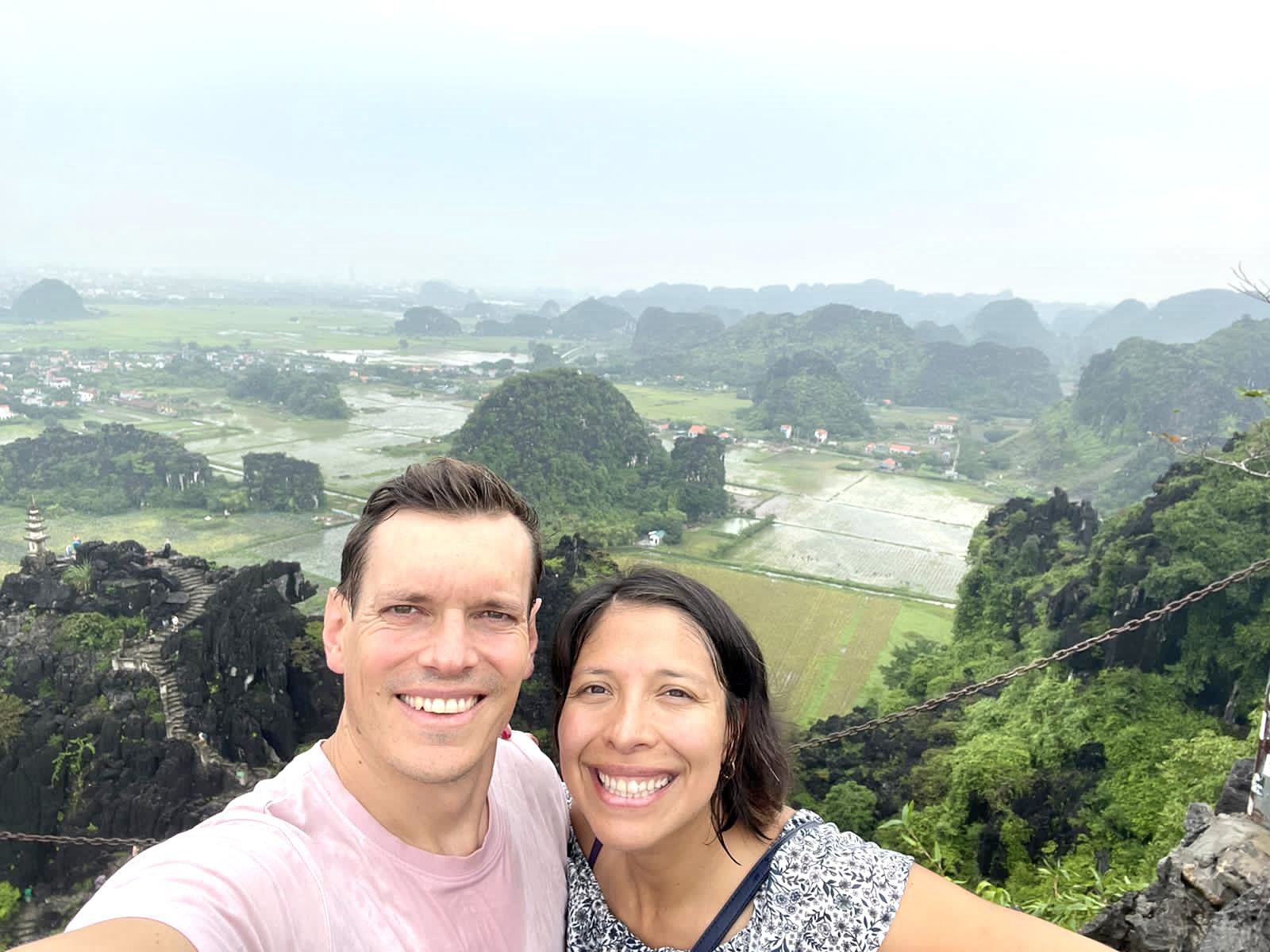 Mua Mountain is famous for its Dragon Peak, which brings stunning views of the surrounding countryside. Visitors can climb to the top of the mountain for breathtaking views of the rice paddies and limestone mountains.
In conclusion, Ninh Binh, a hidden gem in northern Vietnam, offers a perfect escape for nature lovers. With its peaceful landscapes and unique natural beauty, Ninh Binh truly stands as a paradise for those who appreciate the local and authentic experience of the countryside. When considering your next adventure, remember to add Ninh Binh to your travel bucket list.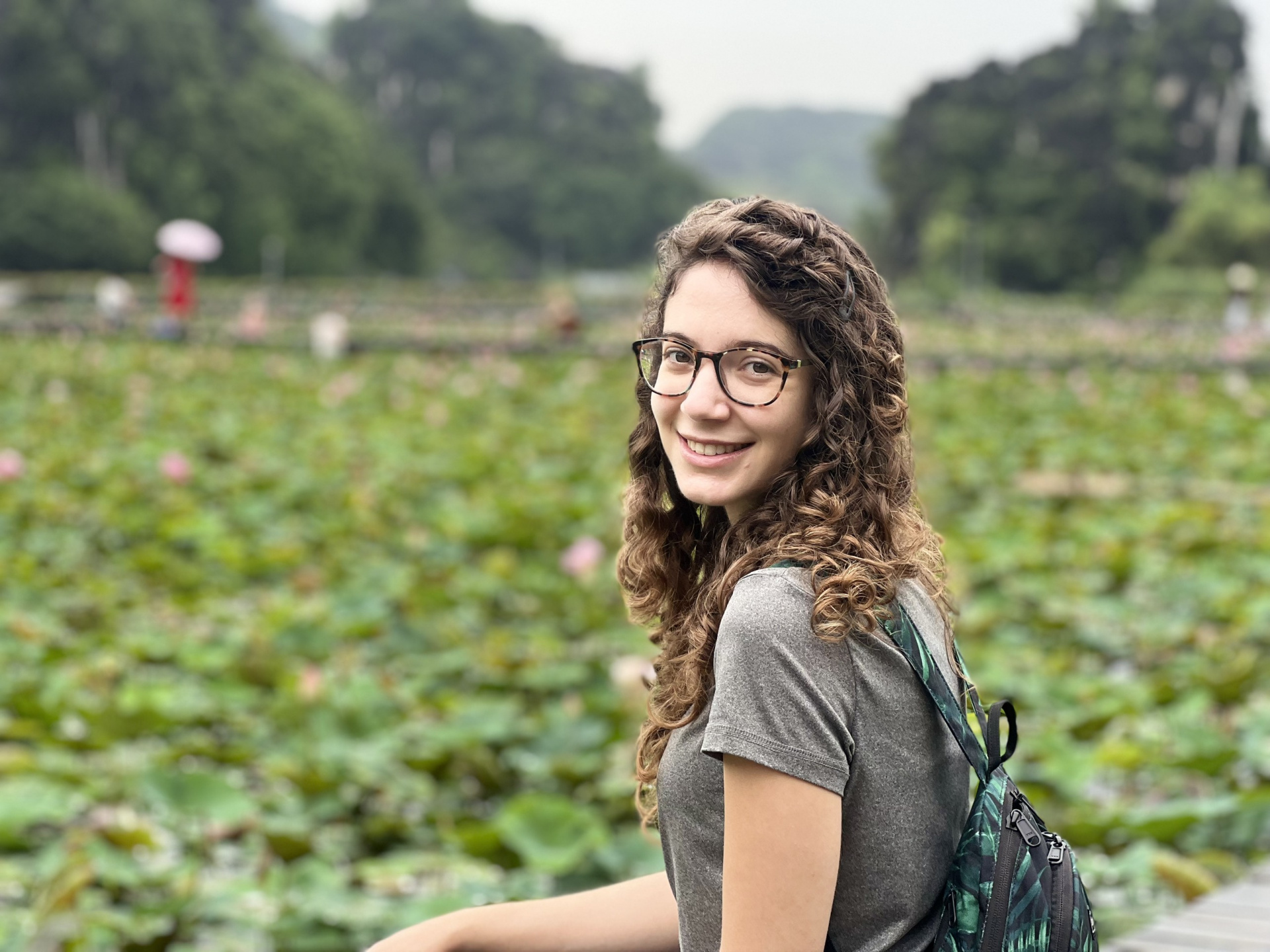 See best Ninh Binh tours
Tam Coc Ninh Binh Tour
Trang An Ninh Binh Tour
Read more: How many days in Ninh Binh: Should I spend 1,2, or 3 days in Ninh Binh?
Other Articles