Ninh Binh – one of the most fascinating places in Vietnam.
20/01/2020
Ninh Binh – one of the most fascinating places in Vietnam.
If you're still in doubt if you should go to Ninh Binh or not, this place is definitely worthy.Famed for its beautiful landscapes and incredible scenery, Ninh Binh is one of the top destinations you should add to your list if you love getting out into nature,  from ancient temples to hidden caves and verdant rice paddies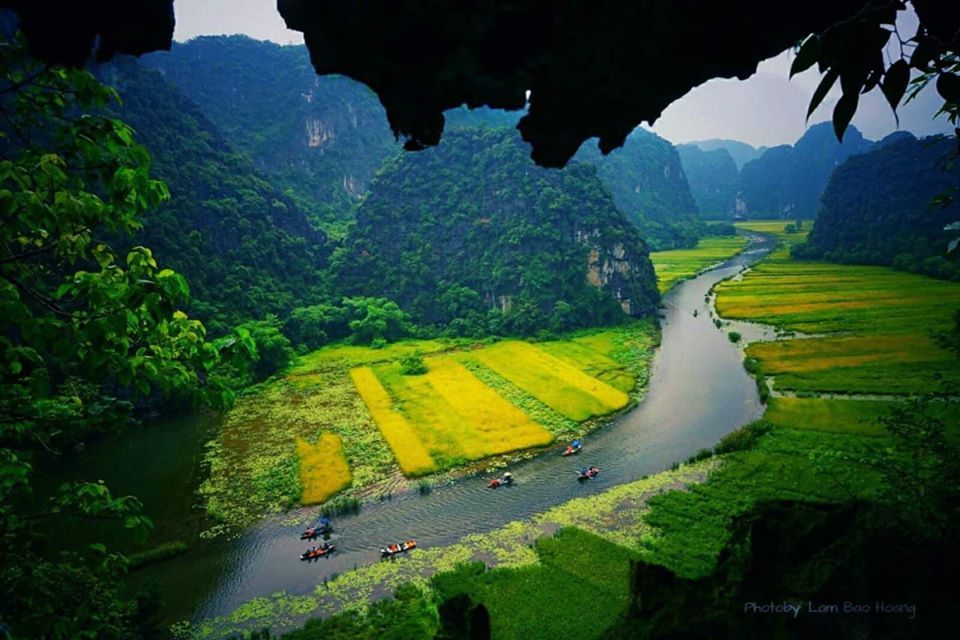 Ninh Binh province is located in Northern Vietnam, about 100km south of Hanoi. With its hundreds of limestone cliffs emerging from the ground scattered across the rice fields, this region is appropriately nicknamed the | Halong Bay on land"
Best Time to Visit Ninh Binh
Almost anytime of the year is good to visit Ninh Binh
Like in all the north Vietnam, November to April months tend to be cooler and dry.During this time, you'll need to bring a jacket and long pants, especially for the evenings and nights which can get cold. From May to October, the weather is hotter, more humid and the chance of getting caught in the rain is very high. While that might not sound like fun, the rainy season is when the area's rice fields are a lush, vibrant green. This beautiful sight more than makes up for any downpours you might experience. so there's a reason to visit all year around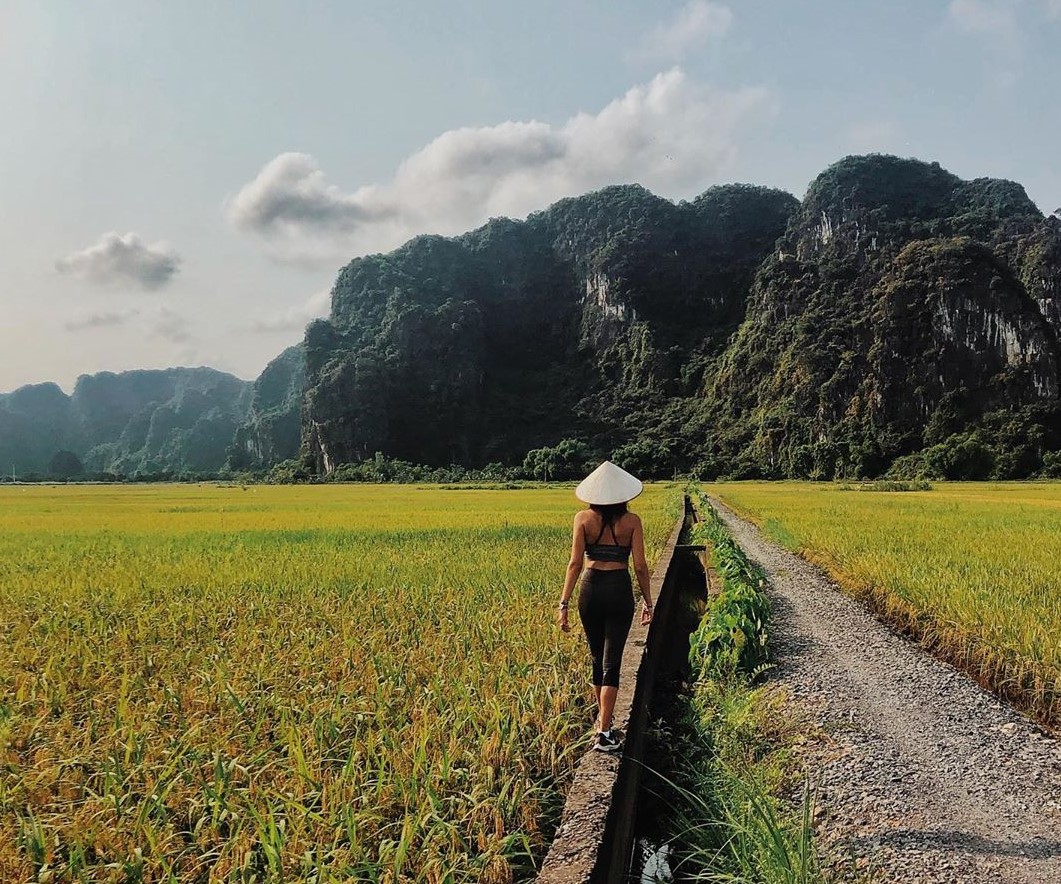 In September, Ninh Binh has higher chances of getting hit by a typhoon so check weather forecasts carefully if you happen to be traveling there at this time.
How to get to Ninh Binh from Hanoi and other places
When coming from Hanoi, you have several trains a day to pick from. The ride takes about two hours and you arrive right in the city center. From there it's easy to get to your hotel or head out on your first excursion.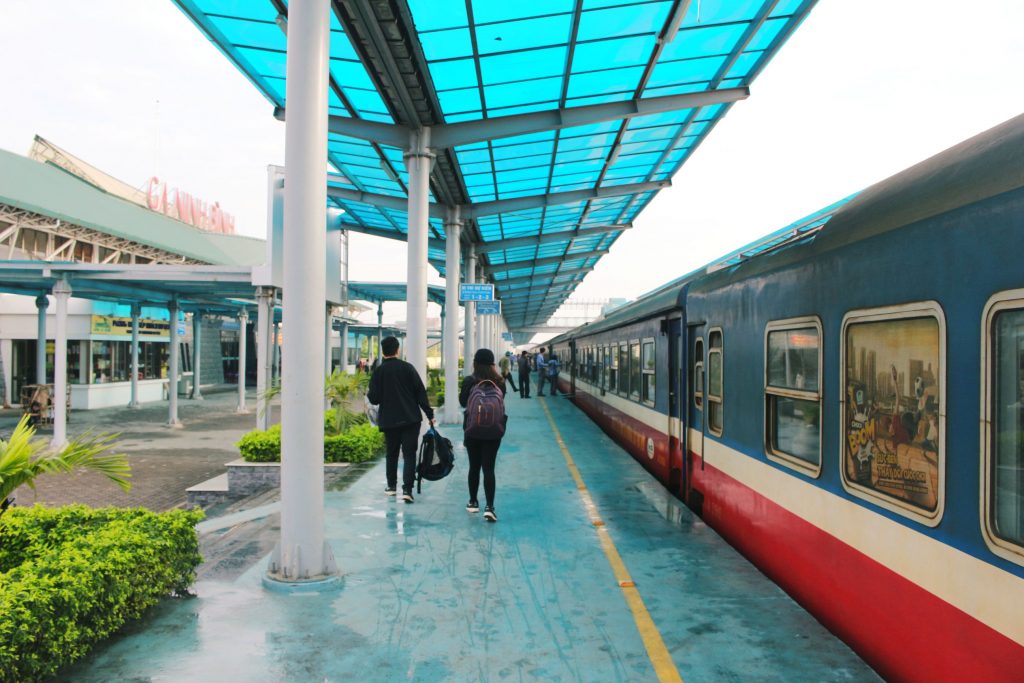 A more convenient option is the bus. Catch a bus from Hanoi's southern bus terminal Giap Bat and you'll reach Ninh Binh in about two hours. Busses come in different categories, from simple and inexpensive to luxurious and comfortable. You can also catch a bus coming straight from Halong Bay which is great as it saves you the detour of going to Hanoi first.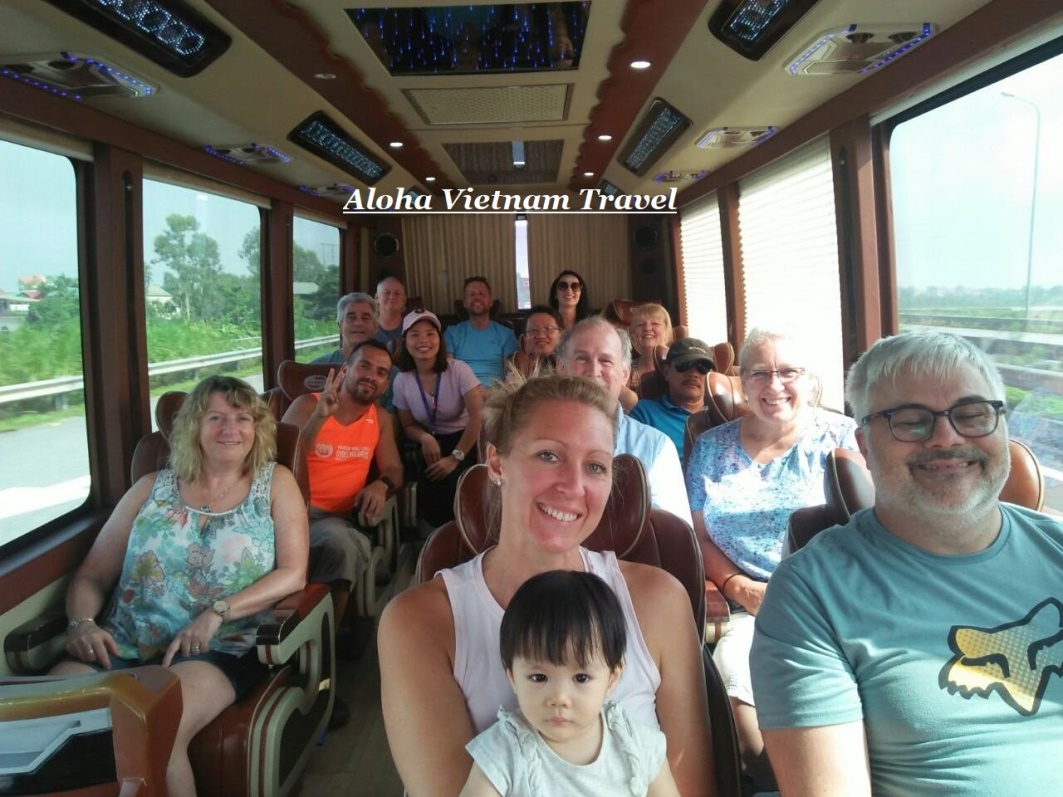 If you are coming from the south, you also have both the train and bus options. The train going to Hanoi from Hue stops in Ninh Binh so not too hard to take one. There are buses going to Ninh Binh directly from Halong Bay or Cat Ba very convenient
Before getting your ticket, make sure you know exactly where the bus will let you off, as there will be buses heading to Ninh Binh town and others to Tam Coc (7km)
Getting Around in Ninh Binh
It's fascinating to see where people live, how do they spend their days and loads of cute local animals so these are 2 ways to do:
Ride a bike
Most of your hotels or homestays will have one you can borrow, or they can recommend a place to get one. Going around town on a bicycle is great fun and gives you the chance to get out into the countryside to explore the surrounding villages and get to beautiful temples too far away to walk to.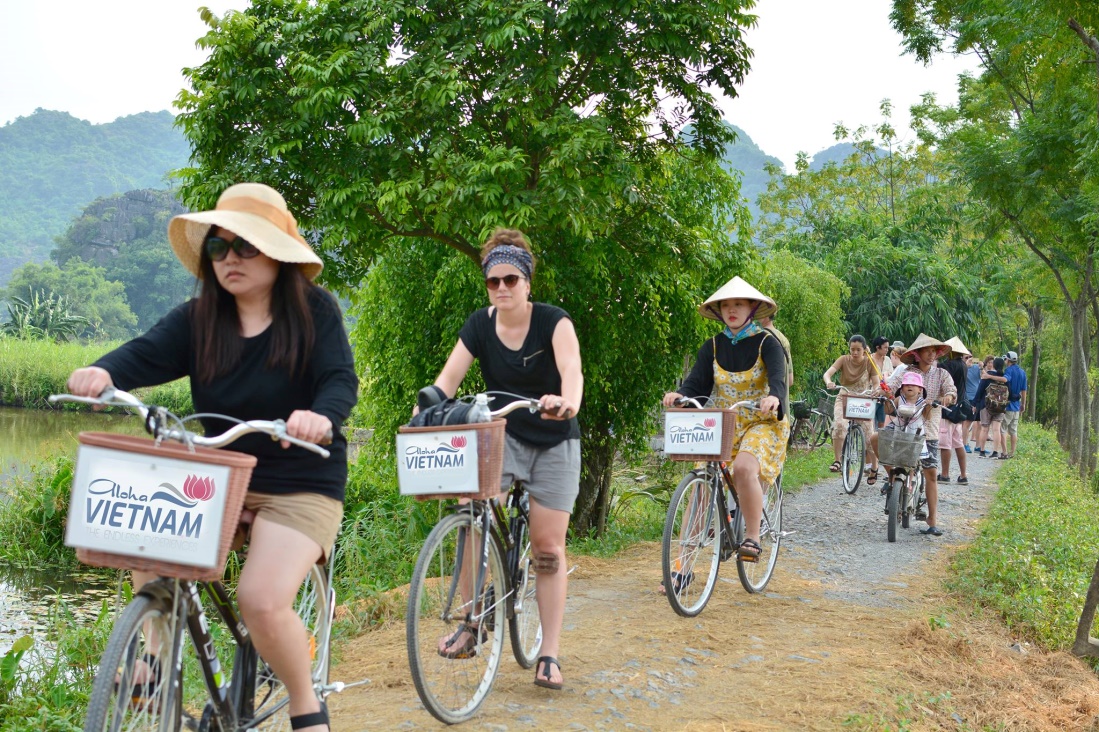 Rent a motorbike
Making your own way through the rice fields on a motorbike with the win in your face would be the best way to enjoy this place. You can rent it from your hotel with around 100.000 VND/day.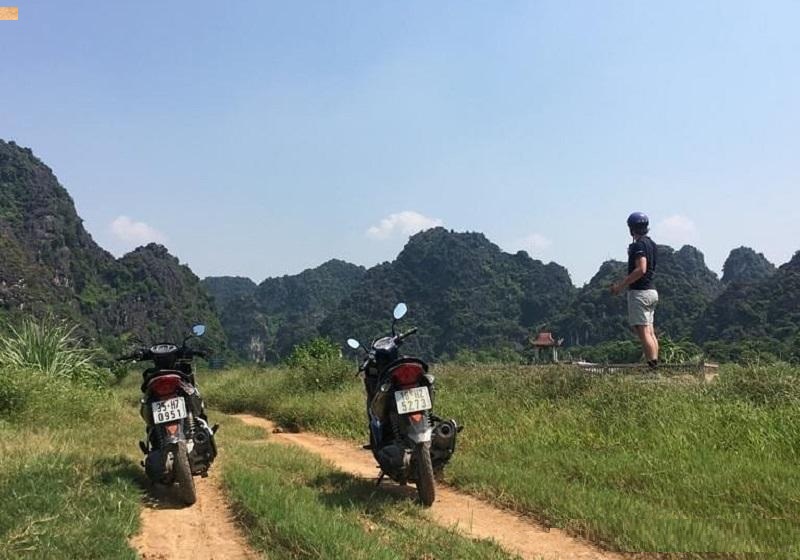 Top things to do in Ninh Binh
Trang An Boat Tour best things to do in Ninh Binh
A Unesco World Heritage Site, Trang An Landscape Complex is an impressive set of large limestone karst cliffs covered by forest. In the entire area, you can find temples, dozens of valleys and about 50 different caves.
Taking a boat ride with a lady rower is definitely a main highlight of Ninh Binh to see

amazing sights of the extraordinary natural landforms. It's simply mesmerizing.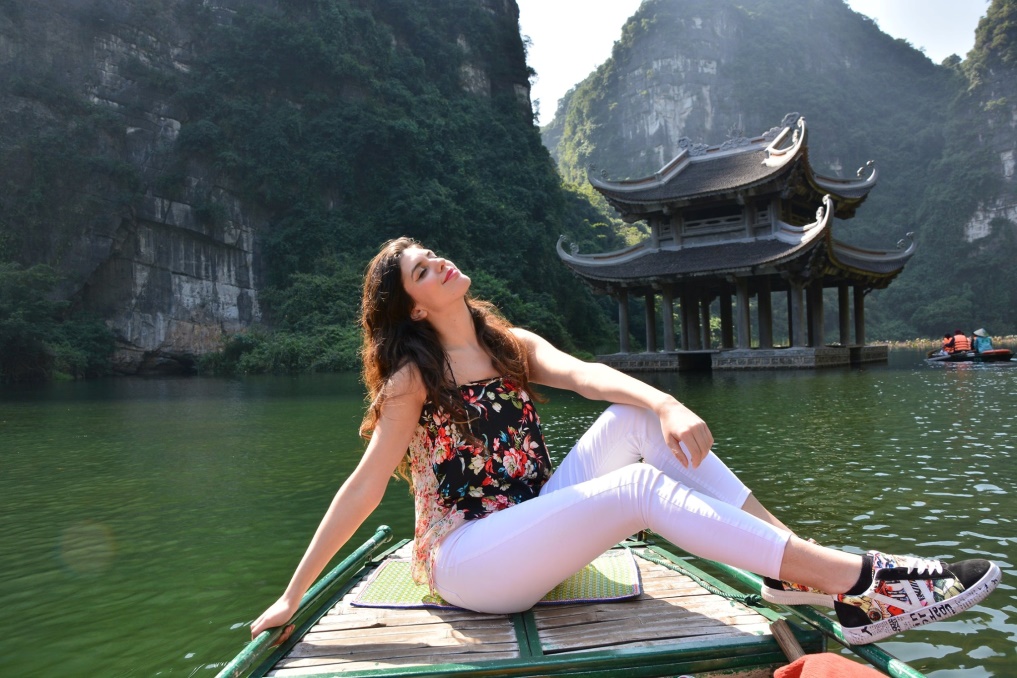 Tuyet Tinh Coc – Am Tien Cave
Located in the middle of the green high mountains, beneath the lake in the cool water creating a mesmerizing beauty to be surprised. It is about 10km far from Ninh Binh city, located between the road to Trang An ancient tourist area and Hoa Lu ancient capital. The reason for this place is called the cup of loveless because there is high standing limestone mountain surrounding it, in addition, people can easily see a cool lake in the middle. In the past, the only way to get inside this place was to climb the mountain.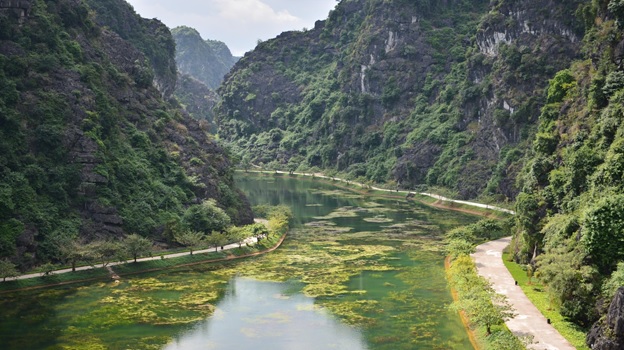 Absolute "Tuyet Tinh Coc" is the name of a place in the famous Chinese swordplay movie, where there is beautiful grass, mountains, rivers, like in ancient movies. However, the phrase "Tuyet Tinh Coc" has appeared in Vietnam recently and it has been assigned to the newly found places, also has a wild beauty and "Tuyet Tinh Coc" in Ninh Binh is such a beautiful place.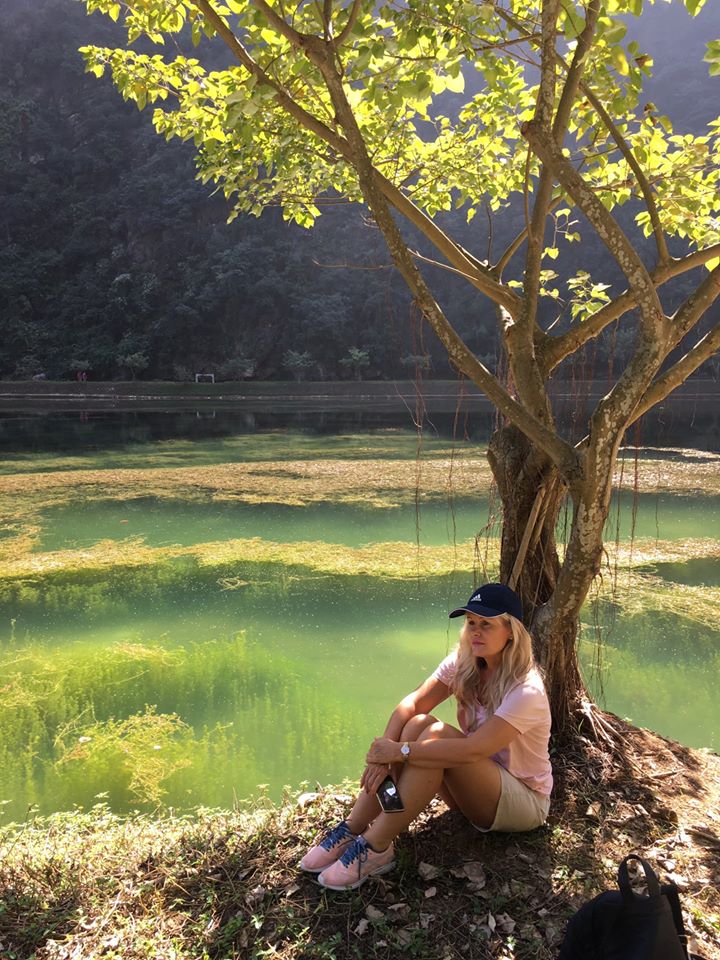 This place is used to be a place where Ding Tien Hoang confined many dangerous animals to punish guilty person. Moreover, Am Tien Pagoda is also the place where Queen Duong Van Nga led a religious life after.
Tam Coc Boat Trip through the rice fields
Tam Coc or Three Caves is framed by lush green rice fields and limestone karsts, the area is a stunning, yet peaceful. This 2-hour boat ride which runs through Ngo Dong river will take you through caves, rice fields, and unique karst rocks. You will feel like you're in a movie scene cruising down a natural kingdom like this.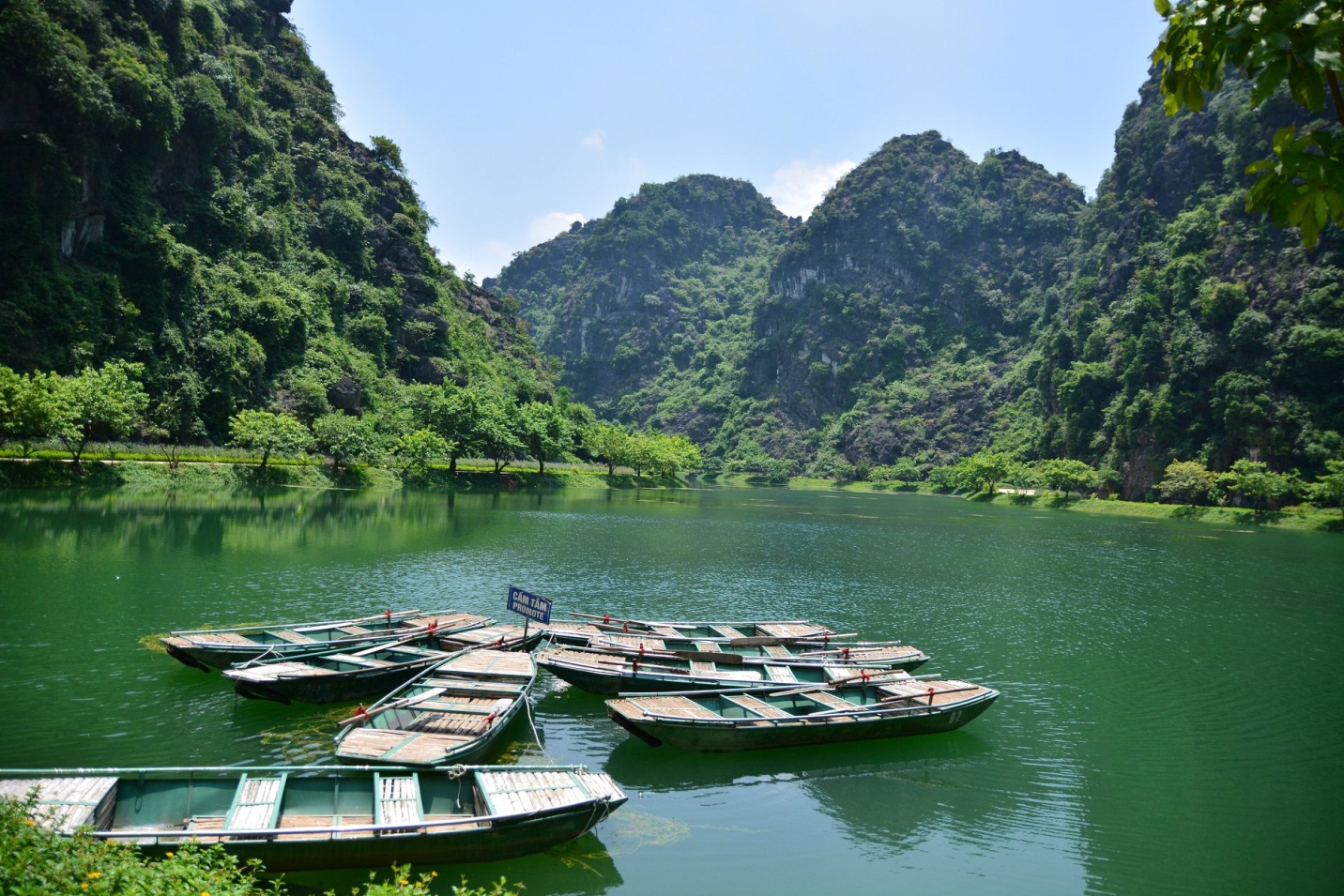 Located on the side of a mountain and is made up of three levels called the Ha, Trung and Thuong Pagodas is one of the most iconic sights in Ninh Binh. A stone bridge spans a large lotus pond, which explodes with bright pink blossoms in the summer. Just beyond the gate is a tranquil courtyard and a traditional Buddhist temple. Climbing up to each pagoda may be tiring but when you reach the top, the views are well worth it.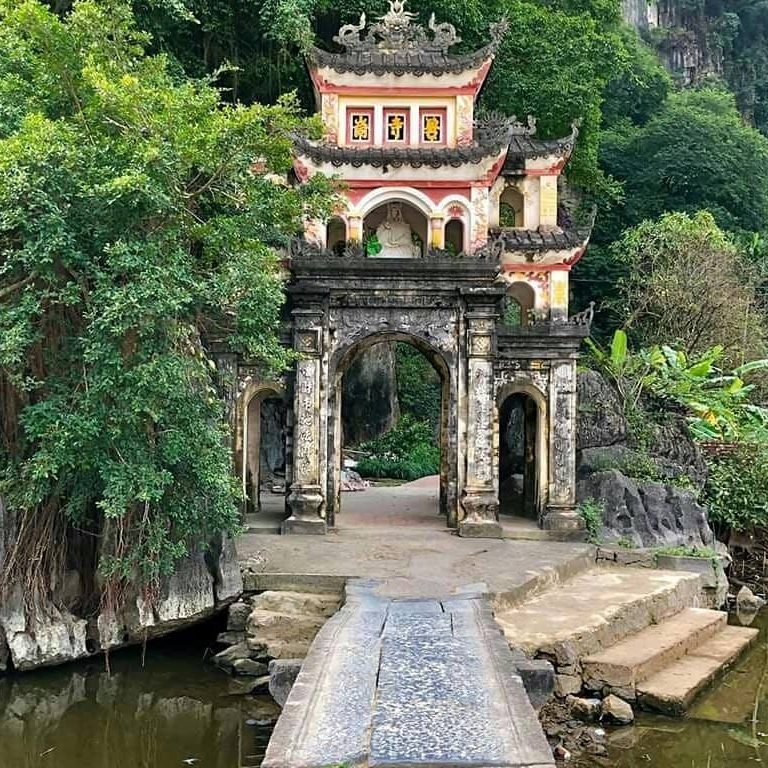 Spend the day at Hoa Lu Temple
Located just 20 minutes by car from the Trang An area, this is the site of Vietnam's very first capital city in the 10th and 11th centuries, when the surrounding karst landscape offered natural protection from invaders and there is a large citadel here which is filled with scenic temples that you can explore at your leisure.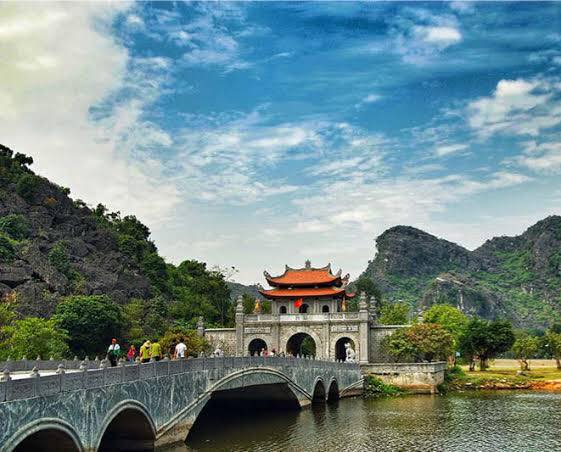 Wander the Bai Dinh Pagoda
Bai Dinh Pagoda is an enormous complex and the largest Buddhist temple in Southeast Asia. This singular attraction is a noted pilgrimage stop for Vietnamese Buddhists, and full to overflowing during Buddhist holidays. Expect to be awed by thousands of Buddha statues, elaborately carved bells and a 13-story watchtower, offering sweeping views of the countryside.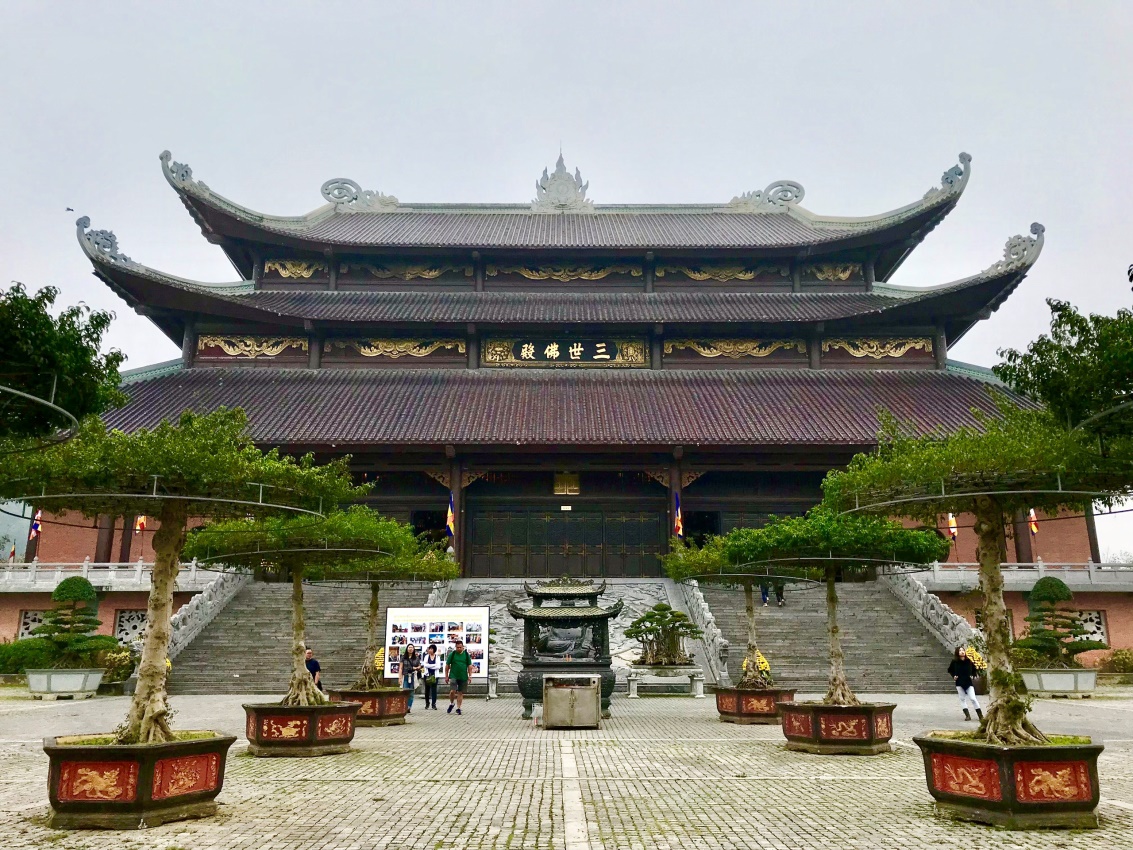 Conquer the top of Hang Mua 
Mua viewpoint is located at the top of a steep mountain, but the views are worth the 200,000 VND ticket, and the 500 steps up. From the top, you'll be rewarded with a 360-degree view of Tam Coc valley, which has gorgeous views over the surrounding peaks of green rice fields below and snaking rivers weaving in, out, and around the ancient karsts.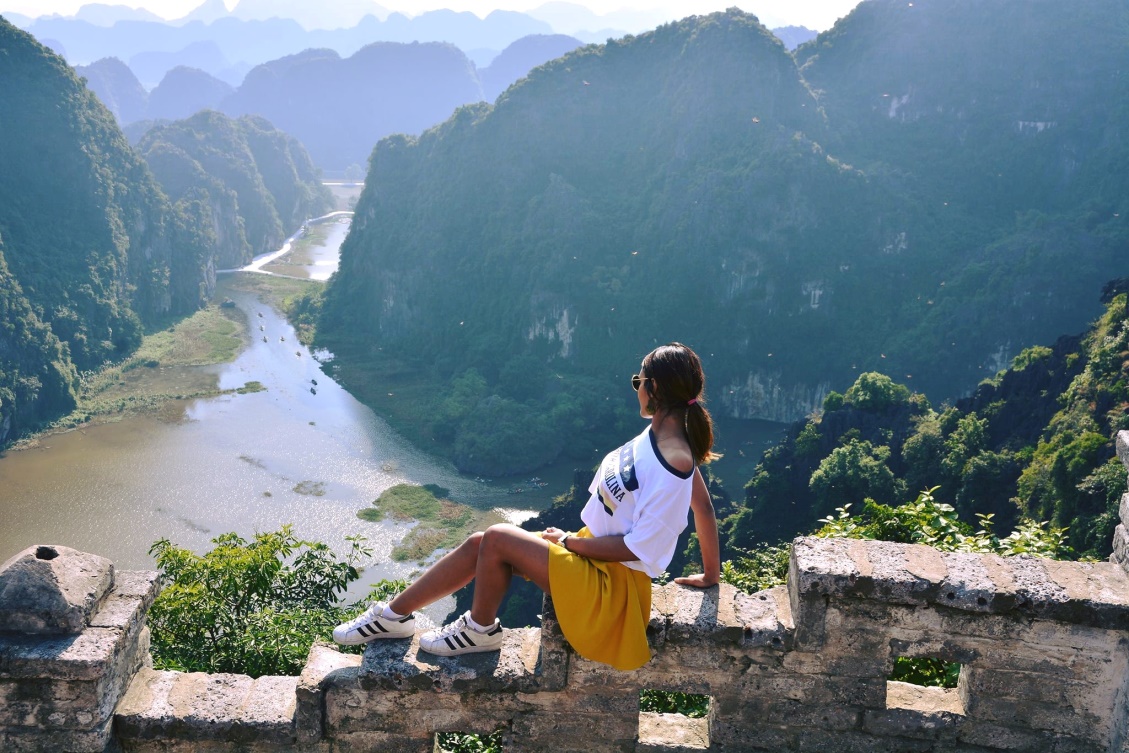 Go for a hike in Cuc Phuong National Park
Cuc Phuong National Park is a preserved tropical rainforest and also the largest nature reserve in the country. This is home to over 300 species of rare birds and 2000 species of plants well-protected to maintain the untouched wildlife of Ninh Binh.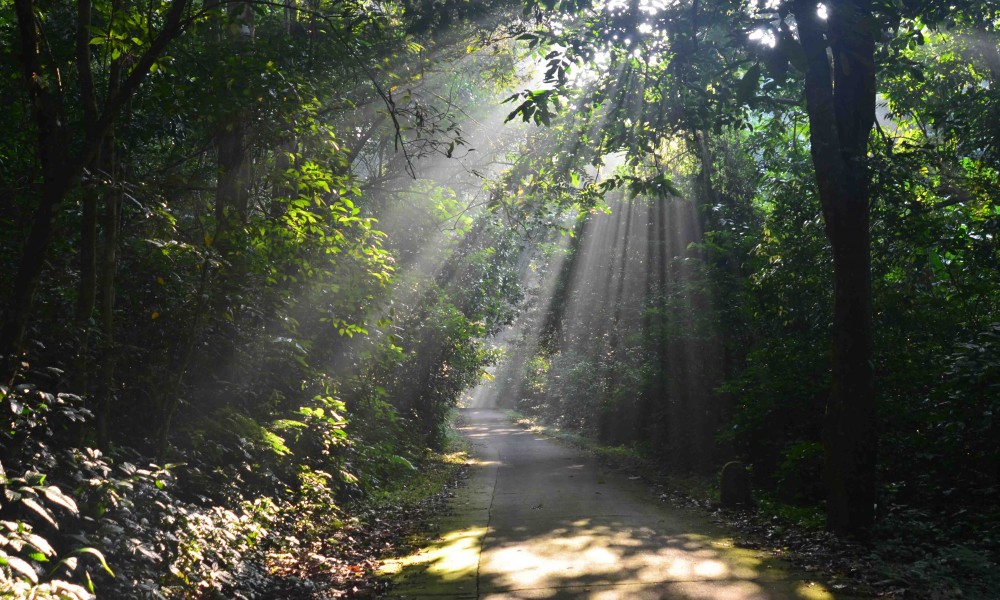 If you visit Cuc Phuong from May to July, you will be in time for "Butterfly Season"
For anyone who loves nature, this is a suitable place to discover and definitely listed in Ninh Binh things to see. There are many ways to explore Cuc Phuong National Park via the densely rainforested road such as biking and hiking are the best choices to slowly stroll through the jungle
Where to Stay in Ninh Binh
A great place to look for hotels or hostels is actually not in Ninh Binh city itself but in Tam Coc, a smaller town nearby. It's closer to many of the top sights of the area such as temples and famous rice fields and offers a nice experience of a small countryside town.
Here are a few examples from us:
Tam Coc Wonderland Bungalow

Tam Coc Tropical Homestay
With all these best things to do in Ninh Binh, Don't miss this place in your time in Vietnam. Feel free to contact us if you need some bits of help!
Other Articles