What do you know about Tuyet Tinh Coc
26/09/2019
What do you know about "Tuyet Tinh Coc – Ninh Binh". Have you ever come to this place once in your life? If not, it is a big pity and you should spend your precious time on discovering and enjoying its enchanting beauty.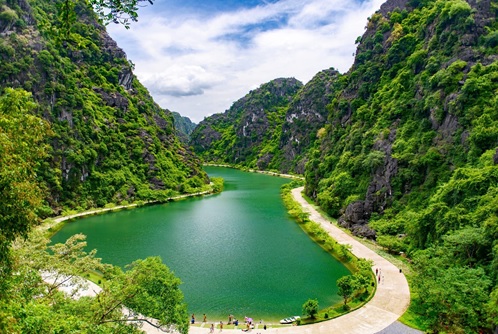 Where is "Tuyet Tinh Coc"?
"Tuyet Tinh Coc" in Ninh Binh is located in the middle of the green high mountains, beneath the lake in the cool water creating a mesmerizing beauty to be surprised.
About the geographical location, it is about 10km far from Ninh Binh city, located between the road to Trang An ancient tourist area and Hoa Lu ancient capital. The reason for this place is called the cup of loveless because there is high standing limestone mountain surrounding it, in addition, people can easily see a cool lake in the middle. In the past, the only way to get inside this place was to climb the mountain.
This Ninh Binh site is a tourist area of Am Tien cave (Truong Yen commune, Hoa Lu district) belonging to Hoa Lu ancient imperial complex. This place is used to be a place where Ding Tien Hoang confined many dangerous animals to punish guilty person. Moreover, Am Tien Pagoda is also the place where Queen Duong Van Nga led a religious life after.
Going to "Tuyet Tinh Coc" travelers seem to be lost into a dream world. They are not only released their soul into a quiet space, but also breathed in fresh air which does not appear in any place. Besides, watching the immense green of trees growing on the limestone mountains as well as the clear water in the lake, which makes visitors fascinated.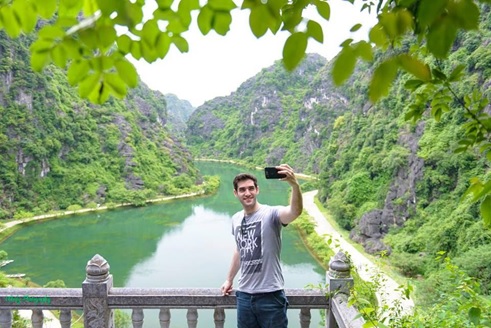 How is the architecture of "Tuyet Tinh Coc"
The main gate to "Tuyet Tinh Coc" is built into the architectural style of the gate, above is a 2-story tile roof, below is an entrance gate with arched tunnel architecture, surrounded by very ancient stone steps. To pass through the entrance gate of the pagoda and the lake, visitors must climb over dozens of stone steps with an ancient beauty of a very strange moss.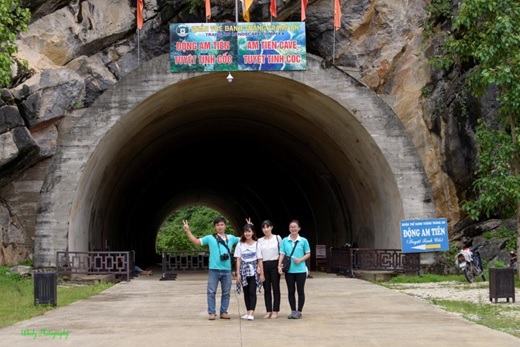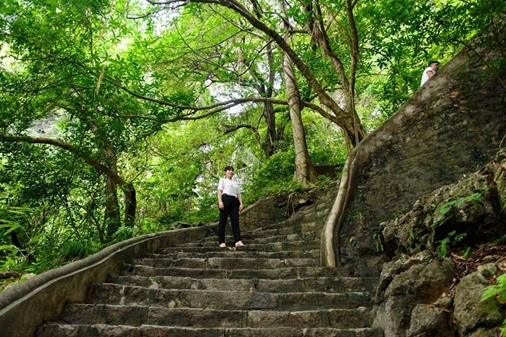 The road to Am Tien pagoda is also made of stone steps, when going up to the cave, it must pass hundreds of steps, around these stone steps are big stones lying along both sides of the road and ancient trees covered with shadows. ''Tuyet Tinh Coc" is an attractive destination recent time for many young people.
Am Tien Pagoda, a place of worship in the cave. This is the old cave style of the ancient capital Hoa Lu. Inside the temple worship Buddha and the saints, visitors who come to visit "Tuyet Tinh Coc" not only to contemplate the beautiful scenery but also to enter the sacred place of Buddha ceremony, devotedly pray for the peace of their families.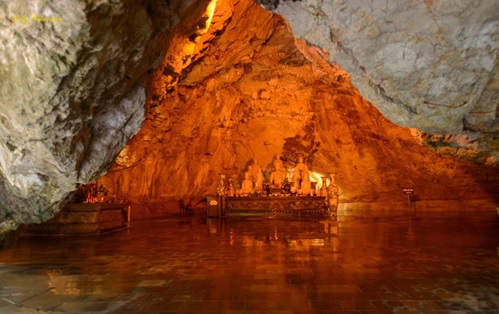 Inside Am Tien cave pagoda Tourists can see many fanciful stalactites. The cave temple is nearly 100-meter square wide divided into many different churches, with different high and low classes.
Through all information above, travelers may have basic knowledge about "Tuyet Tinh Coc"- one of the most beautiful and fascinated destination of Ninh Binh province. Therefore, what are you waiting for? Let's take your bag, your map and have a nice trip to "Tuyet Tinh Coc" right now!