Ninh Binh Tour for Couples: A Romantic Getaway
10/04/2023
For couples seeking a romantic experience, what should you choose to make your trip truly unforgettable? Ninh Binh offers a perfect romantic escape for couples. Let's look for romantic things to do with your partner.
Why is Ninh Binh a great destination for Couples?
Whether you're traveling alone, with small children, or with elderly companions, and whether you're in a large group or on a private tour, Ninh Binh has various things to offer. With its stunning landscapes, historic temples, and delicious cuisine, Ninh Binh provides an unforgettable experience for tourists.
1. The short distance from Hanoi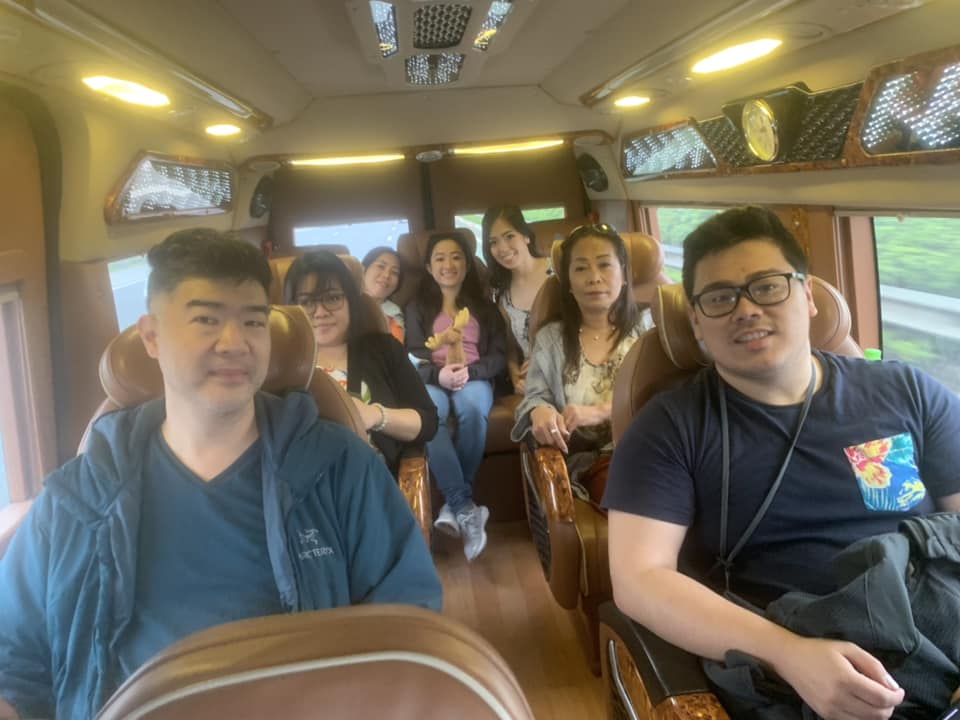 The great reason why Ninh Binh is a fantastic destination for couples is close to Hanoi. Ninh Binh is just a short distance away from the capital city, making it an easily accessible destination. The journey takes around two hours by car. The short distance from Hanoi also means that couples can combine your visit to Ninh Binh with other nearby destinations, such as Halong Bay or Sapa. With its convenient location, Ninh Binh provides a hassle-free and enjoyable travel experience for couples looking to explore the beauty of Vietnam.
2. Tranquil atmosphere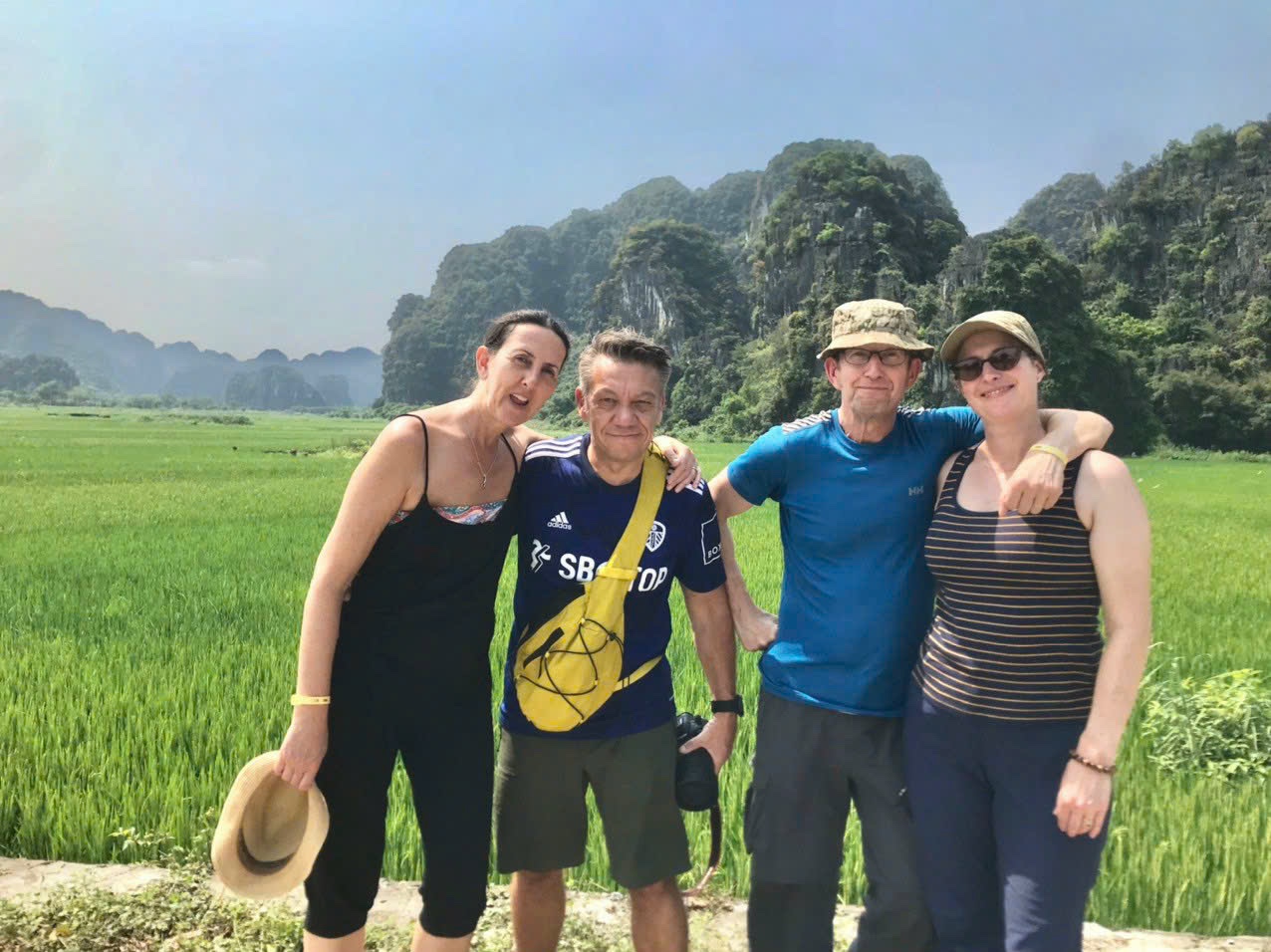 Ninh Binh is a tranquil and peaceful destination, far away from the chaos of the big cities, making it a perfect spot for couples who want to spend some quality time together. The famous attraction in Ninh Binh like Trang An- a Unesco Heritage or Bai Dinh Pagoda brings you a unique experience.
3. Delicious cuisine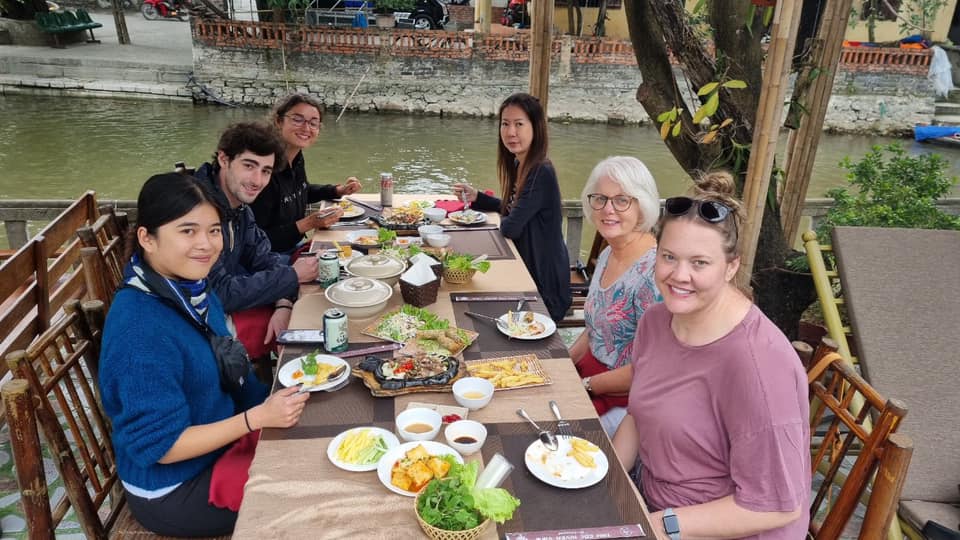 Ninh Binh is famous for its delicious cuisine, including local specialties such as goat meat, rice crust, and eel. Couples can enjoy a romantic dinner at one of the many restaurants in the area, sampling the local flavors and savoring the intimate atmosphere.
You might read: Guide for Ninh Binh's Local Cuisine: what and where for local food
4. Photography opportunities
With its beautiful natural landscapes, historic temples, and picturesque countryside, Ninh Binh is a photographer's paradise. Couples can capture beautiful moments and memories of the trip. At each visited site, couples can take thousands of romantic pictures.
5. Warm hospitality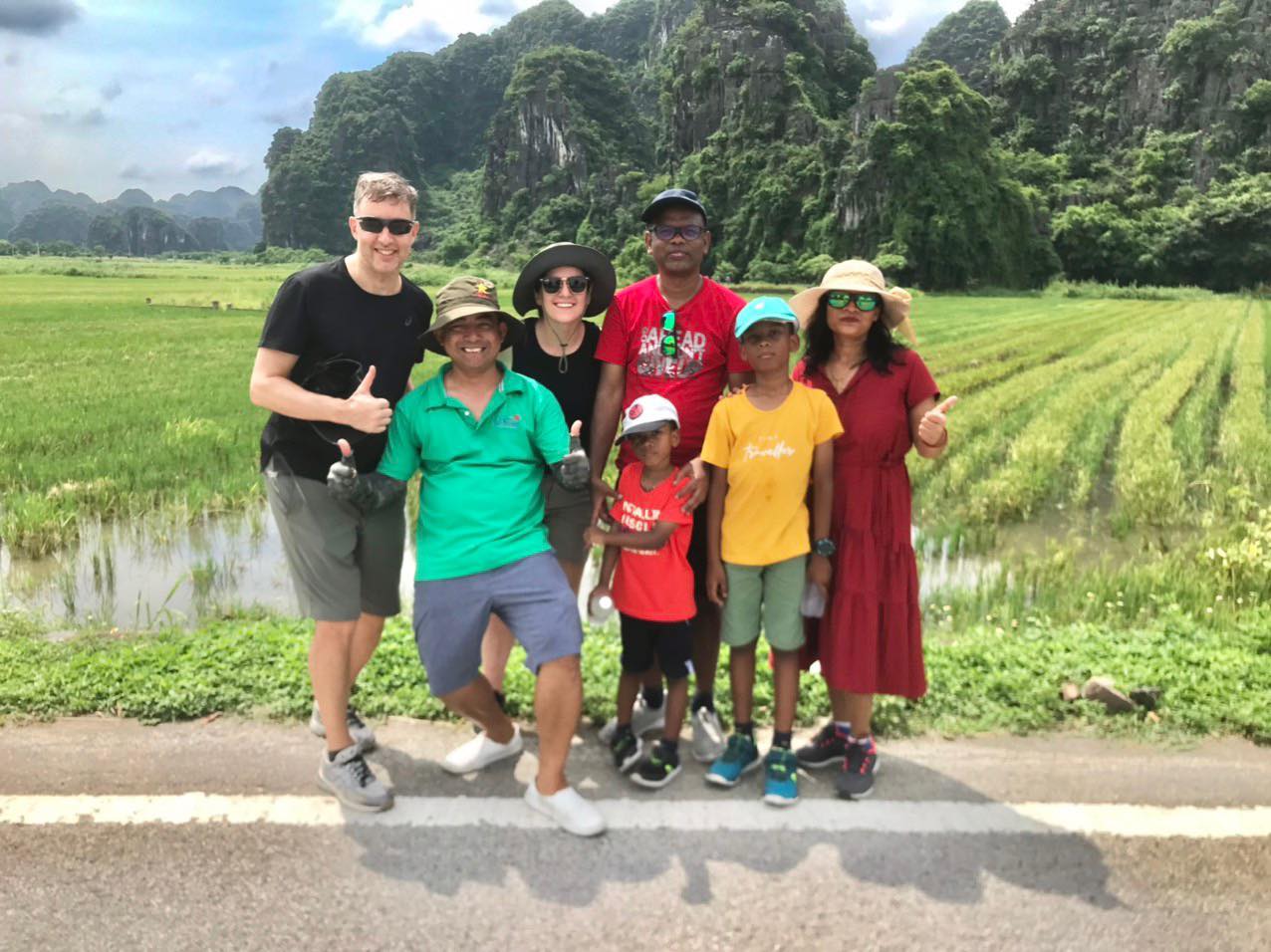 The warm hospitality of the locals is another reason why Ninh Binh is an excellent destination for couples. The people of Ninh Binh are friendly, welcoming, and always eager to help tourists feel at home. Couples can immerse themselves in the local culture. If you're traveling to Ninh Binh for your honeymoon, make sure to inform your hotel and travel agent beforehand. Doing so will entitle you to special preparations and even a surprise gift to commemorate your celebration.
6. Affordable price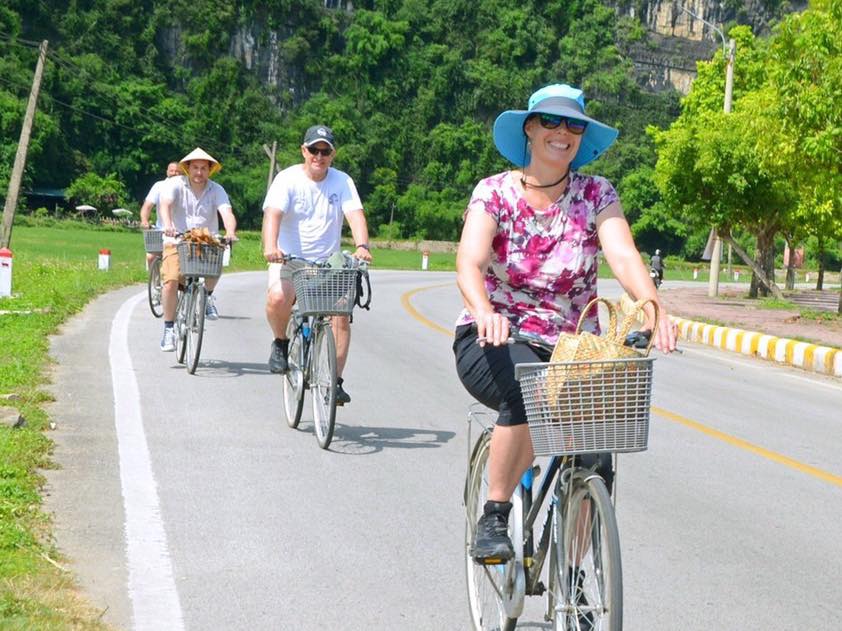 Compared to other tourist hotspots in Vietnam, Ninh Binh offers great value for money. Couples can find comfortable accommodations, delicious food, and exciting activities at a reasonable price. Homestays and budget hotels are available in Ninh Binh, providing affordable options for couples who are on a budget. Additionally, many of the attractions in Ninh Binh are free or require only a small entrance fee, making it easy for couples to explore the area without breaking the bank.
You might read: Ninh Binh on a Budget: Affordable Day Tour Options
Romantic Activities for Couples in Ninh Binh
1. Romantic boat tour in Ninh Binh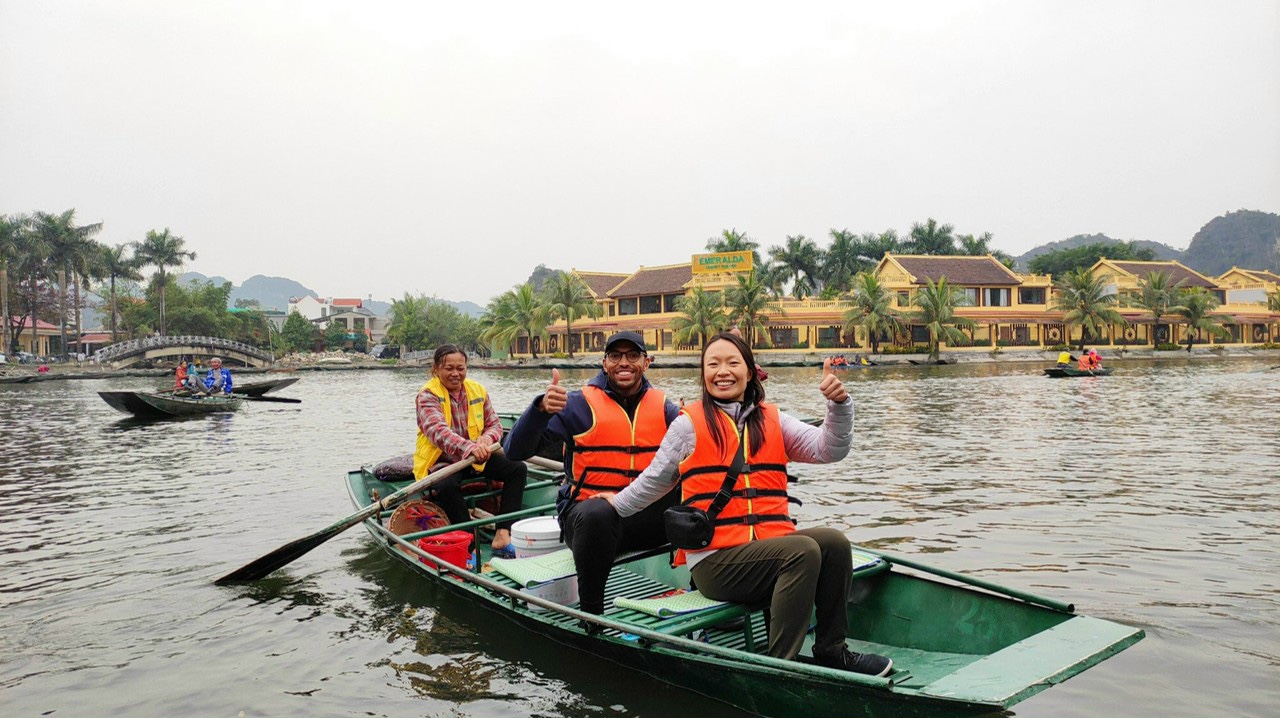 A romantic boat tour is one of the must-do activities for couples in Ninh Binh. Couples can embark on a peaceful boat ride along the river, taking in the stunning natural scenery that surrounds them. One of the most popular boat tours in Ninh Binh is the Tam Coc boat tour, also known as the "Halong Bay on land." During the tour, couples can enjoy the breathtaking views of towering limestone mountains, rice paddies, and winding rivers. The boats are typically rowed by local women, who use their feet to paddle the boats, providing a unique and authentic experience. Couples can also take a boat tour through the Trang An Landscape Complex, a UNESCO World Heritage Site that boasts incredible scenery, including caves, temples, and lush forests. A romantic boat tour is an unforgettable way for couples to experience the natural beauty of Ninh Binh and create lasting memories together.
Read more: The best Trang An Guide for 2023: A Comparison of 3 Boat Tours in Trang An Ninh Binh
2. Cycling through the scenic countryside of Ninh Binh with your partner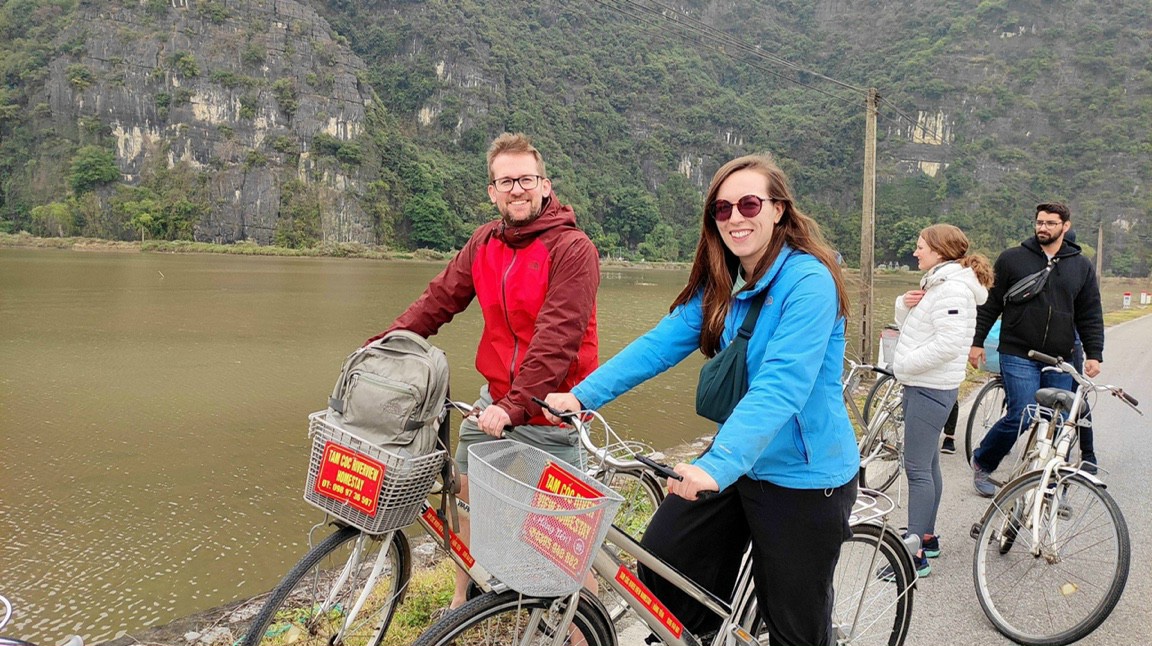 Cycling through the scenic countryside of Ninh Binh is another fantastic activity for couples to do together. Couples can rent bicycles and explore the peaceful countryside at their own pace, taking in beautiful landscapes and fresh air. The countryside of Ninh Binh is filled with rice fields, lush greenery, and quaint villages, offering a picturesque backdrop for a romantic ride. Couples can stop at local cafes and food stalls to try some of the delicious local cuisines and interact with friendly locals along the way. The cycling routes in Ninh Binh vary in length and difficulty, making it easy for couples to find a route that suits their fitness levels and interests. Exploring the countryside of Ninh Binh by bike is a unique and intimate way for couples to experience the beauty and charm of the region.
3. Visit Tuyet Tinh Coc (Am Tiem Cave)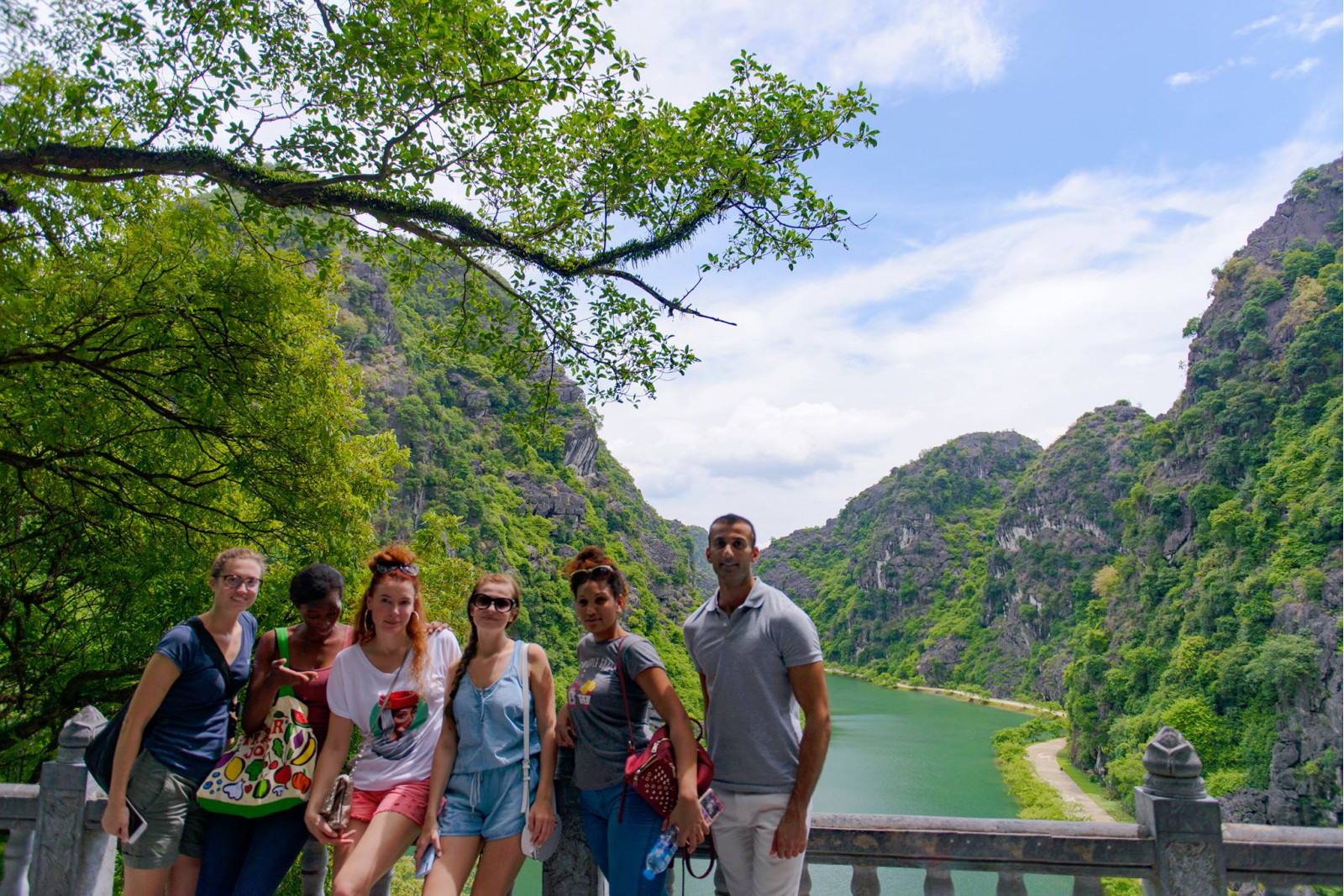 Tuyet Tinh Coc, also known as the "Valley of Love" is a hidden gem in Ninh Binh that couples should definitely explore. Located near the ancient capital Hoa Lu - Tuyet Tinh Coc is a natural wonder that features a crystal-clear pond surrounded by flowers. Couples can take a short hike to reach the cave. Tuyet Tinh Coc also offers stunning views taking romantic photos together. You can see many couples coming here for their wedding photos.
4. Climb to the top of Mua Cave for a stunning panoramic view
Climbing to the top of Mua Cave is an exciting activity for couples to do together in Ninh Binh. The climb to the top of the cave involves ascending a steep staircase with over 400 steps, but the breathtaking panoramic view from the top is well worth the effort. From the top, couples can enjoy a stunning view of the surrounding countryside, including rice fields, mountains, and winding rivers. The best time to climb Mua Cave is early in the morning or late in the afternoon when the sun casts a golden light on the landscape, creating a magical atmosphere. Couples can take photos together at the top of the cave and capture the unforgettable memory of their adventure.
Additionally, the area around Mua Cave also features a beautiful garden, a large lotus pond, and a small temple, making it an ideal spot for couples to relax and enjoy the serene surroundings after the climb. Climbing to the top of Mua Cave is a fun and rewarding experience that couples can share and remember for a lifetime.
You might read: Is Mua Cave Worth in your Ninh Binh Bucket List? The perfect way to include Mua Cave in your Ninh Binh Trip
5. Ninh Binh night activities for couples
Ninh Binh is a nice place for couples to visit at night. You can take a walk around the streets and find cool coffee shops, food stalls, and bars. There are also many interesting places to see, such as temples, nature reserves, and forests that look very pretty when they light up. Couples can do fun things like go boating on the river with colorful lanterns, walk on bridges, and play sports. Music and folk dance performances offer the opportunity to delve deeper into local culture and traditions. Hoa Lu Ancient capital is highly recommended for night activities.
Ninh Binh transforms into a charming and enchanting city at night, with a plethora of attractions to explore. A leisurely stroll along the streets is the perfect way to soak up the tranquil ambiance of Ninh Binh after dark. You can uncover hidden gems such as cozy coffee shops, night food stalls, and bars in the vicinity.
Read more: Discover the Best Night Activities in Ninh Binh: Experience the Charm After Dark
Romantic Accommodation Options in Ninh Binh
One popular choice for couples is to stay in a traditional homestay, where you can experience the authentic local lifestyle and hospitality. These homestays are often located in the countryside and offer a peaceful and serene environment. You can enjoy a cup of tea while admiring the stunning views of the surrounding rice fields and mountains. The hosts are often happy to share their knowledge of the local area and can arrange activities for the guests, such as cooking classes, cultural performances, and guided tours.
For couples who want a more luxurious experience, there are many high-end resorts and hotels that offer luxurious amenities such as private pools, spa treatments, and romantic dinners. These resorts often feature stunning architecture and decor inspired by the local culture.
Read more: Experience Authentic Local Living: Top Ninh Binh Accommodation Options in 2023
How to Plan a Ninh Binh Tour for Couples
Planning a Ninh Binh tour for couples is not as complicated as it may seem. Here are some steps to help you plan Ninh Binh itinerary for couples:
Determine your travel dates: Decide when you want to visit Ninh Binh and how many days you want to spend there. One day tour is a popular choice. If you have more time, choose a 2-day 1-night tour for more experience
Choose your accommodation: Select a romantic accommodation option that suits your preferences and budget. You can choose between homestays, resorts, hotels, or even camping.
Decide on your transportation: You can either rent a motorbike, take a taxi or hire a private car to explore the area.
Make a list of places to visit: Research and make a list of attractions and activities that you want to see and do in Ninh Binh. Some popular options include boat tours, cycling tours, visiting temples and caves, and hiking.
Book your tours and activities: You can book your tours and activities in advance to avoid any last-minute hassle. Aloha Travel and Guide offer various packages for couples.
Consider hiring a guide: If you want to learn more about the local culture and history, consider hiring a local guide who can show you around and share their knowledge.
Prepare for the trip: Pack light and make sure to bring essential items such as sunscreen, insect repellent, comfortable shoes, and appropriate clothing for the weather.
The Top 5 Ninh Ninh Binh Itinerary for Couples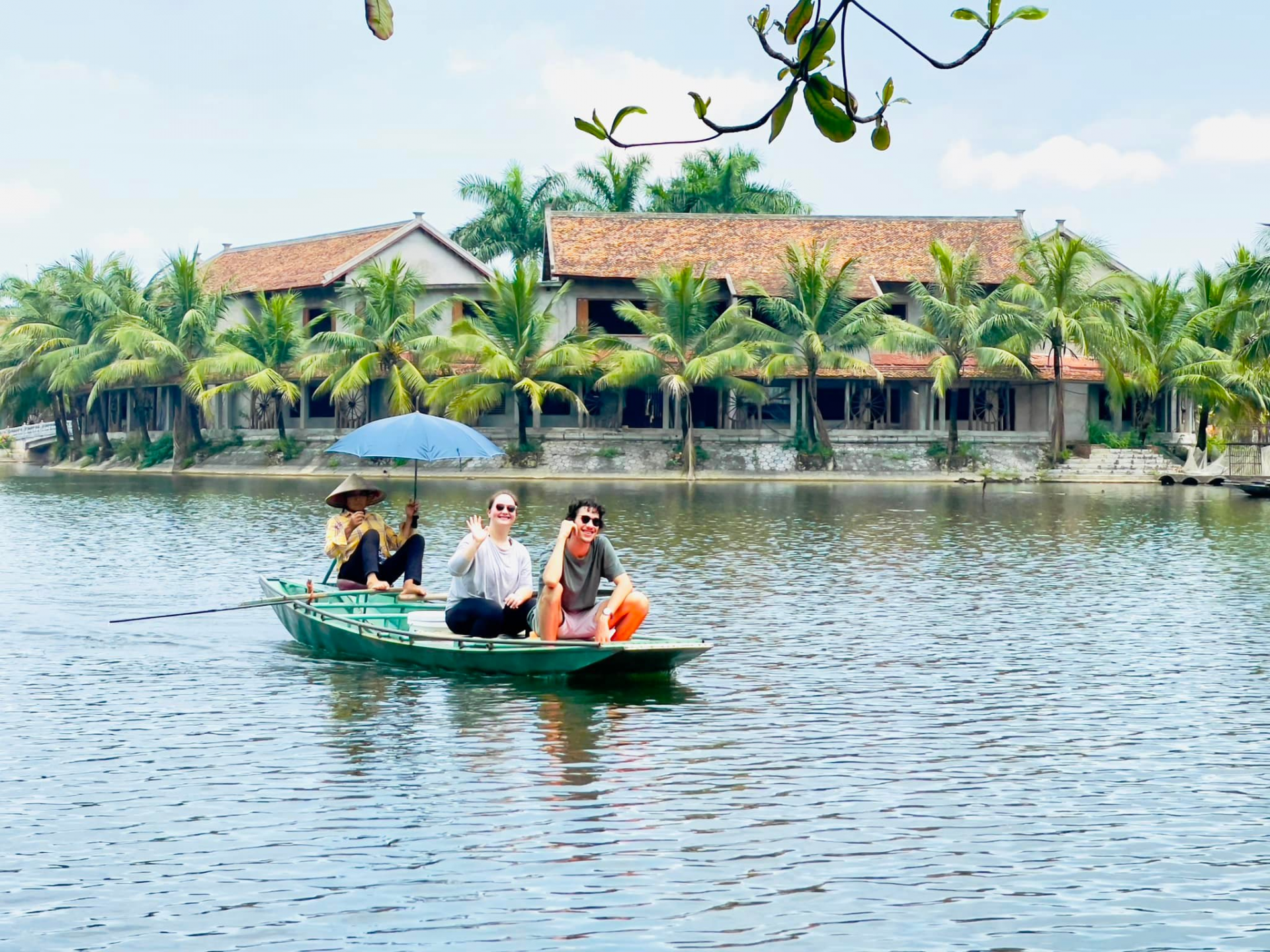 Begin your journey by exploring the ancient capital of Vietnam, which dates back to the 10th and 11th centuries.

Take on the challenge of climbing 500 steps to Lying Dragon Mountain and be rewarded with breathtaking mountainous views that will leave you in awe.

Enjoy a relaxing boat trip along the Ngo Dong River in Tam Coc, passing through majestic caves that will take your breath away.

Next, cycle to Bich Dong Pagoda, where you can take 20 minutes to discover the ancient Pagoda, built in 1428.

Finally, wrap up your tour in Tam Coc or head back to Hanoi with unforgettable memories of Ninh Binh's most iconic sights.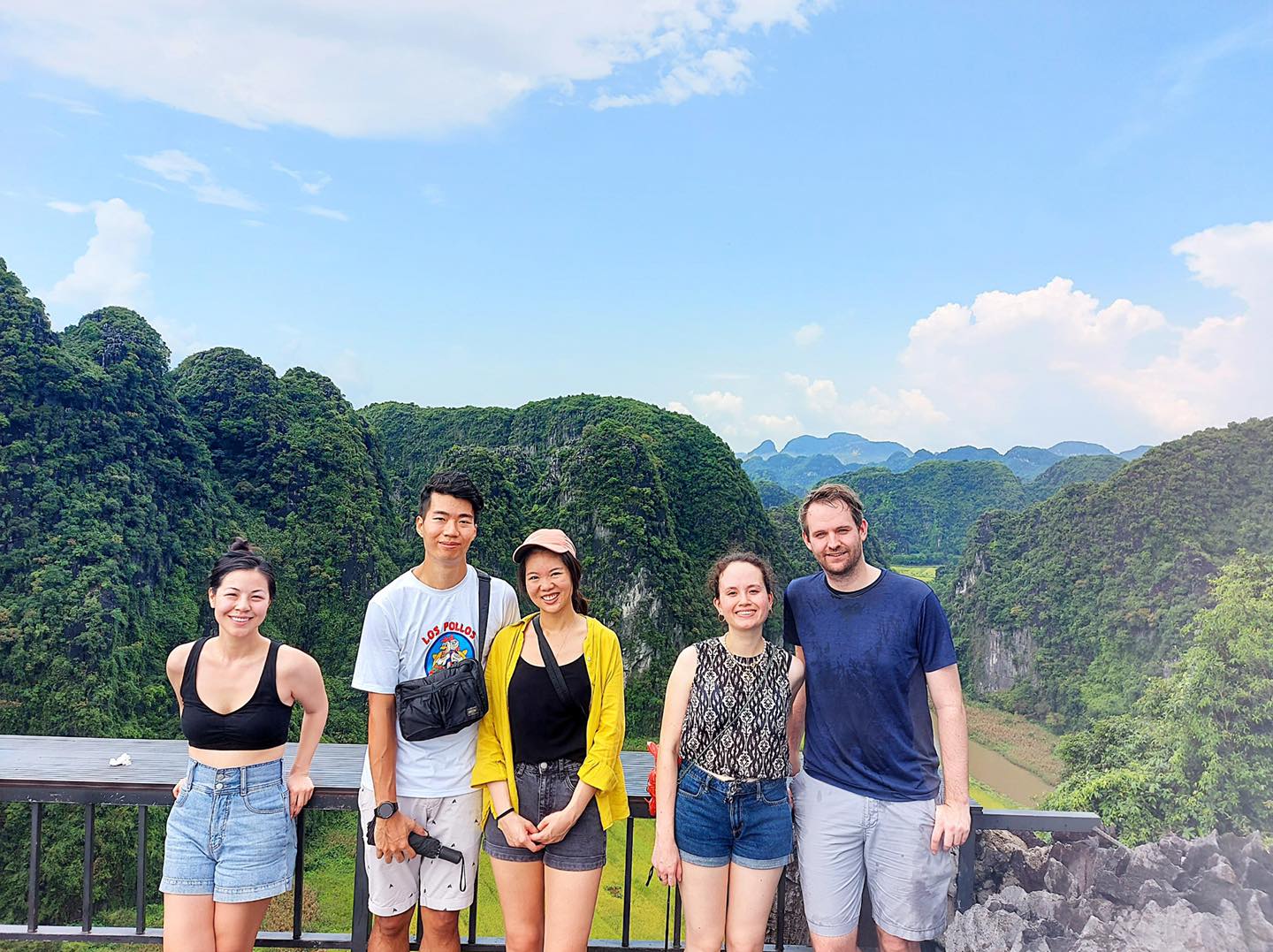 Explore the beauty of Ninh Binh by visiting Tuyet Tinh Coc, where you can take in the breathtaking view of the majestic lake and discover the ancient pagoda.

Next, head to Mua Cave, and climb up 500 steps to the top of Lying Dragon Mountain for a panoramic view of the breathtaking mountainous landscape.

Recharge with a delicious buffet lunch featuring authentic Vietnamese cuisine at a local restaurant.

Continue your journey with a boat trip in Trang An Eco-Tourism Complex, where you can discover the majestic waterways and scenery of the area.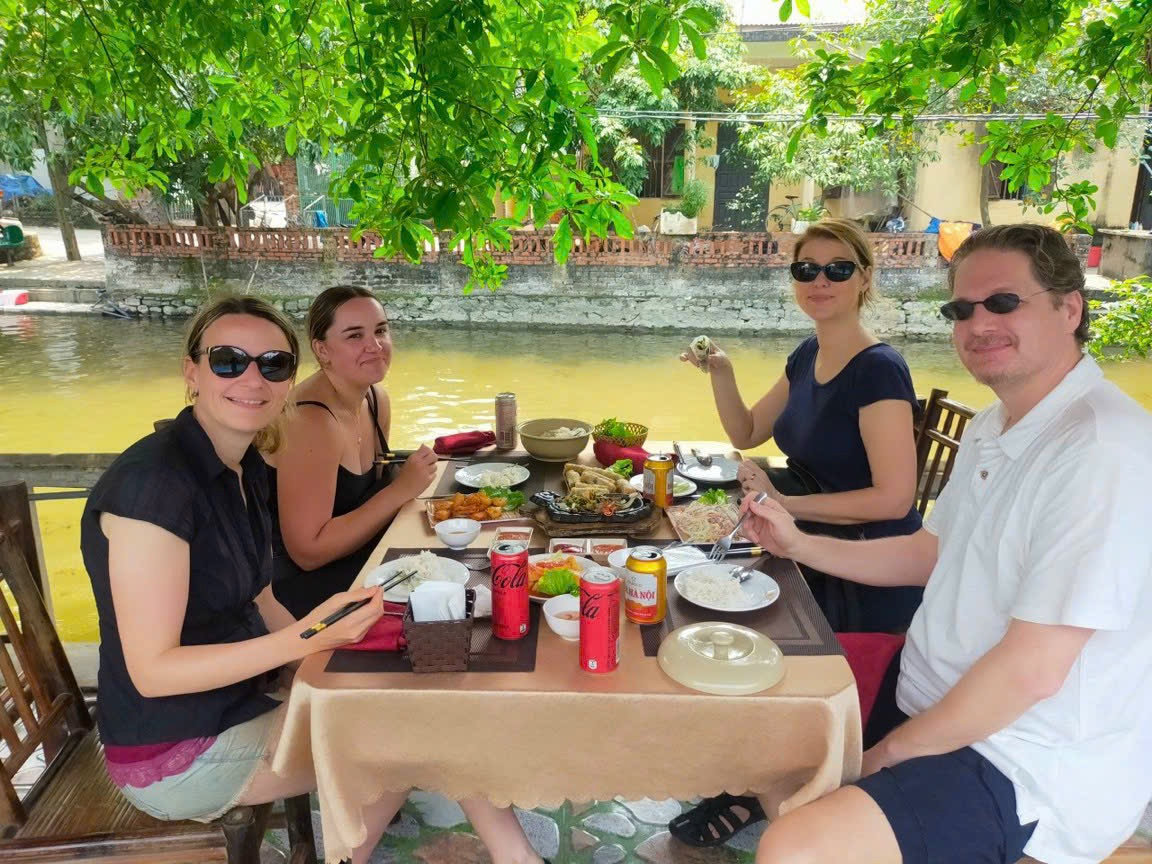 Embark on a journey to the past by visiting the ancient Dinh King temple located in the Hoa Lu Ancient Citadel.

Next, head to Tuyet Tinh Coc, where you can enjoy the panoramic blue lake view and discover the hidden gems of Am Tien Cave.

Refuel with a Vietnamese buffet lunch at a local restaurant to keep your energy levels high. End your day on a tranquil note with a peaceful sampan boat trip through the stunning Trang An landscape, immersing yourself in the beauty of the natural surroundings.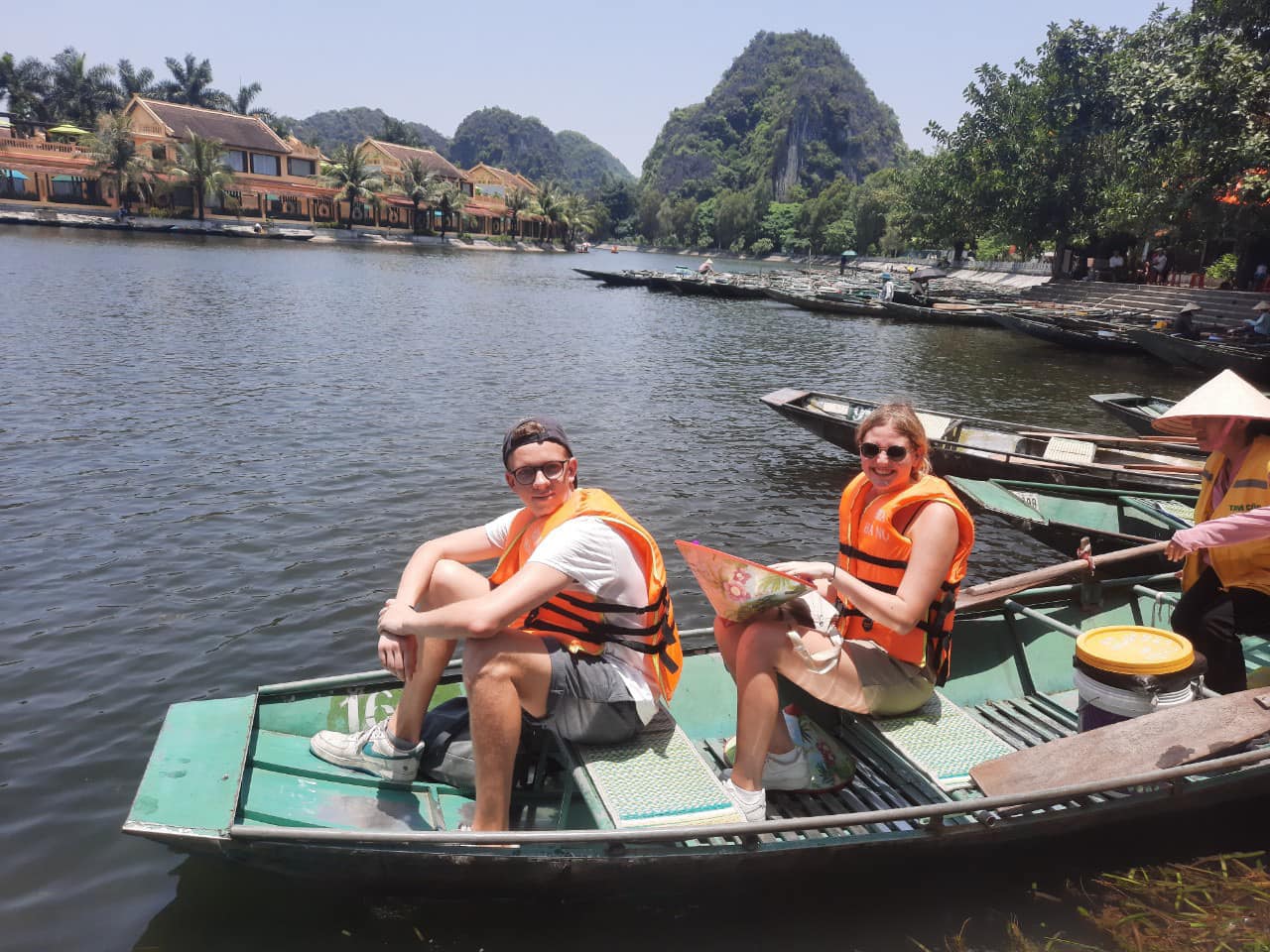 Visit the Dinh King temple located within the Hoa Lu Ancient Citadel.

You can also take in the tranquil panoramic blue lake view and explore the Am Tien Cave at Tuyet Tinh Coc.

Satisfy your taste buds with a delicious Vietnamese buffet lunch at a local restaurant.

Embark on a sampan boat trip along the Ngo Dong River at Tam Coc to admire the scenic views of the surroundings.

Get a closer look at the rural countryside and its picturesque landscapes by cycling through the rice fields and quaint villages.

Lastly, make a stop at the ancient Bich Dong Pagoda for a glimpse of Ninh Binh's rich cultural heritage.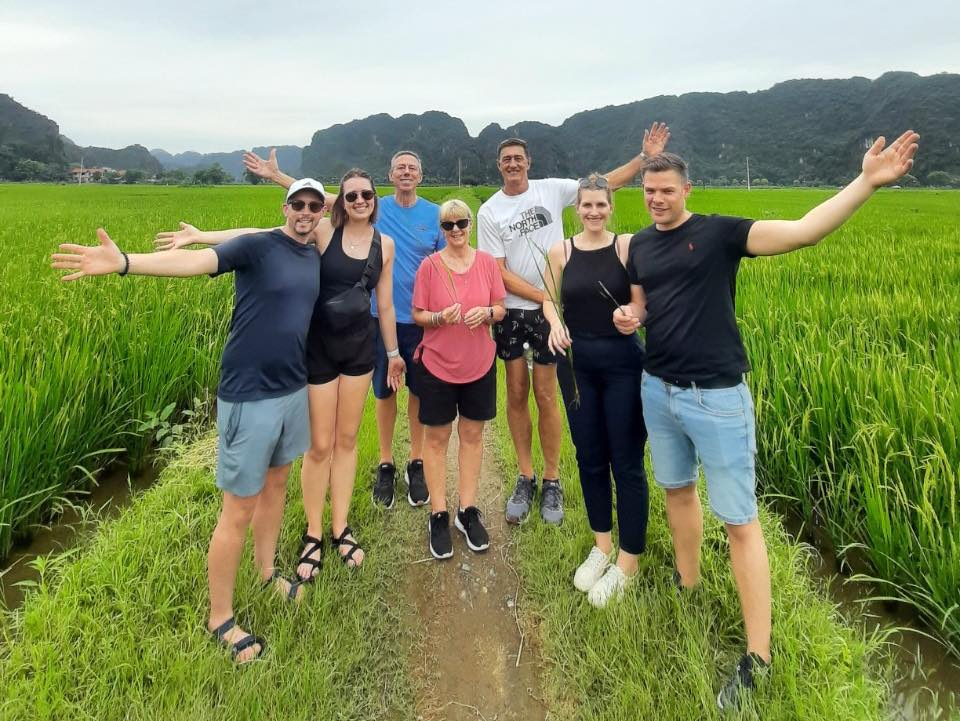 During your trip to Ninh Binh, you will:
Visit the Dinh King temple in the Hoa Lu ancient capital.

Another must-see attraction is the Mua Cave, which requires a hike of 500 steps to Lying Dragon Mountain, but the stunning view from the top is well worth the effort.

Enjoy a Vietnamese set menu lunch in a private area surrounded by picturesque rice paddies and mountains.

Take a sampan boat ride to Tam Coc to admire the breathtaking scenery of the surrounding rice paddies and mountains.

For a more immersive experience, you will cycle to explore the countryside and its natural beauty.

After a day full of activities, take a refreshing dip in the bungalow pool and enjoy the sunset party with local tea and fresh fruits.
Other Articles